Best Camping Fans: Quick Picks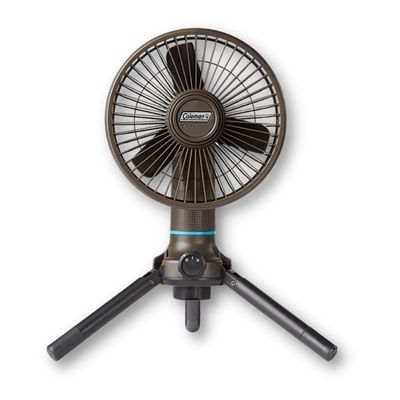 BEST PORTABLE FAN FOR CAMPING
OneSource Rechargeable Fan
COLEMAN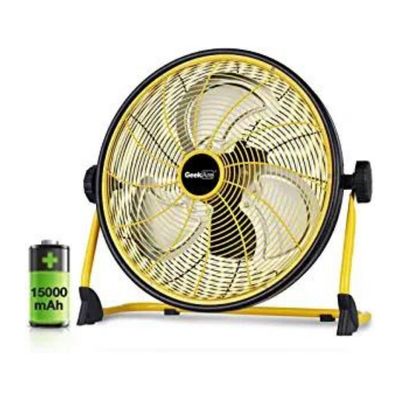 High Velocity Floor Fan
GEEK AIRE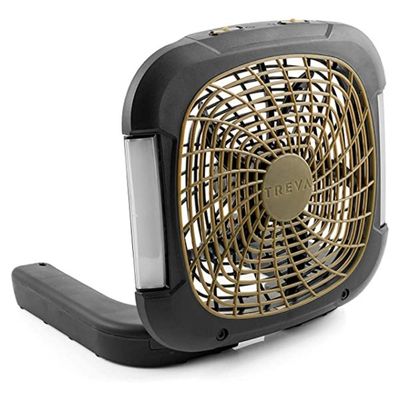 10″ Camping Fan With LED Light
O2Cool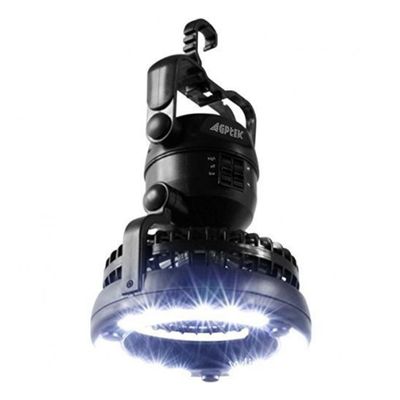 BEST CAMPING FAN FOR TENTS
2-1 Portable Camping Fan
AGPTEK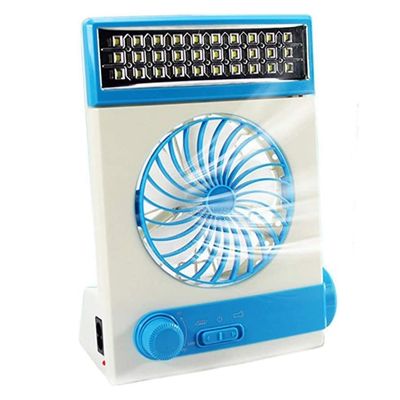 Solar Camping Fan With LED Light
ANSEE
2023 is on pace to be the hottest summer in recorded human history so there is no doubt that a quality portable fan is an essential piece of camping gear for your next trip.
I've tested and reviewed the best camping fans on the market today, and have compiled the following list.
Why Trust My Reviews?
To start, I run hot. Seriously, no matter what the temperature is like, I always feel like I'm 10°F warmer than everyone else.
And in the hot summer months when the temperatures soar, I struggle to stay cool when I'm in the great outdoors.
I'm also an avid camper and have logged many nights sleeping in hot weather, and over the years I've learned how to keep myself and my tent cool.
I've also put each of the fans on this list through a rigorous set of tests. I describe those tests in more detail later in the post.
Best Camping Fan: The Outdoor Authority's Top 9 Picks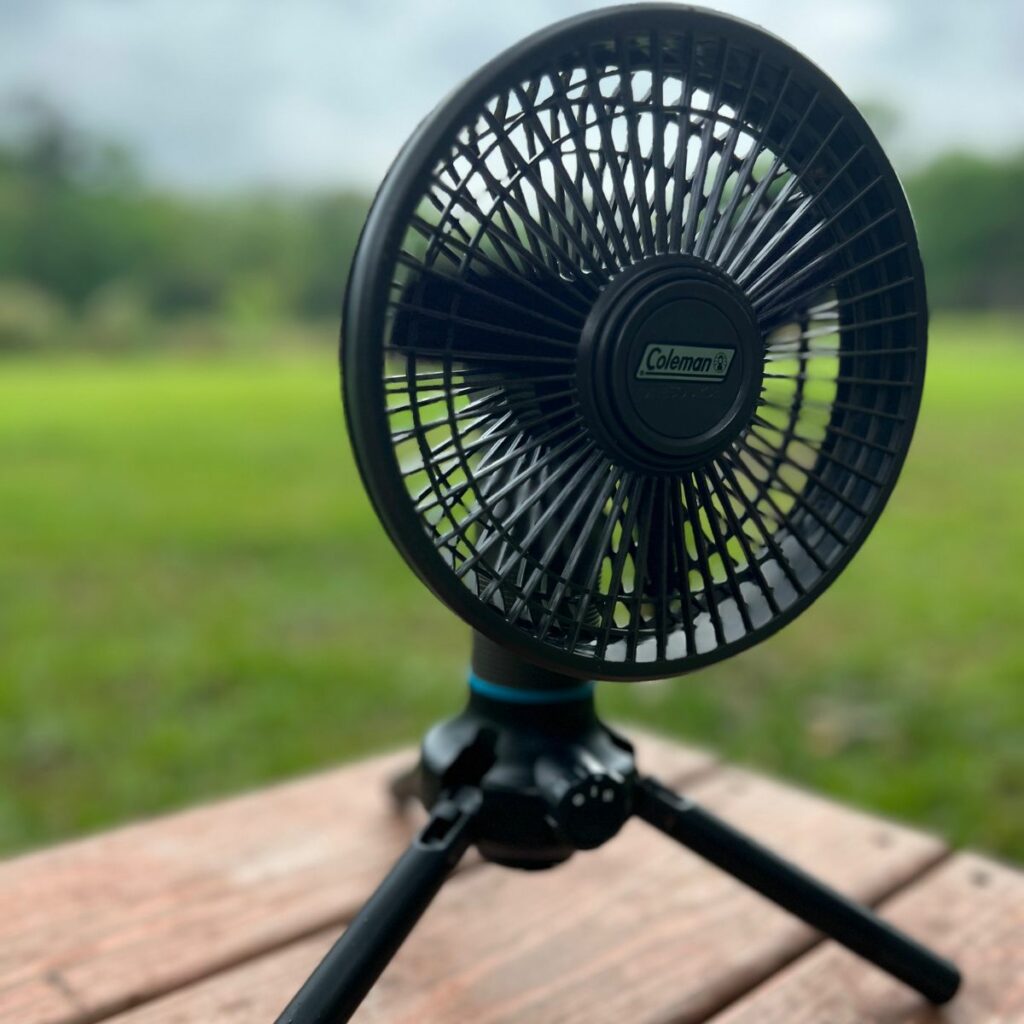 Best For: My choice for the best camping fan is the Coleman OneSource Rechargeable Camping Fan.
Power Type: Rechargeable
Size: 7″ diameter
Weight: 2.52
Max Run Time: 15 hours
Portability: Very
Durability: Very durable
Noise: Low noise
I love almost everything about the Coleman OneSource and I think it's the best overall camping fan on the market today.
This portable fan is lightweight, multi-functional, runs at multiple fan speeds, performs well both inside a tent and at a campsite, and is backed by the reputation of quality that the Coleman brand is well-known for.
I have been using the Coleman OneSource as my "go-to" portable fan for over a year now and it continues to impress me.
What I love most about the OneSource Fan is its versatility. In the past year alone I have used it:
Inside my tent where it easily adjusted to hang from my tent ceiling
On a truck camping trip where I folded out the legs and it cooled my entire truck bed.
While I cooked on the grill in my backyard.
Right now, sitting on my desk next to me providing a light breeze as I write this post!
It is part of the Coleman OneSource family of products, all of which can be powered by the same rechargeable battery. On a recent camping trip, I used the same OneSource batter to power a speaker, camping lights, and even a camp shower.
The power source itself even has a built-in mini LED flashlight which I've found useful when I forgot my headlamp.
Ok, so I did say I liked almost everything…so what do I not like?
The main complaint that users have with this fan is that it has a relatively low run time and isn't quite as powerful as some of the other fans I tested.
But I find that the run time of 15 hours from the power bank is enough for my needs and keeps pace with other battery operated fans.
And in my opinion, it has plenty of enough breeze to keep me comfortable even during camping trips in the summer, and the portability more than makes up for what it lacks in overall wind power.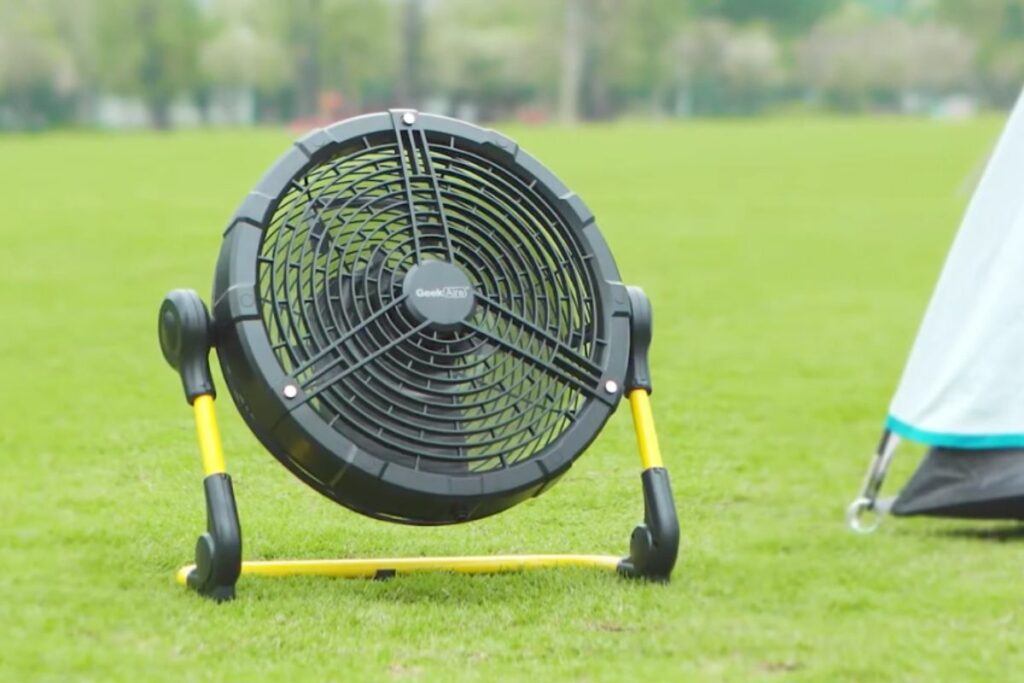 Best For: This is my pick for the best portable fan for car camping.
Power Type: Rechargeable battery or AC power
Size: 16″ diameter
Weight: 13.02 lbs
Max Run Time: 18 hours
Portability: Low portability
Durability: Very durable
Noise: Medium noise
If you're going car camping and in search of a portable fan that produces enough cool air to keep the whole family cool, then the Geek Air 16″ rechargeable fan is a great choice!
This Geek Aire is not light, let's be clear about that.
But with that weight comes power and consistent airflow from high-quality metal blades, which makes it an ideal choice for cooling down large outdoor areas like a campsite. This fan dominated my airflow power tests and performs well even on the hottest days.
Weight aside, it is portable and the carrying handle is easy to use.
It also has adjustable airflow settings so you max out the power when you need it during the hottest part of the afternoon but then dial it back at night when temperatures cool off a bit. Using a lower speed also will extend the battery life.
You can also run the Geek Aire from any AC power outlet or other portable power device you may have (such as a solar generator) which is a nice feature that makes this a perfect fan to keep around the house to use when you're not camping.
Be forewarned, this is one of the more expensive fans I tested but I definitely think it's worth paying up a little bit for the quality and durability you'll get with the the Geek Aire fan.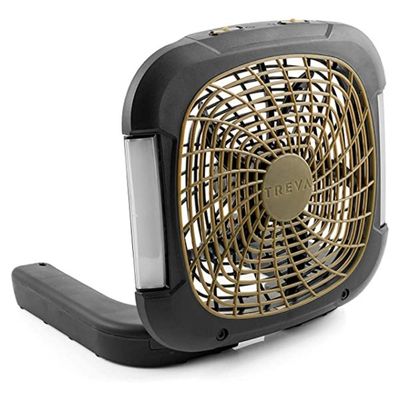 Best For: Camping trips where you are looking to save money and not worried about the weight of 6 D size batteries.
Size: 10″ diameter
Power Type: 6 D batteries, AC adapter
Weight: 2.4 lbs without batteries; 4.5 lbs with batteries
Max Run Time: 53 hours (low) and 20 hours (high) on fresh D batteries
Portability: Collapses to about 2″-3″ tall for easy storage
Durability: Very durable build made from sturdy plastic
Noise: Low-to-medium noise
At 10″ in diameter it's large enough to provide a cooling breeze on high and circulate cool air in on low.
Its construction is extremely sturdy, and it folds away conveniently to be tucked neatly into a backpack or stored under a car seat or in a behind-the-seat storage compartment.
Plus, it has a handle at the top for easy grasping.
The biggest downside about the portability of this O2COOL 10″ fan is the weight with the required 6 D batteries. That's a ton of batteries, and combined they weigh almost 2 lbs, and D batteries aren't cheap.
When powered by batteries you're able to get a full weekend of constant use when set to low and full day when used on high. When run on an AC adapter you get constant usage.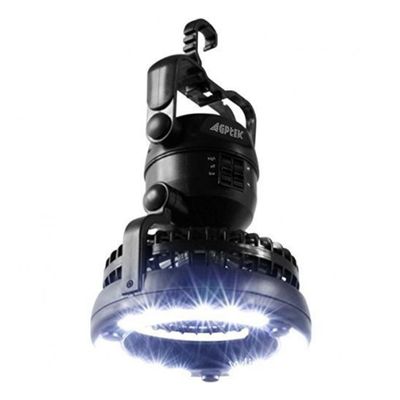 Best For: My pick for the best camping fan for tents is the AGPTEK Portable Camping Fan.
Power Type: 2 D batteries
Size: 7″ diameter
Weight: 1 lb
Max Run Time: 16 hours on low with light; 50 hours on low; 30 hours on high
Portability: Very portable
Durability: Super durable and weather resistant
Noise: Moderate noise
Our search for the best camping fan has thus far given you the following:
Powerful 10″ collapsible fan running on 6 D batteries
Even more powerful fans running on rechargeable batteries
This 4th-ranked fan goes in a different direction:
Something small and light enough to hang from your 1-2 person tent ceiling yet powerful enough to keep you cool.
The AGPTEK 2-in-1 combines a strong enough fan to keep stagnant air moving while also giving you on-demand LED lighting for when it's 3:00 am, it's pitch black outside, and you're 97% sure you just heard Bigfoot.
This fan uses 2 D batteries — compared to the one rechargeable battery that the Coleman OneSource uses — I prefer the built-in rechargeable batteries, which is the main reason I like the OneSource better, but this is a perfectly acceptable alternative especially if you prefer regular batteries.
If you're looking for a quality tent fan to keep the air circulating throughout the night, stop right here and go with the AGPTEK 2-in-1 portable camping fan.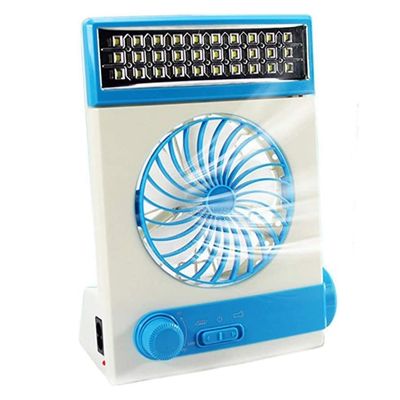 Best For: Someone looking for a very portable personal camping fan with the convenience of on-demand solar recharging.
Power Type: 1400mAh lithium battery, USB adapter, included solar panel
Size: 5.0″ diameter
Weight: 1.1 lbs
Max Run Time: 4 hours on high, 8 hours on low
Portability: Very portable
Durability: Moderately durable
Noise: Low noise
Like the OPOLAR fan above, this solar camping fan is a small, personal fan intended for single-person outdoor use. Since these fans are pretty similar, let's compare them side by side:
OPOLAR fan does not come with solar panel for recharging
OPOLAR fan has larger 2200mAh battery
Despite the larger battery, the OPOLAR fan has a shorter run time
This is because the OPOLAR fan is more powerful
OPOLAR fan has 3.5″ diameter versus this fan's 5″ diameter
OPOLAR fan is more durable
Pretty cut and dry, huh?
I'll be honest, I really like the idea of a solar fan because the sun will (almost) always be there when you need it. The downside is that this fan isn't quite as powerful and durable.
You could also just get a small solar powered rechargeable battery pack, which I'd recommend anyway as a handy camping tool for recharging your fan as well as any other small items, such as your cell phone. This Anker solar charger is highly rated and recharges quickly.
A quick reminder about solar powered items, though: Solar energy in most fans isn't intended to be used to power the fan, but rather to recharge the battery. Draining the battery on this fan and then expecting to use solar to keep it running will leave you disappointed (and hot).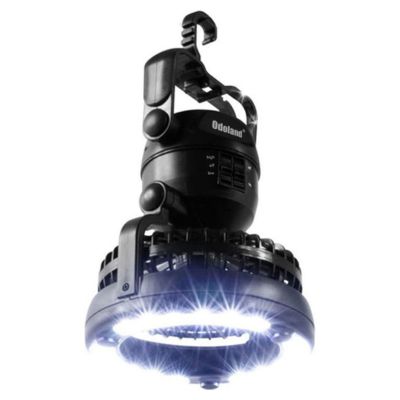 Power Type: 2 D batteries
Size: 7″ diameter
Weight: 1 lb
Max Run Time: Up to 37 hours
Portability: Very portable
Durability: Durable
Noise: Medium noise
This is another great camping fan that is affordable and good to hang as a ceiling fan inside of a small tent. In fact, when comparing this to the AGPTEK they are nearly identical products, both with LED lights. In fact, I suspect they may both be made in the same factory and then resold under different brands.
The only reason this was Honorable Mention rather than a "best pick" is because its run time didn't perform as well as the other tent fans, but it was only marginally different so I'm still comfortable recommending this fan.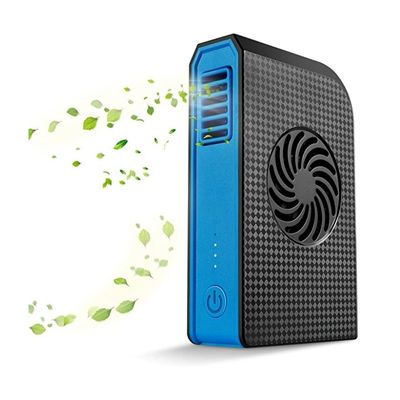 Power Type: 6000mAh rechargeable battery, USB cable
Size: 2″ diameter
Weight: 7.4 oz
Max Run Time: 7 hours on high, 12 hours on low
Portability: Very portable
Durability: Moderate durability
Noise: Moderate noise
I'll be honest, this is less of a fan and more of a power pack that comes with a small fan.
So how did this item crack our "best camping fans" list?
C'mon, it's pretty cool.
(No pun intended.)
Portable power when you're camping is always handy, and this 6000mAh battery has enough juice to recharge most cell phones at least one time. When used exclusively as a fan, it'll get you up to 12 hours of run time.
One comment I'd like to make about this power bank and fan's durability: In terms of design and construction, this thing is a compact brick that you probably aren't going to break. However, some users have reported the fan won't run on the included power pack after repeated use.
The good news is that you can either keep it plugged in to use the fan, or you can contact customer service. Their customer service through the Amazon listing is repeatedly described as being great, responsive, and hassle-free.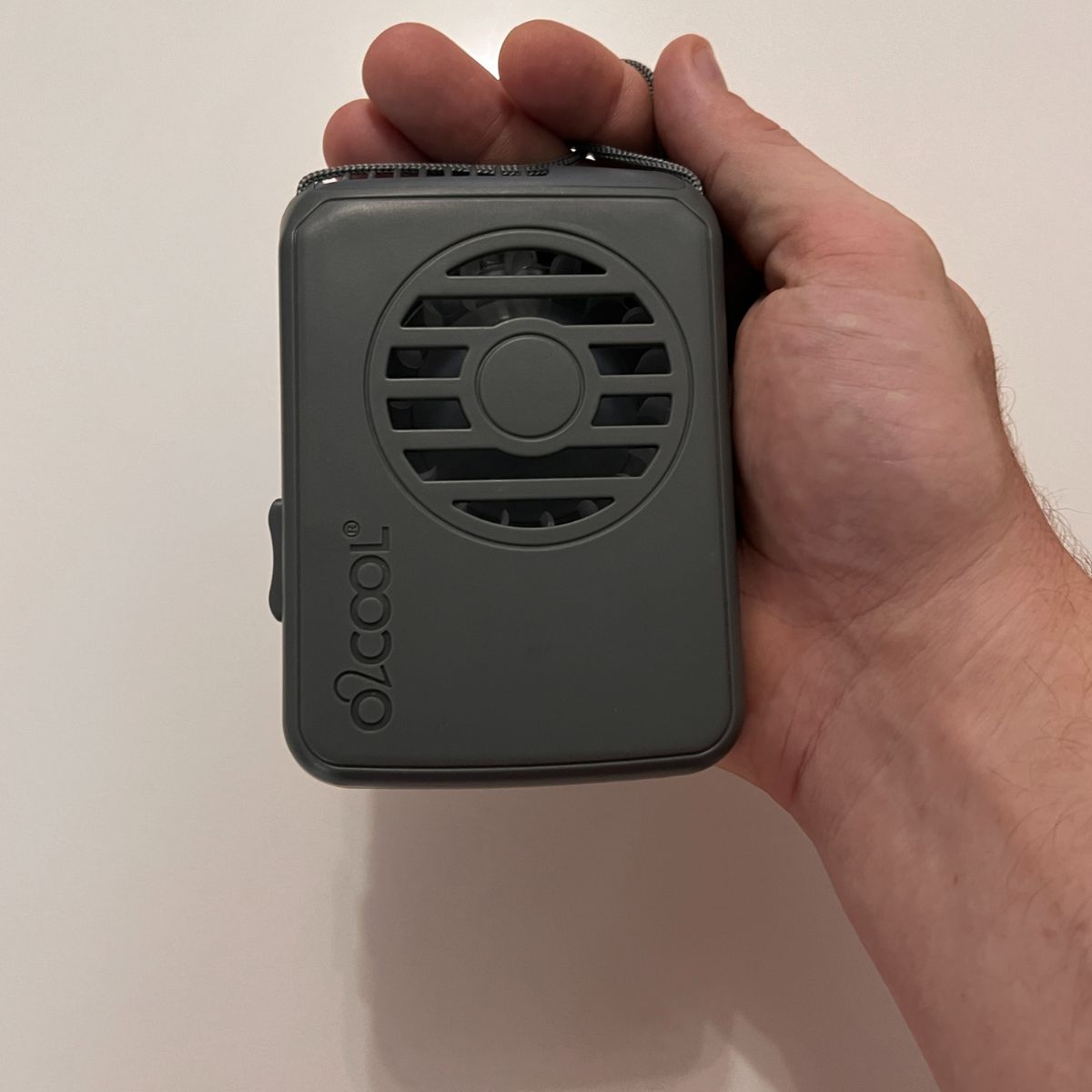 Power Type: 2 D batteries, AC adapter
Size: 5″ diameter
Weight: 1.0 lb
Max Run Time: 30 hours on high, 55 hours on low
Portability: Collapses to about 2″-3″ tall for easy storage
Durability: Very durable build made from sturdy plastic
Noise: Low-to-medium noise
Compared to the 10″ O2COOL fan, this 5″ version uses only 2 D batteries, which makes it much lighter and a lot more cost effective to operate for the same lengthy run time.
Of course, the downside is you get less power.
Oh, and once again the AC adapter is not included.
It feels wrong ranking this fan 8th on our best camping fans rankings given that it's essentially the same thing as the top-ranked model, but not everyone will have the same needs when selecting the camping fan that's best for them!
Power Type: 4 D batteries, rechargeable cartridge, AC adapter
Size: 8″ diameter
Weight: 2.4 lbs
Max Run Time: 8 hours on low with light; 30 hours on low; 10 hours on high
Portability: Very portable
Durability: Not very durable
Noise: Moderate noise
The Coleman CPX 6 Lighted Tent Fan is designed to conveniently hang from the high point of a 1-2 person tent, providing enough power to circulate air with the convenience of LED lights.
Coleman is the brand more synonymous with camping, but this fan under-performs compared to the Coleman OneSource and the other highly rated camping fans that I reviewed.
The one advantage this Coleman tent fan really has is the alternative power options, but heed the following note:
The AC adapter is not included, nor is the rechargeable power supply.
What to Look for in a Camping Fan
When choosing the best fan for camping I considered the following 7 factors:
Power type
Size & weight
Max run time
Portability
Durability & reliability
Noise
Cost
In this next section I'll explain how each impacted my choice.
Power Type
I've come across 6 different types of power sources for camping fans:
Standard batteries (e.g., AA or D batteries)
12V battery
Rechargeable power pack
USB adapter (e.g., plug into a computer)
AC adapter (e.g., plug into a wall)
Solar
Those different power sources vary greatly — you're going to get a lot more juice from that 12V battery than you will from a couple of d cell batteries.
For both battery life and convenience, rechargeable power packs are my go-to and it's why I chose the Coleman OneSource as my top pick.
Some camping fans come with their own built-in solar panels. The technology is improving here, but no one has got it quite right just yet and I don't recommend solar powered camping fans at this time.
Size & Weight
Generally there's a trade-off between weight and power.
More powerful fans tend to have bulkier components and larger power supplies, which add to the weight.
But you may not need the most powerful fan. Maybe something lighter and more compact is best.
Max Run Time
Most fans have multiple speed settings, and the faster settings use more power.
An important number to know when you're looking for the best camping fans is the max run time, which is measured by how long the fan will run on the lowest speed setting.
Some fans have a max run time of just 5-6 hours. Others can last over 50 hours!
Portability
The more power a fan has, the less portable it is, so some are more portable than others. A floor fan like the Geek Aire is too heavy to be a tent fan and dangle from a hanging hook in your tent's ceiling like a little fan can.
That said, all of the best camping fans are at least somewhat portable and can easily be moved from one area of your campsite or tent to another.
Durability & Reliability
In my corporate day job there's something all of the project managers remind clients of on a near daily basis. It's called the Triple Constraint, which roughly means that there are 3 factors in every project:
Cost
Quality
Speed
And you can only have 2 of them.
What does this have to do with the best camping fans?
It simply means that the top-performing and most durable fans like the Geek Aire typically cost a bit more than lower-quality fans, which I think is fair.
Noise
I actually don't mind a noisy fan. I sort of enjoy sleeping through the low hum (or dull roar) of camping fans, but not everyone agrees. If you'll be in a confined space or running the fan all night, you may want something that's a little quieter.
Cost
I always advocate buying in your price range, but that also doesn't mean buying junk quality for the sake of owning something.
Thankfully most camping fans are pretty affordable, especially when compared to other camping gear and equipment, so cost shouldn't be too much of an obstacle. But if it is, be prepared to do that cost-benefit analysis.
Tests I Conducted To Choose The Best Overall Camping Fan
In order to ensure each of the fans on my list performed as well as the manufacturers claimed they do I put them through the following set of tests.
Distance Test
To get an idea of how powerful each fan is I taped a piece of toilet paper to the end of a measuring tape. Then I stood behind each fan (with it on) and extended the tape to see how far I could extend it before the toilet paper stopped moving (see image below).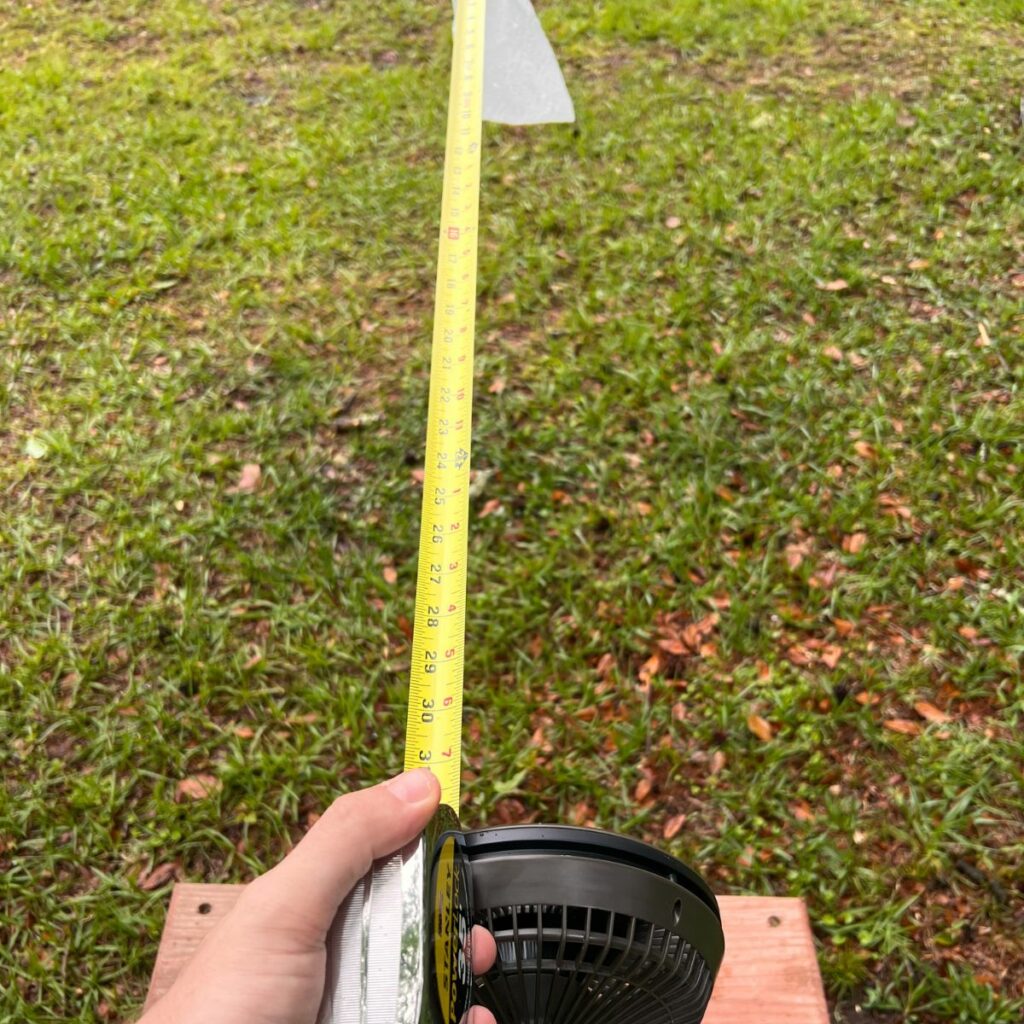 This was by far the most fun of the tests that I conducted and I was surprised by the results.
The Geek Aire was the most powerful, which I had expected, but the Coleman OneSource also performed well considering how lightweight and portable it is.
Time Test
This test was much more boring and I simply turned on each fan, set them next to a timer, and set a camera next to them to see how long they lasted.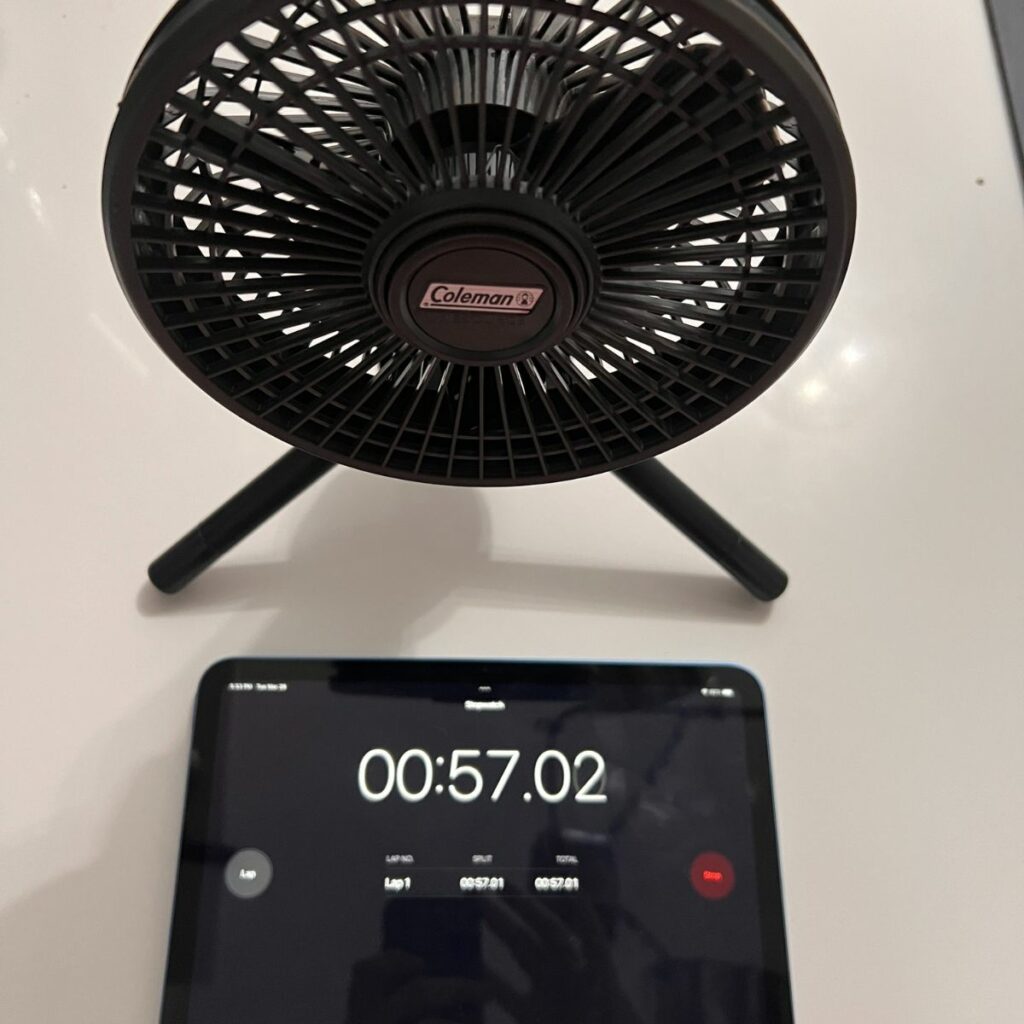 The longest running was the O2Cool 10-inch camping fan, but it also takes a whopping 6 D batteries to run it and you have to replace them when they drain, which can get costly and is bad for the environment.
So once again, I prefer the Coleman OneSource which didn't run quite as long but has a built in rechargeable battery power source.
Rain Test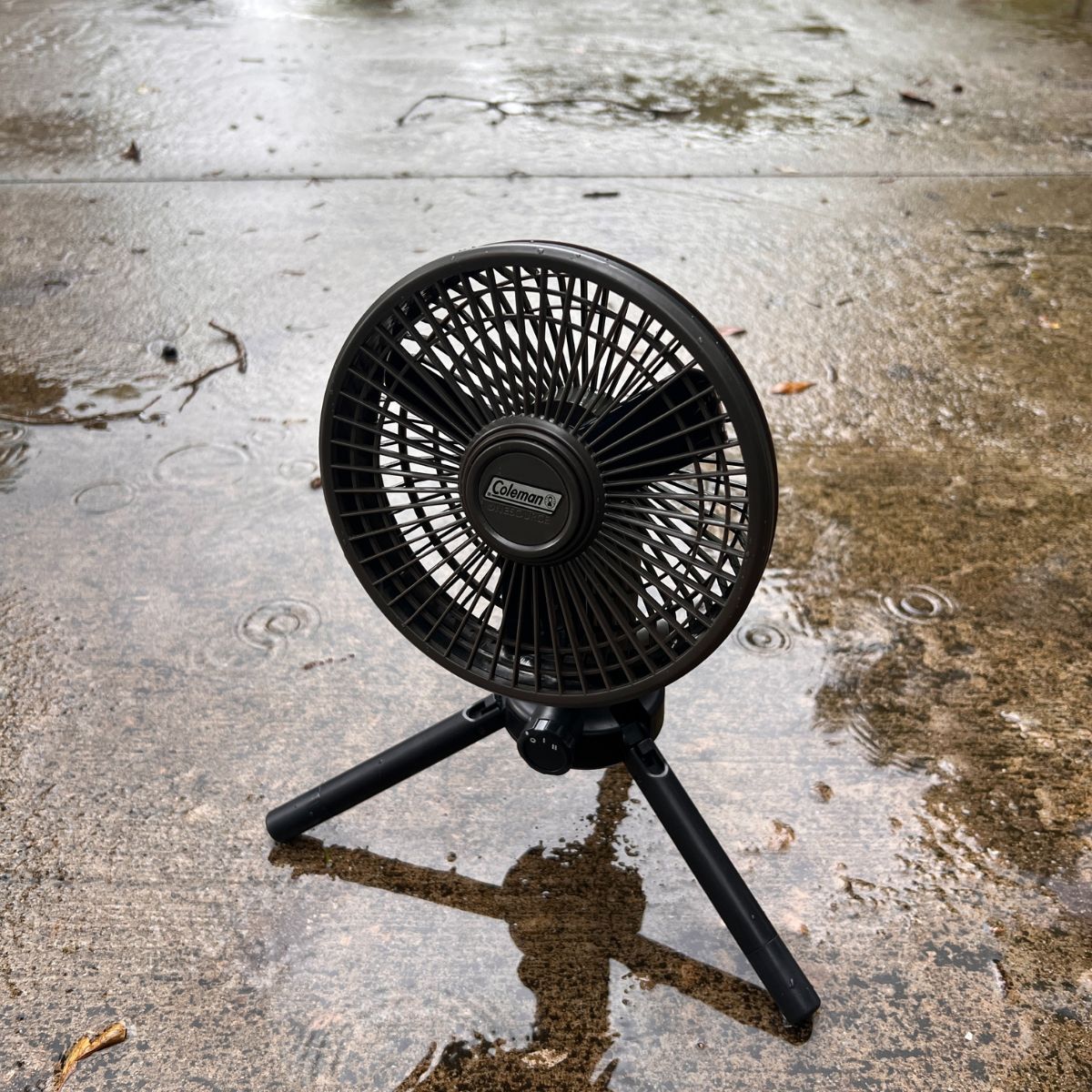 Last up was the rain test where I set the fans in a light rain and then brought them back inside to see how they performed. I'm pleased to say that each of the fans withstood the rain with no problem. However, I should note that I only subjected them to light rain and not a full soak, but considering that they are electric devices (even when they run on batteries) that seemed like a safer choice to me.
Best Camping Fan FAQ
Is It Okay To Have A Fan In A Tent?
Yes, it is definitely okay to have a fan in a tent! In fact, adding a fan to the floor space of your tent is a fantastic way of staying cool during warm summer months and it also helps to keep bugs away.
Do I Need To Have A Fan For Camping?
You don't need a camping fan to survive in the wilderness, but it can definitely make your time camping more enjoyable.