I run hot.
Seriously, no matter what the temperature is like, I always feel like I'm 10°F warmer than everyone else.
In the winter this is great. It's like I have my own personal furnace.
Every other time of the year?
Not so much.
I'm as "go with the flow" as the next guy, but sometimes I just can't stand that halo of heat that seems to follow me — and only me! — everywhere I go.
In my apartment it's as easy as grabbing the fan and directing it right at my face.
On the road, well, I don't always have that luxury.
That's why when the weather heats up, I always like having a small portable camping fan handy for when I really need a cool breeze.
We've reviewed and rated the best camping fans available, from large to small, and have compiled the following list.
This is The Outdoor Authority's Definite Guide to Camping Fans.
Best Camping Fan: The Outdoor Authority's Top 9 Picks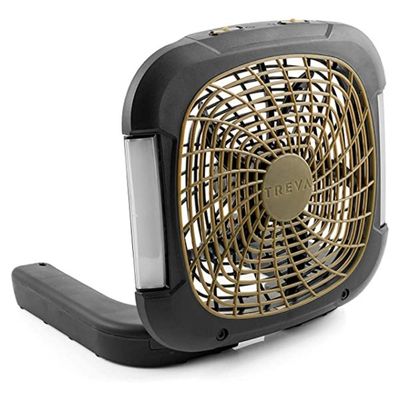 Best For: Car camping trips (as opposed to backpacking trips) where you don't mind the heft of a 2.4 lb fan and another 2 lbs of D batteries. Or for trips where you'll have access to outlet power to use the AC adapter.
Power Type: 6 D batteries, AC adapter
Size: 10″ diameter
Weight: 2.4 lbs without batteries; 4.5 lbs with batteries
Max Run Time: 53 hours (low) and 20 hours (high) on fresh D batteries
Portability: Collapses to about 2″-3″ tall for easy storage
Durability: Very durable build made from sturdy plastic
Noise: Low-to-medium noise
While there are dozens of different camping fans available, there's little doubt in my mind that this O2COOL 10″ model is the best camping fan available, bar none.
At 10″ in diameter it's large enough to provide a cooling breeze on high and circulate air on low.
Its construction is extremely sturdy, and it folds away conveniently to be tucked neatly into a backpack or stored under a car seat or in a behind-the-seat storage compartment.
Plus, it has a handle at the top for easy grasping.
The biggest downside about the portability of this O2COOL 10″ fan is the weight with the required 6 D batteries. That's a ton of batteries, and combined they weigh almost 2 lbs, and D batteries aren't cheap.
When powered by batteries you're able to get a full weekend of constant use when set to low and full day when used on high. When run on an AC adapter you get constant usage.
Pros
Best-in-class performance for 1-2 days of constant use
Rugged, sturdy design
Folds away conveniently
Cons
AC adapter not included
On/off switch is sensitive and sometimes turns on when stored away
6 D batteries can be heavy and pricey when used frequently
Best For: Those looking for a more "home base" type camping experience, especially if you have a canopy tent where everyone will be congregating.
Power Type: 12V DC battery
Size: 19.7″ diameter
Weight: 2.4 lbs
Max Run Time: As long as your battery runs with this 6W fan
Portability: Disassembles easily; leaves detach and are 7.9″L x 2.4″W
Durability: High durability
Noise: Quiet if you can securely attach fan to a ceiling or canopy
This 2nd-ranked fan differs from every other camping fan listed here. It's a much larger 19.7″ diameter fan that runs exclusively on 12V DC power.
This fan is not intended for us in your 1-2 person tent.
Instead, it's great for larger areas such as a large 6-8 person family tent or affixed to the mid-point of a canopy tent.
This Sunlar ceiling fan comes with a 95″ (nearly 8-foot) power cord to connect to your 12V battery and features an easy toggle on/off switch so you don't need to keep unhooking and re-hooking to the battery.
How does it perform?
Surprisingly well!
This portable ceiling fan won't be mistaken for your living room ceiling fan, but it easily beats every other fan on this list, especially in larger spaces.
The only challenging thing is attaching it securely to the ceiling in order to prevent rattling. A chain won't work — that's going to be way too noisy — and any other type of rope will cause the fan to twist up. Your best bet is to secure the fan directly to the frame or crossing beams of the tent or canopy.
If you're looking for a more powerful fan for a more open space, the Sunlar 12V portable ceiling fan might be your best bet…as long as you also have a 12V battery to hook it up to.
Pros
Most pound-for-pound pushing power of any fan on this list
Fantastic combination of power and portability
On/off toggle switch is durable
Cons
8-foot cord could be longer
Requires a 12V battery
Alligator clips are small and may not work with batteries that have larger posts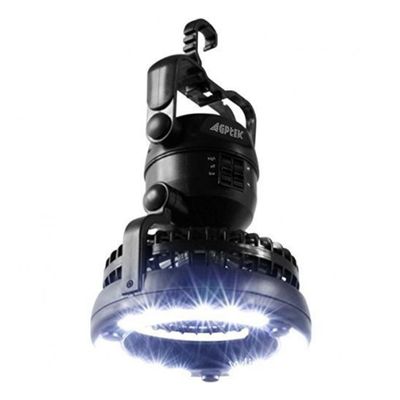 Best For: Circulating air in a small 1-2 person tent.
Power Type: 2 D batteries
Size: 7″ diameter
Weight: 1 lb
Max Run Time: 16 hours on low with light; 50 hours on low; 30 hours on high
Portability: Very portable
Durability: Super durable and weather resistant
Noise: Moderate noise
Our search for the best camping fan has thus far given you the following:
Powerful 10″ collapsible fan running on 6 D batteries
Even more powerful 20″ ceiling fan running on 12V DC power
This 3rd-ranked fan goes in a different direction:
Something small and light enough to hang from your 1-2 person tent ceiling yet powerful enough to keep you cool.
The AGPTEK 2-in-1 combines a strong enough fan to keep stagnant air moving while also giving you on-demand LED lighting for when it's 3:00 am, it's pitch black outside, and you're 97% sure you just heard Bigfoot.
What I love about this fan is that it uses on 2 D batteries — compared to 6 D batteries with the top-ranked O2COOL 10″ fan — yet it lasts just as long.
Now, obviously, that means it doesn't provide as much power.
But that's not what this fan is intended to do.
If you're looking for something easy to hang from your personal tent to keep the air circulating throughout the night, stop right here and go with the AGPTEK 2-in-1 portable camping fan.
Pros
Ideal for small, confined spaces
Easy-hang hook and only weighs 1 lb
2 D batteries will last you 30-50 hours
Cons
Fan speed and on/off toggles are right next to each other, so be careful to hit the right one or risk sudden night blindness
Only 1 power option: 2 D batteries
Not the most powerful personal fan on this list
Best For: Circulating air in a small 1-2 person tent, but it's not as good as the AGPTEK above. Best reason to go with the Coleman CPX 6 instead of the AGPTEK is its AC adapter and rechargeable cartridge compatibility.
Power Type: 4 D batteries, rechargeable cartridge, AC adapter
Size: 8″ diameter
Weight: 2.4 lbs
Max Run Time: 8 hours on low with light; 30 hours on low; 10 hours on high
Portability: Very portable
Durability: Very durable exterior
Noise: Moderate noise
Like the AGPTEK 2-in-1 camping fan above, the Coleman CPX 6 Lighted Tent Fan is designed to conveniently hang from the high point of a 1-2 person tent, providing enough power to circulate air with the convenience of LED lighting.
The differences between this Coleman and the AGPTEK:
Coleman fan requires 4 D batteries but doesn't last as long
Coleman fan does have other power options besides just batteries
Coleman LED light has 2 settings, including a dimmer light
Coleman fan is a little larger and heavier
Coleman fan has a kickstand to prop itself up, in addition to hanging
Coleman fan's blades are made of foam
Coleman fan doesn't move air as well
That's basically it.
Coleman is the brand more synonymous with camping, but this fan under-performs the similar AGPTEK fan in nearly every way.
The one advantage this Coleman fan really has is the alternative power options, but heed the following note:
Pros
Durability and reliability of the Coleman brand name
Compatible with more than just battery power
Has stand that props it up instead of just hanging from the ceiling (but you can do that, too)
Cons
Requires 4 D batteries yet doesn't run as long as the AGPTEK 2-in-1
Doesn't come with the portable power pack or AC adapter
A little heavier and larger than the AGPTEK
Best For: A personal fan when you're lounging in the sun, sitting at a picnic table, or relaxing in your tent.
Power Type: 2200mAh rechargeable lithium battery, USB cable, AC adapter
Size: 3.5″ diameter
Weight: 10.2 oz
Max Run Time: 1.5 hours on high, 6 hours on low
Portability: Very high
Durability: Very durable
Noise: Low noise
Moving down the list of best camping fans is the 5th-ranked OPOLAR Portable Camping Fan.
This is the smallest fan yet with a 3.5″ diameter and truly is just a personal fan.
It doesn't hang from the ceiling of your tent but instead stands up vertically on a tabletop, though it's light enough and small enough for you to hold it while sitting down or walking around.
This fan can be powered in 3 different ways with the 2200mAh rechargeable battery lasting between 90 minutes and 6 hours depending on which of the 3 fan speeds you use. It also can be powered by USB cable, to plug into a laptop or rechargeable power bank, or by AC adapter.
But as with several of the camping fans above, the AC adapter is not included.
Note: If you look at the battery in pictures of this fan it looks like a AA battery, but it's not. That's the rechargeable lithium battery and is actually larger than a AA. Regular AA batteries will not work on this fan.
Possibly the quietest fan on this list due to its small size and efficient motor, you can use the OPOLAR personal fan without worry of waking anyone else up.
Due to its compact size and small power source, however, this fan's white side light does not run while the fan is running. It's an either-or situation. The backlit blue lights do run while the fan is on.
Pros
Durability and portability unmatched by any fan on this list
Comes with USB cable to charge from devices, such as a laptop
Rechargeable battery can be charged up to 500 times
Cons
AC adapter not included
Lithium battery not TSA compliant to be checked in your luggage; can be carried on the plane
6 hour max run time is pretty low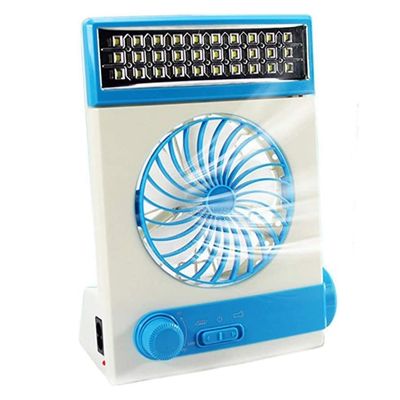 Best For: Someone looking for a very portable personal camping fan with the convenience of on-demand solar recharging.
Power Type: 1400mAh lithium battery, USB adapter, included solar panel
Size: 5.0″ diameter
Weight: 1.1 lbs
Max Run Time: 4 hours on high, 8 hours on low
Portability: Very portable
Durability: Moderately durable
Noise: Low noise
Like the OPOLAR fan above, this solar camping fan is a small, personal fan intended for single-person use. Since these fans are pretty similar, let's compare them side by side:
OPOLAR fan does not come with solar panel for recharging
OPOLAR fan has larger 2200mAh battery
Despite the larger battery, the OPOLAR fan has a shorter run time
This is because the OPOLAR fan is more powerful
OPOLAR fan has 3.5″ diameter versus this fan's 5″ diameter
OPOLAR fan is more durable
Pretty cut and dry, huh?
I'll be honest, I really like the idea of a solar fan because the sun will (almost) always be there when you need it. The downside is that this fan isn't quite as powerful and durable.
You could also just get a small solar powered rechargeable battery pack, which I'd recommend anyway as a handy camping tool for recharging your fan as well as any other small items, such as your cell phone. This Anker solar charger is highly rated and recharges quickly.
A quick reminder about solar powered items, though: Solar energy isn't intended to be used to power the fan, but rather to recharge the battery. Draining the battery on this fan and then expecting to use solar to keep it running will leave you disappointed (and hot).
Pros
Comes with integrated solar panel
Thin profile
Larger diameter than the OPOLAR fan
Cons
Not as powerful as the OPOLAR fan
Not as durable as the OPOLAR fan
1400mAh battery is pretty small
Best For: Someone looking for a portable power pack first and a portable fan second.
Power Type: 6000mAh rechargeable battery, USB cable
Size: 2″ diameter
Weight: 7.4 oz
Max Run Time: 7 hours on high, 12 hours on low
Portability: Very portable
Durability: Moderate durability
Noise: Moderate noise
I'll be honest, this is less of a fan and more of a power pack that comes with a tiny fan.
So how did this item crack our "best camping fan" list?
C'mon, it's pretty cool.
(No pun intended.)
Portable power when you're camping is always handy, and this 6000mAh battery has enough juice to recharge most cell phones at least one time. When used exclusively as a fan, it'll get you up to 12 hours of run time.
One comment I'd like to make about this power pack and fan's durability: In terms of design and construction, this thing is a compact brick that you probably aren't going to break. However, some users have reported the fan won't run on the included power pack after repeated use.
The good news is that you can either keep it plugged in to use the fan, or you can contact customer service. Their customer service through the Amazon listing is repeatedly described as being great, responsive, and hassle-free.
Pros
Long run time for a small fan
Doubles as a portable power pack for your cell phone or any other similar device
Great customer service should issues arise
Cons
Probably more of a power pack first and a fan second
A little noisier than the other personal fans above
Some concerns with durability
Best For: Those who want to 30-55 hour run time but are looking for a fairly small fan without the bulk of the 6 D batteries required with the top-ranked 10″ O2COOL fan.
Power Type: 2 D batteries, AC adapter
Size: 5″ diameter
Weight: 1.0 lb
Max Run Time: 30 hours on high, 55 hours on low
Portability: Collapses to about 2″-3″ tall for easy storage
Durability: Very durable build made from sturdy plastic
Noise: Low-to-medium noise
From the makers of the best camping fan on this list, the 10″ O2COOL fan, comes a smaller 5″ version!
Seriously, it's like the same exact thing.
Choosing between the O2COOL 5″ fan, the O2COOL 10″ fan, and the various personal fans above comes down to what you're looking for:
Want longer run time? Go with one of the O2COOL models.
Want to avoid the hassle of D batteries? Go with one of the smaller personal fans.
Compared to the 10″ O2COOL fan, this 5″ version uses only 2 D batteries, which makes it much lighter and a lot more cost effective to operate for the same lengthy run time.
Of course, the downside is you get less power.
Oh, and once again the AC adapter is not included.
It feels wrong ranking this fan 8th on our best camping fan rankings given that it's essentially the same thing as the top-ranked model, but not everyone will have the same needs when selecting the camping fan that's best for them!
Pros
Long run time
Requires only 2 D batteries versus 6 D batteries with the 10″ O2COOL fan
Very durable
Cons
Compared to the rechargeable personal fans, more expensive to operate when replacing D batteries
Heavier than the personal fans
Less power than the 10″ O2COOL fan
Best For: Someone looking for a small, portable fan with a clip so it can be attached pretty much anywhere.
Power Type: Rechargeable lithium battery with micro USB compatibility
Size: 4″ diameter
Weight: 11.2 oz
Max Run Time: 6 hours
Portability: Very portable
Durability: Moderate durability
Noise: Moderate noise
One of the annoying things of most of the fans on this list is that they can be difficult to affix to certain places, such as your tent or chair.
That's the number one reason to get this clip-on personal fan.
But it doesn't just clip. You can also stand it up, though the base is a little wobbly when you use it that way.
It has a standard lithium battery, which can be recharged via USB or a micro USB phone charger for up to 6 hours of use.
At around three-quarters of a pound it's light enough to hang almost anywhere, but its rather small diameter and modest battery don't give it the power of most other fans on this list.
Pros
Clips just about anywhere
Comes with a funky looking USB fan looks like an old two-panel propeller on an airplane
Did I mention it clips?
Cons
Base is wobbly when trying to stand it up
Not very powerful
Fairly small diameter
What to Look for in a Camping Fan
The best camping fan for you may not be the best camping fan for Sally Jo.
Seriously, Sally Jo is super picky. It's annoying.
As you're shopping for the camping fan that best suits your needs, consider these 7 factors:
Power type
Size & weight
Max run time
Portability
Durability & reliability
Noise
Cost
In this next section I'll explain how each affects your decision.
Power Type
I've come across 6 different types of power sources for camping fans:
Standard batteries (e.g., AA or D batteries)
12V battery
Rechargeable power pack
USB adapter (e.g., plug into a computer)
AC adapter (e.g., plug into a wall)
Solar
Those different power sources vary greatly — you're going to get a lot more juice from that 12V battery than you will from a couple D batteries.
(If you're curious this is the 12V-powered camping fan, which looks pretty much like your typical ceiling fan and hooks up to a car battery. It actually cracks our list below!)
Your standard AA and D batteries are the most convenient but can leave you without a fan if the power runs out and you don't have any spares.
Rechargeable power packs are my favorite because of their convenience. This 2600mAh camping fan gives you 3-6 hours of cool breezes before needing a recharge. Combined with a solar charging power pack, you can operate these camping fans worry-free without needing expensive battery purchases.
A USB or AC adapter fan can also leverage a solar powered rechargeable battery pack. For convenience, rechargeable power packs are my go-to.
And of course, some camping fans come with their own built-in solar panels. The technology is improving here, but no one has got it quite right just yet and we don't recommend solar powered camping fans at this time.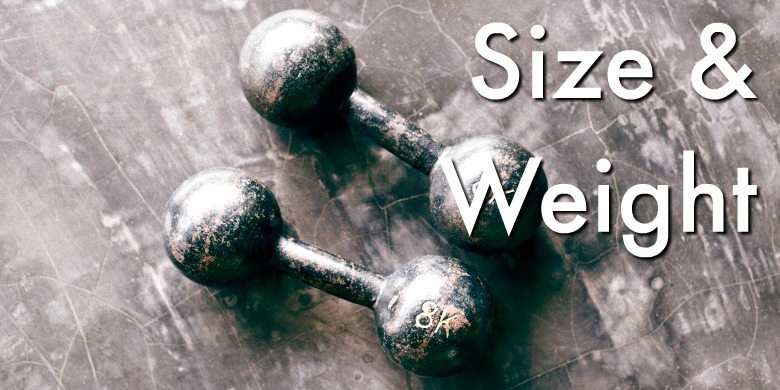 Size & Weight
Generally there's a trade-off between weight and power.
More powerful fans tend to have bulkier components and larger power supplies, which add to the weight.
But you may not need the most powerful fan. Maybe something lighter and more compact is best.
For example, when my fiance and I go camping on the beach we use a light-weight two-person tent. Usually the beach breeze is enough for us so no camping fan is required, but if I did use a fan, the best camping fan wouldn't be a bulky behemoth. I'd probably go with a compact hanging fan to suspend from the thin poles at the center of the tent's ceiling.
On the other hand, that 12V camping fan I linked to above definitely has more heft to it — nearly 3 lbs compared to most compact camping fans' 1 lb weight.
Max Run Time
Most camping fans have multiple speed settings, and the faster settings use more power.
An important number to know when you're looking for the best camping fan is the max run time, which is measured by how long the fan will run on the lowest speed setting.
Some fans have a max run time of just 5-6 hours. Others can last over 50 hours!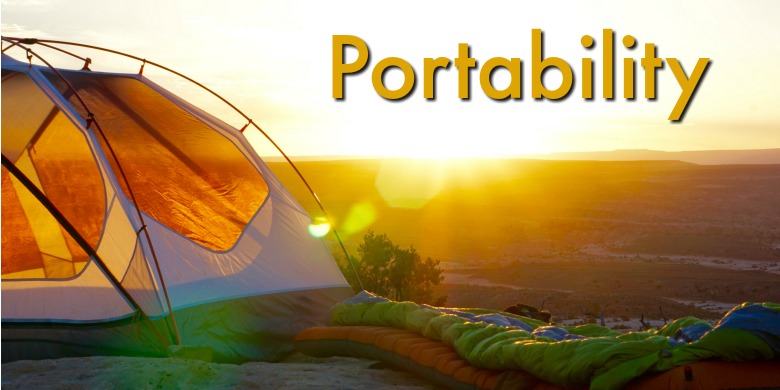 Portability
A camping fan's portability actually ties to all of the factors above, but I want to call it out separately for emphasis.
Consider what type of power the fan needs, how long it runs before needing to be recharged, and how much it weighs.
All of those directly impact how portable the fan is and whether it's better suited for a car camping trip or a backpacking adventure.
Durability & Reliability
In my corporate day job there's something all of the project managers remind clients of on a near daily basis. It's called the Triple Constraint, which roughly means that there are 3 factors in every project:
Cost
Quality
Speed
And you can only have 2 of them.
What does this have to do with camping fans?
Well, if we read "speed" as "performance" it makes a little more sense, and it actually applies to all purchases.
The Triple Constraint Conundrum for Consumers
Sacrifice Cost: If you want something that performs well and is durable, it's probably going to cost more money.
Sacrifice Quality: Or you could go for the nice specs and performance for a low price but potentially deal with durability concerns.
Sacrifice Performance: Or you could get something that's durable and affordable, but it probably doesn't have that extra gear or the high-performance features you really want.
All of that was a potentially complicated way of saying you should consider how important quality, durability, and reliability are to you, because if it's very important then you either need to get something with a lower price or inferior specs.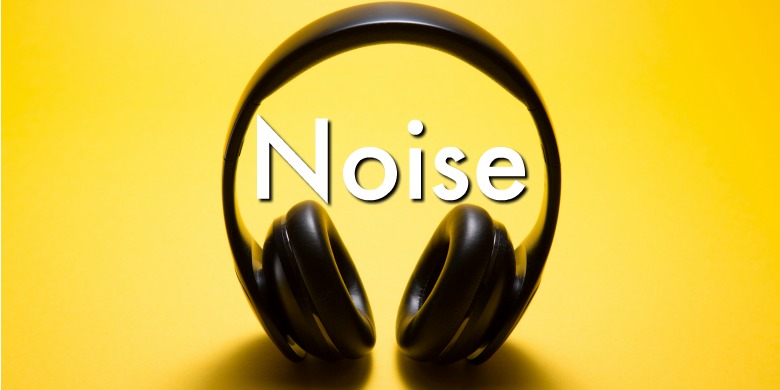 Noise
Or, you know, maybe you can save money by getting something super noisy.
I actually don't mind a noisy fan. I sort of enjoy sleeping through the low hum (or dull roar) of a camping fan, but not everyone agrees. If you'll be in a confined space or running the fan all night, you may want something that's a little quieter.
Cost
If money were no object, we'd all have the nicest and best things and there would be no need for Dollar Tree.
(I'm not knocking Dollar Tree. They have a well-defined market and as of this writing their stock has more than doubled in the last 5 years. Way to go, Dollar Tree!)
Unfortunately, not everyone can afford to buy the best of everything all the time. And those who seem like they can still probably can't. Almost all of us are forced to weigh added costs against added benefits.
That Triple Constraint Conundrum for Consumers I described above? It's a very real thing. I always advocate buying in your price range, but that also doesn't mean buying junk quality for the sake of owning something.
Thankfully most camping fans are pretty affordable, especially when compared to other camping equipment, so cost shouldn't be too much of an obstacle. But if it is, be prepared to do that cost-benefit analysis.
Generally you'll have to decide how much power you truly need and what max run time works for you. It can be annoying recharging your camping fan every 6 hours, but there's nothing wrong with doing that if (a) you can afford a little downtime and (b) it keeps you in your price range.
What about you? Have you ever used one of the camping fans on this list? Is there a model you think we should have mentioned but didn't? Connect with us on social media and let us know!
Best Camping Fan FAQ
Is It Okay To Have A Fan In A Tent?
Yes, it is definitely okay to have a fan in a tent! In fact, adding a fan to your tent is a fantastic way of staying cool during warm summer months and it also helps to keep bugs away.
Do I Need To Have A Fan For Camping?
You don't need a camping fan to survive in the wilderness, but it can definitely make your time camping more enjoyable.