Cold, leaky waders will absolutely ruin an otherwise perfect day on the water. Our look at the best fly fishing waders will help you avoid that fate.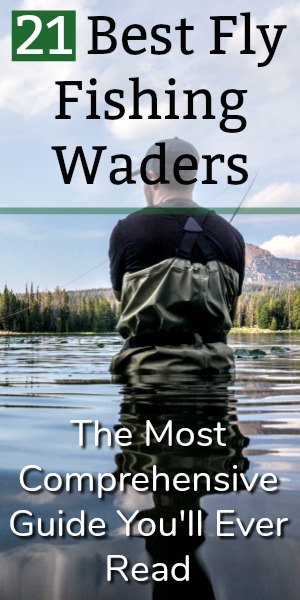 Many of us use nature as an escape from the stress of everyday life.
Stepping into the Great Outdoors and taking that first breath of crisp, open air truly is an amazing feeling.
And as almost any fisherman will tell you, there's no better way to step into the Great Outdoors than to literally wade out into it.
Whether you're an experienced angler or new to the sport, you'll need the right gear.
And for fly fishermen, a great pair of waders is not to be overlooked.
Our goal with this article is two-fold:
Describe the wide world of fishing waders, and
Identify the best fly fishing waders across 7 categories.
Why 7 categories?
Because there are a lot of different fishing environments and a lot of types of waders!
In this article:
We'll kick it off with a quick rundown of our picks for best fishing waders,
Then go into detail about how to choose the best waders for you, and
Finally tie it all up with a more detailed look at out 21 best fly fishing waders.
Best Fly Fishing Waders: Quick Picks
Our Complete Guide reviews the 21 best fly fishing waders across these 7 categories. Here are our top-ranked waders for each. Click here to read more detailed reviews.
Click here to skip the "How to Choose" and go straight to the reviews!
How to Choose the Best Fly Fishing Waders for You
Despite the fact that fishing waders sort of look like one big ol' sack anyone can fit into, they absolutely aren't one size fits all. What may be perfect for my needs may be the total opposite of what you need.
In this guide I'll do my best to highlight the best fishing waders for various situations, but first we should evaluate the different types of waders you'll be wading through.
(I know, terrible joke.)
Material
Bootfoot vs stockingfoot waders
Chest vs waist vs hip waders
Quality vs cost
Gravel guards, knee pads, pockets, and other extras
As you read, make note of your experiences and please comment at the bottom of this article!
Material
Back in the day there wasn't much choice when it came to fishing wader material. If you wanted to stay dry, you lined yourself with rubber.
While these rubber waders got the job done, they had some significant drawbacks:
They're heavier.
They're stiffer.
They trap moisture and can get steamy even in cold water.
They're just plain ol' uncomfortable.
Today you aren't limited to just rubber. As you're shopping for your first or next pair of fishing waders, you'll probably come across these 5 options:
Rubber
Canvas
Neoprene
PVC/Nylon
Synthetic breathable material (e.g. GORE-TEX or Dri-Plus)
And generally you'll be choosing between those bottom 3.
Let's take a look at how these 5 different materials grade out in the most important categories:
| Material | Warmth | Breathability | Weight | Durability | On/Off Ease | Cost |
| --- | --- | --- | --- | --- | --- | --- |
| Rubber | C | F | B | B | B | A |
| Canvas | B | D | C | A | A | C |
| Neoprene | A | F | F | D | D | B |
| PVC/Nylon | D | F | A | D | A | A |
| Synthetic Breathable | B | A | B | A | B | D |
Let's dive a little deeper into each type of wader material.
Rubber Waders
The original old school material, rubber waders do one thing well: keep you dry for cheap.
But as kid who's ever worn those cheap rain boots can tell you, rubber can be seriously uncomfortable. There's no padding at all, zero insulation (growing up in New England I had so many frozen toes on cold, rainy November days), and there's nowhere for moisture to go.
Make no mistake about it: If you wear rubber waders, you're going to sweat.
But that doesn't mean rubber fishing waders are a no-go from the start. It all depends on what your intended use is.
Best Use: Warmer climates, preferably if you'll be mostly stationary. Also a solid option if you're on a budget, just don't get them if you'll be moving around in colder climates.
Image via the National Park Service
Canvas Waders
Canvas waders are another old school style that are a serious step up from rubber waders. While canvas waders are moderately heavy and fairly expensive, they're about as tough and rugged as waders come.
In the grading table above, you'll notice I've given canvas waders a D in breathability, because technically they aren't breathable.
However, canvas waders typically are looser-fitting, which gives you some room to aerate. This also allows you to layer up underneath with breathable clothing to help keep yourself warmer (hence the B for warmth).
But as previously mentioned, the major upside to canvas waders is their durability. If you plan on moving through thick brush, you'll want to consider canvas. Branches or brush that would slice rubber waders or tear through neoprene waders will barely nick canvas waders.
Best Use: When you plan on moving through rough, thick terrain. Also great if you like layering up underneath the waders, as canvas waders tend to give you a little extra bagginess. Ideal for duck hunting.
Neoprene Waders
What's neoprene? Think a diver's wet suit.
The most popular style of fishing wader, neoprene does one thing superbly well: Keep you warm!
(And they're pretty comfortable, too.)
Neoprene waders generally come in two different thicknesses:
I'll be honest, you probably don't need the 5mm waders unless you plan on patrolling some truly frigid waters. Even at or below freezing, the 3.5mm waders will keep you plenty warm.
So if neoprene waders are so warm and fairly comfortable, what are the downsides?
Pretty much everything else.
First, they aren't breathable at all. Like with rubber waders, you're going to sweat. And because of how warm they are, you might sweat a lot. Second, they're bulky, heavy, and not at all easy to get on and off. Third, they take forever to dry, which makes storage a pain. Fourth, they tear pretty easily. While you can patch them with neoprene patch kits or some ingenious DIY solutions, there's no denying neoprene waders just aren't that durable.
Best Use: When you need to stay warm and under budget, neoprene waders give you the best warmth per dollar spent.
PVC/Nylon Waders
PVC and nylon waders are the "new rubber" according to Frogg Toggs, an outdoors clothing retailer. I think that's an apt comparison.
Just like rubber waders, PVC and nylon waders will keep you dry for cheap. But PVC and nylon waders are lighter than rubber waders.
However, they share the same downside: warmth.
Best Use: For light or infrequent use when you just need to keep dry. Do not go with these if warmth is important.
Synthetic Breathable Waders
Welcome to the 21st century!
Or actually the 20th century as the first pair of GORE-TEX synthetic waders hit the market in 1993.
Put plainly, synthetic breathable waders are the best fishing waders money can buy.
It's almost like these waders were engineered in a lab to give you the perfect combination of warmth, weight, breathability, and durability.
Oh wait, they were engineered in a lab? Nevermind!
Breathable waders definitely provide the best combination of almost every category graded above, but they still aren't perfect. I mean, they didn't get A grades across the board. Most notably, while breathable waders are warm, they aren't the warmest. That best-in-class warmth would come at the expense of their conveniently light weight.
There's also the matter of the price tag, as a quality pair of breathable waders is probably going to be pricey. Some pairs even approach $1,000!
But overall, breathable waders are significantly better all around than any other fishing wader material.
Best Use: Everything but the coldest of conditions. For generally cold conditions, breathable waders can be supplemented by additional layers of clothing without sacrificing their breathability.
Bootfoot vs Stockingfoot Waders
The next major consideration is the type of foot you want your waders to have. They come in two classes:
Bootfoot: Have attached rubber boots
Stockingfoot: Have attached neoprene sock; you must purchase boots separately
Let's let at some pros and cons for each:
Bootfoot Waders
Pros to Bootfoot Waders
Seamless connection from pant leg to boot means no need for gravel guards.
No gravel guards means less likely your line gets caught around your boot.
Great at locking in body heat, especially when layered with socks and other insulated clothing.
Cons to Bootfoot Waders
Little control over the quality of the boot.
Lower boot quality typically means more difficulty moving around.
Makes your waders heavier and harder to store.
Stockingfoot Waders
Pros to Stockingfoot Waders
More control over the quality and type of wading boot.
Waders will store away more easily.
Easier to get on/off.
Cons to Stockingfoot Waders
Must buy wading boots separately.
Requires waders with gravel guards to prevent rocks from getting in the boot.
You'll probably find buying bootfoot fishing waders to be less expensive than separately buying stockingfoot fishing waders and wading boots, but obviously that depends on the specific gear you're looking for.
Chest vs Waist vs Hip Waders
When I think of fishing waders, I think of the overall-looking style that looks like the snow pants I used to wear as a kid. But that's only one style of waders. There are actually 3 different styles of fishing waders:
Chest waders
Waist waders
Hip waders
In the shocker of the century, each type of wader is named for how high it goes up on your body. Let's take a look at each different type and the type of fishing they're suited for.
Chest Waders
The most versatile wader because one pair will work whether you're in trickling creeks or waist-deep rivers, chest waders are the one to get if you want one catch-all wader style. The downside is they're obviously heavier, bulkier, and hotter than waist or hip waders.
Best Use: If you plan on river or stream fishing, especially in climates that aren't too hot.
Waist Waders
If you don't want the bulkiness of the overall-style chest waders yet need something more than the high sock-style hip waders, then waist waders are your go-to.
Best Use: For wading up to your knees (or a touch higher) in slow moving streams, especially in warmer environments where you'd rather wear a thin upper layer to prevent sweating.
Hip Waders
If you just want to splash around in the creek while keeping your pants dry, hip waders are an awesome option. They have the triple bonus of being the lightest, most portable, and generally cheapest of all 3 wader styles.
Best Use: For those just looking to wade into the shallowest of streams with little splashing, and also good if you don't need any insulation and are looking to save some money.
Quality vs Cost
When choosing the best fly fishing waders for your needs, ask yourself these 3 questions:
How frequently will you use them?
Are you comfortable patching them when repairs are needed?
What type of features are you looking for?
(We'll answer that third question in the next section.)
If you plan on using your waders 10-20 times per year or less, you should expect to get 3-5 years out of a decently good pair of waders.
If you plan on using your waders 20-30 times per year or more, then you may only get a 1-2 seasons out of them.
Please note this depends on how well you take care of them and the type of terrain in which you use them.
Pro Tip: To extend the lifespan of your waders, make sure to dry and store them properly. Keep them out of sunlight, as UV rays will break down the material, and store them in a place with a consistent temperature that doesn't dip above and below freezing.
You can extend the lifespan on a pair of waders through patching to repair any leaks. Here's a great guide on how to repair fishing waders by the American Boating Organization.
Speaking of leaks, I once read something on the Internet that summarized fishing waders pretty well:
All fishing waders will leak, it's just a matter of when.
The difference between low quality waders and high quality waders is how long until they begin to leak. In an attempt to keep costs down and deliver a cheaper product to market, wader manufacturers obviously compromise quality, and that frequently manifests itself in weak seams. These seams often are the first places where leaks appear.
The question then becomes, which of the following scenarios is cheapest?
Buying high quality waders and repairing as needed for multiple seasons.
Buying more affordable waders that don't last as long and repairing when possible, but replacing more often.
As far as features, well, let's take a deeper look.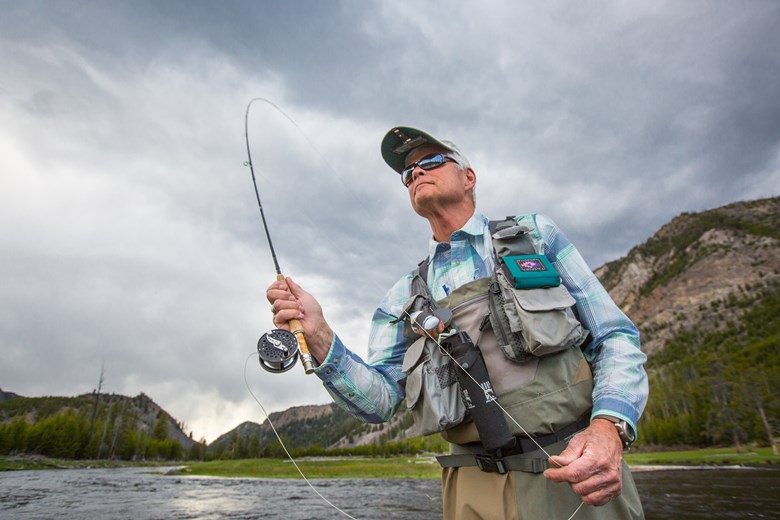 This man has about a billion pockets; image via National Park Service
Gravel Guards, Knee Pads, Pockets & Other Extras
In this section I want to touch on some of the features and accessories that you should consider when searching for the best fly fishing waders for you.
Shoulder Straps // Some shoulder straps are designed just to hold your waders up. Others are designed to be comfortable. There's even a class of waders called convertible waders that are designed to allow you to convert them from chest waders to waist waders, for when it's a little hot out and you don't need to be dressed like a human burrito.
Cinch Belt // This is the part around your waist that tightens your chest waders. It's an oft-overlooked but necessary feature for three reasons: (1) To prevent the waders from being overly baggy, (2) to allow you to adjust the airflow below the waist, and (3) to allow you to tighten up your waders so that, in the event of a stumble, less water rushes into your waders and takes you under.
Gravel Guards // The downside of stockingfoot waders is the need to buy wading boots separately. While this allows you to buy higher quality boots designed for your needs, separate boots also introduce the possibility of rocks and debris ending up inside your boot. Not only is this uncomfortable, but it can lead to tears in your neoprene stockingfoot lining. Gravel guards (or gravel cuffs) roll down over the top of your boot to prevent this from happening. In my opinion, quality gravel guards are a must.
Knee Pads // They add a little extra bulk and weight, but knee pads are seriously handy, especially if you traverse uneven stream beds. Knee pads are like cell phone insurance. You don't think you need it until you do. One stumble resulting in your knee being introduced to rock, and you'll wish you had some. Also note, some fishing waders have removable knee pads.
Pockets // Pockets come in myriad styles — external, internal, hand-warming, etc. — so make sure to think about the gear you'll be carrying and the types of pockets you may need. I'll also include in this section other storage means, such as D-rings. Those can be handy for hanging things, like your net.
Front Zipper // Harking back to my New England youth, I used to hate getting dressed to play in the snow, only to have to go back inside 15 minutes later because I had to pee. Do you know how long that stuff took to put on? A convenient, leak-proof front zipper can be a Godsend.
The Outdoor Authority's Best Fishing Wader Reviews
After 2,000 words of "How to choose the best fly fishing waders for you!" it's finally time to actually name the best fishing waders. We're breaking them down into 7 categories.
Best Breathable Chest Waders
Bottom Line: Best-in-class waders from a recognized authority in outdoor gear, the Simms G4Z waders are expensive but worth every penny for the fly fisherman who needs to be dragged out of the water.
Read more about the Simms G4Z waders
Simms is synonymous with quality. If you see that brand name, you can feel comfortable laying down your hard earned money for an awesome product. These G4Z stockingfoot waders are pricey and are intended for heavy usage.
Made from GORE-TEX with a ridiculous 5 layers from the waist down, these waders will keep you warm and dry while offering superior longevity. They also come with many of the Cadillac accessories that make fly fishing that much easier; I love their durable front zipper and plethora of pockets.
The neoprene stockingfoot sock is designed to fit your foot snugly without extra bulk, giving you hours of warmth and comfort. These are not inexpensive waders, but they're Simms' top-of-the-line model and perfect for any fisherman dedicated to his or her craft.
Bottom Line: Not quite as pricey as the Simms G4Z waders but still offering elite performance, the Patagonia Rio Gallegos are convertible from chest to waist waders and made from 4 layers of Patagonia's resilient breathable fabric.
Read more about the Patagonia Rio Gallegos waders
Like Simms, Patagonia is another name that ensures a quality product. Their Rio Gallegos stockingfoot waders are another pricey pair — thought not in Simms' stratosphere — but that price tag is justified given the performance of these waders.
Ever hear of H2No? It's Patagonia's jargon for their high-performing waterproof fabric. At first I thought it was some newfangled substance they applied to their material to give it superior water resistance, but it's actually their registered trademark for their Patagonia performance standard.
If you click on that link you'll see Patagonia has 3 levels of H2No listed to cover 2-layer fabrics, 2.5-layer fabrics, and 3-layer fabrics. These Rio Gallegos waders? They're an H2No 4-layer fabric. Patagonia's official site doesn't even recognize that many layers. Now that's quality.
What does it mean to be a 3-layer H2No fabric?
3-layer H2No® Performance Standard fabrics are waterproof, windproof and breathable by virtue of an advanced combination of elements: a water-repellent shell fabric, a waterproof/breathable membrane, and an ultralight knit backer. The entire fabric package is highly packable, comfortable next-to-skin, and built to withstand long term exposure in extreme environments.
Do not question these waders' durability.
In addition to their awesome comfort, performance, and reliability, the Rio Gallegos waders are fully convertible and adjust easily from chest to waist waders with their well-designed shoulder strap system. They also have removable knee pads, which I think are an awesome addition.
Bottom Line: A quality wader without a ton of extras, the Compass 360 Deadfall series is a great budget breathable wader. This STOUT version is designed for the — ahem — larger anglers among us.
Read more about the Compass 360 Deadfall STOUT waders
For a breathable fly fishing wader that's a little more affordable but still delivers reliable performance, have a look at the Compass 360 Deadfall stockingfoot waders.
This pair of waders is part of Compass 360's STOUT product line, which is designed for people who need a little extra room. Or a lot. Take a look at Compass 360's sizing chart to see if a STOUT model is the right fit for you.
These Deadfall waders feature a 4-layer nylon upper yet still provide great breathability. Unlike the two waders listed above, these don't have a ton of special features or added extras. They just keep you warm and dry without breaking the bank. Of note are the double reinforced nylon in the knees and rear, a large front pocket, the comfortable suspender system, as well as the double taped stockingfoot socks to prevent leaking.
Best Neoprene Waders
Bottom Line: A great combination of affordability and performance, the Frogg Toggs' Amphib 3.5mm Neoprene waders feature a high-rise design on the chest and a super snug fit for superior warmth and dryness.
Read more about the Frogg Toggs Amphib 3.5mm Neoprene waders
A no-nonsense neoprene wader, the Frogg Toggs Amphib 3.5mm wader offers great performance for a great price. Frogg Toggs' Amphib product line (unsurprisingly) is designed for both in-water and out-of-water use. As a result, these waders fit snugly and go up very high, almost right to the armpit. This gives you superior warmth and dryness, but it does limit breathability and makes them best worn in colder waters.
There aren't a ton of added accessories with these waders. There are few pockets and no cinch belt around the waist. You do get a couple D-rings around the top of the waders, near the shoulder straps, but that's about it.
However, they do have reinforced neoprene around the knees and effective gravel guards.
Due to the snug nature of these waders, it's recommended you get a pair that gives you 2-3 extra inches of inseam length.
Bottom Line: The bootfoot, convertible chest-to-waist design separates the Red Head Bone Dry 3.5mm Neoprene waders from other pairs listed here. They offer a few nice extra features, such as chest handwarmer pockets and side cinch straps to customize the fit, but there are some concerns about the durability of the boots.
Read more about the Red Head Bone Dry waders
The first pair of bootfoot waders reviewed here, the Red Head Bone Dry 3.5mm Neoprene waders are all you need to get out in the water. Compared to the Frogg Toggs 3.5mm Neoprene waders mentioned above, these Red Head waders don't go up as high in the chest/back and offer a pair of tightening straps on each side to help fit the wader to your body type.
The front chest features double hand warmer pockets but not a ton of storage like the best breathable waders listed earlier. These waders are also convertible from chest to waist with their adjustable shoulder straps.
The boots have plenty of traction and are reasonably comfortable — better than most comparable bootfoot waders in this price range — but I question how durable they are. Some users have reported persistent leaking after a few uses. It's hard to know whether that's due to how tough these users are on the waders, or if it's more of a quality problem. My take? Anytime you shop for bootfoot waders in this price range, you're liable to run into quality issues with the boots. I almost always think stockingfoot waders are the way to go.
Bottom Line: A thinner wader made from 3mm of Cabela's trademarked Neostretch material, these bootfoot chest waders are a camouflage-patterned, all-season wader that's perfect for both anglers and hunters looking for a neoprene wader that offers more comfort, though at the slight expense of warmth in colder conditions.
Read more about the Cabela's Neostretch waders
Made of 3mm neoprene, these Cabela's bootfoot waders are a little thinner than the other two neoprene waders reviewed here. That makes them great for all-season use, but in water at or below freezing you'd be better suited choosing one of the 3.5mm waders above, or a 5mm wader for extreme cold.
And like the Red Head neoprene waders, these Cabela's waders are bootfoot waders. Also featuring a camouflage print, these waders work for fly fishermen but are also designed with hunters in mind.
These waders are made from Cabela's trademarked Neostretch material, which gives extra stretch and comfort. That's handy anytime you try to move in them, especially when sitting, putting them on, or taking them off. Combined with the Neostretch material and the looser-fitting design, these waders also give you more room around the chest.
Best Waist Waders
Bottom Line: If you're wading in smaller streams where you only need lower body protection, Patagonia's Gunnison Gorge waders might be the best you can buy. I love their light 2 lb design and high quality seam construction. The waterproof internal pocket for your phone is a great feature, too.
Read more about the Patagonia Gunnison Gorge waders
Made from Patagonia's H2No material, which we discussed in detail above in the "Best Breathable Waders" section when reviewing the Patagonia Rio Gallegos chest waders, these Gunnison Gorge waist waders are an amazing combination of comfort and performance. And like all waist waders, they're less bulky and perfect for anglers looking to stay dry in smaller streams, especially those in warmer climates.
A stretchy waist band and cinch belt allow you to size them for your body type. They also include a waterproof internal pocket to keep your phone dry. While the Gunnison Gorge waders aren't cheap by waist wader standards, that price is justified given Patagonia's commitment to quality. One look at the near-perfect seam design and attention to detail and you'll understand why Patagonia is one of the industry leaders.
And at just shy of 2 lb in weight, you'll barely notice wearing these high-performing waist waders.
Bottom Line: These Simms Freestone waders are nearly identical to the aforementioned Patagonia Gunnison Gorge waders. They're a couple ounces heavier and are made of a different material — though still high quality and breathable. In our opinion, choosing between the two waist waders comes down to which brand you prefer.
Read more about the Simms Freestone waders
Another pair of waders from what may be the best name in the industry, Simms. These Firestone waist waders are a couple ounces heavier than the Patagonia Gunnison Gorge waders, but they offer almost the same level of performance at a similar price point.
What I want to mention about these waders is what they're made of: Toray. Toray is a GORE-TEX style material, but it does have a few limitations that are called out on the Freestone Waders' product page:
Toray® waders are breathable though not as breathable as GORE-TEX®. They do not have the same properties as GORE-TEX® and therefore finding pinholes will not be possible using the alcohol test. Care for Simms waders with Toray® technology as you would a GORE-TEX® wader…We are not able to replace the feet on Toray® waders. We are only able to put custom feet on GORE-TEX® waders.
Conclusion: Toray waders offer similar performance to GORE-TEX but at a lower cost. Because these are waist waders, that slight decrease in breathability is an OK compromise; you should be able to stay cool and sweat-free because they waders aren't going up to your chest.
Overall, Simms makes great products. If you want the best waist waders on the market, you'll be choosing between the Simms Freestone waders and Patagonia Gunnison Gorge waders. At that point there are no wrong answers. It comes down to whichever brand you prefer.
Bottom Line: A quality waist wader for significantly less than the Patagonia or Simms waders listed here, Cabela's breathable stockingfoot waist wader is great for anyone looking to stay dry in shallow wader without paying through the nose.
Read more about the Cabela's Breathable waders
Compared to the Patagonia and Simms waste waders mentioned above, the biggest selling point for Cabela's waist wader is its price. The sacrifice you make is a nylon exterior, which doesn't breath very well, and a little less attention to detail in terms of overall quality.
However, I find breathability is a little less important on waist waders. True, you tend to use them in warmer environments, which can lead to more sweating, but the ability to wear a t-shirt or other breathable material on your upper body helps mitigate that.
The biggest issue with these waders: The belt doesn't want to stay tight.
I hesitate to ever call Cabela's a best-in-class brand, but they do make affordable, quality items.
Best Hip Waders
Bottom Line: The best hip waders I have ever used, the Allen Black River bootfoot waders can handle heavier usage compared to other hip waders in their price range. One word of caution: The boot size runs a touch small, so consider sizing up!
Read more about the Allen Black River waders
Finding a quality pair of hip waders has been challenging for me. I don't want to spend an arm and a leg for them — that's what my chest waders are for — but I want something that feels more durable than a plastic bag tied to an old shoe.
Enter Allen, whose Black River hip waders have passed every test both my wallet and I have given them.
With two-ply upper lining made from 100% PVC/nylon and surprisingly solid seams, these hip waders have surprising durability. Despite repeated use I have had no leaking issues and no punctures, though I do make sure to protect them when in use and store them properly.
The one comment I will make is about their sizing: They run a little small. I'm generally a size 9, so I sized up to a 10 and they fit perfectly.
Bottom Line: A value hip wader that offers convenient wetness protection, the non-insulated Frogg Toggs Rana II cleated bootfoot waders are intended for less than full-time duty but still deliver comfortable performance when called upon.
Read more about the Frog Toggs Rana II waders
Made from PVC/nylon, these waders are made for one purpose only: To keep you dry in lightly running streams. The cleated boot does offer some traction on slick stream beds, but it's non-insulated. Make sure you give yourself some room to wear proper socks.
These waders are designed to give you budget performance, which means you don't buy them expecting to have them be your 20+ times per year waders for multiple seasons. I think they're perfect for occasional usage when you don't want the full bulk of chest waders, but don't expect the same product quality as Simms or Patagonia.
Bottom Line: The Hodgman Mackenzie hip waders aren't going to win any awards for quality, but they offer performance in the lower price range.
Read more about the Hogdman Mackenzie waders
A thin wader for a bargain price, these Hogdman cleated bootfoot hip waders have a no frills design.
But I'll be honest: I question their durability. Many users have reported issues with leaking after just a few uses, but as always it's hard to know the strain these users are placing on their waders.
The lightweight 100% PVC/nylon material is very thin and has no ability to insulate, but the waders themselves are comfortable to use. If you plan on marching through brush with these waders on, think again. But if you throw them on and hop straight in the water, I think you'll be satisfied with their performance, especially given their price.
Best Beginner Waders
Bottom Line: The best beginner waders on the market, Caddis' stockingfoot waders are made from breathable material with a comfortable fit that will introduce you to the world of waders without breaking the bank.
Read more about the Caddis Breathable waders
Your first pair of waders should be an affordable gateway to the world of waders, helping you decide whether fishing itself, or merely fishing waders, is for you. To that end, a great pair of beginner waders should be affordable, comfortable, and versatile.
Chest waders are your best bet, and you probably aren't looking at a $500 pair of waders from Simms, or even a $200 pair from Cabela's.
That's where Caddis comes in. These breathable stockingfoot waders are made of breathable material that isn't quite GORE-TEX quality but still does its job. And they're not overly baggy like many affordable chest waders; thinner folks won't be swimming in them yet rotund guys should have enough room.
I like the handy front zipper pouch, the dependable cinch belt, and the effective gravel guards.
Frankly, these are the best beginner waders on the market.
Bottom Line: Nearly identical in quality, price, and performance to the Caddis beginner waders above, the Frogg Toggs Hellbender waders are an affordable option for beginners. However, it should be noted that users have reported a slightly higher leak rate than with Caddis.
Read more about the Frogg Toggs Hellbender waders
Any time you search for the best beginner fishing waders, Frogg Toggs' name comes up. This brand doesn't try to compete directly with the big boys from fishing wader supremacy. Instead, they have carved out their portion of the market delivering value-based products to the discerning customer.
That's what makes these Hellbender fishing waders great for beginners.
In terms of price range, comfort, and warmth, these chest waders are right up there with Caddis. The only reason I prefer Caddis to these Frogg Toggs Hellbender waders is because of a reported slightly higher rate of leaking around the boots. If you've read this far you probably have already seen me say, "All fishing waders will leak, it's just a matter of when."
That's especially true of beginner waders, where manufacturers sacrifice long-term reliability for the sake of an entry-level price. Honestly, you just have to know that going in.
I still like these Frogg Toggs waders. It's worth noting that they do fit a little snugly, so plan accordingly when sizing the right pair for you.
Bottom Line: Probably the best affordable neoprene wader for beginners, the Frogg Toggs 3.5mm neoprene wader is a no-nonsense, all-in-one bootfoot alternative if you prefer that convenience.
Read more about the Frogg Toggs Ambib waders
No list of the best beginner waders is complete without offering a couple different materials. These 3.5mm neoprene waders from Frogg Toggs are great for those looking to get into their first pair, or if you're looking to make the switch to neoprene but aren't sure if you like it.
It should also be noted that these are bootfoot waders compared to the two pairs of stockingfoot waders above.
Part of Frogg Toggs' Amphib product line, these waders are intended to serve double duty for both anglers and hunters. And with their high-back design, they definitely keep your entire body warm and dry.
They also have the same limitations as other neoprene waders — they can be sweaty and they puncture rather easily — but I want to call out one other quirk: They tend to bunch up on people who are average or shorter height for their weight/foot size.
Best Waders for the Money
Bottom Line: Cabela's is an (unofficial) industry leader in "Bang for Your Buck" and the story is no different with these 5mm neoprene waders. That's a thick wader providing warmth and insulation that may be over the top, but it also ensures you'll be able to use them in some of the coldest conditions you can imagine, all for a great price.
Read more about the Cabela's neoprene waders
I haven't featured any 5mm neoprene waders yet in this list of the best fishing waders because 5mm is thick! That kind of thickness typically isn't necessary and results in a ton of extra weight (and sweating) without much need.
But 5mm waders are a thing and some people like them. If that's you, then it's back to the Cabela's brand, who repeatedly shows up on lists of the best waders for the money.
If you want frills, look somewhere else (and probably in a higher price range). You won't get any with these waders. The only added feature, which is sort of a minimum requirement on neoprene waders, is the chest handwarmer pocket.
But check out the reviews on these waders. Four stars. Five stars. Over and over again. Cabela's keeps delivering affordable performance, and they've done it again with these waders.
Bottom Line: An affordable breathable wader with 3 layers of fabric (instead of the 4- and 5-layer breathable waders featured elsewhere in this article), the Hogdman H3 is a great light-use wader for those looking for a breathable wader for a bargain price.
Read more about the Hogdman H3 waders
Cabela's, Frogg Toggs, and Hodgman keep appearing in the affordable wader categories. That's because they know their place in the market. These Hodgman H3 waders offer a budget breathable wader that's effective and super light.
The 3-layer breathable shell doesn't quite match up with some of the 4- and 5-layer waders featured in this comprehensive review of the best fly fishing waders, but Hodgman does offer a pretty nifty feature: a zip-in liner that adds an extra layer of warmth.
Bottom Line: A key component for "Best Waders for the Money" is how much performance you get for dollar spent. That's what separates "Best Beginner Waders" from this section, because sometimes you pay a little extra and get a lot more. That's the case with these Frogg Toggs Pilot II waist waders, which aren't the cheapest waders out there but have impressive insulation and durability for what they cost.
Read more about the Frogg Toggs Pilot II wades
Not everyone wants chest waders, so I thought we should have a waist wader in this section. And no surprise, it's back to Frogg Toggs.
These Pilot II stockingfoot waist waders are made from 4-ply breathable material in most areas with reinforced 6-ply material in the knees, where you need the extra durability. The range of motion is pretty incredible and you'll have few issues with leaking. The neoprene booties are a little bulky, but that also serves to keep you warmer. Just make sure you have a wading boot that isn't too tight.
Best Women's Fishing Waders
Bottom Line: A women-specific design from the industry leader in fishing gear, the Simms Women G3 convertible stockingfoot waders are made from 3- and 4-layer GORE-TEX that delivers unrivaled performance for a pretty good price.
Read more about the Simms Women's G3 waders
Just like when we looked at the best fly fishing waders for men, Simms makes the best fishing waders for women. Made from 3-layer GORE-TEX in the upper body with a 4th layer in the lower body, where you really need it, it just doesn't get any better than these waders.
Designed for a woman's body with their scalloped top opening, these waders are extremely comfortable. They're chest-to-waist convertible and even offer a couple awesome lower body features that drive home Simms' attention to detail on the G3: gravel guard hooks, which attach to your wading boots, and an anti-microbial finish on the booties to help reduce bacterial build-up.
(That means less odor.)
The link above to these waders includes a women-specific sizing chart from Simms, so find the size that works best for you and get ready to own the Cadillac of fishing waders: The Simms Women's G3.
Bottom Line: Another convertible wader at a lower price point than the Simms G3 waders above, these Redington Willow River waders give you a comfortable design with 3 layers of breathable (non GORE-TEX) material.
Read more about the Redington Women's Willow River waders
Made from 3-layer breathable material designed to fit a woman's body, Redington Willow River waders are an easy choice for the female fly fisherwoman. The high density neoprene booties offer a ton of comfort and warmth on these chest-to-waist convertible waders.
Most of all, I love the durability of the knees and the quality gravel guards. The front chest pocket is suited well for storage and is mesh-lined.
On the exterior these look like a boring chest wader, but that makes them simple and functional while keeping the price down.
Bottom Line: One of the most affordable women's fishing waders, the Hogdman H4 waders are not chest-to-waist convertible but still feature 3 and 4 layers of Hodgman's breathable material.
Read more about the Hogdman Women's H4 waders
The Simms G3 waders are the best women's fishing waders, the Redington Willow River waders offer near-Simms performance for a less-than-Simms price, and these Hodgman H4 waders check in as the most affordable breathable women's waders.
While they still provide a woman-specific design, the Hogdman H4 waders are a little bit baggier than the Simms and Redington waders already reviewed. They still feature the 3- and 4-layer breathable build, and like most Hogdman waders these H4s are compatible with Hodgman's Core INS removable insulation system to add a little extra warmth when you really need it.
Note: This insulation does not come standard. You need to buy it separately.
These waders will get the job done for light or moderate use anglers, but if you go out frequently it's probably a good idea to step up your wader wardrobe to one of the other two women's fishing waders above.
What do you consider to be the best fly fishing waders? How about the best chest waders, best waist waders, or best breathable waders? Which waders are you using and what has your experience been? Let us know in the comments!