The Great Outdoors was made for sharing, and I don't just mean with friends and family. These best camping blogs, best hiking blogs, and best outdoors blogs (in general) each having something special to offer, from great guides to fascinating stories to stunning photography.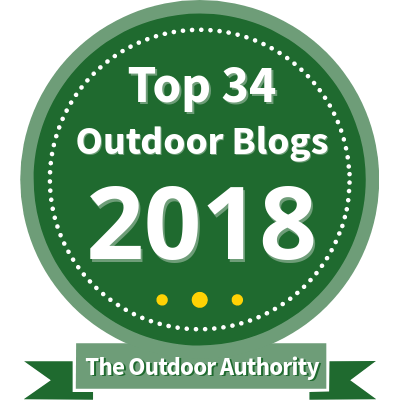 There's nothing quite like sharing the grandeur and splendor of The Great Outdoors.
And because of its immense beauty and ability to inspire awe, it should come as no surprise that I'm not the only one who feels that way!
That's what makes the Internet so awesome. People from all over can connect, and anyone can have a voice.
But some people use that power better than others.
In a sea of poorly designed, ill-informed, out-of-date blogs there lie a few gems — sites operated by passionate experts who have seen some amazing things, know their stuff, and have developed great ways to share it.
I'm an outdoors nut and a blogging enthusiast, and I love finding these gems of the Internet community.
In my opinion, these are the 34 best camping, hiking, and outdoors blogs.
Best Hiking Blogs
Clever Hiker is a backpacking and hiking blog with a beautiful design and fresh content. Established in 2012 by Dave Collins and Annie Hopfensperger, Clever Hiker has a ton of general gear and resource guides, as well as a lot of location-specific tips and reviews. Dave and Annie advocate Leave No Trace practices and are an established authority in the backpacking community.
Top Posts from Clever Hiker
---
Section Hiker is an all-encompassing hiking blog run by Philip Werner, who has been hiking the 2,100 mile Appalachian Trail in sections since 2007. To date, Philip has hiked 1,400 miles — two-thirds complete, Philip! Section Hiker has a whole bunch of great how-to guides geared towards section hiking survival, and he shares his experiences along the way.
Top Posts From Section Hiker
---
Unlike many of the blog-style sites on this list, HikeSpeak is a comprehensive trail resource. There are hundreds of awesome hikes aggregated by region with photos, descriptions, weather forecasts, and other nearby hikes. If you're looking to hit the trail and try something new, give HikeSpeak a look.
---
Founded by a former magazine editor and reporter, Michael Lanza, The Big Outside has an intriguing combination of both storytelling and practical advice with a strong focus on photography. The Big Outside does a great job of capturing the vastness and beauty of, well, The Big Outside.
In Their Words: Michael Lanza, The Big Outside
What makes The Big Outside unique?
What makes The Big Outside unique is a combination of strong storytelling and photography and my deep background in the outdoors, including many years as the Northwest Editor of Backpacker magazine. I believe my blog delivers what my readers are looking for, and I also offer a fairly unique service of helping readers plan their trips.
What do you love most about running The Big Outside?
Knowing that I'm helping people, including many families, get outdoors and find inspiration in the activities and places that have made my life so fulfilling.
Top Posts From The Big Outside
---
Founded by Cam Honan, whom Backpacker Magazine named "the most traveled hiker on earth," The Hiking Life is a compendium of nature knowledge gathered through years of experience. And trust me, Cam has seen it all. Whether you're interested in the Australian outback or hiking in the North American backcountry, there's something for you on The Hiking Life.
Top Posts From The Hiking Life
---
Thomas Smallwood is the brains behind The Armchair Mountaineer. He quit his job in 2016 to improve his quality of life — the rat race wasn't for him. Now he's working on being happier and more satisfied with life as an entrepreneur. One of his ventures is his site, which boasts an impressive collection of helpful outdoors articles and beautiful photography. In fact, Thomas is a member of the Outdoor Writers and Photographers Guild.
In Their Words: Thomas Smallwood, The Armchair Mountaineer
What do you love most about running The Armchair Mountaineer?
What I like most about running the Armchair Mountaineer is that it keeps me connected and spurs me on to spend more time outdoors – something which greatly benefits my mental and physical wellbeing. I also like reading other people's experiences, through our guest posts, which are often a source of inspiration to me. And, if the Armchair Mountaineer inspires only one other person to spend some quality time in nature, I will be a happy man!
Top Posts From The Armchair Mountaineer
---
Will Hatton makes his living teaching you how to get out and live your life. His site, The Broke Backpacker, has everything from Will's own travel stories to how-tos for aspiring Broke Backpackers to gear reviews. I'd also like to add that his site is well designed and easy to navigate, which makes reading it much more enjoyable. But that doesn't mean Will doesn't have great content, too. Check out the top posts below to see some of my favorites.
Top Posts From The Broke Backpacker
---
Campbell and Alya are the Stingy Nomads and self-proclaimed "South Africa's Adventure Travel Couple." You know what? It's hard to argue. Their blog archives are packed with hike recommendations and backpacking lists from South America to Europe to — yup, you guessed it — South Africa. And as great as their content is, their photography might be even better.
In Their Words: Campbell, Stingy Nomads
What makes Stingy Nomads unique?
We are fulltime travelers and adventure travel bloggers. We try to find the most exciting dives, hikes and outdoor activities around the world writing blog posts with all the info we wish we had before these adventures.
What do you love most about running Stingy Nomads?
Exploring some of the most amazing places around the world, challenging ourselves and being a valued travel resource working as digital nomads.
Top Posts From Stingy Nomads
---
Tailored towards the Southern California hiking scene, Trail to Peak has a bunch of great trail guides, travel guides, and gear reviews. Founded by Drew Robinson in 2014, this blog doesn't have a shortage of real world experience. Drew has been to 22 countries and hiked some of the world's most famous trails. Trail to Peak is great for getting practical advice for your own hikes or just for following an accomplished traveler who knows a thing or two (or three).
Top Posts From Trail to Peak
---
Named for site owner Paul Magnanti (he just goes by Paul Mags), PMags is a personal blog full of practical hiking advice. Mags has hiked the Pacific Crest Trail, the Appalachian Trail, and the Continental Divide Trail. He knows his stuff. He's also big into skiing, so if that's something you enjoy then give Mags some of your time!
In Their Words: Paul Mags, PMags
What makes PMags unique?
I try to have a focus on practical advice that is direct, useful, and easily applicable to the average backpacker's experience. And I like to leaven the pragmatic nature with some musings, humor, and thoughts about the outdoors and issues involving the wild places.
Top Posts From PMags
Best Camping Blogs
50 Campfires is a big name in the camping industry, and they cover absolutely everything — recipes, tips, gear…you name it, they've written about it. But while their written content is stellar and complete, I actually love their YouTube channel most. I saw a review of the Stargaze Recliner camping chair and it convinced me to purchase it!
Top Posts From 50 Campfires
---
Founded by Ryan Cunningham in 2013, Beyond The Tent initially started as a family camping blog that morphed into an industry-leading camping resource. Five years later, Beyond The Tent has a ton of great gear guides and backpacking guides, but it hasn't forgotten its roots. Some of the best content on Beyond The Tent is their family-centric camping stuff.
Top Posts From Beyond The Tent
---
The Ultimate Hang is a totally different take on camping — ditch the tent and grab a hammock! That's right, The Ultimate Hang is all about hammock camping. Their Hammock Camping 101 guide has links to everything you need to get started, but you can find some of my favorite articles below.
Top Posts From The Ultimate Hang
---
Kim Hanna loves a lot of things in life, but two of her favorites are camping and cooking. And thus, Camping For Foodies was born! Camp cuisine is a narrow niche for a blog, but that just means Kim has been able to cover nearly every aspect of it. (One thing I learned? Get a dutch oven!) From awesome recipes to creative tips, Camping For Foodies has everything you need to take your camp cooking up a notch (or, more likely, several notches).
Top Posts From Camping For Foodies
---
A Canadian gear shop with a blog, ManCamping knows their stuff. But before you let the name throw you off, ManCamping isn't only for men. They actually have a ManCamping Women section, too! Browse their how-to articles, Man Food section, and more, and do some shopping while you're at it!
In Their Words: Scot Robinson, ManCamping
What makes ManCamping unique?
The ManCamping blog is different than most. We celebrate the mishaps and misadventures that happen when out in the wilderness, with a hysterical view. We tell the stories that other blogs usually hide from you; Wilderness trips are rarely perfect. We are average guys and we write about trips that the average person can relate to… Laughing about it and ourselves all the way along.
Top Posts From ManCamping
---
Cool Camping is a UK site where you can find camping (and glamping sites). So if you're in the US or elsewhere, this may not be the site for you. However, if you're camping in the UK, Cool Camping is an awesome resource to know. For each site they compile user reviews, a description of the number and type of camp sites available, and have a ton of photos. Cool Camping is a great way to make sure you'll truly enjoy your camping experience.
---
Fresh Off The Grid is nothing but camping and backpacking recipes and gear. And it's not just "one pot" meals. They have some really gourmet stuff, too! Plus, like any good food blog, Fresh Off The Grid has great photography and easy-to-follow recipes. I also love how their recipes are filterable based on what you're looking for. Gluten free dinner made for backpackers with 10 ingredients or less? How about Thai Red Curry Rice With Peanut Coconut Sauce! No matter what type of camping or backpacking food you like, you'll find something at Fresh Off The Grid.
Top Posts From Fresh Off The Grid
---
Sticking with camping cuisine, have a look at Dirty Gourmet. This awesome site is run by three women — Aimee, Mai-Yan, and Emily — who "need to be outside." Ladies, I can relate! They believe "food should be as much a part of the experience as the activities, location, and five star views." I won't disagree. Speaking of five star views, you'll want to check out Dirty Gourmet's five star recipes.
Top Posts From Dirty Gourmet
---
Desk to Dirtbag is my spirit blog — Ryan's story really resonates with me. He used to work in politics in Washington, D.C., but hung up that lifestyle in 2013 to explore America. Desk to Dirtbag is the result of Ryan's "just do it" attitude. Read any of his posts and you'll see how he really drives home the textbook definition of a dirtbag: "A person who is committed to a given (usually extreme) lifestyle to the point of abandoning traditional employment and other societal norms in order to pursue said lifestyle." I think we all aspire to be dirtbags.
Top Posts From Desk to Dirtbag
---
Whereas many of the sites on this "Best Camping Blogs" list are operated by adventurous solo world travelers, A Little Campy is something different: "Our blog is a perfect one stop shop for parents who love to travel and see new thing with their kids, regardless of where you go and what you do." That doesn't mean this site lacks international punch. Quite the contrary. As you can see in the screenshot above, their navigation bar is full of different regions around the world. While this blog definitely has a family spin to it, there's still great information for everyone.
Top Posts From A Little Campy
---
No camping, hiking, or outdoors blog roundup is complete without a few RV-themed sites. Enter The Wandering RV. Founded by RVers Bill and Kayla, The Wandering RV chronicles some of the couple's trials and tribulations adjusting to life on the road as well as helpful RV guides based on their experience. And best of all, their great info is packaged in a seriously well-designed site.
Top Posts From The Wandering RV
---
Another awesome RV blog, RV Wanderlust is run by Eric and Brittany Highland. They've been full-time RVers since 2013, even traveling with their young son born in 2016. Their site is conveniently compartmentalized in three sections: Exploring America, RV Resources, and Our RV Life. Each section gives you something unique, helpful, and interesting, and it's all based on their actual experiences.
Top Posts From RV Wanderlust
---
The RV life calls many — myself included! — but the van life has its own appeal. The minimalist lifestyle, the ease of travel, building something of your own and living in it — that's what called Mike Hudson from Van Dog Traveller. Since 2013 he's been traveling and living in his own converted van in the UK. He gave up everything he owns, mostly for free, and hit the road. Van Dog Traveller details Mike's van conversion and van life with a ton of helpful guides from someone who's living it.
Top Posts From Van Dog Traveller
Best Outdoors Blogs
I'll be honest — Cool of the Wild is one of my favorite outdoors blog names. Not only do they feature a robust camping section, but they have a little something for everyone. Much of their content is gear review focused, but they also have a lot of very helpful guides and even some camping cooking recipes. Cool of the Wild has it all.
Top Posts From Cool of the Wild
---
If you think cramming two people into an RV can be challenging, this Crazy Family packs six plus a two dogs — and they fit it all in a 23 foot rig! Craig and Bryanna have created an amazing blog and podcast dedicated to their Crazy Family Adventure. Their site is a complete guide to living in an RV, including what they've learned from their years on the road and many awesome ways you can make the most of the RV life, should you choose to live it.
Top Posts From Crazy Family Adventure
---
Owned and operated by professional adventurer Louise Brown, The Adventure Land is a packed with tons of great information. Louise has been on the go since 2006 and has visited 54 countries. That experience comes through in her site, which is dripping with useful stuff in a variety of outdoor niches.
Top Posts From The Adventure Land
---
One of the most popular outdoor pastimes is fishing, and Moldy Chum is one of the best fishing blogs you'll find. It's an all-encompassing resources dedicated to fishing, which means current events, overviews of fishing locations, and some great videos. Some of their content is unique. A lot of it is curated. But it's all great information. If you're an aspiring fisherman, you should add Moldy Chum to your daily blogroll.
Top Posts From Moldy Chum
---
Take Me Fishing is an awesome resource for beginners, answering important questions like, "How do I get a fishing license?" and "Where can I catch this fish species?" (Their FAQ page has answers to these questions and a lot more.)
Top Posts From Take Me Fishing
---
Founded way back in 2001, Fishing With Rod is a great beginner's resource with a focus on introducing people to the world of fishing. They also have a strong YouTube presence, as Fishing With Rod is the most-watched fishing channel in Canada and boasts nearly 50,000 subscribers. One look at their navigation bar, shown above, tells you everything you need to know about this amazing fishing resource. News & Updates, Fishing Reports, Video Clips, Event Calendar, Ask an Expert, Glossary — Fishing With Rod has it all.
Top Posts From Fishing With Rod
---
If fishing isn't your thing, maybe rock climbing is! If so, check out Splitter Choss. Originally started as a local Colorado climbing site by BJ Sbarra, Splitter Choss has expanded its scope to become a comprehensive guide to the climbing lifestyle. While they still hold true to their Colorado roots, there's a lot that climbers from anywhere can use.
Top Posts From Splitter Choss
---
Training Beta is another rock climbing site with a narrower focus: training. From training programs to nutrition and beyond, Training Beta is the best training-focused climbing blog out there. Oh, and they also have an awesome podcast!
Top Posts From Training Beta
---
A hunting and fishing blog, Wide Open Spaces is a Texas-based blog that combines news and local events with gear reviews and how-tos. You can even find a great recipe for venison meatloaf! If you're an outdoorsman or outdoorswoman, Wide Open Spaces will scratch your outdoors niche.
Top Posts From Wide Open Spaces
---
We've covered camping, RVing, van-dwelling, hiking, fishing, rock climbing, and hunting — how about running? Founded by Jeff McCarthy, who's entire life is about running, Run Eat Repeat is a UK-based blog where you can learn about the sport and be inspired to get started (or keep going!). The site includes interviews, personal stories, running-related recipes, and more.
In Their Words: Jeff McCarthy, Run Eat Repeat
What makes Run Eat Repeat unique?
The objective answer is that RunEatRepeat.co.uk has won 5 blog awards to date, is featured in several independent "Best/Top" blog sites. The subjective answer is that it shares stories and experiences of runners and trail runners of all abilities rather than it all being about me and my running 🙂
What do you love most about running Run Eat Repeat?
The opportunity to interview fellow runners and to share theirs and my own experiences with the running community. It has helped me connect with so many like-minded people whilst allowing those who may not so readily have a profile to showcase their achievements, their worries, their adventures.
Top Posts From Run Eat Repeat
---
A do-it-all outdoors blog, Traveling Ted was founded by travel writer and blogger Ted Nelson. What will you find on Traveling Ted? A little bit of everything, from hiking to canoeing to skiing. One if his recent posts is about his favorite Boston breweries, so it's not just limited to outdoors stuff either! What I like most about Traveling Ted is that his site isn't trying to sell you anything. Ted just wants to share his experiences with a ton of huge, colorful photos. If you're looking for a travel blog from a professional traveler who's able to share their sense of wonder, then make sure you bookmark Traveling Ted.
In Their Words: Ted Nelson, Traveling Ted
What makes Traveling Ted unique?
I believe my use of images and video from my GoPro camera and other cameras brings followers along on my adventures. I go beyond what most people do outdoors and go deep into the wilderness by backpack, canoe, and cross-country skis to bring back great stories and images.
What do you love most about running Traveling Ted?
I enjoy sharing my adventures via my blog and Instagram. It allows me to relive my trip and at the same time give advice and inspiration to those that follow along.
Top Posts From Traveling Ted
So, what did you think of my list of the best camping blogs? Did I leave one out that you think absolutely has to be here? If so, comment below and tell me why!