I must admit that I was initially unsure about using a truck bed tent.
Sure, they look cool but are they any better than a normal ground-based tent?
After months of testing and over 20 nights of truck bed camping in a variety of weather conditions, I can say with 100% certainty that my initial skepticism was way off base. In fact, I now prefer truck tents as my go-to choice when truck camping.
In this post, I share my 6 favorite truck bed tents and include suggestions on which to use for specific needs.
Let's dive right in!
Truck Bed Tents: Quick Picks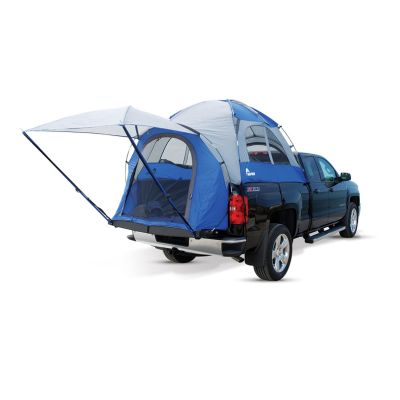 Sportz Truck Bed Tent
NAPIER OUTDOORS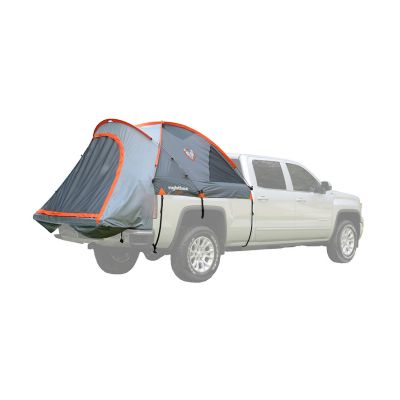 Mid-Size Truck Bed Tent
RIGHTLINE GEAR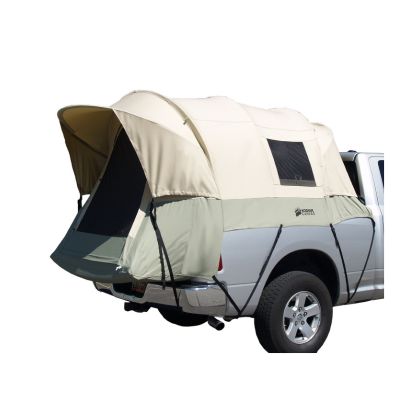 Canvas Truck Bed Tent
KODIAK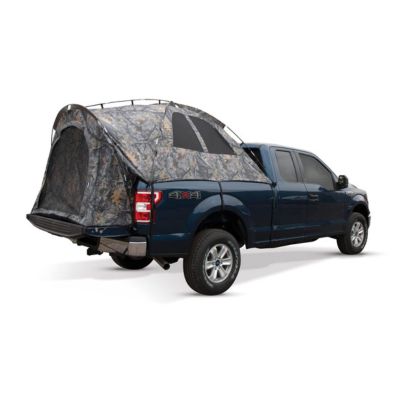 Camo Backroadz Truck Bed Tent
NAPIER OUTDOORS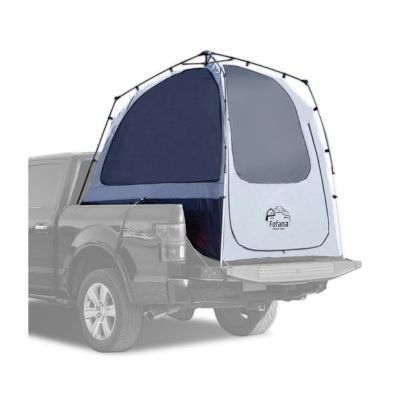 Pop-Up Truck Bed Tent
FOFANA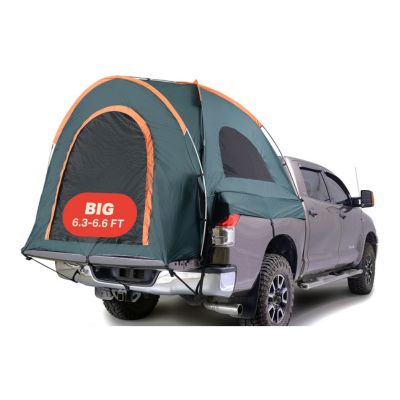 BEST FOR FULL-SIZE TRUCKS
Full-Size Truck Bed Tent
WISE MOOSE
The Best Truck Bed Tents
I can confidently say that the Napier Outdoors Sportz Truck Bed Tent is the best overall truck bed tent on the market today. Designed in Canada with high-quality materials and user-friendly features, this tent offers maximum comfort and convenience without breaking the bank.
On my first test of the Napier Sportz, it rained hard all night long and the durable, high-quality polyester taffeta and polyester oxford, combined with this tent's sturdy frame and strapping system withstood all that mother nature threw at it.
The color-coded pole system makes set-up a breeze, taking less than 15 minutes to fully assemble. Once up, it offers incredible ventilation through wide windows, ceiling vents, and a rear panel.
Additionally, its large entry door allows easy access to your tailgate without sacrificing security or comfort.
It also has a built-in floor, which I'm a big fan of and I also love that it has plenty of space for a big guy like me.
Plus, the added cab access panel allows you to utilize your truck's interior for storage or power access during your camping trip. One of my favorite aspects is the 4′ freestanding awning providing shade and a protected area for gear – perfect for relaxing outside on sunny days!
With its space-saving design matched with innovative features like built-in gear storage areas and a large awning providing extra shade when needed; there's no denying that tent deserves its spot at number one on my list of recommended truck bed tents.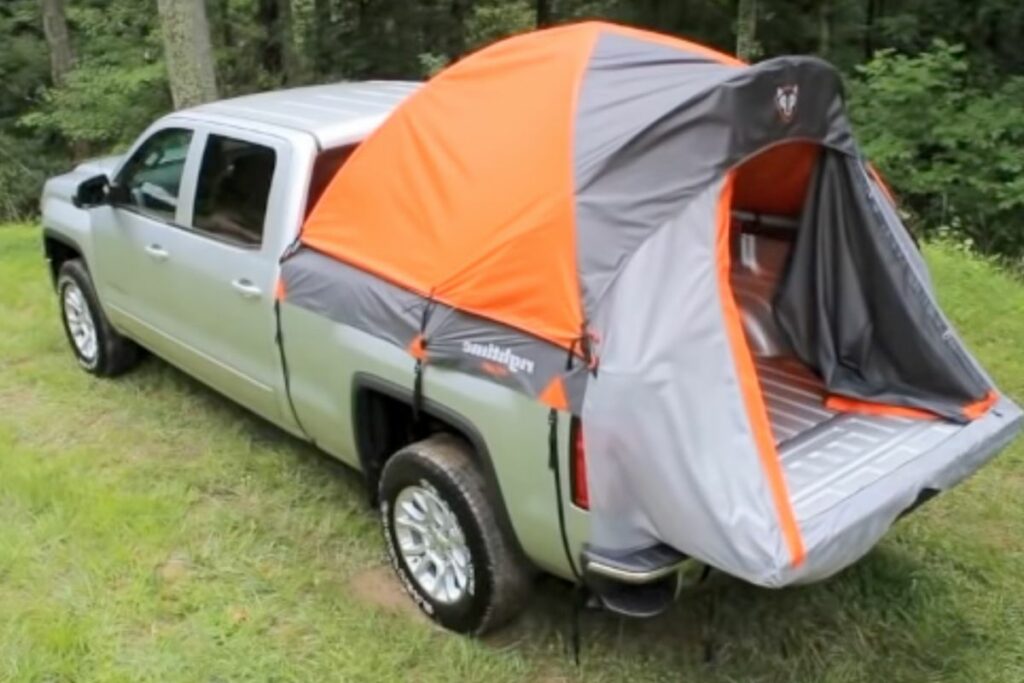 The Rightline Gear Full-Size Long Truck Bed Tent is a fantastic budget option that doesn't skimp on quality or functionality. With room to sleep two adults, this truck bed tent offers excellent value for weekend warriors and seasoned adventurers alike.
I chose this tent for my list because it provides all the essential comforts but doesn't break the bank.
The Rightline Gear tent boasts thoughtful features like water-resistant construction, protective heavy-duty straps and plastic buckles that won't damage your vehicle's finish. There are also two gear pockets for small personal items, an overhead lantern hook, glow-in-the-dark zipper pulls, and a sky view vent which makes it perfect for stargazing at night.
But that doesn't mean it isn't without some drawbacks. The biggest drawbacks for me are that it doesn't have a floor and wasn't quite as sturdy as the other tents I tested. The setup instructions are also a bit harder to follow.
The price is pretty sweet though and even better if you can find one on sale. If you're seeking an affordable truck bed tent that still performs well enough, this is the choice for you.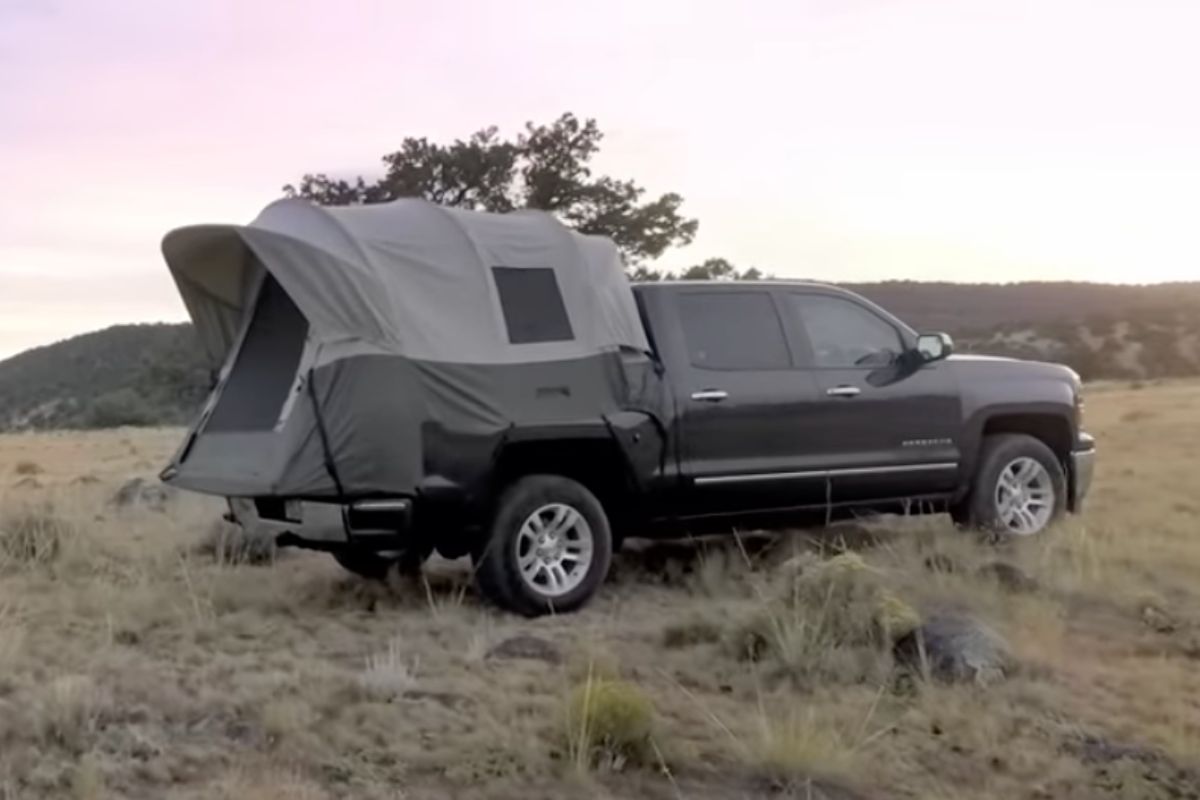 When it comes to durability and reliability, the Kodiak Canvas Truck Tent stands out among its competitors.
Manufactured with premium Hydra-Shield, 100% cotton duck canvas material, this truck bed tent ensures watertight protection and breathability for all-season usage.
However, it is important to note that while the Kodiak Canvas Truck Tent performs exceptionally well in various weather conditions, it is not designed to handle heavy snow accumulations.
The tunnel-shaped design of the Kodiak Canvas Truck Bed Tent maximizes interior space with a generous 5 ft. ceiling height and tailgate down expansion feature. Its five windows provide excellent ventilation and openness along with a cab access window for convenience.
The large D-shaped door has top-of-the-line YKK zippers which ensure easy entry or exit from the tent. Additionally, two practical gear pockets are included for extra storage options.
This is the most expensive tent I tested, and for this price I'd really prefer it to have a floor, but it was by far the sturdiest and most durable of the picks.
Consider this a long-term investment because this tent is built to last a lifetime.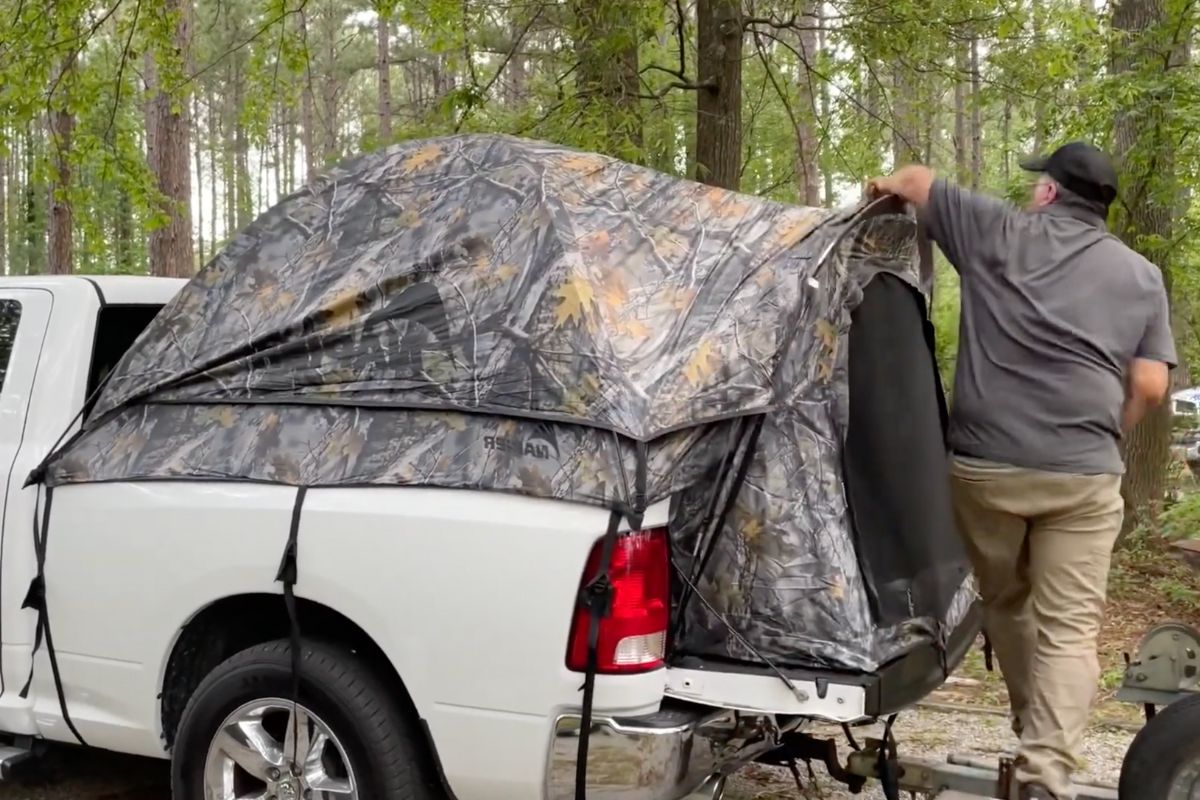 The Backroadz Camo Truck Tent by Napier Outdoors is my choice for the best truck bed tent for hunting. With its camo print exterior, it could even be used as a portable deer or bird blind (just be sure that is legal in the area you are hunting).
This tent is very similar to the Sportz with the only real differences between the two being the lack of an awning and rear access panel Backroadz. While it lacks some of the features of the Sportz, it comes at a lower price, so I consider it a fair trade-off.
What I really appreciate about Napier as a company is their commitment to being environmentally responsible: they plant one tree for every product sold!
If you're an avid hunter or simply enjoy camping out in your truck on your outdoor adventures, the Napier Backroadz Camo Truck Tent is truly worth considering.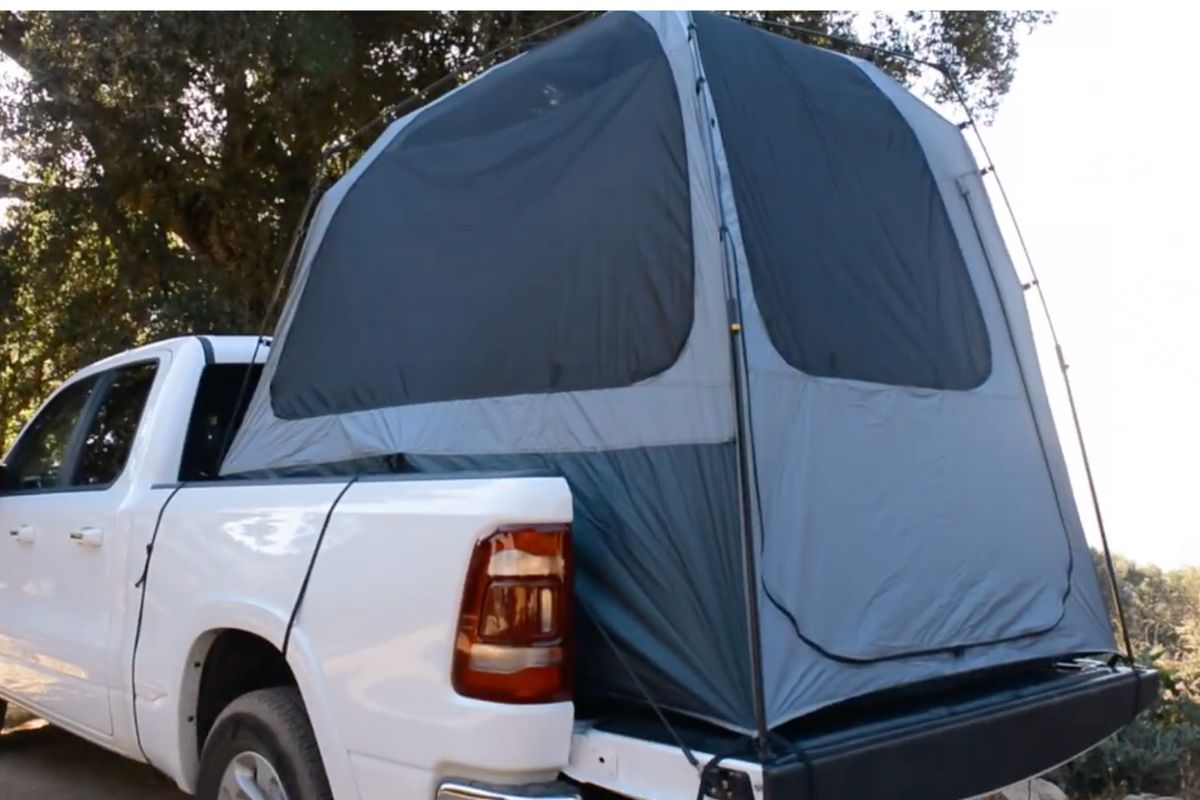 The Fofana Truck Bed Tent is by far the easiest truck bed tent to set up and is a game-changer for those who love the great outdoors and want to make their camping experience as hassle-free as possible.
Designed to fit mid-size and full-size truck beds, this innovative, automatic tent offers unparalleled views with its massive full-height windows providing panoramic 360-degree views and a breathtaking 180-degree celestial sky view.
Made from high-quality materials that guarantee longevity in various weather conditions; it's also outfitted with a sewn-in floor ensuring you're kept dry throughout your outdoor adventure.
But the real benefit of this innovative pickup truck tent is the setup process. It is quick and nearly automatic other than securely strapping it in. I actually tested this tent last after struggling with some of the other tents, and I was amazed at how easy it was.
I forgot to film myself setting it up, but the video below does a great job of demonstrating just how easy the setup process is.
Designed to fit mid-size and full-size truck beds, this innovative, automatic tent offers unparalleled views with its massive full-height windows providing panoramic 360-degree views and a breathtaking 180-degree celestial sky view.
Made from high-quality materials that guarantee longevity in various weather conditions; it's also outfitted with a sewn-in floor ensuring you're kept dry throughout your outdoor adventure.
With an easy-to-use setup process that promises quick installation time, I'm happy to recommend this tent to anyone who values convenience without sacrificing comfort.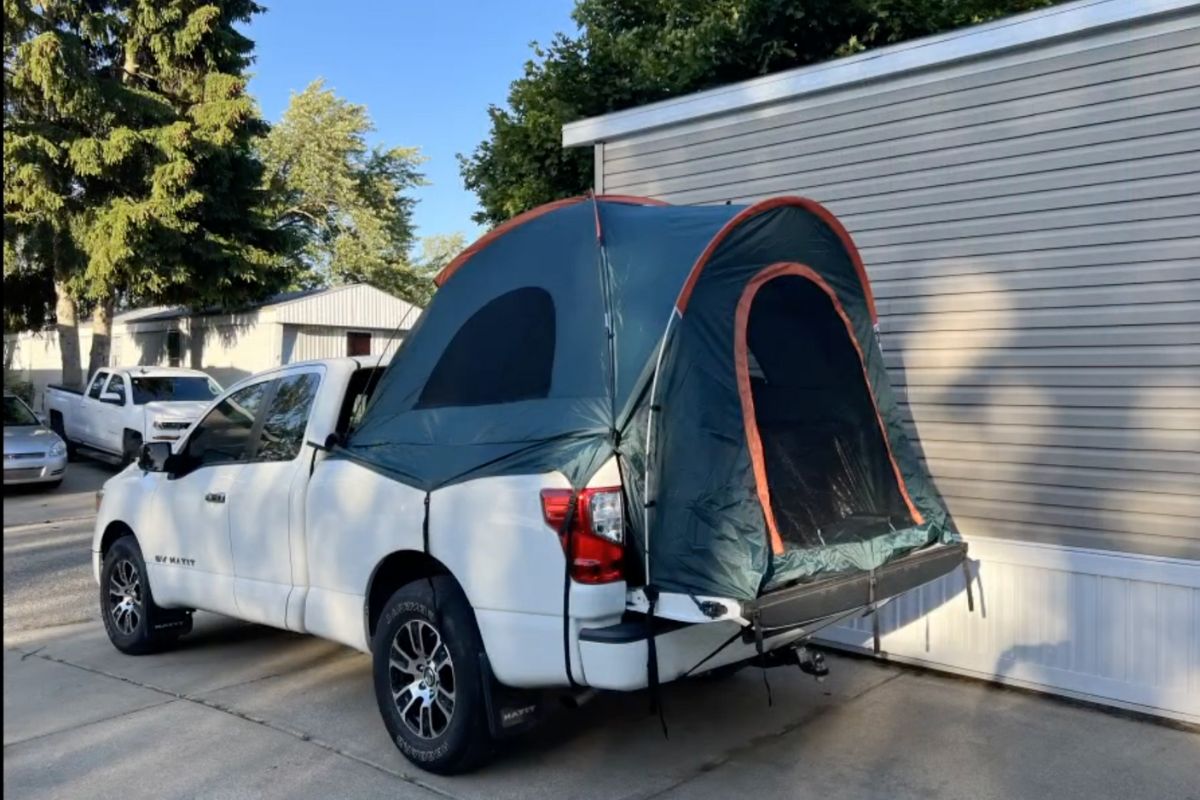 The Wise Moose Truck Bed Tent is designed to fit 6.3-6.5 ft beds and is my choice for the best truck tent for full-size truck beds.
One of the key highlights of this truck tent lies in its sturdy construction with extra-thick fiberglass poles and thick 120G PE flooring to offer enhanced protection against wear and tear. Durability does not come at the cost of comfort as it features a well-designed rain fly that keeps you dry while maintaining proper ventilation through storm flaps.
Additionally, double-layered Oxford fabric ensures optimal water and wind resistance so you can focus on enjoying your adventure amidst any weather conditions.
As an added advantage, the Wise Moose Truck Bed Tent is lightweight, compact, and easily packs into a waterproof bag for seamless transportation between trips. With color-coded poles, sewn-in instructions on the carry-bag, easy setup & takedown steps are right at your fingertips – making your camping experience even more enjoyable!
Factors I Considered When Choosing The Best Truck Bed Tent
When choosing the best truck bed tent, I considered factors such as space and comfort, value for money, weather resistance, ease of use, ventilation and airflow, and brand reputation.
Space And Comfort
Space and comfort are two of the most significant factors I considered when choosing the best truck bed tent. It's essential to ensure that there is enough headroom and a comfortable footprint to accommodate my needs.
The size of the truck bed also plays a critical role in determining how much space is available inside the tent.
For example, my favorite truck tent (the Napier Sportz) provides an excellent balance between comfort and functionality. It has plenty of room for two people while being easy to set up and take down.
Value
For me, value was one of the most important factors in choosing the best truck bed tent. I wanted to make sure that my investment would be worth it and that I wouldn't regret my purchase after just a few uses.
But value isn't just about getting a good deal – it's also about getting the most out of your camping experience. A high-quality truck bed tent can greatly enhance your outdoor adventures by providing a comfortable and convenient shelter wherever you go.
It allows you to easily set up camp anywhere your vehicle can take you, without having to worry about finding level ground or dealing with uneven terrain like you might with a traditional tent.
Weather Resistance
I can't emphasize enough how important weather resistance is when it comes to choosing the best truck bed tent. You'll want a tent that can withstand all types of weather conditions, whether it's rainy or sunny, hot or cold.
To ensure that you're protected from the elements, look for tents made with durable and waterproof materials like polyester or canvas.
One great example of a highly capable weather-resistant truck bed tent is the Kodiak Canvas Truck Bed Tent. Made from Hydra-ShieldTM 100% cotton duck canvas, this tent is not just tough but also provides excellent protection against rain and snow.
The fabric is heavy-duty yet breathable, which helps regulate the temperature inside the tent for better comfort in all seasons.
Ease Of Use
Let's be honest. truck tents aren't the easiest to set up and I spent 15+ minutes setting up all of them except for the Fofana. That's why ease of use was one of my top considerations when selecting the best truck bed tent for camping.
Some truck bed tents are notoriously difficult to assemble or require multiple people, making them less than ideal for solo camping trips or those who prefer a hassle-free experience.
I made sure to include tents that were straightforward and convenient to set up, such as the Napier Sportz Truck Tent with its color-coded poles and simple clip system or the Fofana Truck Bed Tent that can be easily installed by one person in under 5 minutes.
Ventilation And Airflow
One of the most important factors to consider when choosing the best truck bed tent is ventilation and airflow. You don't want to wake up in the middle of the night feeling suffocated or overheated.
Look for a tent that has multiple windows and doors that can be opened, allowing fresh air to circulate throughout the space.
I found that both Napier Sportz Truck Tent and Kodiak Canvas Truck Bed Tent excel in terms of ventilation and airflow. The Napier Sportsz comes with large mesh windows on all sides of the tent, ensuring constant circulation even during hot weather conditions.
Brand Reputation
When it comes to purchasing a truck bed tent, brand reputation is an essential factor to consider. You want a product from a company that has established itself as trustworthy and reliable in the camping gear industry.
In addition to their reputations among customers, these brands also offer warranties and customer support for their products. This means that if you encounter any issues with your tent or need assistance with setup or maintenance, you can rely on the brand to provide helpful solutions.
Truck Bed Tents FAQ
Why use a truck bed tent?
The top reason I recommend using a truck bed tent is that it's elevated off the ground. This is a huge advantage in rainy conditions because it creates a weatherproof barrier between you and the muddy ground below. They are also space savers for smaller campsites.
Are truck bed tents compatible with all truck models?
The leading truck bed tents on the market fit most truck sizes, but not all. If you have a standard-size Ford F-150, GMC Sierra, Chevy Silverado, or Toyota Tacoma then most of the leading tents will fit your bed. However, if you have an extra long or wide bed, I'd recommend checking the tent manufacturer's specifications before buying.
Best Truck Tents: Final Verdict
After extensive research and personal experience, my final verdict on the best tents for truck beds is the Napier Sportz Truck Tent. This tent combines space and comfort with weather resistance to make camping in your truck bed a breeze.
Additionally, I considered brand reputation when choosing Napier Sportz as my top pick. With over 25 years in the business, Napier has established itself as a reliable and high-quality outdoor gear company.