What clothes should I bring on my camping trip?
I've been on 100's of camping trips in all kinds of different situations, but in my opinion, packing clothes for a camping trip isn't that much different than packing for any regular trip.
In this article I'll share my essential camping clothes checklist, the best fabrics for camping clothes, as well what to clothes to bring camping in all 4 seasons.
Let's dive in!
Camping Clothes Packing List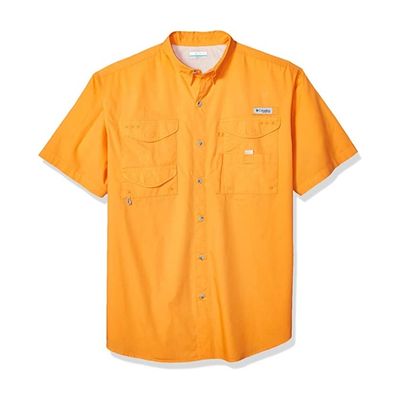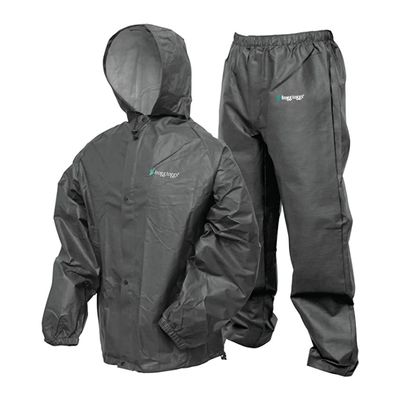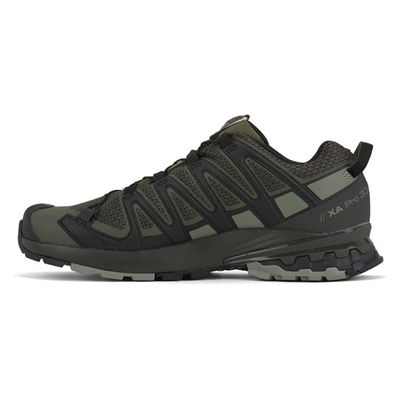 Essential Clothes To Bring Camping
Whether you are packing for yourself or buying camping clothes for your kids, I consider the clothes in the checklist below to be essential for any camping trip in any season.
Moisture Wicking Base Layer
Base layers are the foundation of your camping outfit, and they play a crucial role in keeping you comfortable and dry. They should be made of moisture-wicking fabric to keep sweat away from your skin.
Camping Shirt
Depending on the season you may stick with a light base layer as your only shirt.
I will often choose a "fishing style" shirt like in the picture above and wear it as my only layer when it's really hot or as my 2nd layer when it's a bit cooler out.
Insulating Mid Layers
Insulating layers are worn over your base layer to keep you warm in cold weather. I also recommend packing a lightweight mid layer even with the forecast calls for hotter temperatures, as the Boy Scouts recommend: Be Prepared! Puffy jackets, quarter-zips, and long-sleeve merino wool shirts are my favorite mid layer choices for camping.
Bottoms
Choosing between shorts or pants is completely dependent on the season and type of camping I'm doing. When it's warm I opt for hiking shorts and I prefer elastic waisted ones. When its cooler I usually go with more rugged pants like these from Kuhl.
Rain Gear
Unfortunately, I can say from experience that you don't want to be stuck camping in the rain without proper gear. Getting wet makes your risk of getting hypothermia much higher and your body temperate can drop quickly even when it's hot outside.
So, I don't care if you're camping in Death Valley during a drought, you MUST bring rain gear with you on all camping trips. You can use a poncho, a full rain suit, or just a basic rain jacket. The only requirement is that your rain protection is waterproof and not just water-resistant.
Camping Footwear
Choose footwear that is comfortable and appropriate for the type of camping you're doing. Some of the most common options are: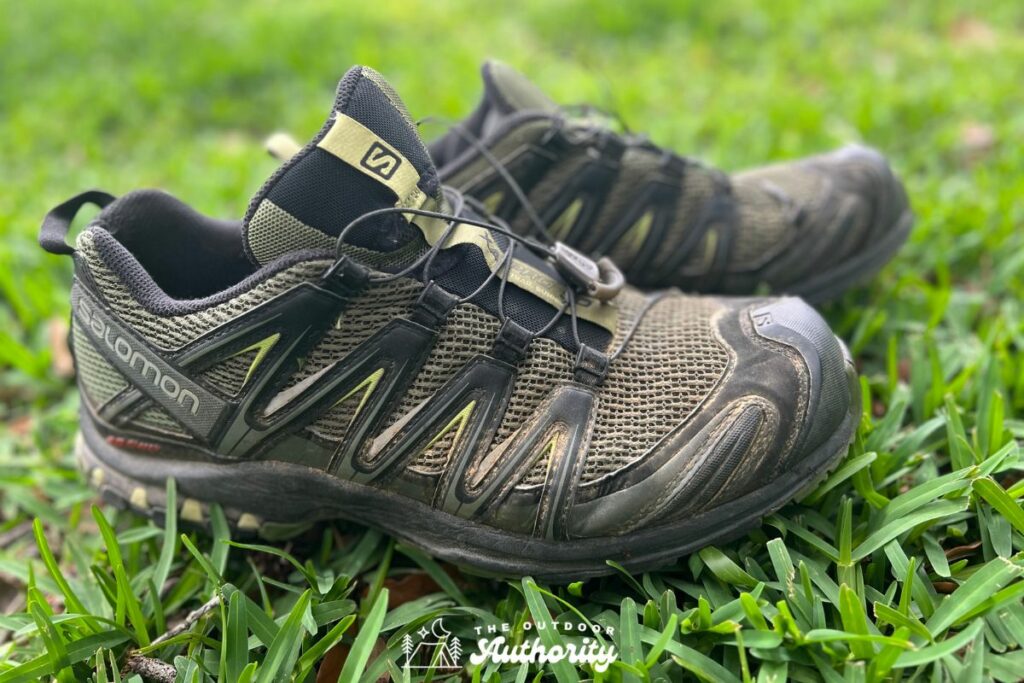 Trail Runners: Trail runners are my favorite type of camping shoes and I pack them for both car camping and backpacking trips. They are lightweight, rugged, quick-drying, and versatile. My personal favorites are Salomon trail runners. The picture above shows the ones that have been with me on multiple backpacking and camping trips.
Hiking Boots: Rugged hiking boots are the classic choice and are still popular with many campers. They are sturdy and supportive but heavy. Premium boots are often waterproof (like these Danner Boots) but don't assume they are without first checking the label.
Sandals: Breathable and comfortable sandals are my top choice for warm weather camping or camping near water. But, they aren't ideal for rocky terrains or cold weather. My wife and I both have Chaco sandals we wear all summer, not just when we are camping.
Socks: Extra socks are on my essential camping clothes checklist and are a good thing to have in emergencies. Warm socks are critical in the winter but I pack them even if I'm canoe camping and plan to be barefoot most of the time.
Accessories
Accessories can make camping more comfortable and convenient. Some options to consider packing for your next camping trip include:
Hat: A hat is an essential piece of camping clothing that I bring with me no matter the forecast. UV rays are present even on cloudy days and a hat is quick and easy sun protection. I prefer either a wide-brimmed lightweight hat or a moisture-wicking baseball cap. In colder months, I layer a beanie underneath.
Gloves: Camping gloves are useful all year long. They are protective layers in summer months and keep you warm in cooler temps.
Buff: versatile and can be worn as a hat, scarf, or face mask
Gaiters: keep snow, rain, and debris out of your boots
Sunglasses: I recommend packing polarized sunglasses for all camping trips even on cloudy days. Protecting your only set of eyes from the unrelenting torture should be enough reason for you, but if not, then remember that everyone looks cool in sunnies 😎
The Best Fabrics For Camping Clothes
Before we get into the specifics of what clothes to pack, I want to share a few thoughts on my preferred fabric choices for camping clothes. As a general rule, I try and bring clothes that are quick-drying and moisture-wicking. Some of my favorites are: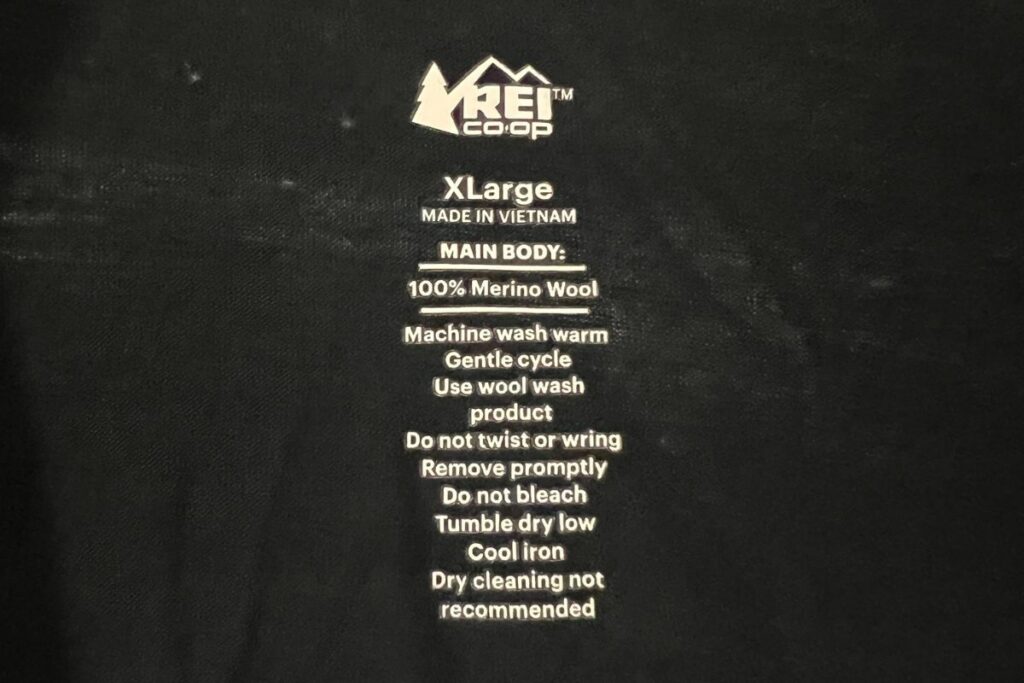 Merino Wool: Merino is a natural fiber that is lightweight, warm even when it's wet, and quick drying. What I love most about merino wool though is that it has natural odor-resistant properties, which makes it an ideal choice for multi-day trips when you may need to wear the same item of clothing more than once. Be aware that merino isn't cheap though, so I try and wait until it is on sale at a discounted price.
Fleece: Fleece is a great choice for mid-layers because it is lightweight, warm, and quick-drying, and does a better job than most fabrics at retaining warmth when it gets wet. Fleece is also ridiculously comfortable and a great choice in colder months.
Synthetic Blends: Nylon, polyester, or other synthetic fabrics are durable, lightweight, and frequently a bit cheaper than natural wool fibers. They are great in outer shells and good budget choices for base layers or tops and bottoms.
Important: I do NOT recommend cotton for your base layers or any protective outer shell. Cotton retains moisture and takes a long time to dry, which can lead to hypothermia or discomfort. Instead, opt for synthetic or natural fabrics that are designed for outdoor activities.
Overall, the best fabric for camping clothes depends on the conditions you will be facing and your personal preferences. Consider the weather, the activities you will be doing, and how much weight you want to carry before choosing your fabrics.
Clothes To Bring On Summer Camping Trips
The key to choosing the right clothes for camping in the summer is to find lightweight and comfortable items. I also prefer fast-drying and sweat-wicking clothes to help keep my body temperatures in check when I get active.
Tops: My wife and I both have Columbia fishing shirts that we wear for most of our summer camping trips and other outdoor adventures. If you're going to be in the sun all day you may want to consider long-sleeve options with built-in SPF protection.
Bottoms: During the day I wear lightweight hiking shorts like these from Patagonia. They have a zipped pocket for secure storage and they are very rugged considering how light the shorts are. Cargo shorts are another great choice. I also typically bring a pair of long pants for the night. When I'm car camping I most often bring jeans but when backpacking I usually pack technical hiking pants.
Swim Trunks & Bathing Suits: I listed these separately from bottoms because I simply couldn't imagine going camping in the summer without going for a swim.
Shoes: Sandals and flip flops are popular choices to pack, but if you plan on doing any hiking don't forget to also bring closed toes shoes.
It's also important to pack clothes for cooler nighttime temperatures. I mentioned above that I always pack pants, but I also recommend something warm to cover up. They can also double as pajamas.
Clothes To Bring Camping In Winter
I personally love going camping in the winter and try to plan at least 1-2 cold weather camping trips a year. My recommended packing list for winter months includes:
Warm Merino Wool Base Layers: I don't want to sound like a broken record and keep mentioning Merino wool, but it really is the best option for winter camping base layers. I wear the REI brand, they are super light and take up almost no space in my pack.
Insulating Middle Layers: Fleece, synthetic blends, and down are the top choices for winter camping mid layers.
Outwear: A warm down jacket is a must-have for winter camping and I like to pair that with a waterproof GoreTex outer layer shell. Look for jackets with adjustable cuffs and hood to keep out wind and potential snow.
Winter Accessories: Don't forget about warm gloves, beanies, socks, and I also always pack a bunch of hand warmers to keep in my jacket pockets.
Boots: Although I'm an advocate for trail runners in warmer months, I recommend insulated and waterproof boots when camping in the winter. Look for boots with thick soles and good traction to help prevent slips and falls on icy terrain.
Packing Clothes For Fall Camping Trips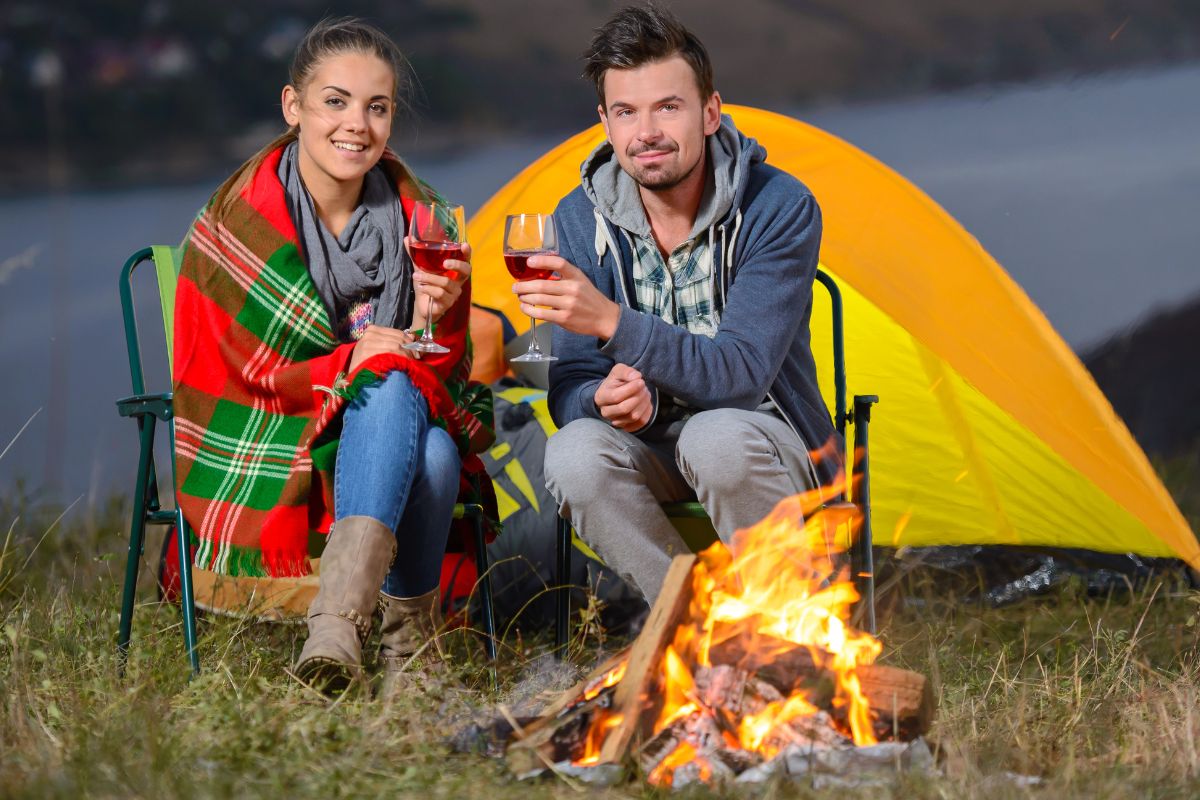 Camping during the fall can be a truly magical experience if you can time your trip with the peak leaf season, which I highly recommend doing if you get the chance.
I also think packing clothes for call camping trips is one of the easiest seasons to plan for. Its not too hot and not too cool and layering comes naturally this time of year.
Layers: As always, I recommend moisture-wicking base layers paired with some sort of insulating mid-layer. In fall, I really don't overthink this though. My typical layering system consists of either a synthetic or wool tee shirt topped with a flannel shirt (see note below) and a wind-stopping puffy jacket on top. (A Note On Flannel: Flannel is cotton and as I said earlier in this article that you should avoid cotton. But as a mid-layer in mild weather, it's an okay rule to break. Besides, a plaid flannel shirt is such a classic look for camping!)
Wear Bright Colors: Fall is hunting season in most parts of the country and if you're camping in the wilderness it's always a good idea to wear bright colors so you are easily identifiable as a human to any hunters that might be passing by.
Other than those two tips, the Fall clothes packing list is pretty much what I listed in the essential items list above.
Clothes To Pack For Spring Camping
Maybe it's just my own perception but it seems like the weather in the spring is more likely to see a big swing from morning to night or vice versa. In fact, I'm writing this in spring and it's 30 degrees Fahrenheit colder today than it was just yesterday!
Much like packing for fall, the spring camping clothes checklist mirrors the essential items from above. But I do recommend the following two factors to consider:
Rain Gear: Packing rain gear is important for any camping trip but even more so during unpredictable spring weather. I will usually bring a high-quality rain set with both a jacket and pants made from GoreTex. I prefer my jackets to have "pit-zips" that allow for cross ventilation of air that helps reduce moisture build up inside.
Backup Clothes: Unless I'm tight on space, I also bring backups and extras for most clothes. This allows me to be flexible and adapt to whatever mother nature chooses to throw at me that day!
Camping Clothes: Final Thoughts
Choosing the right clothes to bring camping isn't complicated. Pay attention to the weather, pack and dress in layers, and always bring rain gear.
One final note: Don't feel obligated to get special clothes just for camping. I wear the same things camping as I do on weekend adventures in my hometown and many of the items are things I wear every day.
Happy Camping! 🏕️
Quality Gear + Discounted Prices = Happy Campers
Do NOT Overpay For Camping and Outdoor Gear
We Find The Best Deals & Discounts Online And Share Them With YOU