Having spent 250+ nights camping in the great outdoors, I can say with 100% confidence that camping trips where I'm warm are way better than trips when I'm cold.
That doesn't mean I don't like camping in the cold. In fact, I prefer it. But camping in the cold and being cold are two completely different things.
If you're here, I assume you agree.
So stay warm on your next camping trip and take advantage of the many hours of research and testing I've put into finding the best electric heated blankets for camping.
Let's go!
Best Electric Heated Camping Blankets of 2023: Quick Picks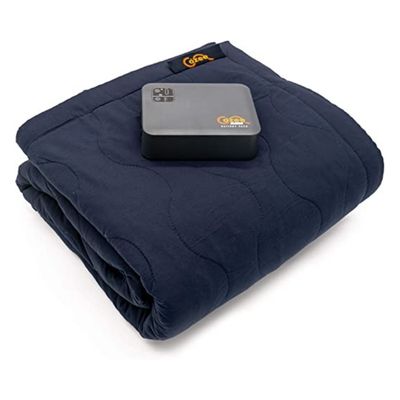 CoZee Battery Powered Heating Blanket
LIFE GIVING WARMTH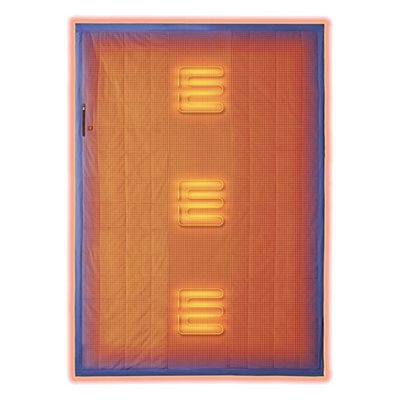 Zen Portable Heated Blanket
GOBI HEAT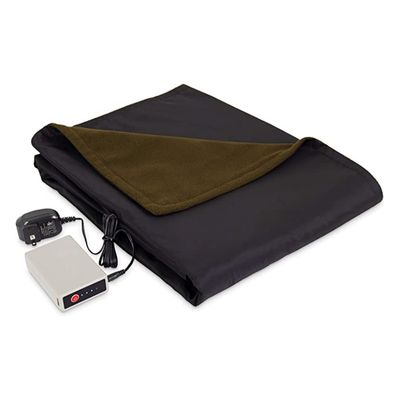 Portable Electric Heated Throw Blanket
EDDIE BAUER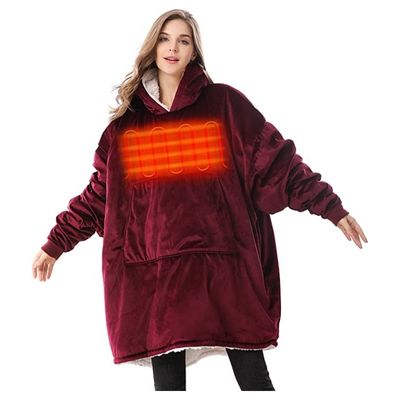 Heated Wearable Blanket Hoodie
VENUSTAS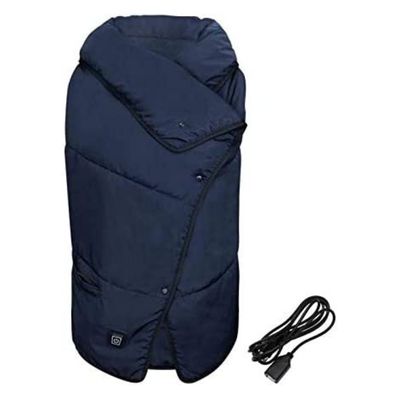 Electric Warm Blanket
IOMITECH
Why You Should Trust Our Pick For The Best Electric Heated Blankets For Camping
I mentioned previously, I hate being cold! And nothing ruins a good camping trip than laying awake all night shivering.
I spent hours researching, testing, and comparing over 35 different brands. For each model, I compared the features, benefits, technical specifications, warranties, and feedback from campers who used the blankets.
From that research, I narrowed the list to my picks for the 5 best electric heated camping blankets.
Features Of Electric Camping Blankets We Considered
Size
Most campers are looking for a camping blanket that is big enough to cover their bodies for maximum warmth, but small enough that it is still portable and not overly cumbersome to lug around.
But this isn't "one-size-fits-all", there are plenty of reasons why you may want an electric blanket that is big or one that is small and portable. Thus, we consider size relative to the blanket's intended use and make note of it so you can make an informed choice.
Material
With camping in mind, I prefer a blanket that is not only comfortable but also can withstand some of mother nature's harshest weather. But, if you are Glamping or camping in an RV with plenty of protection from the elements, going for a lush fleece blanket might be more your speed. This is another factor that I make note of in the scoring, but there are multiple materials that work well for electric heat blankets.
Power Source
Electric camping blankets can be powered in multiple ways; USB, car charger, aa or aaa batteries, or chargeable battery packs. My preference is towards blankets that are portable and can be powered on the go, but for situations where portability isn't a factor, other models, like electric car blankets, have been included.
Heat Settings & Temperature Control
Lower-end electric blankets units typically only have one temperature level. But each of the heated blankets that made our list has the ability to change heat settings and some even let you set specific temperatures on a thermostat.
Heat Level
We like it hot, hot, hot! The whole point of getting a heat blanket for camping is to stay warm, so blankets that actually get hot are the ones that made our list of best electric camp blankets.
Some brands provide specific temperature ranges and others don't. So we had to use methods like user feedback in instances where specific temperatures weren't provided.
Auto Shut Off
Many electric heat blankets have built-in auto shutoff features that kick in after a certain amount of usage time. I have mixed feeling about them. In some cases, they are a great idea and serve as a safety valve to protect against fires. On the other hand, if they stop working after 5 hours and you want to sleep for 8, those last 3 hours can get quite chilly.
Washable
We intend to use these portable heated blankets for camping, so it is safe to assume at some point they might get a little dirt, mud, or other stains on them.
There is no reason your camping blanket should be treated any differently than a regular blanket you use at home, which means it needs to be washed at home. My preference is for machine washable heated blankets, but it isn't a deal breaker. I considered the washing instructions and whether the blankets can be hand or machine washed as part of the scoring model.
Best Electric Heated Blankets For Camping
Ok, now it's time to take a look at the reviews for our favorite electric heated throw blankets for camping and outdoor use. My goal was to find a blanket that fills every need and provide multiple choices for where to buy them, whenever possible.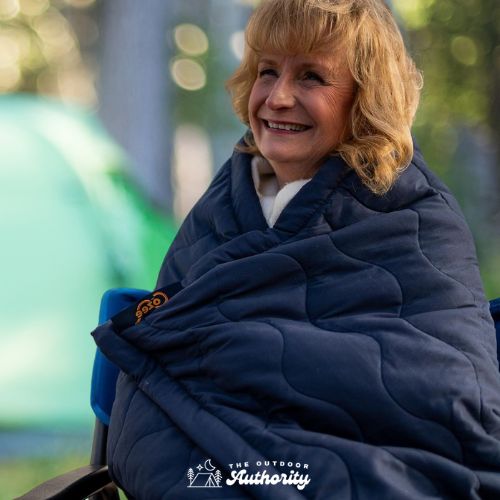 My pick for the best overall electric heated blanket for camping is the Cozee Battery Powered Heating Blanket.
This isn't some random Amazon brand that you'll never hear from again. The Cozee blanket is designed and manufactured by Life Giving Warmth, who are revolutionizing the battery powered heated blanket industry.
The Cozzee heated blanket is everything that I personally need and want out of an electric blanket for camping. It has a wide 60″ x 60″ size, which is large enough for 2 people to fit under, which is great on family camping trips when the kids (or your partner!) want to snuggle.
It is completely portable and powered by a portable rechargeable battery unit. I typically only use my camping blanket in the mornings or sitting around the campfire, and the Cozee provides 3 hours of continuous heat and warmth, which is more than enough for me. You can also pick up a 2nd battery unit if you want to extend the heating time.
The blanket has a soft micro-plush velour lining that is cozy and comfortable and you'll love the way it feels. The Cozee is also rugged, durable, and made with weather resistant materials, which I consider essential for a camping blanket.
It has 3 heat settings so you can control your comfort level based on your specific needs. The battery pack can also double as a USB charger to power other devices like your phone. And finally, it comes with a car charging cord as well so if you are car camping, you can extend the battery life even further.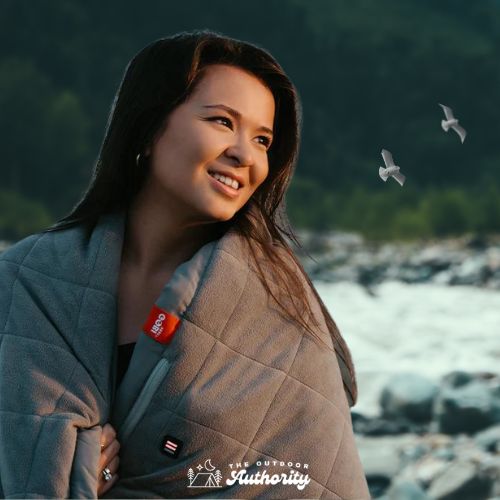 My pick for the best portable heated blanket for camping is the Gobi Heat Zen Portable Heated Blanket. This battery heated camping blanket is lightweight and has a run time of up to 10 hours, which was one of the longest times I found in my testing.
Coming in at 50″ 70″ it has plenty of size, heats up to 136 degrees, and is made with weather resistant and machine washable materials.
I also liked that it has 3 unique heat zones which was nice when laying in a tent because it meant both my feet and torso area were near the heating areas.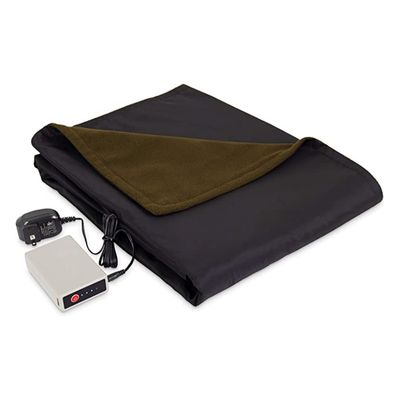 The Eddie Bauer Electric Heated Throw Blanket is our pick for the best weather resistant electric heated blanket for camping. Eddie Baure has been manufacturing quality outdoor products for over a century so you know that it is a brand you can trust.
This blanket doesn't have the longest running battery life or the highest heat setting, nor is it even the most comfortable. But it is the most durable electric blanket on our list, which is a pretty significant factor for a camping blanket. In fact, if you know you're the type of camper who prefers durability over coziness, this is probably a good choice for you.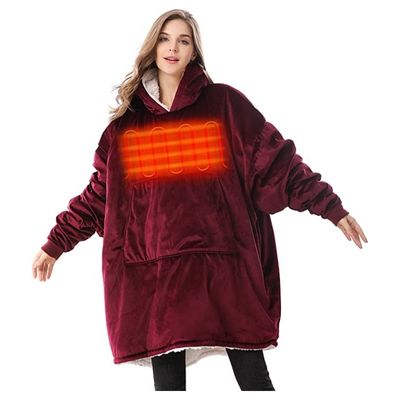 When I first started my research and testing of heated camping blankets I didn't even know they were wearable "robe-style" blankets. I have to say, I was skeptical at first that this was just a marketing gimmick, but I have to admit I really like it!
It obviously isn't a great pick if you want to use it as a throw blanket or share with a friend, but it is perfect for solo camping or sitting around a camp fire roasting marshmallows and telling ghost stories. This is my pick for the best heated wearable camping blanket, but that said, there isn't a whole lot of competition.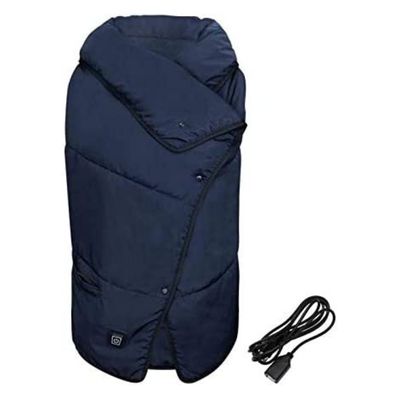 Need an electric camping blanket but don't want to break the bank? The Iomitech Electric Warm Blanket is my pick for the best cheap electric heated camping blanket.
This blanket isn't going to win any awards, but it is waterproof, battery powered, can double as a shawl, has variable temperature control, and an auto shut off timer. It isn't the biggest blanket, but what can you expect for such a low price.
Heated Camping Blanket FAQ
Are Electric Heating Blankets Safe For Camping?
Yes, electric blankets are safe for camping. Many heated camping blankets have auto shut off features that power down the heating units automatically, which reduces the risk of fires starting from a faulty power unit while you are sleeping. 
Can You Sleep With A Heated Camping Blanket On?
Yes, you can sleep with an electric heated camping blanket on. You do need to follow general safety guidelines though and keep in mind that using electric devices in water isn't always the smartest idea, so if you are caught in a rain storm you may want to power down the blanket. 
Are Heated Electric Camping Blankets Worth It?
Absolutely! Heated camping blankets are a great way to stay warm and cozy while you are in your tent or gathered around a campfire with your family or friends. I take mine almost anytime I go car camping. Combined with a mattress pad and sleeping bag it's the perfect sleep system for cold weather camping.
Alternatives To Electric Heated Blankets For Camping
If an electric blanket isn't your thing, there are a few alternate routes to choose from to stay warm camping in a tent. I mentioned earlier that 3 hours of heating time is plenty for me, and that is because I don't rely on my electric blanket for sleeping when I'm camping. I use a cold weather sleeping bag instead, which provides me with plenty of warmth and comfort. 
Other options are to use regular non-electric camping blankets. They come in many different material types for different uses. There are a number of options available at Backcountry.