A great travel backpack has a few must-have characteristics:
It has to fit everything you need to carry…
And distribute that weight evenly (read: comfortably)…
Without being too big.
That's the Osprey Farpoint 40 in a nutshell, and this review will tell you everything you need to know about this best selling travel pack.
Osprey Farpoint 40 Review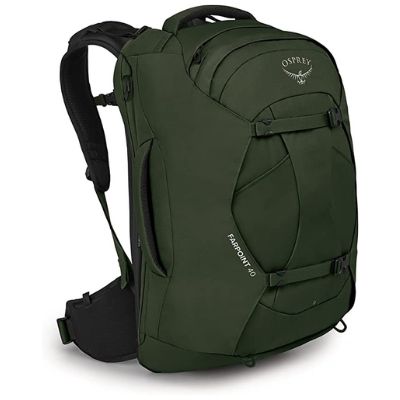 The Osprey Farpoint 40 is a phenomenal value in the travel backpack category. It's intelligently designed with some handy features, such as the convenient side handle and strap cover, and fits the carry-on specs for almost every airline.
This backpack distributes up to 40 lbs of weight extremely well and is made for all day travel comfort. While there are other travel backpacks made from tougher materials (highlighted below) few combine this level of performance and price.
The Osprey Farpoint 40 is an industry-leading travel backpack, and with good reason.
Pros Of The Osprey Farpoint 40
Fits carry-on specs for almost every airline
Carries up to 40 lbs with great weight distribution features
Strap cover, side handle, and optional over-shoulder strap allow you to treat like a standard carry-on
Front tightening straps pull material over the zipper for extra security
Interlocking zipper compatible with travel lock for extra security
Cons Of The Osprey Farpoint 40
Laptop sleeve is located in middle of the pack and can throw off the pack's weight
210D nylon exterior is less durable than some other comparable packs
Osprey Farpoint 40 Detailed Review
Keep reading for our more detailed Osprey Farpoint 40 review.
Osprey Farpoint 40 Sizing
The Osprey Farpoint 40 is a 40L travel backpack, making it the smallest option in the Osprey Farpoint series. Osprey also offers the following models:
Osprey Farpoint Dimensions
Above dimensions are for the larger M/L (Medium/Large) sizes for each Farpoint model.
Like with most outdoor gear, the number trailing the backpack name indicates its size. That means the Farpoint 40 is a 40L backpack while the Farpoint 55 is a 55L backpack.
However, Osprey offers two different sizes for each of their travel backpacks:
S/M (Small/Medium)
M/L (Medium/Large)
Two different sized backpacks aren't going to have the same dimensions. That means they also won't have the same volume, as shown in the below screenshot from Osprey's website:

Osprey offers the S/M and M/L versions to fit people of different heights.
If you're 5'8 or taller, you probably want the M/L model. If you're shorter than 5'7, you probably want the S/M model. Note that people have different body shapes and preferences, so it's totally up to you.
Is The Osprey Farpoint 40 Carry On Friendly?
Yes, the Farpoint 40 meets the carry on requirements of most all domestic airline carriers and many international carries too.
Carry-On Dimensions by Airline
| Airline | Height | Width | Depth |
| --- | --- | --- | --- |
| Alaska | 22" (56 cm) | 14" (35 cm) | 9" (22 cm) |
| American | 22" (56 cm) | 14" (35 cm) | 9" (22 cm) |
| Delta | 22" (56 cm) | 14" (35 cm) | 9" (22 cm) |
| Hawaiian | 22" (56 cm) | 14" (35 cm) | 9" (22 cm) |
| JetBlue | 22" (56 cm) | 14" (35 cm) | 9" (22 cm) |
| Southwest | 24" (61 cm) | 16" (41 cm) | 10" (25 cm) |
| Spirit | 18" (46 cm) | 14" (36 cm) | 8" (20 cm) |
| United | 22" (56 cm) | 14" (35 cm) | 9" (22 cm) |
| Virgin | 22" (56 cm) | 14" (35 cm) | 9" (22 cm) |
As we can see from the chart above, the Farpoint 40 meets the guidelines of every airline except for Spirit.
Is The Osprey Farpoint 40 Good For Hiking?
The Farpoint 40 can be used as a hiking pack, but it wouldn't be most hikers first choice. It is a bit too big for a day pack and too small for most backcountry overnight trips. If you are thinking about using this pack primarily for hiking or backpacking, it might not be the best pack for you.
Farpoint 40 Weight Distribution
The Osprey Farpoint 40 is designed to carry up to 40 lbs, which could mean adding 20-40% additional body weight. How a backpack distributes that weight is of paramount importance, both for comfort and safety.
The Farpoint 40 has a few key features that give it great powers of weight distribution:
Large hip straps to distribute weight from shoulders to hips
LightWire aluminum frame suspension around periphery of pack
Adjustable chest strap to further pull weight forward
You can comfortably carry a full pack for hours, even walking 10+ miles per day, without pain. (Of course, this depends on your size and fitness, too.)
Design Features Of The Farpoint 40
Laptop Compartment
My laptop is a Lenovo T580 and is (arguably) my most precious possession. With a 15″ screen and weighing in at 4.29 lbs it's a slightly above average sized laptop. The Farpoint 40 has a laptop pouch that's large enough to fit my 15″ T580, but I have two complaints:
The aforementioned weight distribution problem; I'd rather the 4+ pounds of weight be positioned directly along my back instead of several inches away.
When the backpack is fully packed, the laptop sleeve is in the middle of the backpack, which isn't fully flat! I don't love the thought of the pack being zippered shut with my laptop being pressed against the potentially uneven surfaces inside the bag.
Osprey would have been much better served putting the laptop compartment directly at the back.
Honestly, I'd recommend you don't use the laptop compartment for your computer. Get a waterproof laptop sleeve, stick your computer in that, and then store it in the main compartment along the back wall.
Front-Loading Design
The Osprey Farpoint 40 travels like a backpack but packs like a suitcase.
The clam shell design is great and makes everything fully accessible — no more worrying about whether you packed that charging cable or long sleeve shirt at the bottom of your backpack. You can just unzip the bag and access everything instantly.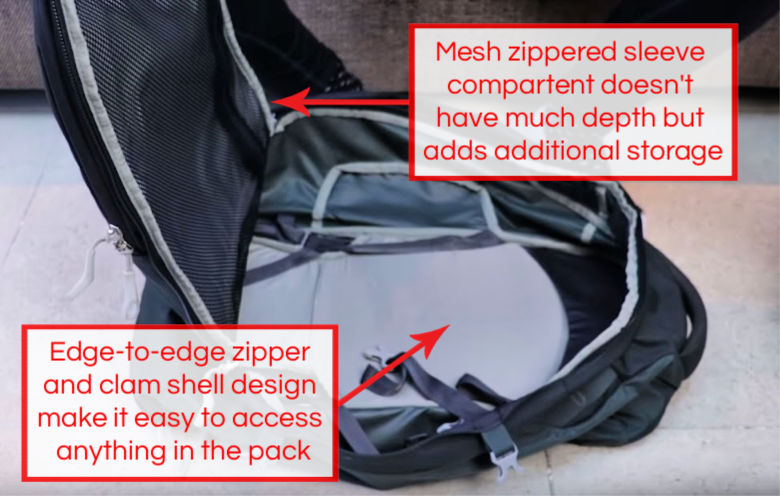 The mesh pouch you see in the image above doesn't have a ton of volume, and the laptop pouch is on the opposite side of that flap. Combined, this means you probably only want to put flat things in this pouch.
You could also look at a flat organizer like this FLYCOOL Toiletry Organizer, which measures a max of 2.3″ in depth and will have no problem fitting the space.
Converts From Backpack To Bag
One of my pet peeves when flying is proper overhead compartment organization. Whenever I see a backpack with more straps and appendages than an octopus just flailing in the overhead space, a little of me dies inside. I get it — if your bag has that many straps, what are you supposed to do? — but I don't have to like it.
The Osprey Farpoint 40 has a cool solution to that problem: A hidden strap cover that pulls out and zips around the shoulder and waist straps, converting the bag from a backpack to a strapless bag.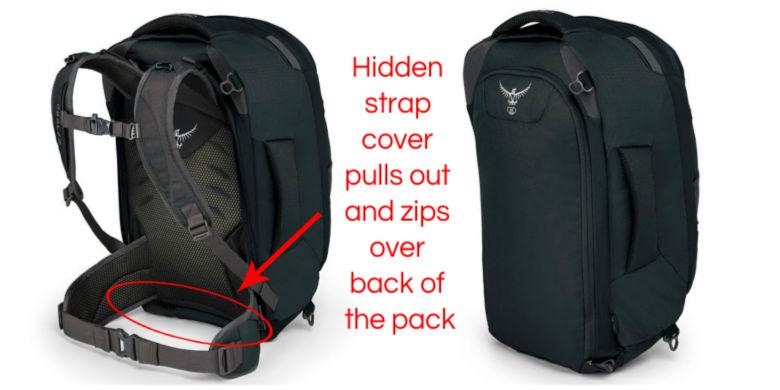 The back cover is secured inside a Velcro pouch at the base of the bag. There are a couple great benefits to this feature:
Better overhead or under-seat storage
If you check your bag, less chance of the straps getting caught and/or ripping
Trust me, this is a much more useful feature than you may think.
Multiple Straps = Multiple Carrying Options
What's great about the Osprey Farpoint series is that they don't just function as backpacks. They also come with two additional means of carrying them:
Side handle to carry bag horizontally
Over shoulder strap to carry as a typical duffel bag
When combined with the aforementioned strap cover, these additional means of carrying Farpoint travel backpacks gives you a ton of versatility.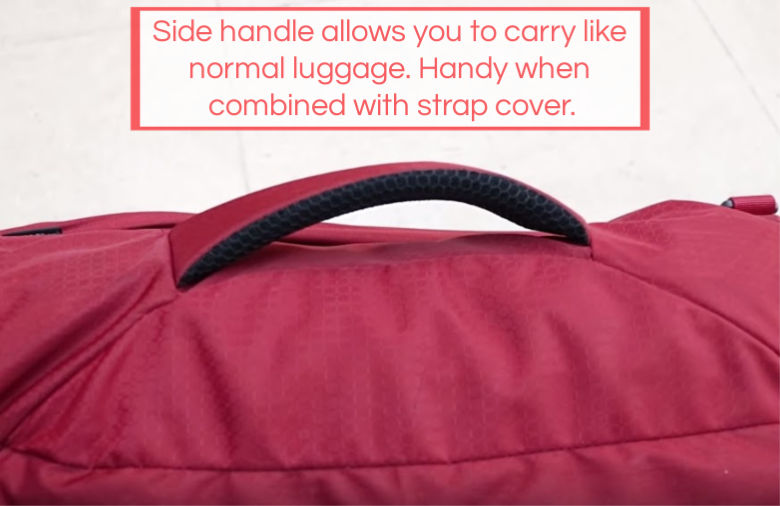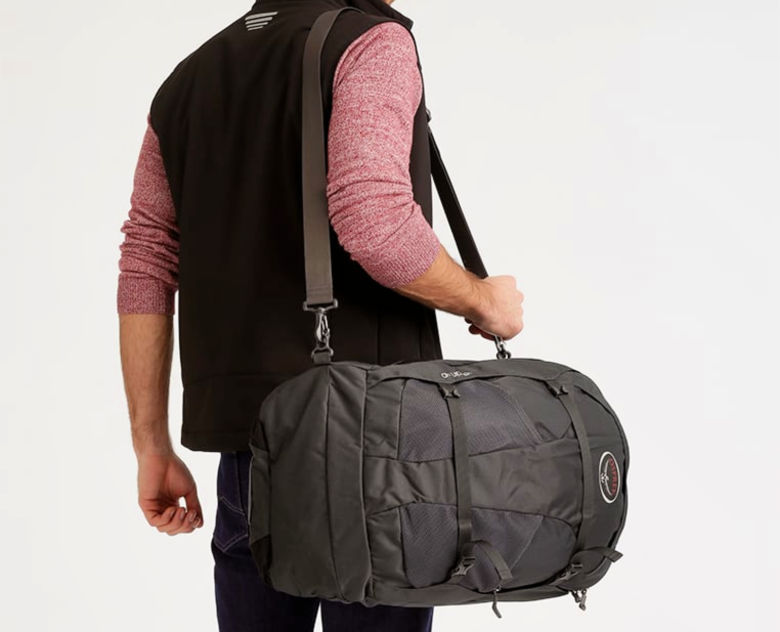 Made from 210D nylon mini-hex diamond ripstop
That's a mouthful. What exactly does it mean? Let's break it down into pieces:
210D Nylon: The "D" refers to Denier and is a measure of fabric strength (more below)
Mini-Hex Diamond: The nylon is stitched into small hexagon shapes, which means more tear resistance
Ripstop: A stitching technique that weaves in thicker strands to improve rip resistance
The 210D nylon used with the Farpoint is at the low end of the travel backpack range, on par with the more generic REI packs. But that doesn't mean it's going to fall apart. In fact, it's pretty rip resistant. With repeated rough handling, scraping, or banging, you may see some small nicks develop. However, the mini-hex ripstop design ensures they don't spread.
While other travel backpacks are made from nylon with higher Denier ratings, the Osprey Farpoint 40 is still strong and tear resistant. The Outdoor Authority approves.
Also, the bottom is made from 600D material
And the bottom is where it counts most, right?
Lockable Lockable Zipper & Tightening Straps
The Farpoint 40 also features interlocking zippers to give you an additional layer of security. They're compatible with standard travel zipper locks like this Master Lock version. Though the zippers aren't premium YKK zippers, they're still plenty durable.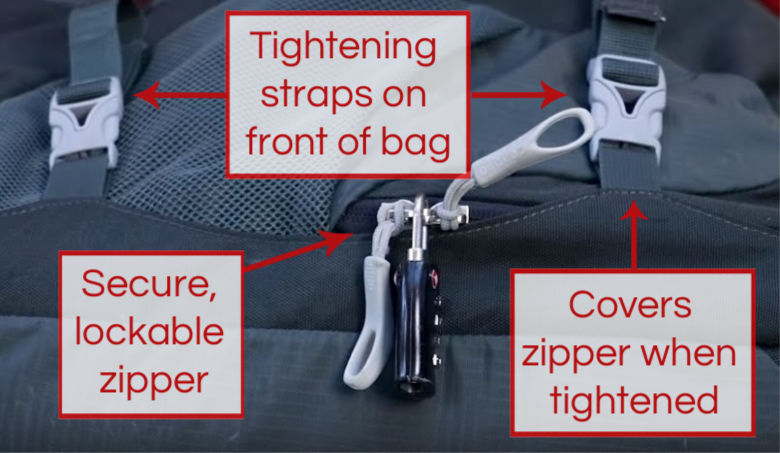 The tightening straps allow you to secure your bag in a few key ways:
When tightened, pulls fabric cover over zipper to prevent the pack from being opened
Secures items in the front mesh pockets, pictured above
Makes the pack more compact
While the tightening straps are an excellent additional layer of security, they do make it more difficult to access items inside the pack. If there's anything you expect to need at a moment's notice, you may want to use the next feature of the Osprey Farpoint 40.
Easy Access Top Pocket
Whenever I return to Hawaii, I have to fill out an agricultural declaration form. Basically, it's me saying that I'm not bringing back any plants, seeds, or other items that could harm the delicate, isolated ecosystem of the Hawaiian islands.
The airlines never give out pens, so I always have to have one on hand. (If you don't have a pen, you need to ask your neighbor.)
That's why I love this handy little top pocket.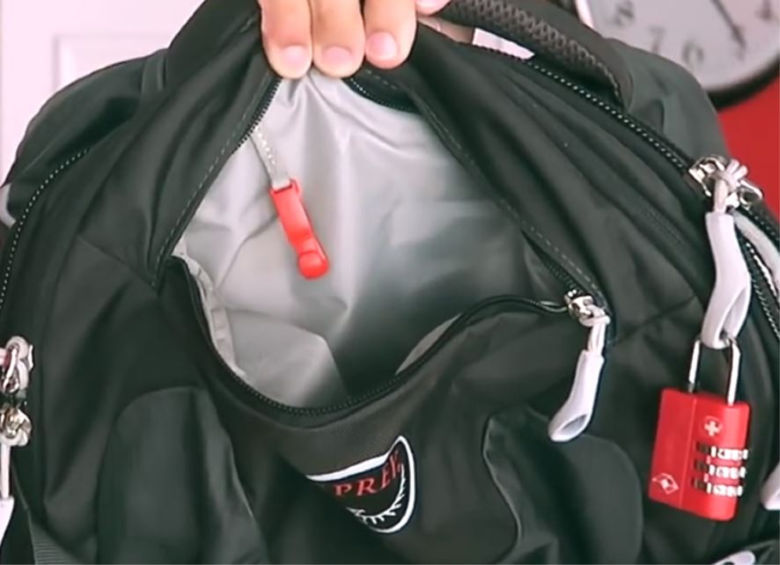 Sold separately: Osprey Farpoint 40 UltraLight Rain Cover
The Farpoint series isn't marketed as weatherproof or waterproof — they don't even market it as weather-resistant — but its nylon exterior does do a decent job in very light weather. If it's just a short drizzle, your stuff isn't going to get soaked.
However, you can add an ultralight rain cover if you want that added security. (Never a bad idea if you have expensive electronics.) This rain cover weighs 2.8 oz and fits snugly and easily around the pack.
Backed by Osprey's All Mighty Guarantee
Osprey is a name you can trust. This is their All Mighty Guarantee:
Osprey will repair any damage or defect for any reason free of charge – whether it was purchased in 1974 or yesterday. If we are unable to perform a functional repair on your pack, we will happily replace it. We proudly stand behind this guarantee, so much so that it bears the signature of company founder and head designer, Mike Pfotenhauer.
Unsurprisingly, this guarantee doesn't just mean you can purchase your Farpoint 40 today and call the company in 2037 saying you want another. Here are some notable excerpts from their policy:
We will make repairs at no cost to you to restore your Osprey product to a functional state, however, many times because of color fade or inventory limitations on fabric and replacement parts, colors will vary from the original.
Turnaround times vary throughout the year due to seasonal volume and can be as long as 8 weeks…
You are responsible for the charges of shipping the pack to Osprey.
Due to health concerns for our Repair Team, we are restricted by law from receiving items too dirty or odiferous to repair. Any items received showing signs of mold, mildew, or other possible toxic products, will be immediately discarded and not replaced.
Most of that stuff is pretty standard, though. This is a good warranty program by a reputable company.
You can read more about the Osprey All Mighty Guarantee by clicking here.
Osprey Farpoint 40 Review: Final Thoughts
The Osprey Farpoint series offers a great combination of quality, performance, and value, and the 40L model in the series is designed to be your all-in-one airline carry-on pack, meeting the size specifications for all major US airlines.
Have you ever used the Osprey Farpoint 40 travel backpack? Maybe you've tried a competitor's model? Let me know your thoughts below!