My favorite part of camping is waking up warm and cozy in my sleeping bag on a crisp cool morning.
But you know what I hate? Tossing and turning all night because my sleeping bag is uncomfortable or not warm enough.
Fortunately, I've found 5 awesome sleeping bags for camping that make getting some Zzz's in the great outdoors a pure joy rather than something to dread.
Now you can take advantage of my research, testing, and analysis and quickly find the perfect camping sleeping bag for your needs.
Let's dive in!
Why You Should Trust My Reviews
For starters, my reputation depends on it. I am a full-time outdoor blogger and I'm passionate about recommending quality gear that is worth the hard-earned money you spend on it.
To determine which sleeping bag really is the best one for camping, I started my research by compiling a list of 12 of the top-rated sleeping bags that are on the market today. Many of the sleeping bags are ones that I already owned or have used. The remainder came highly recommended by other people who have used them.
From that list of 12, I then narrowed my list to 5 final recommendations for the best camping sleeping bags. I share all of my criteria and the full selection process further down in the post.
Each of the 5 final picks was chosen with either a specific type of camping or person in mind.
The 5 Best Sleeping Bags For Camping
Camping Sleeping Bag Comparision Chart
This chart includes all of the measurable data for the leading 12 brands of sleeping bags for camping that were considered in my research.
One of the important conclusions that we can draw from this data is that you don't have to break the bank and spend a ton of money to get a high-quality camping sleeping bag.
The majority of my recommendations are under $200 MSRP, the main exception is a high-performance sleeping bag that is designed for hard-core hikers and not your average weekend camper.
How I Chose The Best Sleeping Bags For Camping
When researching my choices I wanted a way to compare apples to apples whenever I could, but also leave room to consider the unique features of each individual sleeping bag.
To do that, I considered objective factual data points alongside subjective analysis. These objective data points are things we can measure and that aren't up for debate, like how much a bag weighs. Whereas the subjective factors are based on include personal opinions like whether a bag is comfortable or not.
Let's take a closer look at both the objective and subjective factors I considered.
Shape
The two most common shapes are mummy-style and rectangular. Mummy-style bags are designed to keep you warm in colder temperatures by closely fitting around your body, while rectangular bags provide more room and comfort but tend to be less efficient at retaining warmth.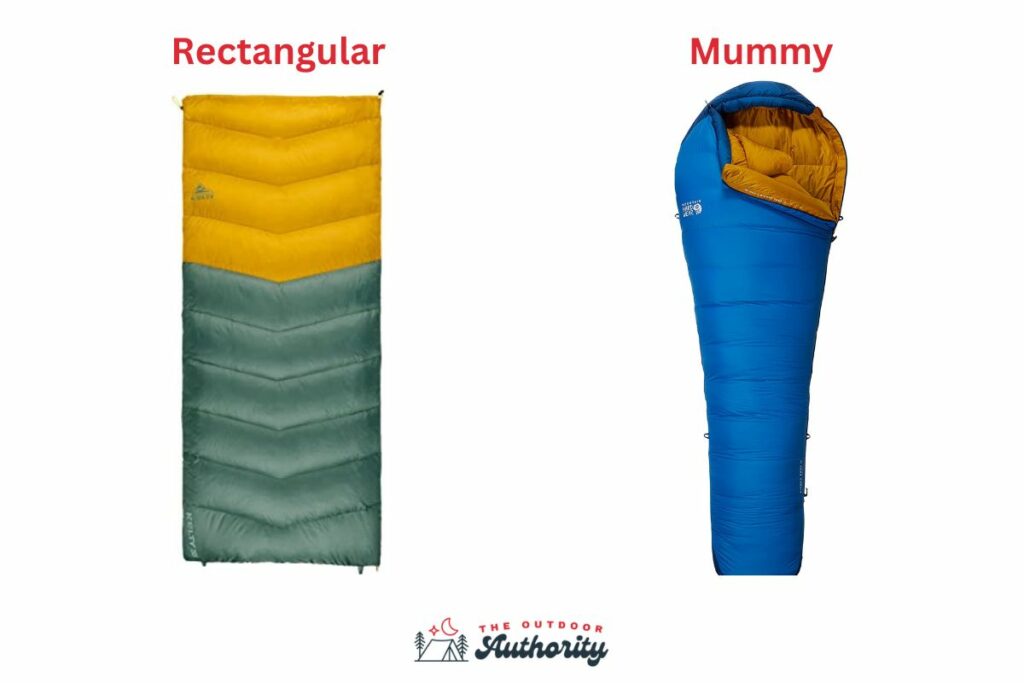 For most casual camping situations I prefer the roominess of a rectangular sleeping bag, but other campers swear by the cozy confines of mummy bags. As such, this is mostly a personal preference and I try to note why I recommend one shape over the other for each pick on my list.
Cost
When scoring the sleeping bags, I considered the cost of each bag in relation to the features and benefits offered. With that said, I think you can easily find a quality camping sleeping bag without having to break the bank. In fact, my recommended top pick of the REI HunkerDown has a very affordable MSRP of below $200 (at the time of publishing).
Keeping warm and dry in a sleeping bag is easiest when it is made with quality materials, so I don't recommend skimping a low quality bag either. One way to save money on your sleeping bag purchase is by considering the temperature rating you need. If you're only planning on camping during warm summer months, you may not require an expensive cold weather sleeping bag with thick insulation.
Consider also opting for synthetic fill instead of down if cost is a concern. Down provides a superior warmth-to-weight ratio, but synthetic options are often more affordable.
Temperature Rating
Be aware that the temperature rating on most sleeping bags is the temperature at which it will keep you alive, which is much colder than the temperature at which you'll be comfortable.
Since our goal when camping is to actually enjoy ourselves and not simply survive, I typically recommend adding 15 degrees F to the listed rating to get the approximate "comfort rating".
The REI HunkerDown 20F Sleeping Bag has a low-temperature limit of 20°F (-7°C), making it an excellent choice for chilly nights and 3 season camping.
Fill Type
When it comes to sleeping bags, the fill type is an important factor to consider. There are two main types of insulation used in sleeping bags: down and synthetic.
Down insulation is made from the soft feathers found on ducks or geese, while synthetic insulation uses man-made materials like polyester fibers. I have an entire post devoted to the pros and cons of down vs synthetic sleeping bags, so I'll keep it short here and say both have their merits.
Related: Down vs Synthetic Sleeping Bags: Which Should You Choose?
If money is no issue, then my choice is usually down. But there are plenty of quality synthetic sleeping bags and I wasn't shy about including them in my list of top picks for camping sleeping bag top picks.
Full Length Or 3/4 Length Zipper
When it comes to choosing the best sleeping bags for camping, don't forget to consider the zipper length. A full-length or 3/4 length zipper can make a big difference in ventilation and ease of use.
Full-length zippers are great for warmer weather as they allow you to fully open the bag and regulate temperature easily. However, if you are camping in colder conditions, a shorter 3/4 length zipper may be better for insulation purposes.
I should also note, that some sleeping bags have no zippers at all. No zipper-less sleeping bags are included in my best camping sleeping bags, but they are somewhat common in ultralight backpacking bags.
Length & Width Dimensions
For each bag, I've noted the length and width of its dimensions. But don't mistake big for good or small for bad. As we know, people come in all different shapes and sizes and so sleeping bags do to!
My recommendation is to find a bag that is suited for your body size. Having a bag that is either too big or too small won't be comfortable and could be harder to keep warm. The sizes included here are the sizes for each brands "regular" or "standard" size. But please be aware that many of these sleeping bags come in long, small, and women's sizes too.
Water & Wind Resistance
For a camping sleeping bag, the more water and wind resistant it is, the better. I recommend bags that have a Durable Water Repellent (DWR) outer shell, which helps to protect against moisture that can develop inside a tent even when conditions are dry.
Wind resistance should also be considered, as cold air can easily penetrate through the fabric of your sleeping bag. Look for bags with draft collars or hoods to trap warmth inside, while blocking out wind and drafts.
Packable Size
Depending on your type of camping, packable size may or may not be an important feature for you. If you're car camping and have tons of space for your gear then it may not be important to you.
But for hiking and any situation where space is limited, like you and 3 friends in a small campervan, then you'll want to look for ones that pack up small and compress down tightly.
Comfort
For me, comfort is king and it weighed heavily into my scoring model. It's also one of the most subjective because everyone has a different way of sleeping and definition of comfortable.
In many situations, I had to make a judgment call based on my own experiences, but I did my best to recognize that other people may feel differently about a particular feature than I do.
But for some of the bags, my own opinions were validated by the feedback of other users too. A good example of that is all of the people I asked about the HunkerDowns unique hood system also loved it.
Pro Tip: A clean sleeping bag is a comfortable sleeping bag, so check out my how-to guides on washing and drying sleeping bags as well as proper sleeping bag storage.
Brand Reputation
When choosing the best sleeping bags for camping, it's important to consider the brand reputation. You want a company that has a history of producing high-quality and durable outdoor gear.
As someone who buys lots of camping and outdoor gear, I trust brands like REI and Nemo which have been around for years and have a loyal following of satisfied customers. That doesn't mean you can't find great products from start-up smaller brands on places like Amazon, it just means there is more risk involved in the purchase.
A good brand will stand behind its product and ensure customer satisfaction so you can focus on enjoying your time in the great outdoors.
Unique Features Of Each Sleeping Bag
Perhaps the most subjective scoring was factoring in the various bells and whistles that different brands include in their sleeping bags. Some of them are most definitely worth the money and others are just marketing ploys (in my opinion). This was a big part of my research and I included feedback in each of my choices for which features I found worthwhile.
For example, the REI HunkerDown 20F Sleeping Bag has a cinchable hood and draft collar to keep warm air in and cold air out.
The Coleman Brazos 20F Sleeping Bag has a semi-sculpted hood with drawstring to help lock in heat around your head and face.
The Nemo Jazz 20F Double Sleeping Bag allows for two people to sleep comfortably together while still having their own individual space within the bag.
The Sea to Summit Ultralight 28F Sleeping Bag is designed specifically for backpackers, weighing only 1lb 6oz and packing down into an incredibly small size.
Lastly, the REI Down Time 25 Sleeping Bag is specifically made for kids with shorter length dimensions and fun patterns on the outside.
Camping Sleeping Bags: Final Thoughts
If you're looking for a well made sleeping bag for your next camping trip then you can't go wrong with the HunkerDown 20 from REI. It is has a great warmth-to-weight ratio, is comfortable, and backed by the strong reputation of the REI brand.
But any of the camping sleeping bags on my list will be perfect for your next outdoor adventure.
Happy camping!