Quick Links:
Anvil Horn 15F Sleeping Bag
BIG AGNES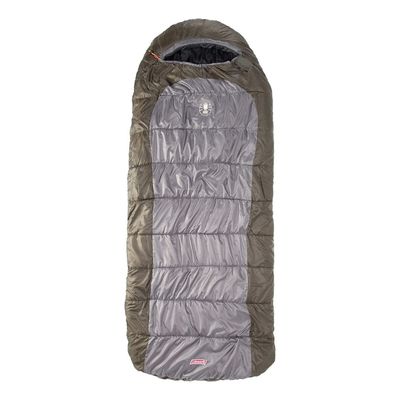 Big Basin 15F Sleeping Bag
COLEMAN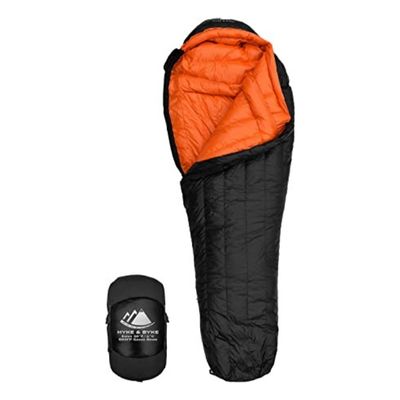 Eulos 30F Sleeping Bag
HYKE & BYKE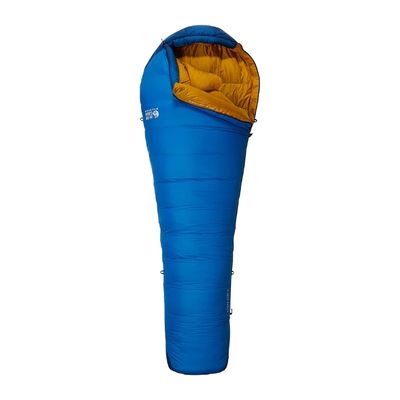 Bishop 15F Sleeping Bag
MOUNTAIN HARDWARE
Galactic 30 Sleeping Bag
KELTY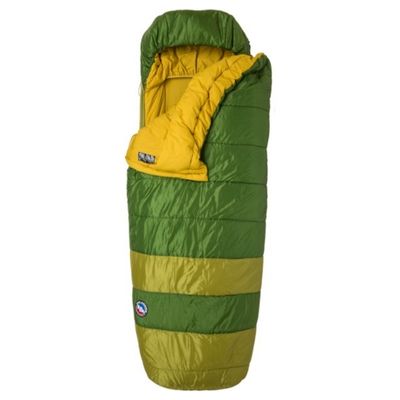 I spent countless nights tossing and turning before I finally set out to find a sleeping bag that fit my preferred way of sleeping on my stomach.
I have to say, this wasn't an easy task! Most of the sleeping bags on the market are made for sleeping on your back and are not optimal for stomach sleeping.
But fear not fellow stomach sleepers!
After an extensive search that included deep research of over 20 sleeping bags, I've compiled a list of 6 different sleeping bags for stomach sleepers, each of them designed to fit a specific need.
Let's dive in!
My Favorites
These are my top picks for the best sleeping bags for sleeping on your stomach.
The list includes premium picks, budget choices, and sleeping bags for different types of campers and situations.
After trying out various brands and styles, I believe that the Big Agnes Anvil Horn 15 is the best overall sleeping bag for stomach sleepers. This sleeping bag features a Flex Pad Sleeve that attaches your pad like a fitted bedsheet, allowing you to create a fully integrated sleep system.
The Anvil Horn 15 is EN rated to 15°F and filled with generous 650-fill power duck down providing significant weight and packed size benefits making it lightweight and easy to pack on backpacking trips. The technical fabrics and construction make this sleeping bag durable enough to withstand even the toughest camping conditions while keeping you comfortable throughout the night.
Overall, if you want both comfort and durability in your sleeping bag as a stomach sleeper; there is no better option than the Big Agnes Anvil Horn 15. Get ready for sound sleep, regardless of how cold or uncomfortable your campsite may be – this versatile pick will keep you warm all night long!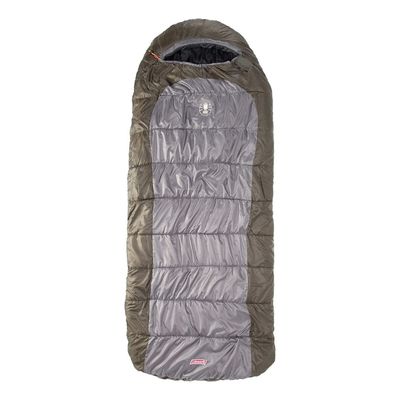 The Coleman Big Basin 15 is a budget-friendly option that doesn't compromise on quality or comfort. This elongated sleeping bag can accommodate people up to 6 feet 6 inches tall and has extra cushioning on the bottom, making it ideal for stomach sleepers.
Despite its low cost, the Coleman Big Basin 15 is designed to keep you warm in temperatures as low as 15°F with its synthetic insulation. Its compression sack also makes it easy to pack and carry on backpacking trips. Overall, if you're looking for an affordable sleeping bag that's perfect for stomach sleepers, look no further than the Coleman Big Basin 15.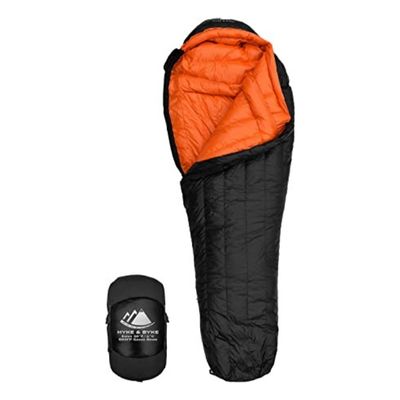 As a stomach sleeper who enjoys camping and backpacking, I know how important it is to find the right sleeping bag. The Hyke & Byke Eulos 30 is my top choice for the best sleeping bag for backpacking. With its lightweight design and impressive weight-to-warmth ratio, this sleeping bag makes it easy to carry on long hikes.
The Eulos 30 comes in a long size that's perfect for taller individuals and compresses to a small size making it easy to pack up with your other gear.
It also has an 800FP goose down filling so you can stay warm even when temperatures drop. All of these features make the Hyke & Byke Eulos 30 one of the six best sleeping bags for stomach sleepers according to GearLab.
Whether you're going on a weekend camping trip or planning a multi-day backpacking adventure, the Hyke & Byke Eulos 30 has got you covered.
It's durable enough to withstand rough terrain yet comfortable enough for a good night's sleep, giving you just what you need after those long days of trekking through nature.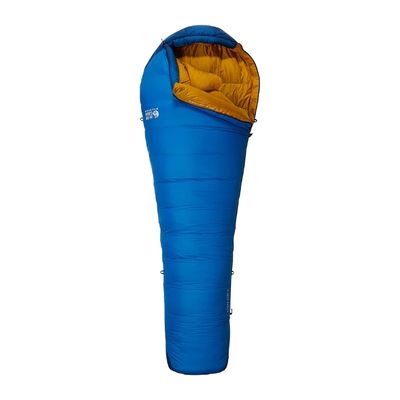 I highly recommend the Mountain Hardwear Bishop Pass 15 sleeping bag for those seeking top-notch warmth in cold weather camping.
This sleeping bag boasts a high-performance warmth-to-retention ratio, keeping you toasty throughout the night. It's filled with fluorine-free down with 650-fill power.
It's a mummy bag and has a hood, which are both red flags, but fortunately, it is quite wide at the shoulders and I was able to position myself in my usual sleeping position.
It also has a water resistant coating that helps to keep moisture out, which in turn, helps to keep you warm.
The Kelty Galactic 30 is a perfect sleeping bag for stomach sleepers who want the best of both worlds: comfort and affordability.
The rectangular design offers ample room to move around, which is ideal for those who like to sleep on their stomachs. It's lightweight and easy to pack, making it great for backpacking trips or car camping.
This three-season sleeping bag has synthetic insulation, which makes it a versatile option for weather from spring through fall.
With its temperature rating of 30 degrees Fahrenheit, you'll stay warm even in colder conditions.
It also features a foot box that provides extra warmth where your feet need it most. You won't have to worry about losing heat during chilly nights with this sleeping bag!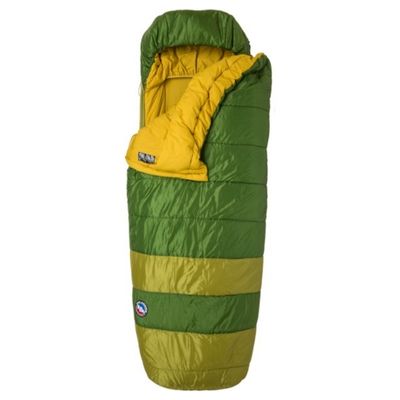 With a hip girth of 74 inches, it provides ample room for even the biggest campers to move around and find their sweet spot.
Not only does this bag offer more space than most others on the market, but it's also designed with a unique quilt-like construction and synthetic-fill providing both comfort and warmth even in cold weather conditions.
Plus, its double zippers on each side allow you to use it as a blanket during warmer nights or adjust ventilation when you feel too hot.
My Ranking Process
To choose the best sleeping bag for stomach sleepers, I considered factors such as shape and size, hood design, and quality of construction to ensure maximum comfort and support while camping.
Size & Shape
The most important factor for choosing a sleeping bag that's well suited to sleep on your stomach is its shape.
I want to see at least 2 out of the 4 design features when choosing a stomach sleeping bag.
Wide shoulder area
Wide hip area
A foot box that isn't too constrictive
Rectangular shaped bags are the ideal choice for stomach sleepers, but I also identified a few mummy shaped bags that still were comfortable enough for sleeping on your stomach.
Hood Design
One of the biggest issues I've had with sleeping bags is that the hoods made it nearly impossible to lay face-down on my stomach. They force you into a position where your arms are pinned to your sides, which is NOT something I find comfortable at all.
I like to sleep with my hands up near my head or underneath my pillow, which is nearly impossible if the sleeping bag hood is too constrictive. That's why I look for sleeping bags with wide hoods, no hoods, or the ability to tuck the hood away.
Quality Of Design
Simply put, I want a sleeping bag that is made with quality materials that are designed with longevity in mind.
A good stomach sleeping bag will not only be comfortable for your style of sleeping, but it will also withstand the rigors of camping and all that mother nature can throw at it.
I prefer weather resistant bags with rip stop liners and double seams.