Whether you're on the water, in the woods, have kids, or bring your pets, our list of 51 fun things to do while camping will keep you busy while you enjoy the outdoors.
Some people are planners, others are more spontaneous.
Put me in the planner group.
That means when I'm ready to go camping and punch out of the real world for a few days, I like knowing what I want to do and what I need to do it.
How many people are coming?
What do they like to eat and drink?
What kind of camping activities do people like?
What's the weather going to be like?
What gear do we need?
As I'm planning my relaxing weekend — yes, I "plan" my relaxation — I like to compile a list of things I'll want to do.
Based on my exhaustive research and years of experience, here's a list of 51 fun things to do while camping.
Quality Gear + Discounted Prices = Happy Campers
Do NOT Overpay For Camping and Outdoor Gear
We Find The Best Deals & Discounts Online And Share Them With YOU
Things to Do Camping In Or Near Water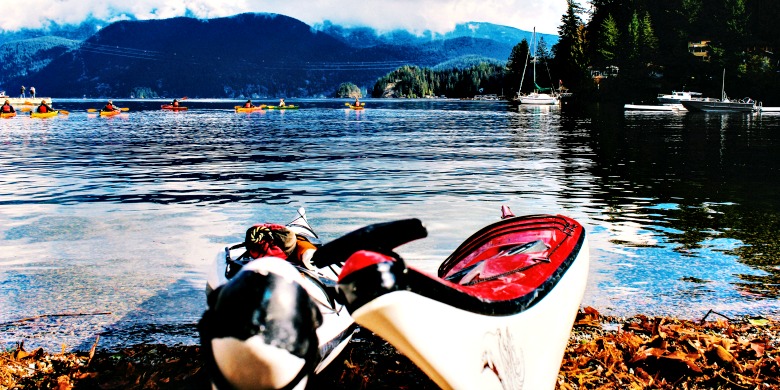 1. Go fishing // Whether it's recreational or you're trying to catch dinner, fishing can be a great way to unwind and shed the stresses of life. Grab your rod, sunglasses, a beer, and some buddies and spend a few hours enjoying the serenity of the water.
2. Go swimming // Put on your swimsuit and hit the shores of your favorite lake or ocean. Jump off the dock or pier, use a noodle, float in the water, or have all-out races to the buoy.
3. Go snorkeling // This camping activity works best with bodies of water that aren't too murky, which makes it perfect for camping on the beach! I know it's a long shot here but if you're ever in Hawaii, there's some great camping and snorkeling on Oahu's world famous North Shore. In particular, check out Pupukea Beach Park.
4. Canoeing, tubing, kayaking, bodyboarding, surfing, or other local watersports // No beach camping activity list would be complete without mentioning the local watersports. Canoeing, tubing, and kayaking are the big ones, but your campground may also offer bodyboarding, surfing, jet skiing, kite surfing, or standup paddleboarding.
5. Skip rocks // You're never too old to skip rocks! It can even be a fun competition to see who can get the most skips or the furthest distance. I distinctly remember getting 11 skips once as a kid (though it's also possible I only got like 5 and as the years passed the legend grew).
6. Sunbathe // A moderate amount of sun exposure can be a good thing. For example, did you know sunlight may help lower cholesterol levels?
7. Cloud watching // One of my favorite lazy day activities is trying to pick shapes out of the clouds. My fiance is a Disney nut and always sees Goofy, Mickey Mouse, or other Disney characters. I usually see people I know. Your results may vary.
8. Make and/or use a rope swing // Few things beat the rush of swinging full speed at the water before hurtling yourself towards your splashy demise. If there's a rope swing nearby, race to it and let the games begin. If not, use some sturdy materials (and a bit of forethought) to make your own.
Things to Do Camping On Land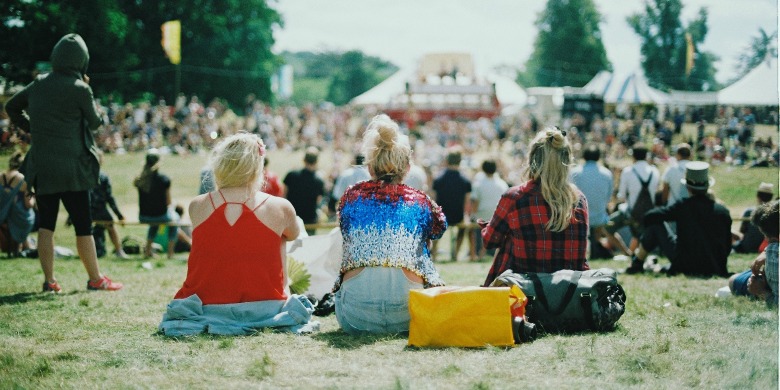 9. Get creative! Draw, paint, write, take photos, or play music // Let Mother Nature be your muse as you connect with your creative side.
10. Relax with yoga or your meditation vehicle of choice // I am extremely high-strung, so these activities are always a challenge for me, but I don't think anyone will really argue the benefits of yoga or meditation.
11. Hike and explore the area // Perhaps my favorite thing to do while camping is to get out and explore! I love nature trails, I love finding scenic overlooks, and I really love waterfalls. I could spend hours just exploring. But this thing to do also doubles as explore the city or town where you're staying. Check out the shops, local eateries, or (my favorite) local craft breweries. Support the local economy! Or if you are car camping you can opt for a scenic drive instead.
12. Rent a bike // You'll cover more ground on a bike than you will on foot. And for me, biking really makes me feel immersed in the area. Plus, it can be easier than taking the car away from the campsite.
13. Go birdwatching // One of my first eye-opening nature experiences was when I went to the Galapagos Islands in college. Famous for being where Charles Darwin got his inspiration for On the Origin of Species, the Galapagos Islands are the home of an incredible amount of species diversity. Darwin's finches were always of interest to me, and now birdwatching (or birding, for short) is a favorite activity of mine.
14. Cook awesome food // Camping food doesn't have to be just burgers and hot dogs. Gourmet it up! You can do a lot of things with an open fire and a skillet.
15. Gather firewood // How much firewood do you need? Probably more than you think! The campfire is the signature symbol of camping, and you want it to be an awesome one. Nothing — I repeat, nothing! — is worse than running out of firewood at 8:30 pm when it's too dark to scavenge and everyone is still wide awake.
16. Set up your campsite // It may not be a fun camping activity, but it can be if you make the most of it! If you have a speaker handy, put on some music, pitch your tents, set up your cooking gear, arrange your coolers, string your lights — do everything you need to do so when dusk comes you can just settle in for the evening.
17. Throw a Frisbee // My short attention span makes this one difficult for me, but throwing things around is a classic staple of the camping experience.
18. Bust out the horseshoes or bocce ball // I love horseshoes, but I had forgotten how much I loved it until a friend busted it out during a recent camping trip. Another friend brought a bocce ball set, and we had hours of fun drinking beer while throwing heavy objects.
19. Set up a friendly competition // We're in the midst of the 2018 Winter Olympics as I write this — I can't believe how much I love figure staking — so why not set up your own Camping Olympics? Friendly competition makes everything better (my personal opinion), so set up some team and individual events and let the games begin! Some suggested games: swimming races (both individual and team), the aforementioned horseshoes and bocce ball, Frisbee toss accuracy, speed tent pitching, and of course dizzy bat racing.
20. Wiffle ball // When I first made this list I completely forgot Wiffle ball. Eleven year old me is very angry at 31 year old me.
21. Play cornhole // Cornhole is a classic camping game and is so popular that there is even a professional cornhole league that with televised games on ESPN!
22. Build a survival shelter // One night in college (man, I really had a fun college experience) three friends and I went camping. We had been watching a lot of Surivorman and decided to try our hand at making our own survival shelters. We split up into teams of two and marched off to separate areas of the woods to see who could make the best survival shelter in an hour. We had no plans of actually using it for the night, but it was a ton of fun. Screw it, add Competitive Survival Shelter Building to the Camping Olympics, too!
23. Clean up your campsite // Womp, womp. No fun here. But you know what's even less fun? Tripping over stuff after the sun sets, trying to remember where you left your scissors, or waking up (possibly hungover) to a lot of cleaning in the morning. And besides, there is one rule that is essential for all types of camping, and that is to leave the campsite cleaner than you found it.
24. Gather more firewood // Seriously, you can never have too much firewood.
Things To Do Camping At Night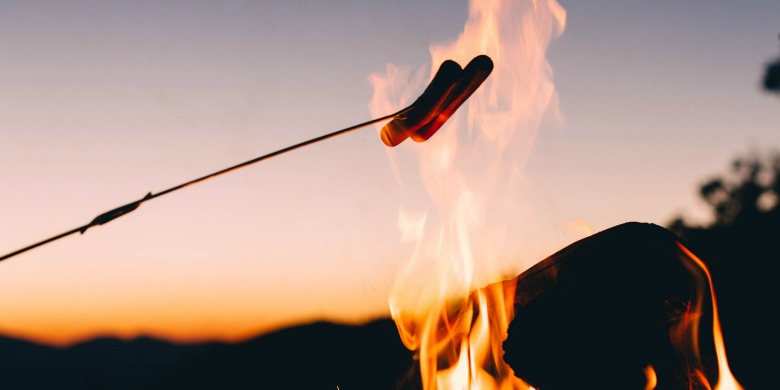 25. Watch the sunset // I could watch the sunset every day and never get tired of it. Whether it's over the water, over the mountains, or just over field or trees, the sunset is usually breathtakingly beautiful and signals Round 2 of camping festivities: nighttime fun.
26. Make an awesome fire // Aren't you glad you collected so much firewood?! A great campfire is at the heart of a great camping trip, so build it big and let the flames lick the sky!
27. Tell stories, scary or otherwise // Storytelling is a camping staple. I've never been very good at it, but we all know that one friend who just captivates the crowd. Give them the floor, sit back, and enjoy.
28. Grab a beer (or your drink of choice) // I'm a beer guy. I actively seek out craft beers I've never had before, and I even brew beer myself. There are few things I enjoy better in this world than sitting by a roaring fire on a cool summer night with a cooler full of awesome beer. Even better, if you're camping in an area with a great local brewery, see if they sell bottles, cans, growlers, or crowlers to enjoy later by the campfire!
29. S'mores! // Graham cracker, marshmallow, and chocolate. What's not to love?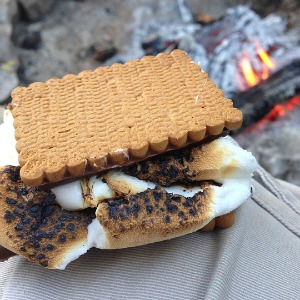 30. Just hang out // Whether it's after a long day of activities or continuation of daytime vegging, sometimes it's nice to just sit back and relax with friends, family, and food.
31. Play truth or dare // One might say this is the most dangerous camping game you can play. I almost always go truth. What do you choose?
32. Bust out the guitar, harmonica, or other instrument // Admittedly I am not a huge fan of acoustic guitar and I can't play an instrument myself, but I know I'm 100% in the minority here. That said, few things impress me as much as someone who really knows their way around a harmonica.
33. Learn to whittle // If you're interested in learning to whittle, here's a beginner's guide. Now all you need is a trucker hat, a big mustache, and a long piece of straw.
34. Remind yourself how many stars there are in the night sky // Most of us use camping as a way to escape the hustle and bustle of our city or suburban lives. If this is you, there's a good chance you've forgotten just how many stars are in the night sky. Spoiler alert: There's an insane amount of them. Have you ever seen the Milky Way? Bonkers.
35. Go on a romantic late-night walk // Social campfire activities are great, but sometimes you just want to enjoy the solitude with your special someone.
Things To Do Camping In A Tent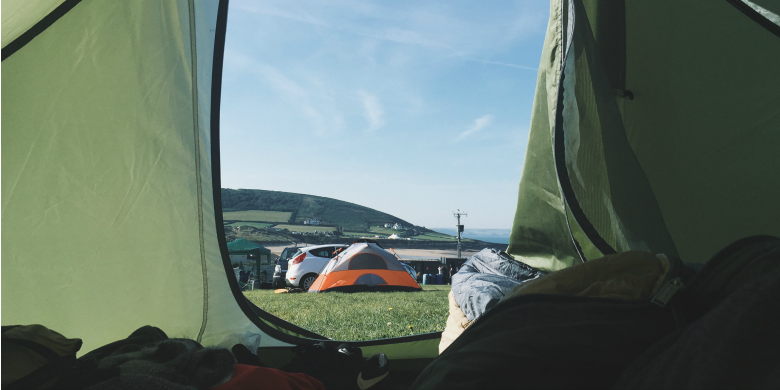 36. Play cards // No camping trip is complete without a game of cards. Poker, go fish, rummy, war, old maid (does anyone play this or was it just my grandma?), or any other card game will do just fine.
37. Do some reading // Nighttime reading by flashlight or booklight while tucked away in your tent is one of life's simple pleasures — unless you're too tired from a long day of Camping Olympics and drinking.
38. Snuggle with your significant other // Wink, wink.
39. Watch a movie or show on your portable device // I know the point of camping is to get away from everything, and generally that includes your electronic devices, but if you're in the middle of Game of Thrones I think we can make an exception.
40. Enjoy some me time // I get visibly agitated if I go 36 hours without some serious alone time. Don't get me wrong, I love hanging out with my friends and family, but I need time to myself to unwind and recharge before another round of socialization.
Things to Do While Camping: Kid Edition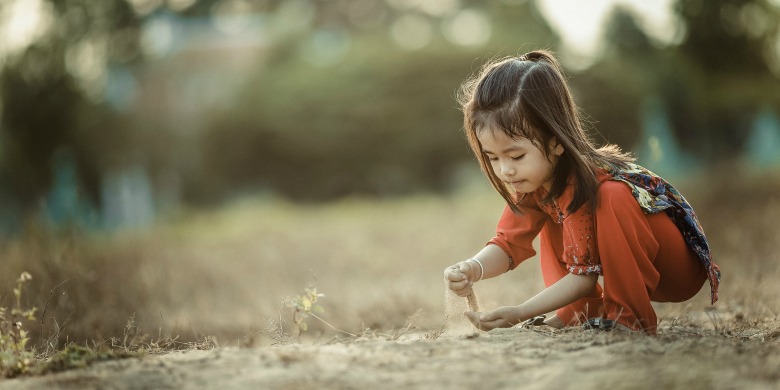 41. Look for bugs // When I was a kid, few things interested me as much as the hidden world underneath a log. Challenge your kids to see how many different types of bugs they can find!
42. Identify and collect leaves // Did you have a leaf collection as a kid? You know, one of those wax paper books where you pressed leaves to preserve them? I did.
43. Collect fireflies in a jar // I think I only successfully did this once as a kid, but man, what a wild time. This doubles as a great time to explain to your kids the wonder of bioluminescence!
44. Play flashlight tag or manhunt // As a kid, my all-time favorite game was manhunt. Everyone grabbed a flashlight and ran off into the darkness to avoid being caught. There are a ton of different variants of the game, but a word of caution: Make sure there's proper parental supervision because it can be dangerous for kids to be running off in an area they don't know.
45. Scavenger hunt // A timeless classic, put together a scavenger hunt to keep the kids busy. Have them find leaves, pinecones, feathers, sticks shaped like letters — the list goes on!
46. Make a map // Have your kids survey the campsite and map it out. Where are the bodies of water, mountains, other natural landmarks, and campground facilities. Not only does it keep them busy, but it helps them acclimate to the area. Plus, kids' concepts of scale is usually hilariously bad.
47. Give 'em some chores // Chores don't have to be a punishment. Make it fun! Let them help chop vegetables for dinner or see who can collect the most firewood (remember, you can never have too much firewood).
Things to Do While Camping: Pet Edition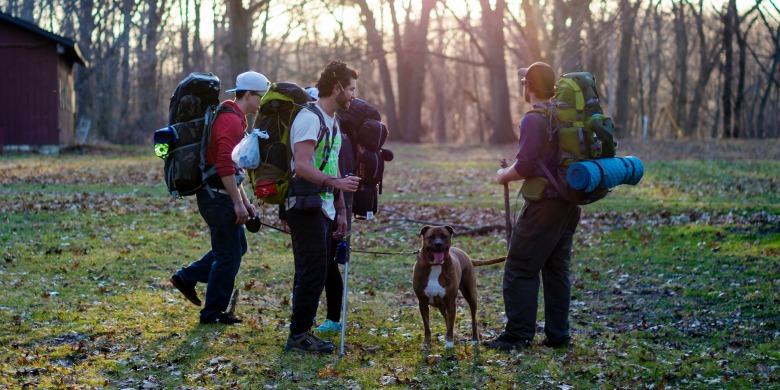 48. Take your pet for a walk // I don't own a dog (I can't wait until I'm done living in urban apartments) but I grew up around them. And nothing excited our dogs more than when we grabbed the leash and headed towards the car. Dogs love cruising through the woods, so take your pet for a nice long walk. Bonus points if you can tire them out so they fall asleep early. Check out our Complete Guide to Backpacking With Dogs for everything you need to know.
49. Explore all the different smells! // A dog's sense of smell is 10,000-100,000 times more powerful than a human's. How wild is that? According to this PBS article, "If you make the analogy to vision, what you and I can see at a third of a mile, a dog could see more than 3,000 miles away and still see as well."
50. Let them get in on the watersports // Not all dogs like water, but some dogs love water.
51. Give them a place to take a nap, especially if it gets colder // Set up some blankets, a sleeping pad, a pillow, or something for your dog to use as a bed while you're camping.
What Things Do You Like to Do When Camping?
Phew!
That's a long list of things to do while camping, but I'm sure it isn't exhaustive.
What are some camping ideas or fun camping activities you like? Connect with us on social media and let us know!
It can be camping ideas for adults, camping ideas for kids, or really anything.