"I've been camping everywhere man…I've been camping everywhere!"
That is my version of the Johhny Cash classic because I first went camping when I was 4 years old. It was at Walt Disney World (yes, they have a campground!) near my hometown of Orlando FL.
Since that time, I've camped in canyons, beaches, forests, backyards, and even parking lots. I've camped in freezing temps, pouring rain, and indescribable heat & humidity.
Sometimes I was in a tent, other times in a hammock, a few times in a camper van, and sometimes with nothing but the clothes on my back between me and mother nature.
The point is, there aren't many ways you can go camping that I haven't tried.
This list is my summation of all the different types of camping that I've personally experienced, plus a few more that I can't wait to try!
Different Types of Camping Styles For Outdoor Enthusiasts
For each style of camping on our list, I'll share my own personal thoughts about it and tips on what to know before you go.
But please remember that there is no right or wrong way to go camping! Each of them is enjoyable in its own unique way.
1. Tent Camping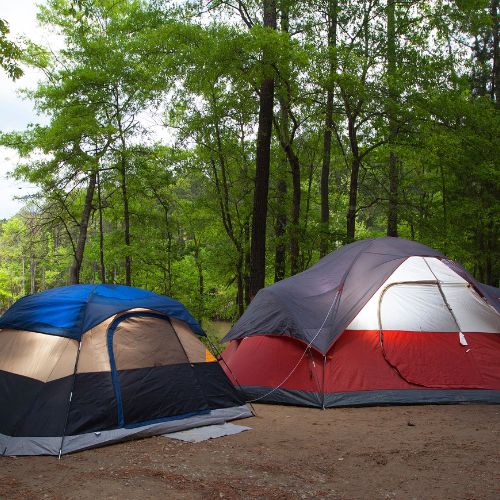 Think of a campsite and what is the first thing that pops into your mind? It was a tent, wasn't it?
That is because camping in tents is the most common type of camping, and for good reason. Tents are easy to set up, take down, and store away. They can be used in a variety of environments, from forests to deserts and everything in between.
In fact, the popularity of camping has led to the development of a number of specialized tents for specific purposes. For example, there are tents designed for many of the other methods of camping we have on this list, such as; backpacking and hiking, as well as tents designed for car camping.
To be clear, many of the other types discussed here will involve the use of tents. So consider the term "tent camping" to be more of a broad category than a specific type.
Related: The 8 Types of Tents
2. Car Camping
If you're looking for a camping adventure that's both fun and convenient, car camping is the perfect option!
With roads that lead right up to the campsite, you can simply drive your car onto the site and start enjoying all of the amazing features this type of camping has to offer.
Car camping simply means that you're able to drive your chosen shelter and all your gear directly to your campsite. That makes it a comfortable way to camp because you're able to bring along luxury items that you may not have access to in a more remote area.
You can also use your car as a shelter, either on purpose or for emergencies caused by to extreme weather.
Related: Car Camping Essentials: The Ultimate List
3. Backpacking and Hiking Camping
In direct contrast to car camping is backpacking. When hiking to your campsite you are limited in the number (and weight) of items you can bring.
In one backpack you need to be sure you have all of the food, water (or water purification), shelter, clothes, and sleeping gear you'll need for your trip.
Backpacking is my personal favorite way to camp for two reasons:
1) It allows me to get to more remote places that I can't access directly by car or truck. This means more opportunities to explore the wilderness and get away from the hustle of everyday life.
2) Being restricted to what you can fit in a backpack is oddly freeing. I find that sometimes less is more and I'm able to focus on the world around me rather than a pile full of gear.
Related: Backpacking vs Hiking: What's The Difference?
4. Kayak or Canoe Camping
Kayak or canoe camping is when you load all of your gear into your vessel and paddle to your campsite.
I grew up in central Florida, which is full of naturally spring-fed rivers, and going canoe camping was always one of my favorites.
The amount of gear you can take along with you when you go kayak camping is going to be dependent upon the size of your kayak or canoe. You obviously can't bring along as much as you can car camping, but you might be pleasantly surprised at what will fit.
There is nothing quite like a summer canoe camping trip along a river or lake and I highly recommend it to anyone up for the adventure!
5. RV or Van Camping
RV and van camping is defined as driving your RV or van to a campsite and then using your vehicle as your primary shelter. Depending on the size and features of your RV it may also serve as your bathroom and kitchen too.
There are many rules beyond that. As long as you're sleeping in an RV, you're RV camping. Yes, that means when your Cousin Eddie and his family park their RV in the driveway for the holidays, you could say they are camping.
6. Truck Camping
Last fall I went on an epic truck camping adventure through the Appalachian mountains and it was one of the best camping experiences of my life! I loved the simplicity of pulling up to a scenic location and having my entire shelter system and sleeping quarters already in the bed of my truck.
I prefer using a truck with a topper and building a makeshift shelter myself. But if that isn't your thing there are plenty of great tents for truck beds and we also have an entire guide on truck bed camping.
7. Primitive Camping (aka Boondocking or Wild Camping)
Primitive camping, also known as Boondocking or Wild Camping, is most commonly defined as RV or Van camping in a remote area without any access to utility hookups like water, sewage, or often times cellular service.
This is a popular method because there are many free places in the US and the world where you can park an RV and enjoy the truly spectacular scenery.
If you plan to go primitive, you MUST plan ahead! Be sure you have plenty of clean water and food to get through any emergency situation and always be sure someone knows where you are going and when to expect you back.
8. Beach Camping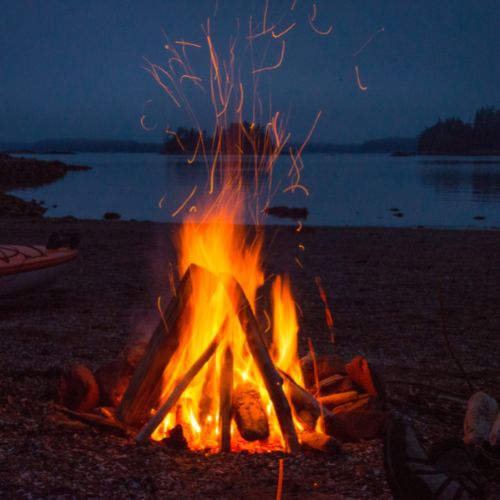 If you're looking to go camping on the beach, be prepared for some extra preparation. Make sure you have the right gear and know how to set up and break down your camp.
But once that is out of the way, prepare to settle in for a memorable experience!
Camping on the beach provides world-class sunrises and sunsets, cool ocean breezes, and falling asleep to the relaxing and calming sound of waves crashing against the shore.
Related: Beach Camping Tips & Essential Gear
9. Survival Camping
Survival camping happens in one of two ways:
1) By purposely setting out to test your ability to withstand nature with limited (or no) camping supplies.
2) Because you're in an actual emergency situation and need to survive in the wild.
I hope that you're never in the 2nd situation, but the best way to prepare for it is to first go survival camping by choice.
When I was in Boy Scouts, learning survival camping skills was a required element of becoming an Eagle Scout. I still have vivid memories of building shelters, purifying water, and finding food sources, and those skills allow me to go deep into the backcountry with the confidence I'll survive emergency situations.
Related: Best Survival Tents
10. Rooftop Camping
Rooftop camping occurs when you sleep on top of your van, truck, RV, or car. It can be as simple as laying a sleeping bag on top and looking up at the stars. Or, they make tents specifically for car tops.
11. Winter Camping
Many avid campers prefer winter camping to summer. There are often fewer people to compete with at campgrounds or parks, less heat and humidity, and incredible views.
That said, some places are MUCH colder than others, so be sure you are fully prepared for the elements and be sure to check weather reports in advance.
12. Bicycle Camping
You, your bike, a helmet, some gear jammed into your saddlebags, and the open road. Bicycle camping is similar to backpacking, except that your gear is loaded into compartments attached to a bike rather than on a backpack.
13. Motorcycle Camping
Everything I just said for bicycle camping, except with a motorcycle. I'm not a motorcyclist myself so I can't provide an exact list of what you'll need, but do be sure to pack safety equipment to ensure your ride is safe and you home in one piece.
14. Dry Camping
Dry camping is when you are camping with no access to water. And in most cases, you don't have access to electricity either, so it can often be a phrase that is used synonymously with primitive camping. Be sure to have plenty of water for your trip and/or bring water purification systems along with you.
15. Adventure Camping
Adventure camping is when you combine camping with an adventure experience. An example would be a beach camping trip with a guide service that includes scuba diving, horseback riding, and a gourmet dinner on the beach. It's basically just camping + fun activities.
16. History or Reenactment Camping
History camping is when you camp using gear and clothing that matches a defined historical period or event. Many campers also take on a persona that matches a real or fictional person from that era. One of the classic examples of this is Revolutionary or Civil War reenactments that include overnight camping experiences.
17. Backyard Camping
There's nothing like a good backyard camping trip to rejuvenate the spirit. All you need is some basic camping gear, and a place to call your own – your backyard will do just fine. If you're looking for an easy way to get out into nature and experience all that camping has to offer, backyard camping is definitely the way to go!
Pro Tip For Parents: This is a great way to get your kids used to camping while still having quick access to all the comforts of home.
18. Hammock Camping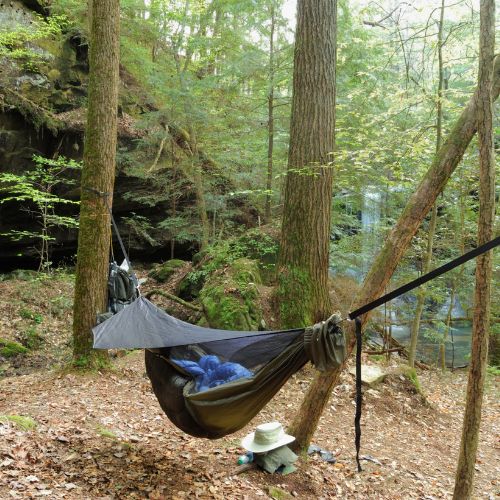 Hammock camping is when a hammock is used as a sleeping shelter rather than a tent or RV. This method is popular with backpackers and has risen in popularity within the past decade. The way to hammock camp safely (for both you and the tree) is to use a dedicated set of hammock straps rather than attempting to tie the hammock with a rope.
19. Glamping
A combination of the words Camping & Glamorous, Glamping is the trendy way to camp while still enjoying the comforts found in hotel rooms. This is perfect for couples or families who want a "no fuss" camping experience.
One of the best things about Glamping is there are sooo many options! You could stay in a: Canvas Tent, Airstream, Yurt, Treehouse, Private Island, Train Cabooses, Houseboat, Tipi, Barn, Shipping Container, or even your own Bubble. 
Related: DIY Backyard Glamping Ideas
20. Cowboy Camping
Cowboy camping is when you sleep under the stars with nothing but a sleeping bag and (maybe) a sleeping pad. This form of camping gets its name from the old west and the way Cowboys would simply sleep and make camp wherever they stopped at the end of each day.
21. Festival Camping
For many people, the ONLY time they go camping is when they attend music festivals. From Coachella, to Bonaroo, Electric Forest, millions of campers line up to attend, and camp, at music festivals each year. Expect to take all the usual things you'd have on a car camping trip, but take this from a seasoned festival pro, bring way more water than you think you'll need. Then bring some more!
22. National Park Camping
National Park Camping is when you camp within the boundaries of a national park. It includes car camping, backcountry camping, or camping at one of the many wilderness lodges within the National Park System. Be forewarned, these campsites are super popular so if you are thinking about camping in a national park, get your reservations in advance.
23. Ultralight Camping
Ultralight Camping, commonly abbreviated to UL, is camping using gear that is as lightweight as possible. Many UL campers also adhere to minimalist principles and try to limit what they bring with them to only the most essential items.
24. Cabin Camping
Cabin camping is when a rustic cabin without electricity or water is used for shelter. Yes, this is still camping even though you aren't technically outside. You still get to bundle up when its cold, deal with humidity when it's hot, and use a stove or fire to cook your food.
25. Indoor Camping
Indoor camping is when you pitch a tent or build a fort indoors and sleep in it! Is it camping in the traditional sense, maybe not, but it sure is fun! And it's a great way to build up enthusiasm for camping with kids.
Final Thoughts
Our Mission is to help people make the most of their time outdoors, so whatever type of camping you choose, we support it!
Connect with us on social media to let us know your favorite type of camping or any other ideas we should add to our camping types list.