Buying used equipment is not only a smart choice for your wallet but also has major benefits for our planet.
Dive into my comprehensive guide where I'll share where I find the best deals on pre-loved gear, key tips on making informed purchases, and learn why both your bank account and mother nature will thank you for choosing secondhand items.
Let's get started!
Advantages Of Buying Used Camping & Outdoor Gear
Buying used camping and outdoor gear has several advantages, including cost savings, the ability to purchase quality items at lower prices, and making an environmentally friendly choice by keeping gear out of landfills.
Cost Savings
The biggest reason by far to buy used camping equipment is to acquire premium outdoor gear at a discounted price.
I'm a gear geek and always buying and testing new outdoor products. So being able to avoid the steep price that comes with the quality products that I'm drawn to is a HUGE benefit for me.
But even if you're not buying an obsessively weird amount of outdoor gear like I do, I'm sure you still appreciate a good deal because who doesn't?!
Environmentally Friendly
Opting for second-hand gear reduces the amount of waste that ends up in landfills. By reusing items, you are giving them a second chance at life and extending their lifespan.
There are also brand refurbishing programs that offer used outdoor gear. These programs repurpose gently used equipment, keeping it out of landfills and reducing the need to produce new items.
You can feel good about your purchase knowing that you are helping to reduce waste and promote sustainable living.
Try & Trade
I often advise my friends that are just getting into camping to start out with used gear and find what they like. There are so many different types of tents, sleeping bags, and countless other camping gadgets that it's a good idea to experiment with different options before making a big investment.
Then once you've used something once or twice are ready to upgrade, sell it online or drop it off at a secondhard store.
Where To Buy And Sell Used Camping Gear Online
Some of the most popular places to buy and sell used camping gear online include GearTrade, REI Used Gear, Rerouted, Patagonia, and Out&Back.
GearTrade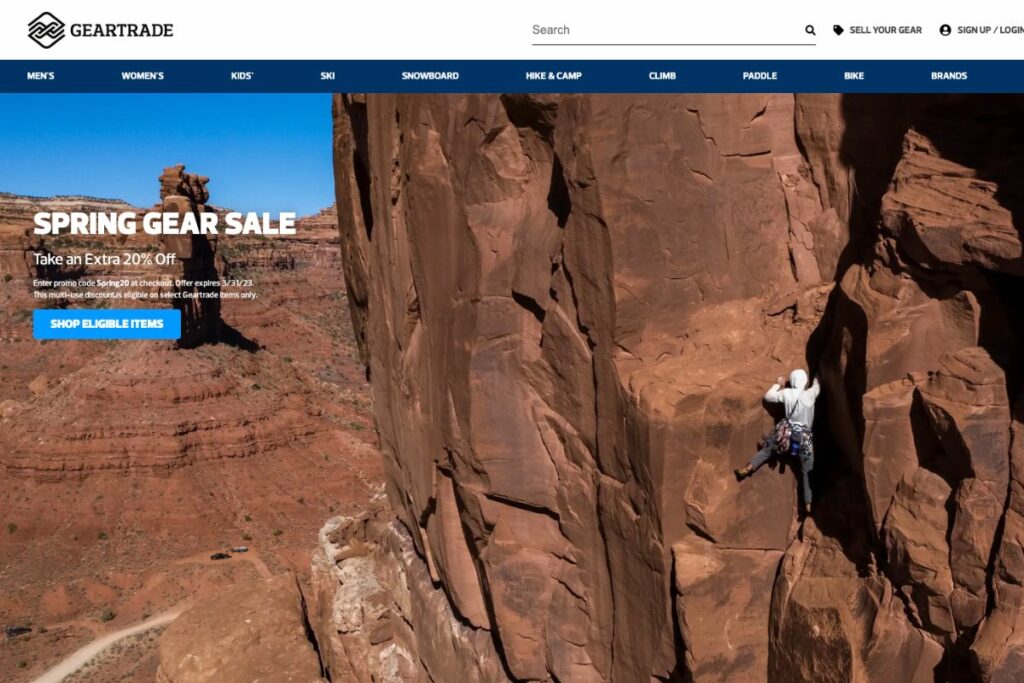 GearTrade is an online marketplace for buying and selling high-quality outdoor gear. The platform offers gently used, pre-owned, or new outdoor gear at discounted prices. Buyers can find everything from camping equipment to hiking clothing on the website.
The unique aspect of GearTrade is that they have a conscious effort to promote sustainability by reducing waste in landfills through resale of quality products.
Also, with each purchase made on GearTrade, 1% of the sale goes towards supporting non-profit organizations dedicated to environmental conservation and restoration initiatives. This makes it an ideal option for adventure enthusiasts who are looking for eco-friendly options while also saving money on reliable outdoor gear.
REI Used Gear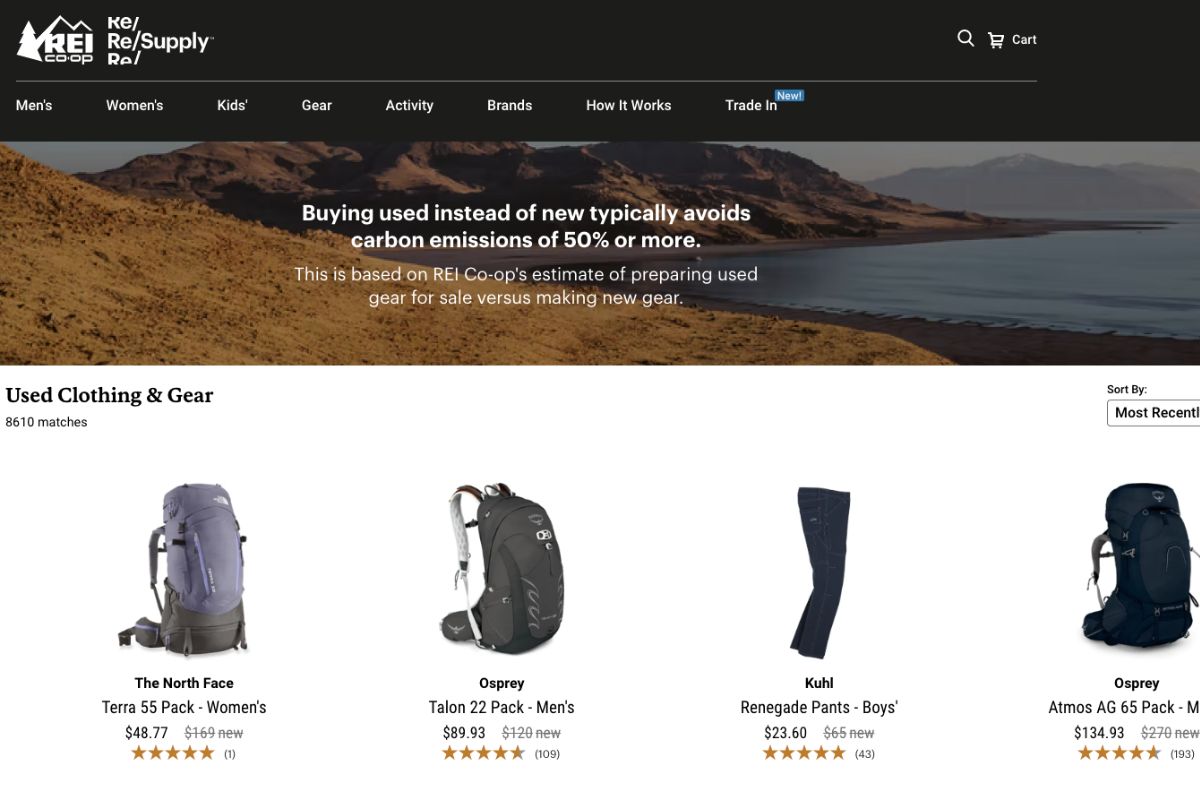 If you've read any of my other posts (thank you!) then you may already know about my love affair with REI.
But did you know that In addition to their new equipment, they also have a popular trade-in program for gently used camping and outdoor gear? Customers can bring in their old equipment to receive store credit towards new purchases or cash back. This program not only encourages sustainable shopping practices but also helps customers save money.
In addition to the trade-in program, REI also has a used gear section on their website where members can find discounted pre-owned items. These products range from clothing to tents and backpacks, all of which have been inspected and approved for quality by REI's experts. Shopping at REI for used gear is an excellent way to get high-quality items at lower prices while reducing your environmental footprint.
Pro Tip: You must an REI Co-op Member to purchase any of their used gear, which is yet another reason to join their program. Seriously, what are you waiting for?!
Rerouted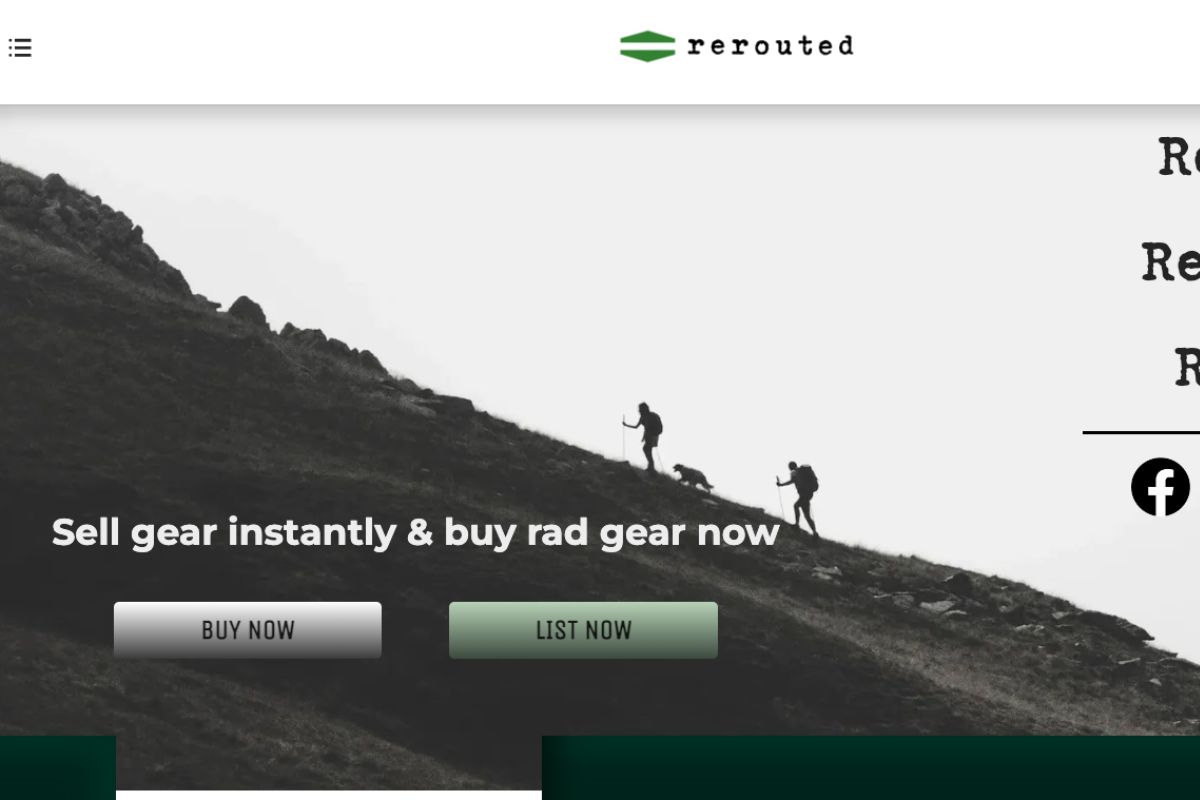 Rerouted is an online platform that offers used outdoor gear. They partner with various outdoor retailers to provide pre-owned adventure items that are in good condition.
Each purchase made on Rerouted supports various environmental initiatives, including their Carbon Offset Program, which offsets the carbon emissions from shipping your item by supporting renewable energy projects.
In addition, they offer a 30-day return policy and even have a Gear Fund program where you can sell your own used gear or donate it to support underprivileged youth programs.
Patagonia Worn Wear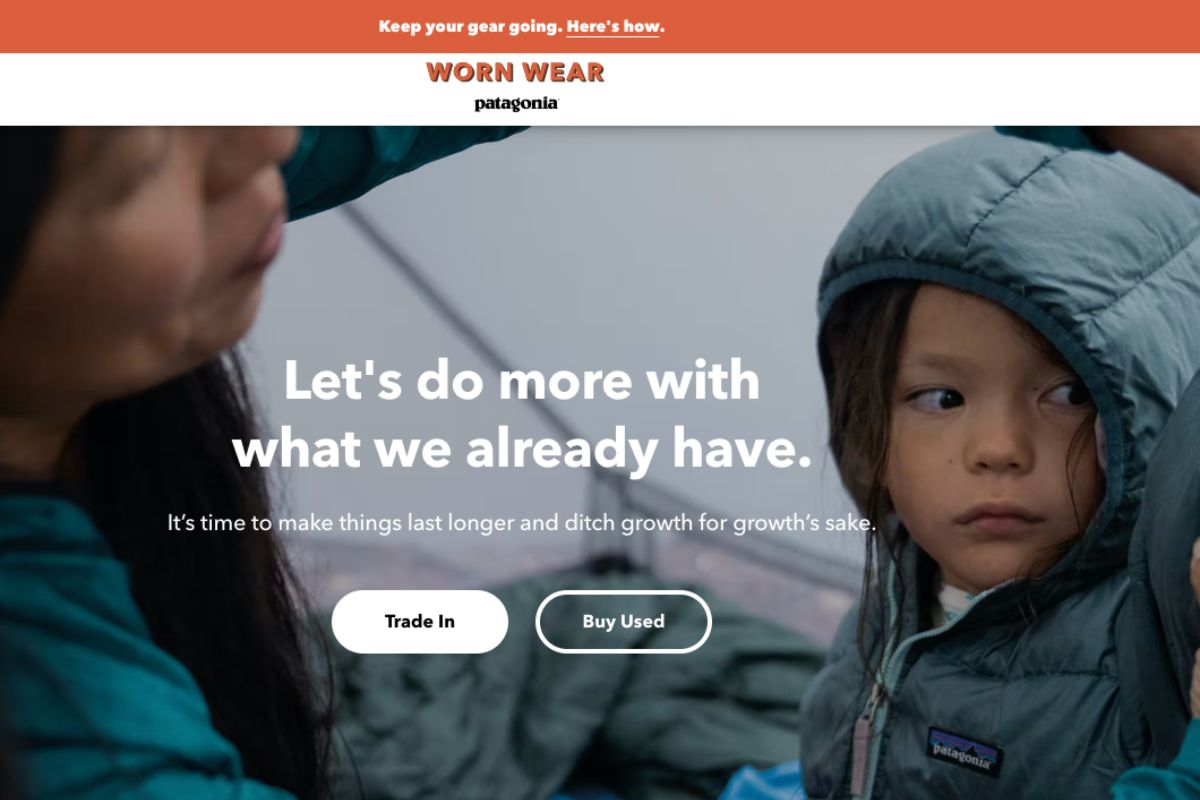 Patagonia is a well-known outdoor gear brand that also participates in the used gear market. They have a Worn Wear program that encourages customers to buy, sell, and trade Patagonia clothing and equipment.
The Worn Wear website offers quality pre-owned Patagonia items at lower prices, with an emphasis on sustainability and environmental responsibility. Customers can even trade in their own used gear for store credit or participate in the company's repair program to extend the life of their existing Patagonia products.
Out&Back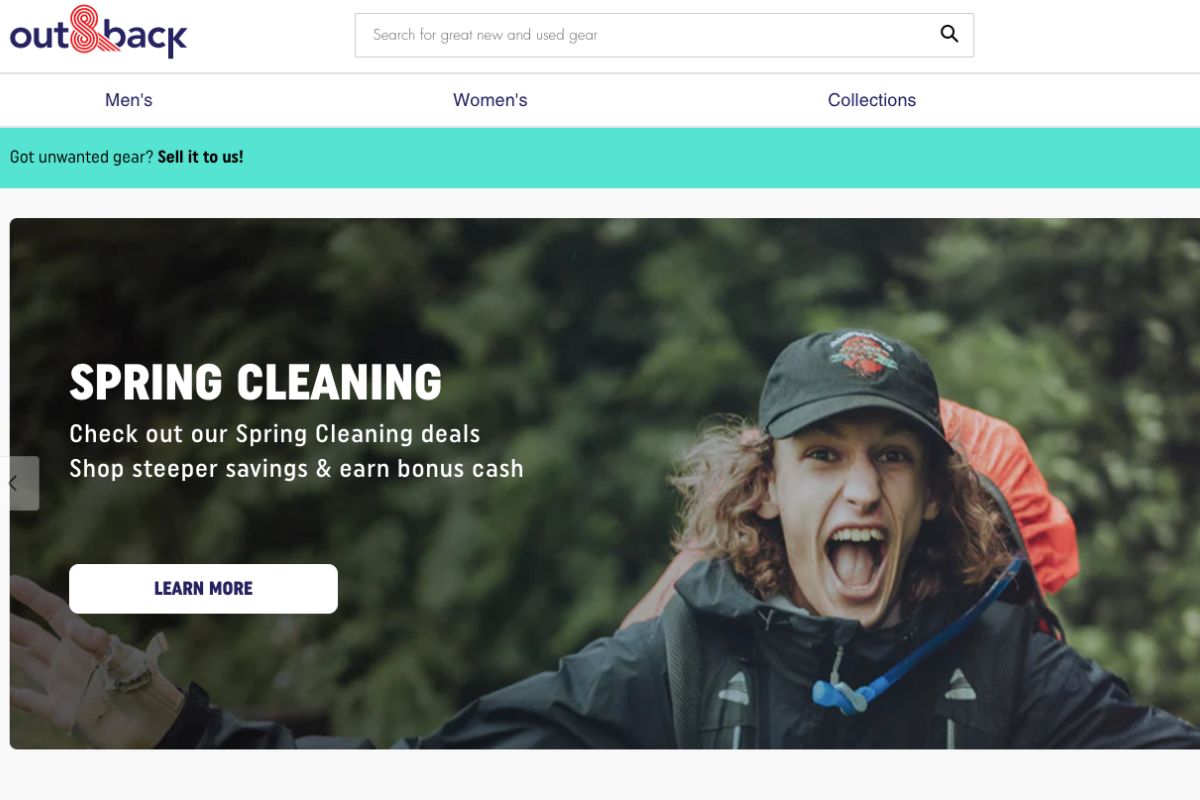 Out&Back is an online marketplace for used outdoor gear that was founded in 2018. It provides a platform for individuals to buy and sell hiking, camping, and backpacking equipment at affordable prices. Their mission is to extend the life cycle of high-quality outdoor gear, help people save money. and keep gear out of landfills.
One unique feature of Out&Back is their Trade-In Program, where customers can trade in their old gear for store credit towards new purchases. They also take some of the risk out of buying used by offering returns on anything purchased in the last 30 days.
Other Online Marketplaces
Online marketplaces such as eBay, Facebook Marketplace offer a vast selection of gently used camping and outdoor gear. And that is about the only nice thing I have to say about either of them. I'm personally not a fan of Facebook Marketplace at all, there are just too many crazy people on there.
Ebay is a little better and I do occasionally shop there, but I prefer any of the other stores I listed over eBay. They each have better return policies and quality control procedures.
Where To Find Used Camping & Outdoor Gear Near Your
Although the internet is the first place most people go these days, there are still tons of great places to find used outdoor camping gear at many locations near where you live. My go-to spots include Thrift Shops, Pawn Shops, Garage Sales, and Outdoor Gear Swaps.
Local Secondhand Stores
Local secondhand stores are a great resource for finding affordable and gently used camping gear. Many of them are also tied to charities so your purchase could be tax deductible. If you live in a major metropolitan area you may even discover resale shops dedicated solely to outdoor gear.
Pawn Shops
Another great place to look for used camping equipment in your local area is to check pawn shops. I find that they are particularly good places to find high-end equipment and tech like binoculars, fish finders, and even unexpected things like a sweet Yeti fishing cooler I found recently at a pawn shop near my house.
Garage Sales And Flea Markets
Garage sales and flea markets can be a treasure trove for finding used camping and outdoor gear. My mother was obsessed with going to garage sales early on Saturday mornings and it's a love that was passed down to me.
Many of my favorite used camping gear finds have been at garage sales for insanely low prices. In fact, once a lady even gave me a camping stove because she said I reminded her of her son!
My tips For Finding USED CAmping Gear At Garage Sales
Arrive early to get the first pick of items on sale. As my mama used to say, "The early bird gets the worm!".
Check newspapers (yes, they still exist!) or Facebook groups to find upcoming garage sales that mention camping gear.
Always negotiate the price. If you get lucky like me you might even get something for free!
Ask if they have anything else they may want to sell that they didn't already put out.
Tips For Buying Used Camping & Outdoor Gear
One of the main reasons I suggest buying used gear from my list of preferred online sources is because they can be trusted. They each put some level of effort into inspecting gear before it gets resold and have customer service departments on standby to deal with any issues that may come up.
But, you still want to be cautious when buying used supplies or products of any kind. In particular, you should research the brand, inspect it the best you can, negotiate a fair price, and factor in the return policy in case it wasn't as described or not right for you.
Research The Brand And Product
When buying used camping and outdoor gear, it's essential to research the brand and product before making any purchase. Take advantage of online reviews from other customers who have bought the same item before.
Additionally, researching a particular brand or product can help avoid getting ripped off when purchasing second-hand items. Some brands may produce counterfeit gear that looks like their original items but with low quality. Researching ahead can ensure you do not fall into such traps and guarantee you get excellent value for your money when shopping for pre-loved camping gear.
Inspect For Wear & Tear
This is obviously much easier when buying used gear in person when you can hold the item and closely visually inspect it. Online poses more challenges, but as the saying goes; "a picture is worth a thousand words". And these days, videos of the products are common and something you shouldn't be afraid to ask for during a negotiation.
Negotiate For A Fair Price
When buying used camping and outdoor gear, it's important to negotiate for a fair price. Here are some tips for successful negotiation:
1. Research the item's original retail price before making an offer.
2. Take into consideration the item's condition, age, and any additional accessories included.
3. Don't be afraid to make a counteroffer if the initial asking price is too high.
4. If you're purchasing from a secondhand store or reseller, ask if they offer store credit or trade-in options instead of cash.
5. Be respectful and polite during negotiations to ensure a positive transaction for both parties involved.
By negotiating fairly, both parties can come away satisfied with the transaction.
Consider Shipping And Return Policies
Make sure you understand their shipping process, including costs, delivery timeframes, and tracking options. Additionally, check if they accept returns or offer any warranty on the products being sold.
Some marketplaces may have more lenient return policies than others, so do your research beforehand. Keep in mind that some sellers may not accept returns on used items due to normal wear and tear.
My advice: If the return policy isn't clear or unfavorable in any way then I'd just move on. It's not worth the risk.
Used Camping Gear FAQ
How do you know if you're getting a good deal or used camping gear or getting ripped off?
Do research ahead of time to figure out what prices should look like according to industry averages & compare prices between other sources; inspecting each item in person is also strongly encouraged so one doesn't miss any defects or damages before making a purchase decision.
Are there any risks associated with buying used camping and outdoor gear?
There are risks of buying anything from sources you're unsure of or have never done business with before. The biggest risks with buying used camping gear come from places like Facebook Marketplace where it is easy for sellers to hide behind fake identities and disappear once they have your money. This is why I recommend buying used outdoor gear and camping equipment from reputable online sellers like REI or GearTrade.
Conclusion
In conclusion, buying used camping and outdoor gear is not only a financially savvy decision, but it also helps reduce waste in our environment. From online marketplaces to consignment stores and outdoor gear swaps, there are countless ways to find affordable and high-quality pre-owned gear for your next adventure.
By taking the time to research brands, inspect items thoroughly, and negotiate for a fair price, you can score amazing deals on everything from camping equipment to hiking clothing. So why not give thrift shopping a try and see what preloved treasures you can find?
Happy camping!