As extremities with a lot of surface area, not much muscle, and tons of surface-level blood vessels, our feet get cold quickly.
And with the extreme cold temps we are experiencing this winter, warm socks are an absolute must!
That's why I'm a (self-certified) Warm Sock Specialist. I hate cold feet and I invest in high-quality socks to keep my toes toasty in sub-zero temps.
This guide will cover everything you need to find the warmest socks for winter.
The Warmest Socks: Quick Picks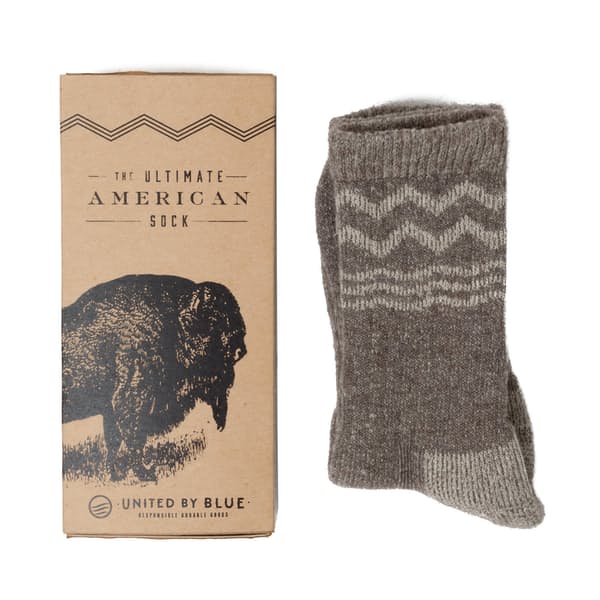 The Ultimate American Sock
United By Blue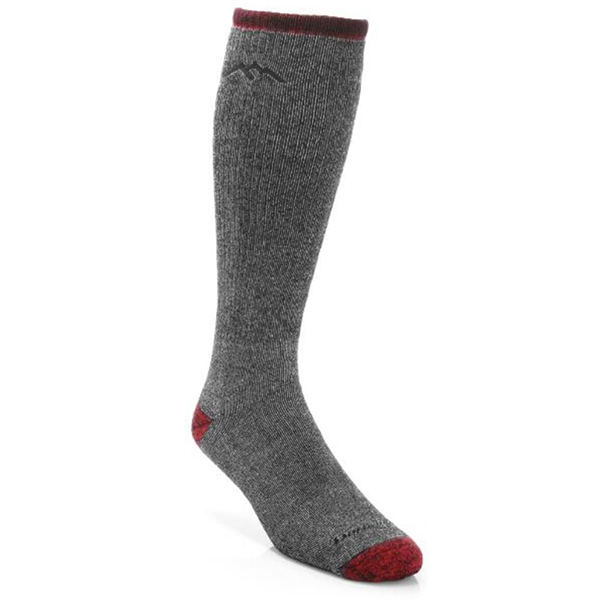 BEST KNEE HIGH WINTER SOCK
Mountaineering Sock
DARN TOUGH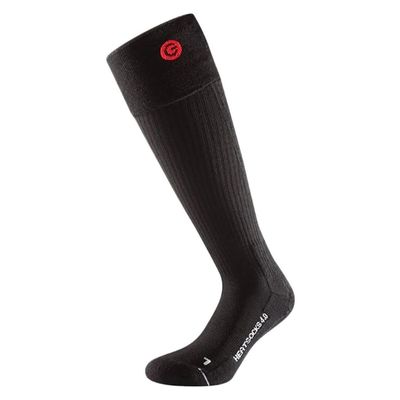 6.1 Toe Cap Heated Sock
LENZ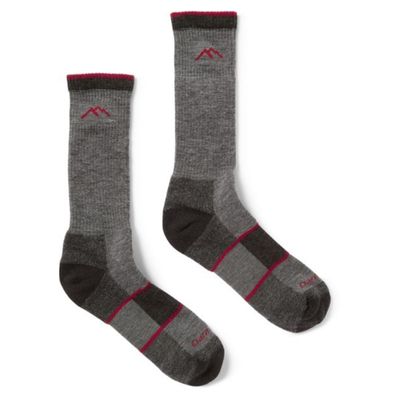 BEST WINTER SOCK FOR HIKING
Hiker Boot Full Cushion
DARN TOUGH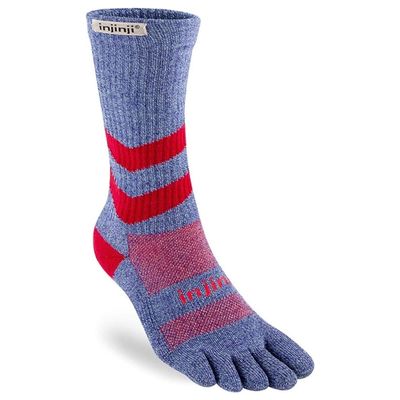 2.0 Outdoor Mid-Weight Nuwool
INJINJI
11 Best Winter Socks For Extreme Cold in 2023
If you've ever asked yourself, "What are the warmest socks?" get ready to find an answer. Our round-up of 11 super warm socks includes warm socks for men, warm socks for women, and the warmest socks for extreme cold period.
1. The Ultimate American Sock
Best For: Any use where a crew length sock will suffice. Made with 81% Merino wool and bison down (a miracle material), these are the warmest wool socks with unparalleled insulation. View on REI →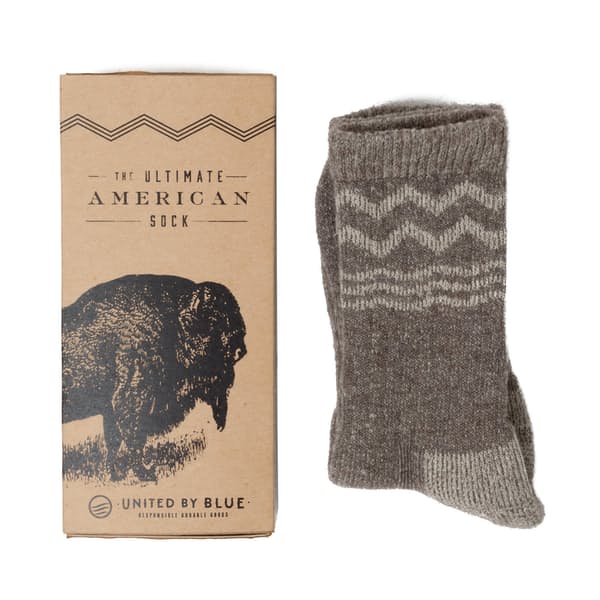 Mens or Womens: Unisex
Length: Crew
Material: 64% Merino wool, 17% bison down, 16% nylon, 2% polyester, 1% Spandex
Cushioning: Heavy
Arch Support: Yes
Seams: Flat
Toes: No
Heated: No
Bison down is expensive stuff, running upwards of $300 per pound, but it's a miracle fiber.
If you aren't familiar with the stuff, it's the fluffy, insulation undercoat beneath the bison's rough-looking exterior. Ever see photos of a bison completely unbothered by the thick layer of snow accumulating on its back? That's because of this stuff.
It's incredibly thin (just 15 microns) making it anti-itch and super comfortable, and the fibers themselves are hollow for top-tier insulation.
Manufactured in both Pennsylvania and New Jersey, this Ultimate American Sock from United by Blue uses 17% bison down in this 64% Merino wool sock to deliver, well, the Ultimate American Sock.
Better yet, the bison down used to make this sock utilizes an otherwise unused product. When bison are killed for their meat, the down is often discarded and lost. United by Blue found a way to intercept the down to prevent it from going to waste.
I 100% get not wanting to contribute to the harming of these magnificent animals, but even the most ardent animal lover can feel good wearing these socks knowing that supporting United by Blue is supporting the complete use of the animal without waste.
2. Darn Tough Mountaineering Socks
Best For: The most intense cold-weather use. The 72% Merino wool, over-the-calf construction makes them especially good long backpacking trips, camping, or even skiing. View REI→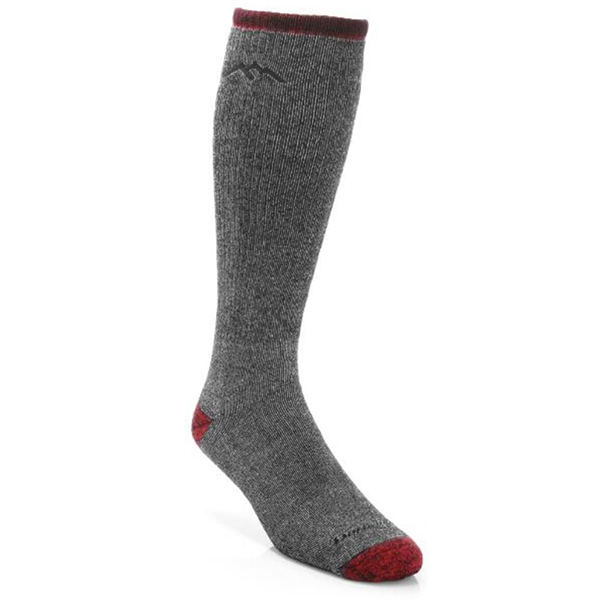 Mens or Womens: Both available
Length: Over-the-calf
Material: 72% Merino wool, 26% nylon, 2% Spandex
Cushioning: Heavy
Arch Support: Yes
Seams: Flat
Toes: No
Heated: No
These Darn Tough Mountaineering Socks are your best bet for outdoor activity in extreme cold. The over-the-calf length locks out the cold and insulates everything below the knee, and their 72% Merino wool construction means a ton of insulating ability.
The reviews for these socks on REI speak for themselves. One reviewer is a firefighter who uses these socks in everything from 20°F to 120°F, and without fail they keep his feet at the right temperature.
Plus, with 72% breathable Merino wool, these socks wick away sweat and moisture that ultimately leads to stink. That's right, you can pack these socks away for a multi-day trip and wear them every day without that awful "old sock" smell.
3. J.B. Extreme -30 Below XLR Socks
Best For: Basically any degree of cold. They have less wool/down than the top-ranked Ultimate American Sock but more durable nylon and stretchable Spandex. View on Amazon →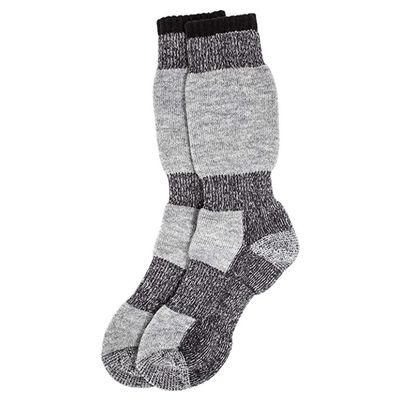 Mens or Womens: Unisex
Length: Crew
Material: 70% Merino wool, 25% nylon, 5% Spandex
Cushioning: Heavy
Arch Support: Yes
Seams: Flat
Toes: No
Heated: No
The only sock with a temperature rating in its name, these J.B. Extreme -30 Below Winter Socks will keep you warm in the coldest of conditions. J.B. actually makes two types of -30 Below socks–classics and XLR–and these XLR versions have improved elasticity.
Take one look at the socks and you can see that woven-in stretchability to help the socks conform to your foot's shape and stay up around your calf. Made in Canada, these socks are designed and constructed by people who know cold-weather survival.
4. Warrior Alpaca Socks
Best For: Casual cold-weather use, such as around the town or working in your yard during the winter. View on Amazon →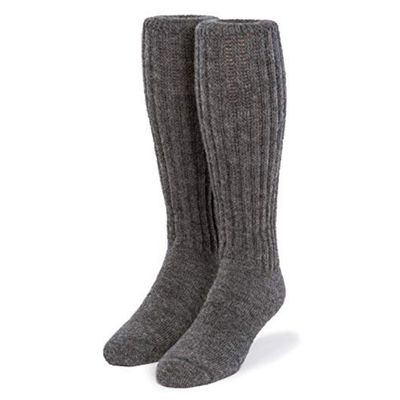 Mens or Womens: Unisex
Length: Over-the-calf
Material: 48% alpaca fleece, 40% acrylic, 8% nylon, 4% elastic
Cushioning: Heavy
Arch Support: Yes
Seams: Flat
Toes: No
Heated: No
Warrior Alpaca Socks are the socks our soldiers wear. That's how warm and incredible alpaca socks are. With 48% alpaca for warmth, 40% acrylic and 8% nylon for durability, and 4% elastic material for a well-formed fit, these socks are among the most intelligently designed on our list.
These fully terry-lined socks give additional insulating power and cushion for your feet, and the top of the sock has a comfortable elastic band to keep them in place (and keep the cold out).
Both Warrior and these socks are highly-rated. The only downside is the alpaca fur is rather susceptible to wear, so they are best used as a casual day-to-day or around-the-house sock. I wouldn't recommend them for hiking or athletic activity. That said, they are among the warmest socks on this list.
5. Lenz 6.1 Toe Cap Compression Knee-High Heated Socks
Best For: People with Raynaud's disease or other circulation disorders, or for skiers. These socks rise over the calf and have a rechargeable lithium-ion battery for up to 10 hours of self-sustaining warmth. View on Amazon →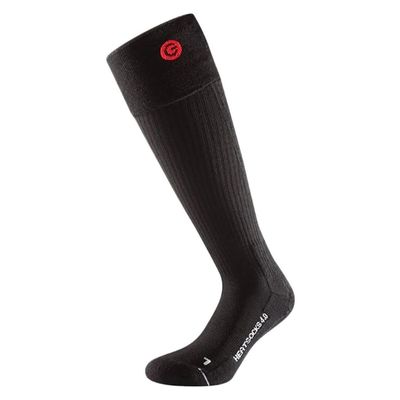 Mens or Womens: Unisex
Length: Over-the-calf
Material: 49% polyester, 29% nylon, 10% Olefin, 7% Merino wool, 5% Spandex
Cushioning: Mild
Arch Support: Yes
Seams: Flat
Toes: No
Heated: Yes
The warmest socks for cold feet, these over-the-calf heated socks are 49% polyester with just a splash of Merino wool, which is an ideal blend for a sock that generates its own warmth and wicks away moisture.
These socks heat the toes and balls of your feet with two rechargeable lithium-ion battery packs. They also come with a compatible USB charger.
These socks are ideal for people who suffer from Raynaud's disease and other circulation disorders, and even for skiers. Because they have zero cotton, they can be used in activities that may cause sweating, and the over-the-calf length and slim, rechargeable battery packs will keep you on the hill longer.
7. Wigwam The Ice Socks
Best For: When you need warmth and don't care about the bulk. With no Spandex, Lycra, or other stretchable material, these socks don't contour, but they are warm. View on Amazon →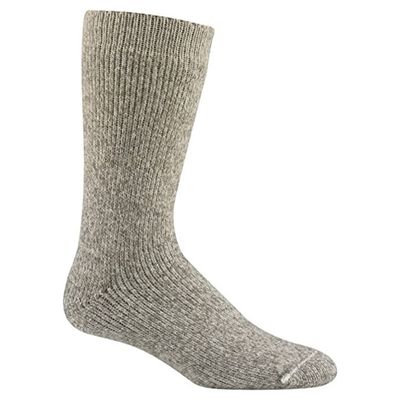 Mens or Womens: Unisex
Length: Crew
Material: 80% wool, 20% nylon
Cushioning: Heavy
Arch Support: No
Seams: Flat
Toes: No
Heated: No
"The Ice Socks." Sounds pretty warm, right? Well, made with 80% wool, they are indeed warm. However, these socks are made with standard wool–not Merino–making them a little fuzzier and bulkier than similar socks, but the high wool content still makes them exceptionally warm.
These socks have limited arch support but do boast all-around quality as a solid, no-frills option when you need to find a warm pair of winter socks.
8. Injinji 2.0 Nuwool Toe Socks
Best For: When you want toe socks. This could be when you want to avoid between-the-toe sweating or chafing. View on Amazon→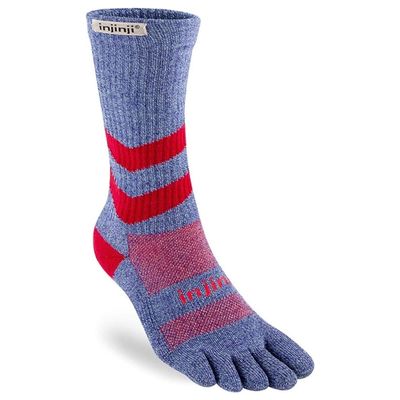 Mens or Womens: Unisex
Length: Crew
Material: 64% NuWool, 33% nylon, 3% Lycra
Cushioning: Medium
Arch Support: Yes
Seams: Flat
Toes: Yes
Heated: No
NuWool is Injinji's own Merino wool made from high-quality Australian wool. Company branding aside, this stuff is basically the same as any other Merino wool sock on this list.
The only pair of toe socks on this list, these socks are a great option for those who are prone to blistering. I, for example, get a ton of pain from my pinky toe jamming into the next toe in, which is especially brutal on long hikes. While toe socks aren't the most comfortable for me to wear (personal preference) they do alleviate this pain.
Another benefit of the toe sock design is that each toe gets its own special microclimate. That means no sweating in between toes and an overall more comfortable and stink-free experience.
9. Farm To Feet Damascus Merino Wool Socks
Best For: Cold-weather athletic activity. These socks have very little bulk and a well-woven pattern to incorporate durable nylon while still boasting 61% Merino wool. View on Amazon →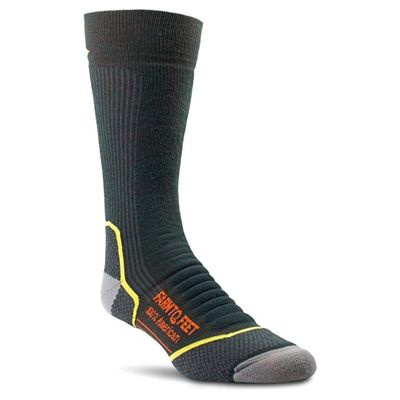 Mens or Womens: Unisex
Length: Crew
Material: 61% Merino wool, 35% nylon, 5% Spandex
Cushioning: Medium
Arch Support: Yes
Seams: Flat
Toes: No
Heated: No
This midweight crew sock is made with 19.5-micron Merino Wool at 61% of the sock's total material. It's designed with multiple ventilation channels for optimal air circulation, keeping your feet dry, while thick cushioning gives you comfort and support where you need it.
For strength, these socks are woven with a novel pattern that combines nylon and stretchy Spandex in a low-profile plating that gives the sock incredible durability without being bulky. Combined with comfort compression arch support, these Farm to Feet socks are ideal for cold-weather athletic activity.
10. ActionHeat Rechargeable Heated Wool Socks
Best For: Casual around-the-house use as these 70% cotton socks are warm but not suitable for anything that may make you sweat. View on Amazon→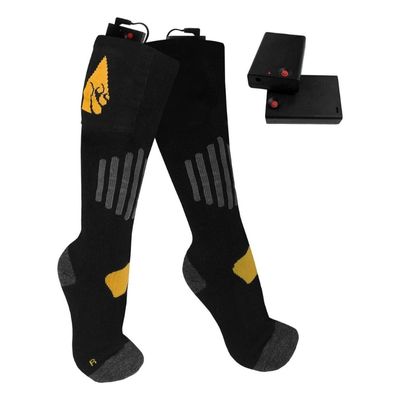 Mens or Womens: Unisex
Length: Over-the-calf
Material: 70% cotton, 30% Spandex
Cushioning: Heavy
Arch Support: Yes
Seams: Flat
Toes: No
Heated: Yes
When looking for the warmest socks, it doesn't get warmer than socks that generate their own heat. These over-the-calf heated socks by ActionHeat are powered by two rechargeable 3.7V, 2.2Ah lithium-ion batteries capable of heating your toes and heels up to 140°F for up to 10 hours.
These socks are great for around-the-house use, but I wouldn't recommend them for activewear for two reasons:
Rechargeable batteries are harder to maintain on longer trips
70% cotton construction is horrible when you inevitably sweat
But for casual use, it doesn't get any easier keeping your feet warm than by wearing a comfortable pair of rechargeable heated socks.
11. CloudLine Ultralight Merino Wool Hiking Socks
Best For: Optimal warmth in an ultralight hiking sock. Midweight and heavyweight socks will be warmer, but these socks combine warmth with a thin material. View on Amazon→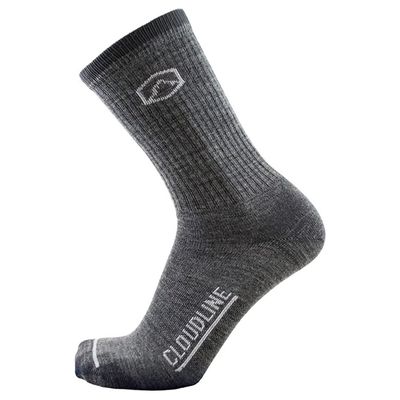 Mens or Womens: Unisex
Length: Crew
Material: 59% Merino wool, 34% nylon, 7% Spandex
Cushioning: Very little
Arch Support: Yes
Seams: Flat
Toes: No
Heated: No
These CloudLine Merino Wool Hiking Socks fall in the ultralight class and are intended for active warmth without the weight. With 7% Spandex, they have more stretchability than most other socks on this list, and they outperform the Under Armour athletic socks below by having 59% Merino Wool (to Under Armour's 36% non-Merino wool).
7 Crucial Factors When Choosing The Best Winter Socks
I'm a gear junkie. I love buying the latest and greatest, the coolest gadgets, and the outdoors toys that catch my eye. That even extends to socks, where I get unreasonably excited about a super cushiony pair of midweight hiking socks that cost $25 per pair.
But I'll be the first to admit it: You may not need to buy a $25 pair of socks capable of keeping your toes warm at -20°F.
That's why the first thing you need to decide is how these socks will be used:
Grueling 20-mile hikes
Overnight camping trips
Trailrunning
Skiing
Just walking to work or school
Each use has an ideal type of sock. Let's start with sock length and fit.
You Might Also Like: How To Stay Warm Winter Camping In A Tent
1. Sock Fit
It's important the sock is the right length, meaning your toe and heel line up properly. A poorly fitting sock will either bunch in the toes (too big) or slide down the heel (too small), both of which reduce its ability to keep you warm.
2. Sock Length
There are 6 different sock lengths, each with an intended use:
Liners
No-Show
Ankle
Quarter
Crew
Over-The-Calf or Knee-High
We'll skip the no-show sock on this list of the warmest socks because–surprise!–these socks aren't warm. The other 5 are worth discussing.
Liners // Liners can be any length–it's actually all about their thickness–so they don't tuck neatly into this category, but they're worth talking about. Sock liners are ultra-thin layers that can be worn under other socks. Often made of silk or synthetic fibers, liners can be a functional way to add insulation and comfort to a cold-weather sock system.
Ankle // The lowest cut, ankle socks are best for running and biking. Typically, ankle socks aren't extremely warm. Some are made from high-quality, insulating materials, but the low cut limits their warmth. Even most cold weather running socks are quarter or crew cut.
Quarter // Quarter socks rise above the shoe to cover the ankle bone entirely. They're great for providing except cushioning along the back of your foot to prevent blisters, but again, overall warmth is compromised.
Crew // Crew socks rise to the mid-calf, about 6-8″ above the shoe. When talking about the best winter socks or the warmest socks in general, the conversation begins with crew socks.
Over-The-Calf or Knee-High // You'll see both of these lengths used, but they're pretty similar (and self-explanatory). They're most commonly associated with athletic activities like skiing (for warmth) or really any other sport with a strong lower body component (for compression). For cold weather, knee-high socks may be overkill. However, they're the warmest socks for extreme cold.
3. Material
Your foot has over 250,000 sweat glands, making it one of the sweatiest places on your body. Even in sub-zero weather, it's important to prevent foot sweating as that can quickly turn into frostbite. That's why choosing the right material is so important. Let's look at 8 common materials:
Sheep Wool
Alpaca Fleece
Bison Down
Silk
Cotton
Acrylic
Nylon
Lycra, Spandex, Elastane, and other stretchable material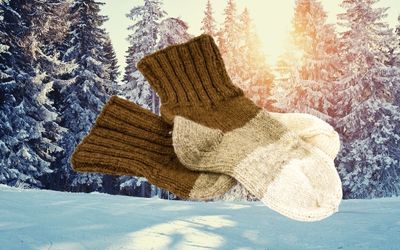 Sheep Wool // Sheep wool is impressive stuff resulting from millennia of evolution to keep sheep comfortable in cold, wet conditions. The most impressive thing about wool is that it's naturally water repellent but can absorb up to 30% of its weight in water vapor without feeling wet, which makes it great for keeping your feet dry. It also has the ability to self-regulate temperature and has a ton of air pockets, which improve both insulation and cushioning. Merino Wool is the best type of wool with finer fibers (about 12-20 microns in diameter–5 times thinner than human hair) that don't itch.
Alpaca Fleece // The alpaca equivalent, fleece actually has better powers of insulation than sheep wool because it has completely hollow fibers. As we discussed in our guide to Down vs Synthetics, air pockets are what make insulation possible. However, these air pockets prevent fleece from absorbing moisture. While it still wicks moisture away, it isn't capable of absorbing excess moisture to keep you dry like wool can. It's about as thin as Merino wool, making alpaca fleece exceptionally comfortable.
Bison Down // Another interesting material, bison down has been hitting the market as a high-performing alternative to wool. I say "down" because we're talking about the super-fine underlying layer (15 microns) below the rough outer coat. It can absorb 100% of its weight in water without feeling wet, offers better insulation than sheep wool, and is as soft as cashmere. Sounds awesome, right? Well, it's expensive stuff selling for upwards of $300 per pound as a single bison sheds just 4-6 oz of it per year.
Silk // Another natural animal fiber, silk actually has great powers of insulation. Given its natural usage–silkworms make cocoons to protect themselves during metamorphosis–this shouldn't be surprising. However, silk products usually aren't as thick as wool products, meaning they lose some insulating power. On the plus side, silk is great at facilitating air exchange, which can help remove excess heat. A cold-weather sock system won't have big, thick silk socks as the primary means of insulation, but silk makes great sock liners.
Cotton // Cotton is a hydrophilic natural plant fiber, meaning it attracts water and sucks it up. In fact, cotton can hold about 27 times its weight in water. This is not ideal for cold-weather situations, so cotton socks and other cotton clothing should be avoided at all costs.
Acrylic // Acrylic is a synthetic fiber that is terrible at absorbing moisture, only absorbing around 5% of its weight in water. This is by design. Instead, acrylic wicks moisture away from your body as extremely small tubes (called capillaries) in the material pull water away from your body and release it to your outer garments or the environment. Acrylic socks on their own will not provide enough insulation, but they can be a great base layer with wool socks over them. The acrylic sock layer will wick moisture away from your feet where the wool can absorb it and insulate.
Nylon // Nylon is another synthetic fiber that often makes up something like 20% of the material in a pair of socks. Nylon gives socks additional strength and stretchability and dries quickly.
Lycra, Spandex, Elastane, etc. // More synthetic fibers, this category is for all stretchable materials that help your socks contour to your foot's unique shape while often providing arch support. Generally, they make up the smallest portion of your sock's overall composition.
4. Cushioning & Arch Support
Less about warmth and more about comfort, consider the sock's overall shape. Does it provide cushioning along the sole, behind the heel, and around the ankle? What shape are your arches and does the sock conform to that? Many socks that have robust cushioning and arch support achieve that with synthetic fibers like nylon, Lycra, Spandex, and Elastane.
5. Seam Design
Another comfort criterion, examine the seams of your socks. Are they smooth or raised? Will they rub against your feet and aggravate your skin?
6. Toes Or No Toes?
If you're prone to toe blisters, consider buying a pair of toe socks. They may take some getting used to, but by isolating each toe and reducing the skin-on-skin friction, you'll be able to stay warm and blister-free. Depending on the temperature, wool toe socks may be fine on their own. For either extreme cold or any layered system, synthetic toe socks make a great under-layer with warm wool socks on the outside.
7. Electric Heated Socks
Yes, you read that correctly. Electric heated socks are a thing and they'll pump manufactured warmth where you need it most. Some require batteries while others are rechargeable. You'll get 6-15 hours of heating, depending on the sock, which makes them great for at-home, around-town, or camping uses.
Suggested: The 5 Best Electric Heated Camping Blankets
Battery-powered socks are better than rechargeable for multi-day excursions, but then again you need to pack the batteries. Personally, I prefer a standard sock for hiking, backpacking, and camping as I feel it's more reliable–what if something goes wrong?–but heated socks are an amazing alternative for casual, daily use.
Final Thoughts
If warm feet is your goal, then you can't go wrong the Bison socks but any of the options on this list are sure to keep you protected from the cold.
Stay warm out there and be sure to follow us on social media for more fun camping content!