Going fishing is truly one of life's great pleasures.
Tossing a line into the water and pulling a fish from the depths beneath you unlocks a primal and mystical feeling in anyone who experiences it.
But as someone who has gone fishing without the proper equipment more than once, I can say with absolute certainty that fishing is way more fun when you've got the right gear.
If you're not sure what to take on a fishing trip, don't stress! You won't need to break the bank and can get started with just a few basics.
I'll share with you my checklist of essential items to take on any fishing trip and break it down based on the type of fishing you might be doing.
Let's go fishing!
Essential Fishing Equipment And Tackle
You don't need much to go fishing but at the bare minimum you'll need a fishing pole, some line, a hook, and some bait. Let's take a closer look at each of those plus a few other pieces of gear that I personally consider essential.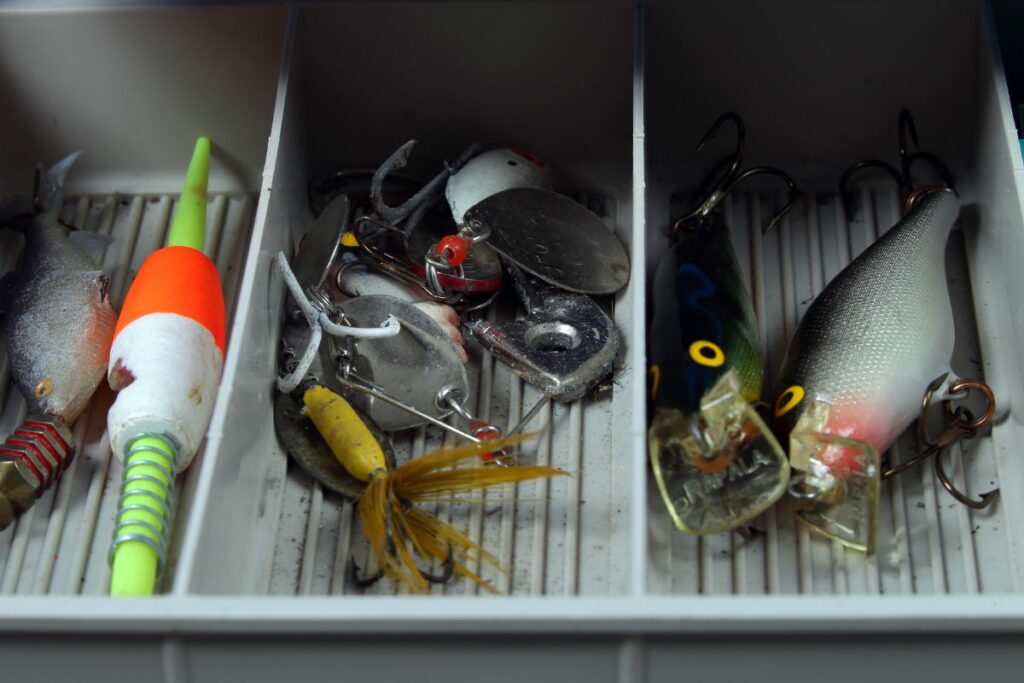 A Fishing Pole & Reel (aka Rod & Reel)
You can use almost anything as a fishing pole. It could be something as basic as a cane pole or piece of bamboo or as advanced as an ultralight carbon fiber rod made from space-age materials.
You'll also need a reel to attach to your pole, and the good news is that there are tons of great fishing poles that come with reels already attached to them.
The type of rod and reel you choose will be highly dependent on the type of fishing you're doing, so I have to keep my recommendations somewhat board but these two are good places to start: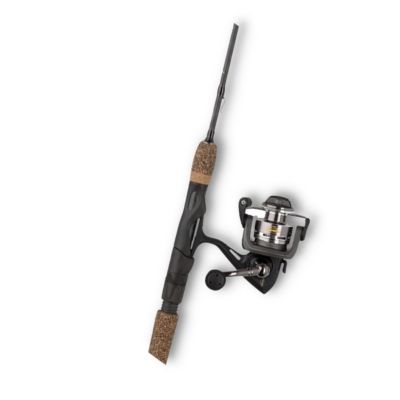 FRESHWATER ROD & REEL COMBO
Lightning Rod Spinning Combo
BERKELEY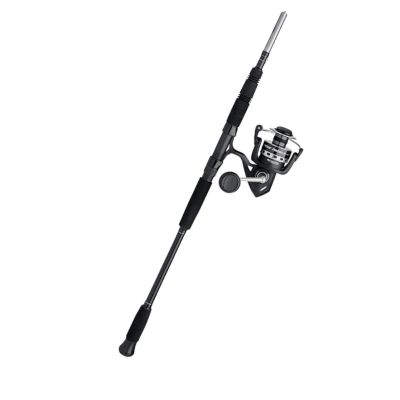 SALTWATER ROD & REEL COMBO
Pursuit IV Spinning Reel & Rod
PENN
I like the Berkely Spinning Rod and Reel Combo as a great starter set for freshwater fishing and lakes and the PENN Pursuit IV is my pick for saltwater fishing from shore.
Fishing Line
There are a variety of fishing lines available, each designed for specific fishing techniques and target fish species. Choose the appropriate weight, thickness, and material based on what type of angling you'll be doing.
When it comes to selecting the right fishing line, it's essential to consider its strength, sensitivity, and abrasion resistance.
Monofilament is an excellent all-purpose choice for many anglers due to its versatility and affordability. Fluorocarbon lines offer better visibility underwater while still providing excellent abrasion resistance, making them perfect for clear water situations where stealth is crucial.
My advice: Don't skimp on the quality of your fishing line. It's literally the only thing between you and a successful catch!
Hooks
If you thought a hook is just a hook then you're in for quite a surprise.
Hooks come in all sorts of shapes and styles, each suited to different types of fish and bait. It's important to research beforehand to determine which hooks will work best for the type of fishing you'll be doing.
So where to start? Look for self-setting hooks or circle hooks. But hooks are cheap so it's useful to include a variety of sizes in case you encounter different species or water conditions.
Bait And Lures
Live bait such as worms, minnows, or crickets work well for many species of fish. Artificial lures like spinners or jigs mimic natural prey and can also be effective.
While live bait may require refrigeration and can be a bit messier than artificial lures, the advantage is that they offer a scent and movement that attracts fish.
Using an appropriate lure depends on factors such as water depth, clarity, temperature, and weather conditions. Try different baits until you find the one that works best for your fishing location and target species.
Tackle Box
A tackle box is useful for keeping all your lures, lines, and miscellaneous fishing gear organized and in an easy-to-grab that is ready whenever you want to go fishing. You can find Tackle Boxes on Amazon, Walmart, or nearly any sporting goods store.
You can also DIY a Tackle Box out of other boxes or bins you might have laying around your house. My grandfather fished nearly every day off of his life and he used an old toolbox and a few used coffee containers to all his tackle storage needs.
Polarized Sunglasses
I highly recommend getting a good pair of polarized fishing sunglasses. Polarized sunglasses provide better visibility while fishing and make it easier to spot fish even on cloudy days.
They also protect your eyes from harmful UV rays. This can help prevent eye strain and damage caused by long hours of direct sunlight exposure.
So whether you're planning a day or weekend fishing trip, make sure to add polarized sunglasses to your checklist of essential items. Trust me, you won't regret having them with you!
Fishing License
If you're an adult you very likely need a fishing license and if you get caught fishing without one you risk getting fined or even jailed in extreme situations.
Each state, country, and area has their own regulations so I recommend Googling to see what laws are present in your area and what licenses you might need.
Be aware that different types of fishing can require different licenses. For example, in my home state of Florida, we have different licenses for freshwater and saltwater and even have special permits required for some species of fish.
Safety And Comfort Items
If you've got the item above, you're ready to catch fish. But to make your fishing trip safer and more enjoyable I recommend these items as well.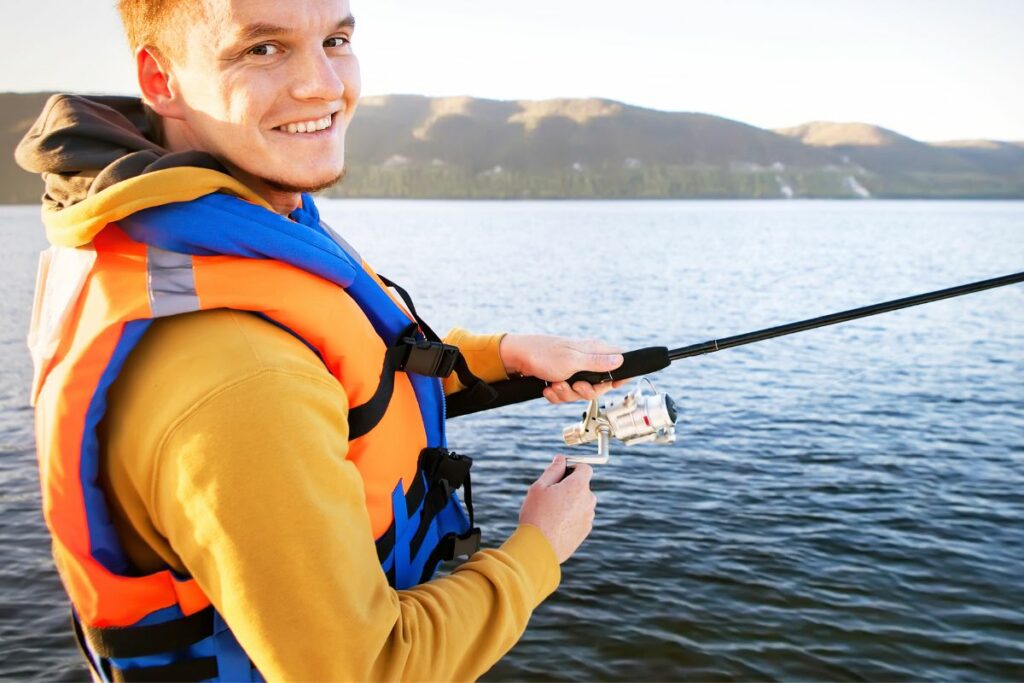 Life Jacket
If you're going to be fishing from a boat then a life jacket is a must and even mandatory in many locations.
However, If you're fishing from the shore a lifejacket isn't required but they are a good idea for children or anyone who isn't a strong swimmer.
First Aid Kit
I always make sure to pack a well-stocked first aid kit when I go on a fishing trip.
It's important to be prepared for any possible injuries or emergencies that could happen, especially if you're going on a longer trip or are in more remote areas. Some essential items to include in your first aid kit are adhesive bandages, antiseptic wipes, gauze pads, medical tape, and tweezers.
Sunscreen And Bug Spray
The sun can be intense while out on the water, so applying sunscreen with at least SPF 30 is important for protecting your skin. Bug spray is also a must-have item to keep those pesky mosquitoes away.
When choosing a sunscreen, opt for one that's waterproof and sweat-resistant to ensure it lasts throughout the day. Apply it before leaving shore and reapply every few hours or after swimming.
For bug spray, choose one with DEET as an active ingredient for effective mosquito repellent.
Hat
Hats with wide brims are particularly suitable as they provide extra protection from the harmful rays of the sun while keeping you cool. Having some shade also helps cut through the glare of the water and make fish a little easier to see.
A hat can also help to keep you dry in case of unexpected rainfall, reducing your chances of catching a cold or getting sick. Whether it's sunny or raining, make sure to pack a good quality hat that provides ample coverage over your head and neck.
Proper Clothing
In colder climates, it's recommended to wear multiple layers of clothing, including thermal underwear and a waterproof jacket. It can get much colder on the water than it does on shore, so if you're fishing from a boat I recommend planing accordingly.
On warmer trips, lightweight and breathable sun-protective clothing are ideal. I'm personally a big fan of Columbia Performance Fishing Gear shirts which are moisture-wicking, ventilated, and comfortable.
Another important factor in dressing properly is footwear. Wearing sturdy boots with good traction can prevent slips and falls when fishing near water or on slippery rocks. But boots are a big no-no on boats! Instead where shoes with non-marking soles if you'll be fishing from a boat.
A backup pair of socks is a good idea too if you're not a fan of wet feet.
Snacks And Water
When packing for a fishing trip, snacks and water are often overlooked but are essential for staying hydrated and energized throughout the day. It is important to bring enough water to stay hydrated, especially on hot days when dehydration can be dangerous. Snacks like trail mix or energy bars provide quick fuel during breaks while fishing.
A Cooler
A cooler serves two dual purposes when fishing:
Keeps you water and snacks cold
Keeps any fish you caught fresh until you can clean them
If you're going off shore or on an extended trip then I recommend investing in a premium fishing cooler. But if you're just heading down to a local lake or river for an afternoon of fishing then any cooler you already own will do just fine.
Gear For Fishing In Cold Climates
When fishing in colder temperatures, it's important to bring extra layers of clothing, hand warmers, and an ice fishing auger. But that's not all! Keep reading for more essential gear to make your cold climate fishing trip a success.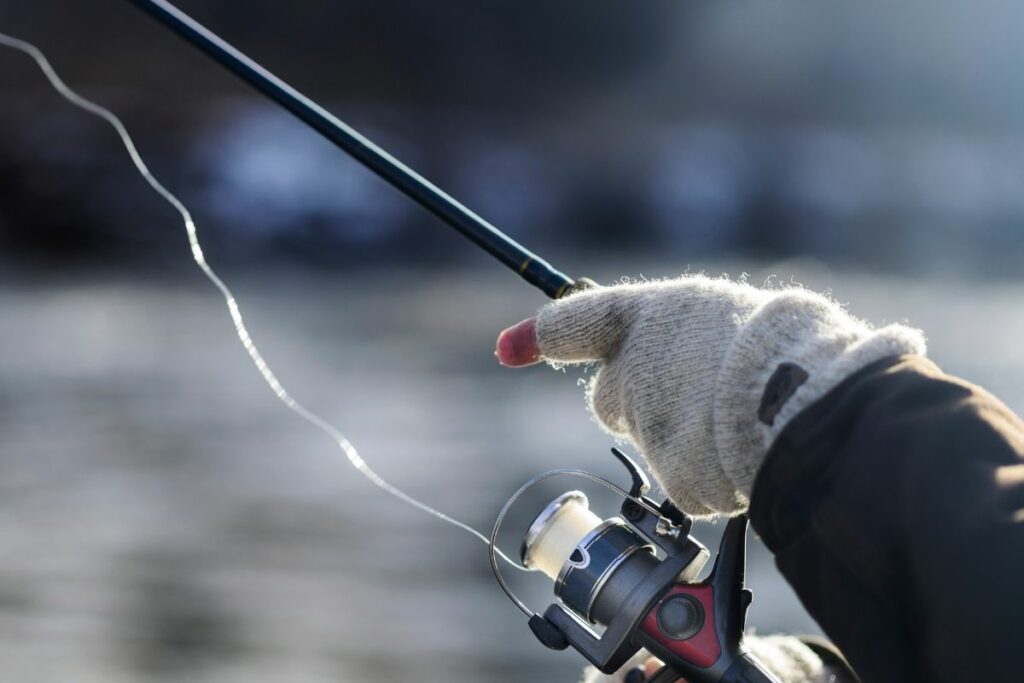 Extra Layers Of Clothing
Even if the weather forecast looks mild, temperatures can drop quickly on the water or during early morning hours. Packing thermal underwear and insulating jackets are always good ideas to ensure you stay warm throughout your trip.
It's also wise to pack rain gear even if precipitation isn't predicted. Heavy rain can happen suddenly when out on the water, so be prepared with waterproof jackets and pants to stay dry and comfortable. Remember that being cold or wet can make for an unpleasant fishing experience, so bring those extra layers just in case!
Hand Warmers
I always make sure to pack hand warmers on my trips. When your hands get cold, it can be difficult to handle your equipment and even start a fire. These small packets of heat are easy to use – just shake them up and they'll provide warmth for hours.
Waders
If you're going to be fishing from a shorline you may want to consider getting a pair of waders. Waders will keep your feet dry and even provide you with the opportunity to walk out into the water for easier access.
Related: Simms vs Orvis Waders: A Fisherman's Dilemma
Ice Fishing Auger
If you're ice fishing, and Auger is a must-have item. It's the only way to break through the ice so you can drop your line and catch fish. With different sizes available, make sure to choose one that fits your needs based on the thickness of the ice.
In addition to selecting the right size, it's important to consider the weight and durability of an ice fishing auger. You'll want something sturdy enough to handle drilling through thick layers of ice without weighing you down too much during transport.
Ice Fishing Sled
An ice fishing sled allows you to easily transport your gear across the ice and can also be used as a base for setting up your equipment.
Not only does an ice fishing sled make it easier to carry your gear, but it also helps distribute your weight more evenly on the ice. It's important to note that not all sleds are created equal – make sure you choose one that is sturdy and can withstand heavy loads.
Gear For Fishing When It's Hot Out
For fishing trips in warm climates, it is important to bring sun-protective clothing, water shoes for wading into the water easily, a portable fan to keep cool on hot days, and ice packs to keep food and drinks cold.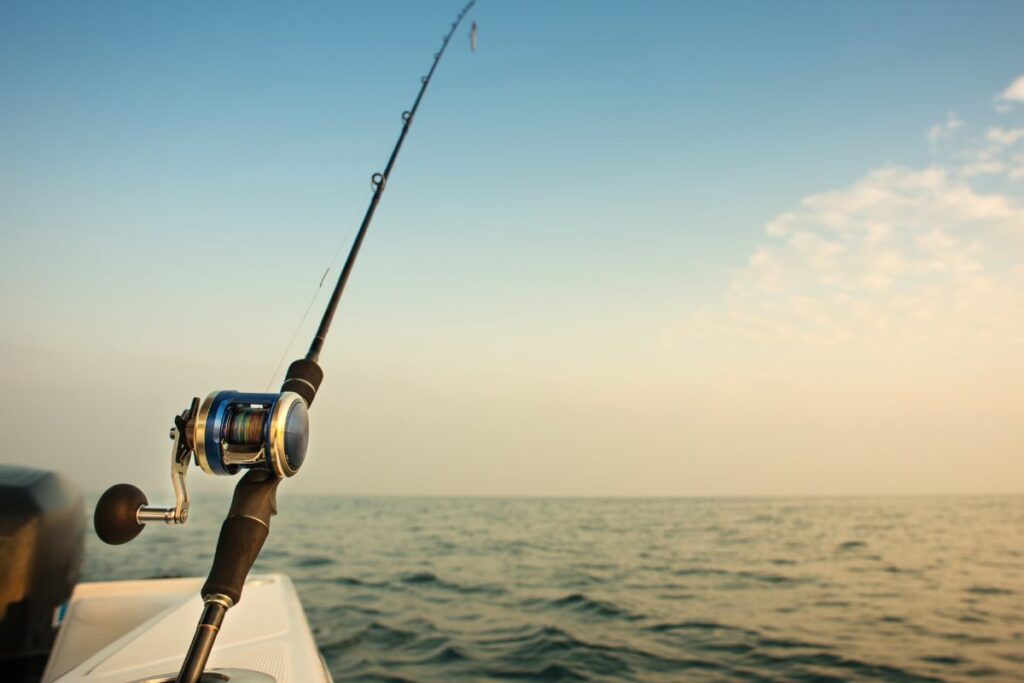 Sun-protective Clothing
When going on a fishing trip in warm climates, sun-protective clothing is crucial to ensure you don't suffer from the effects of UV radiation. You should dress in light-colored and loose-fitting clothes that provide ample coverage for your arms, legs, and neck. A long-sleeved shirt with UPF protection can block much of the harmful rays of sun exposure.
Water Shoes
Water shoes are an essential item to bring on a fishing trip, especially if you plan on wading in the water. They provide traction and prevent slipping on wet rocks or muddy riverbanks. Make sure to choose a pair that is comfortable and fits well, as you'll be wearing them for extended periods of time.
In addition to providing safety while walking in water, water shoes also protect your feet from sharp objects or any other potential hazards underwater. They can also be worn when boating or kayaking, offering protection against slipping on wet surfaces. Overall, investing in a good quality pair of water shoes will make your fishing experience more comfortable and enjoyable.
Portable Fan
When going on a fishing trip in warm climates, it's important to stay cool and avoid heat exhaustion. A portable fan is a great item to pack, as it can provide much-needed relief from the sun's rays. It's especially useful when there isn't a breeze or shade available. I prefer a portable battery-powered fan since it's rare that you'll be fishing near a power source.
Ice Packs
I always make sure to pack ice packs for my cooler. It's important to keep your catch as fresh as possible, and ice packs help to do just that. Plus, they're great for keeping snacks and drinks cold on those hot days.
Ice packs can also be useful for treating minor injuries while out on a fishing trip. If you happen to get hurt or experience swelling from a bug bite or sting, applying an ice pack can provide some relief. Just make sure to wrap the ice pack in a towel or cloth before placing it directly on your skin to avoid any potential frostbite.
What To Bring On A Deep Sea Fishing Charter
Going on a deep sea fishing charter with an experienced guide is a fantastic way to get your first introduction to fishing. The guide takes care of all the hard work and typically does a good job of helping you catch your first fish. The good news is you usually don't need to bring much with you, but there are a few things to be aware of.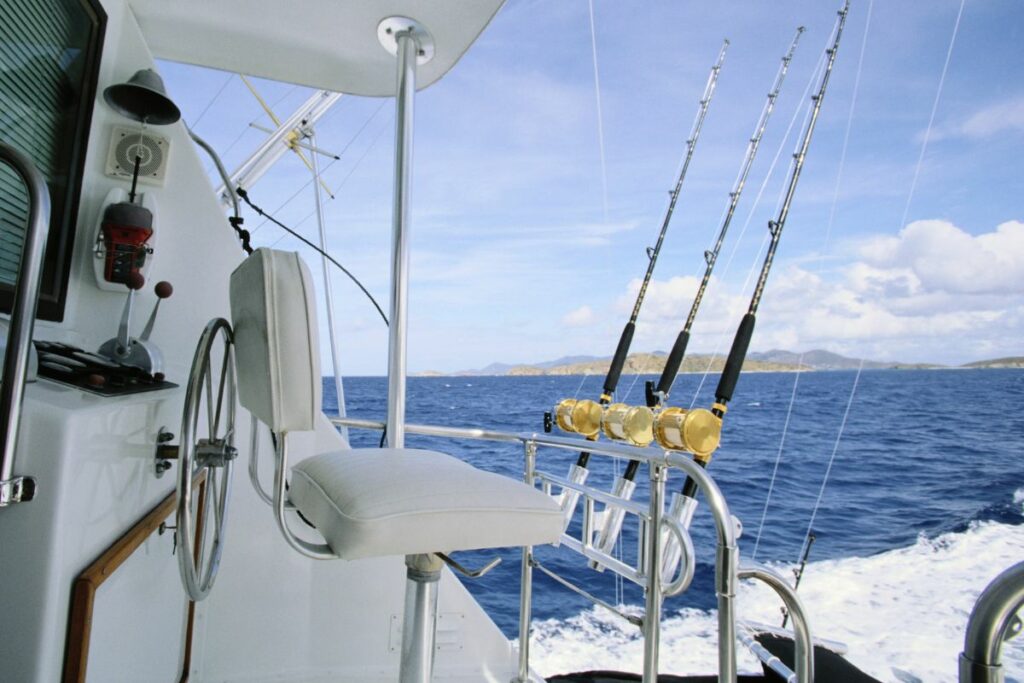 Appropriate Clothing
I already mentioned clothing earlier in the article but I want to stress it again here. If you're going to be in direct sunlight all day, it's essential to wear protective clothing like long-sleeved shirts, pants, and hats. Sunscreen is also essential.
Additionally, wearing waterproof and breathable clothing can help keep you dry if there are waves or rain during your trip. Bringing extra layers such as a jacket or sweater is also advisable in case it gets cold or windy out on the water. Keep in mind that some fishing trips require specific clothing for safety reasons so check with your charter operator before packing your bags.
Non-Marking Shoes
The number one rule for fishing from any sort of offshore boat is that you can't wear shoes with dark soles that will leave a mark on the deck of the boat. Fortunately, most regular athletic shoes will be fine and you won't need to buy anything special just for your trip.
Waterproof Bags
I always make sure to pack a waterproof bag when going on fishing trips. This is essential for keeping my belongings dry in case of rain, waves, or accidental splashes while on the boat. It's also great for storing fish or bait that can be messy and stinky.
When packing a waterproof bag, I always make sure to double check that it is actually waterproof and not just water-resistant. I prefer bags with zippers or roll-top closures to ensure nothing falls out. It's a small but crucial item to bring on any fishing trip to ensure everything stays safe and dry throughout the day.
Motion Sickness Medication
Getting seasick is THE WORST so I always make sure to have motion sickness medication with me whenever I go offshore. The constant movement of the boat can be difficult for some people to handle. Taking motion sickness medication beforehand can prevent any discomfort and ensure an enjoyable trip.
Quality Gear + Discounted Prices = Happy Campers
Do NOT Overpay For Camping and Outdoor Gear
We Find The Best Deals & Discounts Online And Share Them With YOU
What To Take On A Fishing Trip: Final Thoughts
Whether you are a seasoned angler or just starting out, using a fishing checklist can help make sure you have everything you need before leaving home. And don't forget to bring plenty of snacks and water – after all, what's better than enjoying some fresh-caught fish with friends or family?
So pack up your gear, hit the road, and get ready to reel in some memories on your next fishing adventure!