Did you know your fingertips and forehead are the most sensitive parts of your body?
That's because your hands are a delicate, sensory tool.
(Yes, even you, Mr. Tough Guy.)
A nasty paper cut can ruin your day. Splinters will make you shout at a puppy.
Imagine what a jagged rock face will do.
The point: Your hands need to be protected.
Unless you only stroll through wide open fields in perfect 71°F weather with no chance of precipitation, chances are you'll benefit from having a good hiking glove.
Hey, I live in the paradise of the Hawaiian islands and even I need hiking gloves on occasion.
Whether you hike where I do or brave colder climates, I want to help you find the best hiking glove for your needs.
Welcome to The Outdoor Authority's Guide to the Best Hiking Gloves.
Best Hiking Gloves of 2023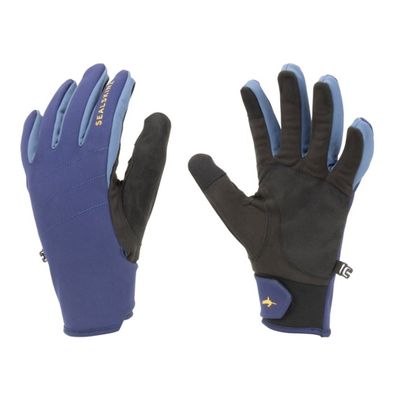 BEST OVERALL HIKING GLOVES FOR MEN
Waterproof All Weather Gloves
SEALSKINZ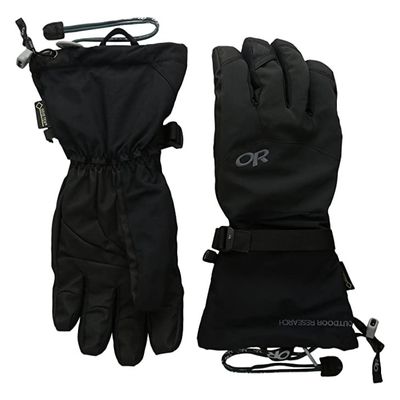 BEST WATERPROOF GLOVES FOR MEN
Alti Gloves
OUTDOOR RESEARCH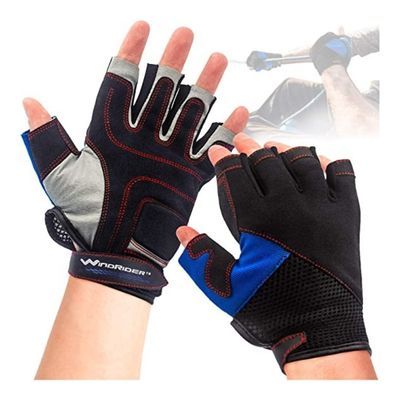 BEST GRIPPING GLOVES FOR MEN
Pro Sailing Gloves
WINDRIDER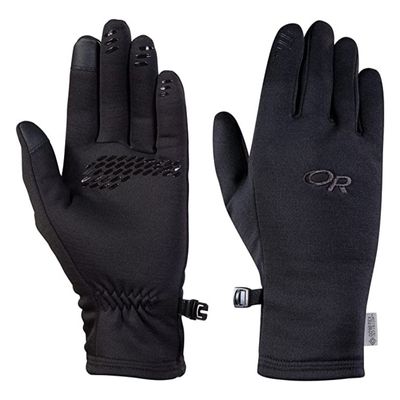 BEST FLEECE HIKING GLOVES FOR WOMEN
Backstop Sensor
OUTDOOR RESEARCH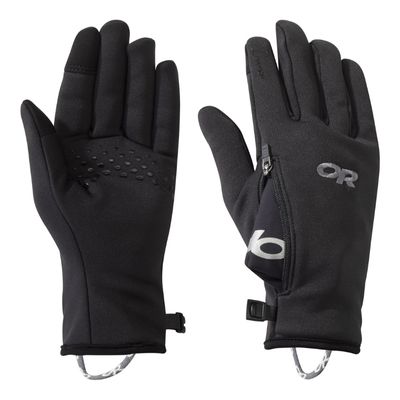 BEST WATERPROOF HIKING GLOVES FOR WOMEN
VersaLiner
OUTDOOR RESEARCH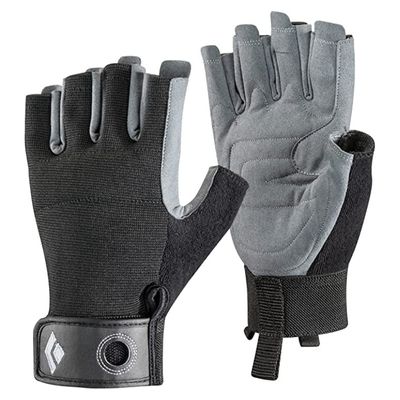 BEST GRIPPING HIKING GLOVES FOR WOMEN
Climbing Gloves
BLACK DIAMOND
Why Use Hiking Gloves?
There's one obvious answer that easily stands out: warmth!
But keeping warm isn't the only reason to wear hiking gloves. Grip is another major reason.
Even here where I live in Hawaii, where the temperature rarely drops to the point where I need hiking gloves for warmth, I still like to pack hiking gloves just in case.
In fact, I view them as a required item for my own safety.
Let me give you an example.
In November 2017 my brother was visiting Hawaii from the mainland. He had never seen a waterfall before, so I decided we should check out the Ka'au Crater Hike. It's an arduous 5 hour hike that sends you deep into the valley and up the ridge to the Ka'au Crater, one of three craters near Honolulu.
Along the way to the summit are two big waterfalls, and the trail to get to them is tough. It hugs the side of the mountain ridge and narrows considerably at points. Hawaii's valleys are known for frequent precipitation, and often that means the narrow trails are slick and hazardous. It's pretty easy to lose your footing and slide down the side of the ridge.
But as you can see, the scenery is spectacular.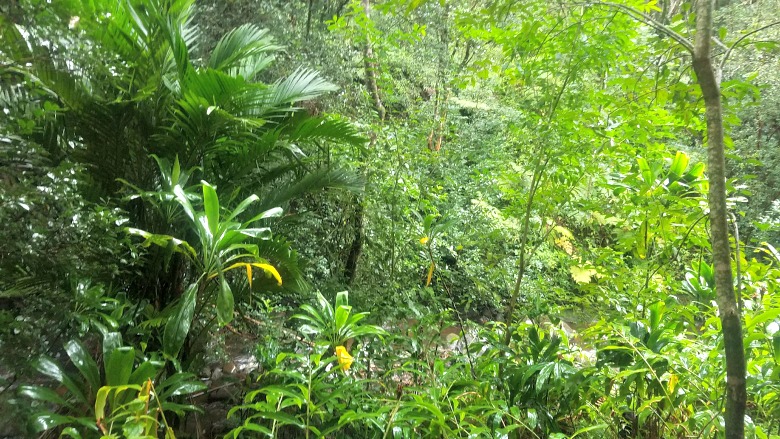 Our hike in was pretty easy, but the weather changed quickly once we turned back to head home. The skies opened up and suddenly we were in a torrential downpour.
It was a struggle to find our footing and our pace slowed considerably. It was nearly impossible to make progress without grasping onto the foliage along the path, but the plants were so slick that your hands would slide right off.
Good thing I packed two pairs of hiking gloves designed for gripping onto wet plant life and rock faces.
Could we have made it home without them? Sure. But it would have been a much slower journey, and a much more dangerous one.
Are Hiking Gloves Required or Just Nice to Have?
In my opinion, required.
(With a few exceptions, like if you're doing a quick 2-3 mile hike in obviously good weather.)
Hiking gloves are an extension of your safety system and can have a lot of utility. Like in my story above, I usually carry a pair with me at all times just in case I need some grip in adverse conditions.
But not everyone hikes where I hike — a pristine paradise of perfectly predictable temperatures. The worst thing I ever have to deal with is unexpected rain.
The 3 Types of Hiking Gloves
Your hiking environment may be different. That's why I advise everyone to put together the best hiking glove system for your needs. Typically that means 2-3 pairs of gloves that can be used independently or layered as needed:
Fleece gloves as a bottom layer for warmth
Waterproof gloves as a top layer for insulation
Gripping gloves for scaling or grasping
Fleece gloves are great because they're light, cheap, and keep you warm. Even if they get wet, they still provide warmth and dry out rather quickly. They're an ideal glove for moderately cool conditions or as a base layer under your waterproof gloves.
Pro Tip
: Some fleece gloves come with cool features, such as fingertips that allow you to use smartphone screens while wearing them. Depending on your needs these may be great. But you may also want an inexpensive, basic base layer. The
3M Thinsulate fleece gloves
are great for that. They're usually less expensive, more easily replaceable, and are more versatile.
Waterproof gloves have one purpose: To keep you as dry as possible in adverse conditions. The spectrum of waterproof gloves is pretty wide; some provide superior insulation and warmth while others provide less insulation but better grip or finger dexterity. The best waterproof hiking gloves for you will depend on how you want to use them.
Gripping gloves is my general catch-all term for gloves that don't fit either of the two categories above, and they may not even be "hiking gloves" per se. For example, I've seen hikers use mechanic's gloves or sailing gloves. The goal with these gloves is improved grip and not warmth, so anything that works for you will do!
Best Hiking Gloves for Men
Best Overall Hiking Gloves for Men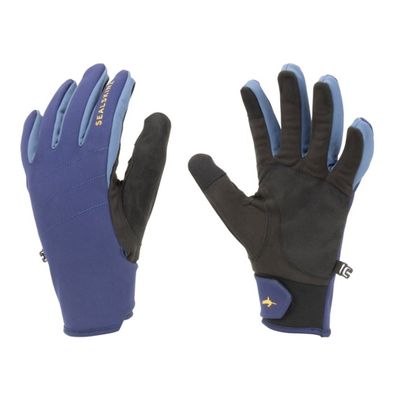 Best For: Multi-purpose use in moderately chilly conditions but not as a layering glove
A lightweight glove that gives just enough extra warmth in chilly conditions, these glovers are a great alternative for multi-purpose use. They are waterproof and lined with warm merino wool. They are touch screen compatible and their custom bonding process provides a very close fit that I find makes them very usable. I'm able to perform dexterous tasks like picking up small objects that are often challenging when wearing gloves.
Fleece Hiking Gloves For Men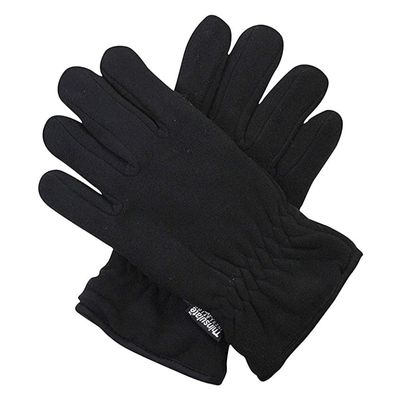 Best For: Layering hiking glove systems where the Thinsulate glove can standalone or be worn under a waterproof glove
A basic, affordable fleece glove that doesn't offer many (or any) "wow" features. These Thinsulate gloves are just a good glove made by a good company in 3M. The Thinsulate fibers are thinner than typical fleece polyester fibers, which means this glove will fit well under a waterproof hiking glove.
Waterproof Hiking Gloves For Men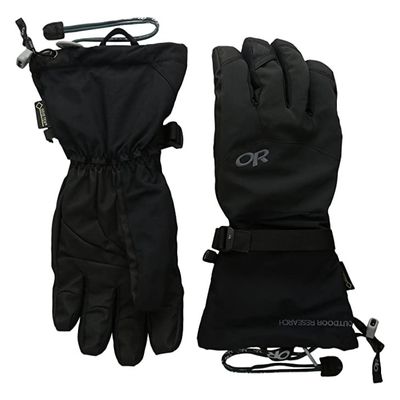 Best For: Any kind of cold weather usage from moderate hiking to shoveling snow; not recommended for rugged hiking
Outdoor Research is a phenomenal company and they make many of the best hiking gloves available. These OR Alti gloves are fully waterproof, incredibly warm, and supremely durable. Made from 90% nylon and 10% spandex, these gloves are breathable and won't get steamy on the inside. They have a durable grip on the palm and fingers and tightening straps around the wrists to lock in the warmth (and lock out the wet). They also feature removable Primaloft liners, which allow the gloves to be worn without a fleece layer underneath. However, they may be warm enough without the liners.
Best For: When you need heavier, more durable gloves for rugged use
At 8.3 oz these Black Diamond Soloist hiking gloves weigh nearly 4x the OR Alti gloves above, which weigh in at a feather-light 2.2 oz. The nylon exterior locks out the moisture while the goat leather palm material provides superior durability and grip. If you do anything more rugged that involves grabbing abrasive surfaces, I'd go with these more durable hiking gloves versus the Alti gloves above.
Best Gripping Hiking Gloves For Men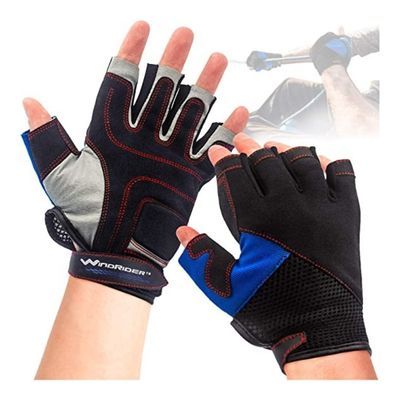 Best For: When you need extra grip for difficult travel or comfortable use of hiking poles.
Sailing gloves? You bet! Hiking gloves typically are made for warmth or waterproof-ness, but those aren't the only times you need a glove. If you're in need of grip — either for difficult travel in thick conditions or for more comfortable use of hiking poles — then these WindRider Pro sailing gloves will do wonderfully. They have a low-profile wrist, mesh back, and 3/4 fingers to keep you cool, and the palm is padded and reinforced for durability.
Best For: Full-finger coverage or those looking for a looser fit than the WindRider Pro gloves
Sailing gloves can be a little too tight, and the 3/4 finger may not be your cup of tea. If that's the case, check out these Petzl K52 Cordex Lightweight climbing gloves. They have a full-finger style and are looser-fitting, but they get a little stuffier/hotter than the WindRider Pro gloves above. They're breathable in some places so they don't get too stuffy, and the double-layer leather adds a lot of durability.
Best Hiking Gloves for Women
The following hiking gloves are made specifically for women or are unisex. If you have a preferred hiking glove, comment below!
Best Fleece Hiking Gloves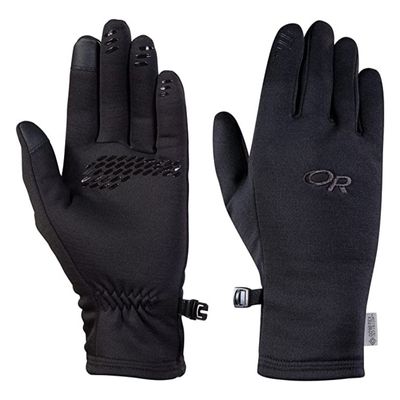 Best For: Multi-purpose use, either as a standalone fleece glove or a snug-fitting base layer
Made from 95% polyester and 5% spandex (with a 100% polyester wind guard along the back hand), these Outdoor Research Backstop Sensor gloves are snug and comfortable for multi-purpose use. They feature touch screen compatibility on the thumb and index finger, yet they still function well as a base layer under a heavier glove.
Best For: Budget gloves for added warmth, especially as a base layer in a hiking glove system
If simplicity or minimalism are your aim, look no further than these Moisture Wicking Micro-Fleece Running gloves. Made from 96% polyester and 4% spandex, these gloves are affordable and don't have any added extras. They simply add a comfortable layer of warmth and are ideal for layering.
Best Waterproof Hiking Gloves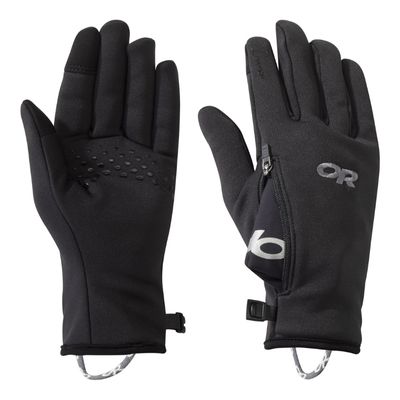 Best For: Versatile waterproof protection down to a few degrees below freezing
Outdoor Research VersaLiner gloves are a great option for extra warmth and water protection if you aren't in bone chilling conditions — OR rates them down to 25°F. (For that, go with the next best hiking glove below.) They feature a removable, lightweight, waterproof shell that can be worn with or without the fleece gloves underneath. As an added bonus the waterproof shell has a back-of-hand pocket for hand warmers, which is a surprisingly useful feature.
Best For: True weather protection in cold, harsh environments
With a fleece lining, polyester exterior, and goat leather palm, these Black Diamond Arc Cold Weather gloves are designed for truly frigid temperatures. They come with Velcro straps around the wrists for sealing in the warmth and are a robust 7.2 oz. These are intended for wear in harsh environments, including skiing.
Best Gripping Hiking Gloves For Women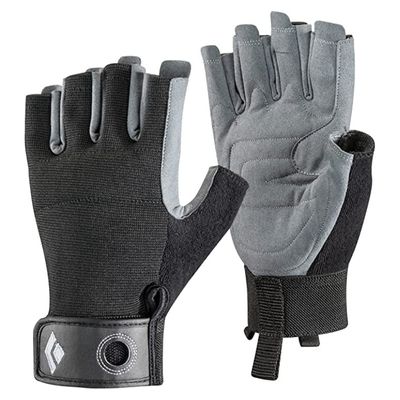 Best For: When you want the grip without the warmth
A durable climbing glove with reinforced leather palms and fingers and breathable mesh backing, these Black Diamond women's climbing gloves are great for when you just need some grip. They come in either half-finger or full finger versions, depending on which style works for you.
Best For: Budget grip glove shoppers
A 3/4 finger sailing glove made from 80% polyurethane (the palms) and 20% nylon, these Harken Sport Classic gloves don't have the same durability as the Black Diamond gloves above, but accomplish the same thing with a more attractive price tag.
That's The Outdoor Authority's list of the best hiking gloves! Which gloves do you use? Comment below!