When I first started getting into outdoor adventuring, I wanted to research what gear I'd need.
About 10 minutes into my first Google search, I started to come across terms I wasn't familiar with.
I mean, "backpacking," sure, I know what that is.
Fill a backpack with some stuff and go for a hike.
But I quickly learned that "backpacking" and "hiking" are two different forms of outdoor traveling.
Moreover, there are a few different types of hiking, and everything seems to have different gear requirements.
All I wanted to do was enjoy nature!
If you're stumbling through the terminology like I was, fret not.
This is The Outdoor Authority's guide to Backpacking vs Hiking.
Thru-Hiking vs Section Hiking
First, I want to talk about hiking. And specifically, I want to divide "hiking" into three categories:
Thru-hiking
Section hiking
Day hiking
You'll see why in a second.
But first, a big difference between backpacking vs hiking, whether it's thru-hiking, section hiking, or simple day hiking:
Hiking is characterized by minimalism.
Hikers generally don't want to be lugging a ton of gear with them. Usually they're trying to cover as much ground as possible as quickly as possible, so the further they're going the less they want to carry.
At the bottom of this article you can find a backpacking vs hiking gear guide.
Thru-Hiking
Thru-hiking is completing a long hike hike over the course of 4+ months.
How long are we talking here? Take a look at the accompanying image.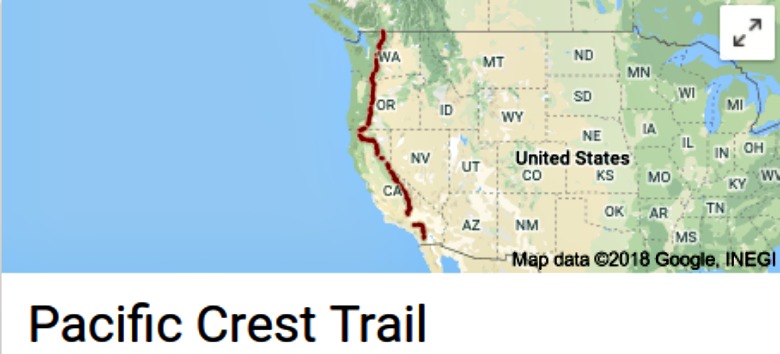 That map shows the length of the Pacific Crest Trail (PCT), which stretches from Canada to Mexico. It's 2,650 miles long. If you plan to hike it in 5 months, you'll need to average just over 17 miles per day.
That's an intense hike.
I'll be honest with you: I have never attempted a thru-hike.
But from those I've talked to and what I've read, thru-hiking is characterized how physically and mentally challenging it is. I think we call can agree that averaging 17 miles per day is tough enough, but I don't think I can even comprehend the mental fortitude it must take.
Some stretches of thru-hikes are just boring and monotonous. The PCT has portions which are just long meanderings of nearly identical pine trees. These thru-hikers must feel like Bill Murray in Groundhog Day with how little progress it feels they're making.
If you complete a thru-hike, that puts you in rare company. Consider these stats about the PCT (as of this writing):
Only 5,368 people been recognized as have completed it since 1952.
The most in one year is 720 in 2017.
Only 87 people have done it more than once.
Of course, you can still hike long portions of beautiful trails like the PCT without doing the whole thing — particularly the boring parts.
That's what section hiking is!
Section Hiking
Section hiking is the light version of thru-hiking.
It doesn't take nearly as long.
You can pick and choose the sections you want to hike.
You can better align your hike with the weather and bugs.
You can enjoy the scenery more because you aren't in as much of a rush.
The Pacific Crest Trail Association has guides on their website for some of the most popular PCT sections: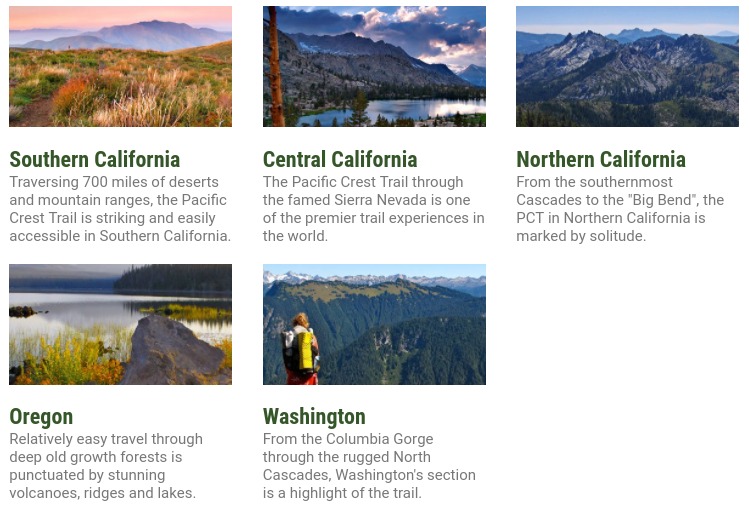 The Pacific Northwest is absolutely stunning. One time I stayed at a cabin high up in the Cascades and I promised myself I would come back and do some serious hiking in that region.
Sounds like an Oregon-Washington section hike is in my future!
Day Hiking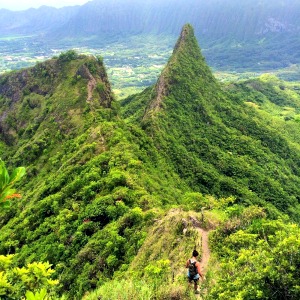 I'd be misleading you if I made all forms of hiking seem like long, arduous excursions.
Sometimes you just want to go day hiking!
Just like with thru-hiking and section hiking, day hiking is characterized by minimalism. You don't need a tent, a sleeping bag, a knife, and a week's supply of rations.
(OK, the knife may not hurt. You never know what trouble you could get into!)
Basically you'll just have a light pack of some kind to carry your water. This packing list from Travel Eat Blog will get you started.
I go day hiking all the time. Wake up at 6:00 am on a Saturday, eat breakfast and shower, put on some light clothes, grab my backpack, toss some water in it, and head out for a leisurely 3-6 hour hike to a waterfall or mountain peak.
Day hiking is awesome.
Backpacking
Thru-hiking sounds pretty intense, doesn't it? And maybe section hiking a few hundred miles is more than you're willing to commit to. But you want to do more than just a simple day hike.
It sounds like you're a prime candidate for backpacking!
Backpacking is a much slower form of travel than either thru-hiking or section hiking and doesn't require you to pack uber-light. It still requires overnight survival but instead of being gone for months, many people are gone for a weekend or a week
Backpacking allows you to get the immersive nature experience you want without being forced to survive off the bare essentials. For example, consider these gear differences for backpacking vs hiking:
Sturdier tent
Heavier sleeping bag and more physical comforts
Possibly additional clothing, such as robust hiking gloves
Entertainment equipment, such as a stereo
More kitchen or cooking supplies
Backpacking can also be a great compromise between avid adventurers and those just starting out. I'm ready to go on a section hike for several weeks, but I doubt my best friends are. A backpacking trip over a long weekend is a great way for us to share an awesome experience that's entertaining for everyone without being overwhelming.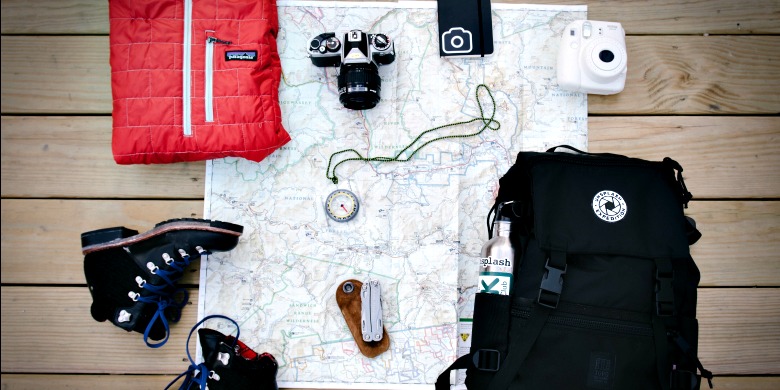 Backpacking vs Hiking Gear Needs
In this article we've defined 4 different types of nature travel:
Thru-Hiking
Section Hiking
Day Hiking
Backpacking
Each varies in its goals and levels of intensity, so it makes sense they'd have varying gear needs as well.
However, thru-hiking and section hiking require the same gear (for all intents and purposes) so I'll combine them here as "Hiking" gear.
As mentioned above, a good rule of thumb when hiking is that longer distances require less gear, so be as minimalist as possible.
Let's look at what you should consider packing when backpacking vs hiking.
Tent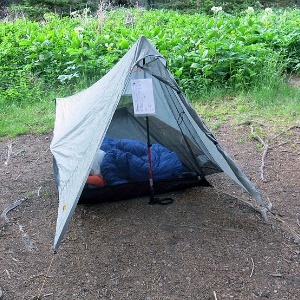 Hiking // Your goal is to maximize protection from wind and rain while minimizing weight, which generally that means a 1 person tent. However, the specific tent you go with depends on your top priority: size, weight, durability, or comfort.
Backpacking // Because backpacking generally takes only a few days versus a few months, you don't need to be as concerned about weight and minimalism. Comfort and convenience carry more weight, pun 100% intended.
Pack
Hiking // Durable and lightweight, generally at least 40L volume but probably not more than 60L.
Related: Osprey Farpoint 40 Backpack Review
Backpacking // Generally you'll have more stuff to carry, thus you'll want a pack that has more volume. Frequently you'll see bags over 60L
Sleeping Bag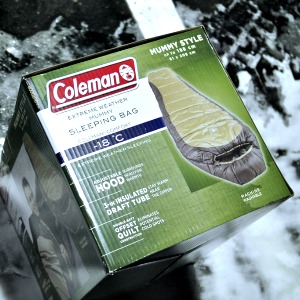 Hiking // As light as possible but able to withstand cold (15-20 degree rated) and wet conditions. A water-resistant down mummy bag is great if you have a waterproof tent. Otherwise, get a synthetic sleeping bag if you expect it to get wet. Aim for 3 lbs or less. Many hikers try to get closer to 2 lbs.
Backpacking // You don't need to prepare for the worst because the weather forecast for your weekend hike should be somewhat accurate. Decide what temperature rating you'll need and consider how comfortable you want to be. Mummy bags, which I recommended for hiking, often are less comfortable due to how restrictive they are.
Sleeping Pad
Hiking // Not a necessity, per se, but you should consider a light sleeping pad (under 1 lb). The ground will really wear you down in short order and a sleeping pad can help keep you warm. As is usually the case, there's a trade-off between weight, comfort, and insulation. The R value will tell you how much insulation a sleeping pad provides where higher is better. Anything over 4 will be sufficient for three-season hiking.
Backpacking // Like with hiking, a sleeping pad isn't a backpacking necessity, but I wouldn't go backpacking without one. Remember, you can afford to carry more weight. Consider the conditions you'll be sleeping in before springing for a sleeping pad with more weight and a higher R value.
Footwear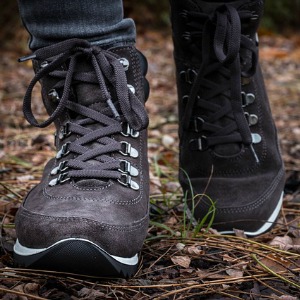 Hiking // Either a boot or trail shoe. Boots will provide durability and stability at the cost of weight. Trail shoes offer more comfort, are lighter, and dry more quickly, but they don't provide as much ankle support and lack heft. Make sure you get something at least one size larger than normal. Your feet will take a pounding. They'll swell. You'll need that extra space.
Backpacking // I'd recommend a boot over a trail shoe. Because backpacking usually results in lugging more gear and more weight at a slower pace, the durability and support of a good hiking boot can't be overvalued.
Clothing
Hiking // Minimal and no duplicates except maybe 2 pairs of underwear and socks. Never wear cotton, as cotton is terrible when it gets wet and it really starts to smell much more quickly. Many thru-hikers and section hikers make the mistake of bringing more clothing than they absolutely need, so do your best to be judicious.
Backpacking // I'd try to apply the same minimalist logic to clothing here as I would with hiking and pack clothes that are usually the same. I mean, if we're talking about one long sleeve shirt for a 5 month hike, you can't do it for a 3 day backpacking trip?
Water
Hiking // Water is your top priority. You'd better have a way to transport it and to clean water you find to make it potable. You do not want to mess around with bacterial infections from dirty water. A light, durable water bottle and some form of water purification, either tablets or a device, such as the LifeStraw, are necessary.
Backpacking // Depending on the length of your backpacking trip, you may be able to get away with bringing all of the drinking water you need versus collecting and purifying from the environment. Still, you never know what could happen so I'd recommend some form of water purification.
Guide Book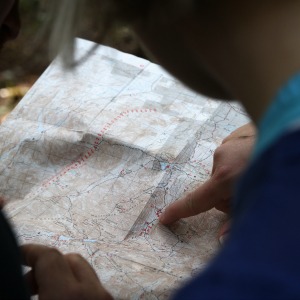 Hiking // Get one for whatever trail you'll be doing so you know sites and (more importantly) where to re-supply.
Backpacking // I still bring a guidebook but more so to maximize my entertainment rather than for survival purposes.
Cooking Gear
Hiking // You can't really afford to bring much of this stuff on a long hiking trip. Many, though not all, hikers elect to bring a small stove.
Backpacking // Maybe I'm in the minority here, but I don't bring a stove when backpacking. For me, I can start a fire for a few nights and cook the way our ancestors did. That said, you can definitely afford to bring a good stove and maybe a few other kitchen "luxuries."
Knife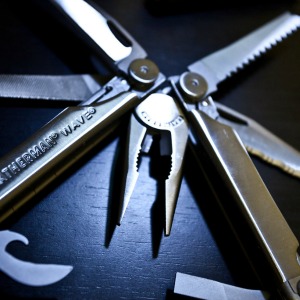 Hiking // One of the most important pieces of equipment is your blade. However, remember the constant trade-off between utility and weight. It might be awesome to have a do-it-all multi-tool, but do you really want to carry around the extra heft for several months? It may seem like I'm nitpicking here, but if you take this conservative approach with all of your gear and shave off a few ounces here and there, that could add up to several pounds you aren't lugging up a wet mountainside after 400 miles of hiking.
Backpacking // A must-have item, and you don't need to skimp on it like I think you should when hiking.
Headlamp
Hiking // An absolute necessity. I'd say about 40 lumens should do.
Backpacking // Your cell phone light may do for such a short trip, but I'd still recommend a headlamp.
Electronics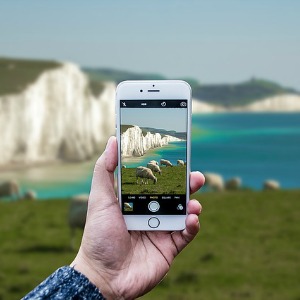 Hiking // Your smartphone is a necessity, and it's actually one of the most valuable pieces of gear you have. It's your lifeline should something happen (and you're in service range) and doubles as an on-demand flashlight, music player, and entertainment device. I'd also suggest a good solar powered charger. A great one can weigh well under a pound and provide you with power as you need it, which could be frequently.
Backpacking // Ditto everything I said above about your smartphone, and you can feel free to bring a few other electronics for your trip. For example, how about a really nice camera? Or what about a small Bluetooth speaker if you're backpacking with friends? I'd also recommend some form of portable power, but the type of device depends on the length of your trip. If you only expect to need a few re-charges, a portable power pack that you pre-charge at home may be perfect. They come in a variety of capacities but the good ones can give you over a half-dozen recharges. If you're going on a longer trip — maybe a full week? — look for a good solar charger. One final luxury item you could consider is a portable fan that hangs around your neck to keep you refreshed and cool as you walk.
Dog Stuff?
Some people love backpacking with their dogs. If you fall into that category, check out our Complete Guide to Backpacking With Dogs for suggestions on gear to bring and some other helpful information.
What Gear Do You Bring?
Backpacking vs hiking — which do you prefer? Have you successfully completed a thru-hike or section hike? Are you an avid backpacker? If so, tell us about your adventure!