I went fishing for marlin and tuna a few weeks ago off the southern shore of Oahu, Hawaii.
It was my first time going off-shore fishing in a few years, and I had totally forgotten how much of a beating your body takes being out on the water all day.
The sun was intense.
We had plenty of sunscreen and water, which kept us unburned and refreshed.
(We also had plenty of beer, because duh.)
But what I didn't have was a good pair of polarized fishing sunglasses. I brought my old Ray Bans, which I don't really love, and thought that would be enough.
I was wrong.
The strong equatorial sun bounced off the waves in every direction, and my eyes were left trying to process what they were seeing.
By the end of the day I was seeing spots, and that was while wearing sunglasses for 9 hours!
The next day I began working on this article, which was 2 weeks in the making.
My goal? To compile a list of the 24 best polarized fishing sunglasses in 8 different categories.
No matter what fishing environment you prefer, there's a pair of sunglasses on here for you.
Best Fishing Sunglasses: Quick Picks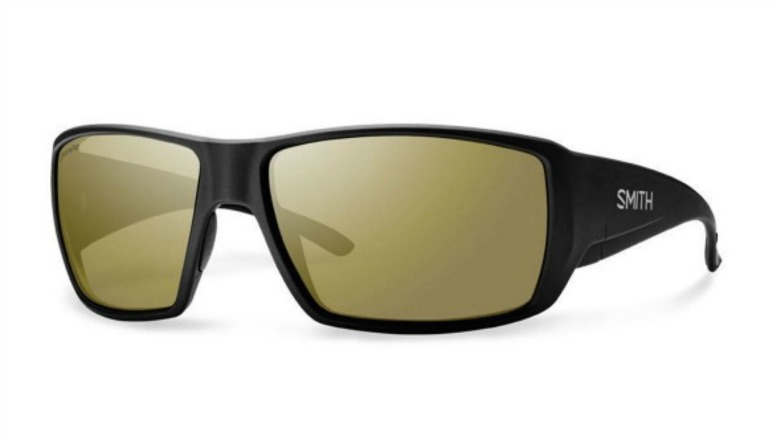 BEST POLARIZED SUNGLASSES FOR MEN
Guide's Choice ChromaPop+
SMITH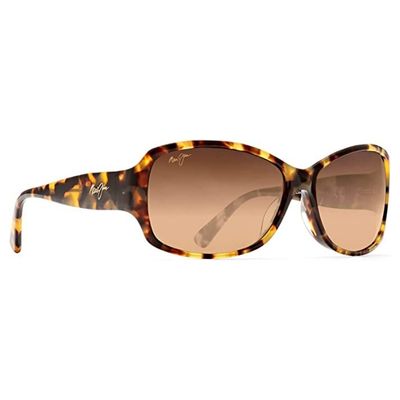 BEST POLARIZED SUNGLASSES FOR WOMEN
Nalani Polarized Sunglasses
MAUI JIM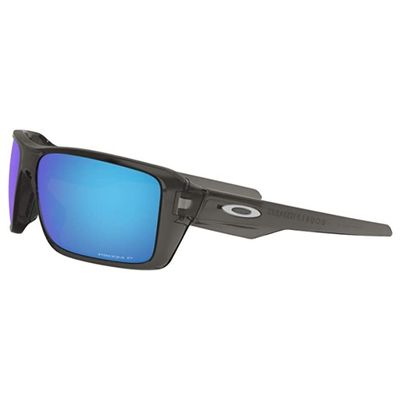 BEST FLY FISHING SUNGLASSES
Double Edge Sunglasses
OAKLEY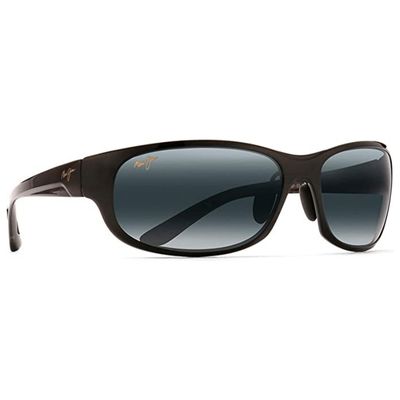 BEST DEEP SEA FISHING SUNGLASSES
Twin Falls Sunglasses
MAUI JIM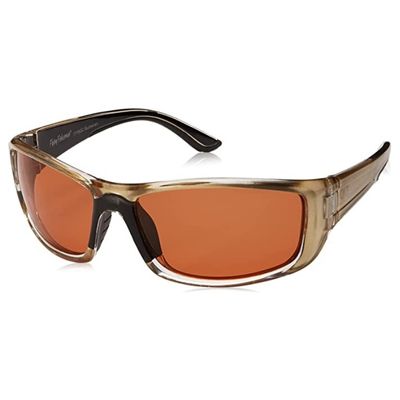 BEST CHEAP FISHING SUNGLASSES
Buchanan Polarized Sunglasses
FLYING FISHERMAN
How to Choose the Best Polarized Fishing Sunglasses
If you already know the features you're looking for, then click on one of the links above or just keep scrolling. Otherwise, let's take a quick look at how to choose the best fishing sunglasses for you.
First, Why Polarized?
Or maybe a better question: What is polarization?
At the risk of getting too nerdy, light is a pretty awesome phenomenon because it has both the properties of a wave (like a sound wave) and a particle (what stuff is made of). This makes it a wavicle, which I promise is a term I didn't make up.
Our eyes see things when these light wavicles bounce off objects — such as fish! — and enter our eyes. But because light is bouncing off everything all around us, these light waves are coming at our eyes from every direction imaginable.
Polarization, in the context of light, is the process of filtering out light waves that encounter an object at the wrong angles. Take a look at this image for a visual representation.
Explanation of polarization from the Physics Stack Exchange
In the image above, your sunglasses are the "Polarising Filter" (proper British spelling), which filters out light waves moving on a horizontal plane (left to right). This means fewer light wavicles pass through your sunglasses, which prevents your eyes from becoming overloaded.
This is especially important on the water because water is a relatively flat and highly reflective surface. This means a lot of light tends to reflect towards your eyes in the same direction. Take a look at this image, which shows the effects of polarized glasses.
Polarized vs non-polarized via All About Vision
Put bluntly, polarized sunglasses make a massive difference when fishing.
Not only will they make it easier to see through the surface at the fish you're trying to catch, but they'll block harmful UV rays and help protect your eyes.
On-Shore vs Off-Shore Sunglasses
So we've established you want polarized sunglasses. Great! Now we need to talk about how to choose the best pair of fishing sunglasses for you.
Let's start with something obvious: Where you like to fish.
There multiple different fishing environments:
Forest streams with great overhead coverage
Large streams mostly in the open
Wide rivers with a ton of open sky
Ponds and lakes with a lot of surface area
Beach fishing with large swaths of ocean
Wide-open deep sea fishing
I just rambled off 6 right there — roughly ranked from least reflective to most — and I'm sure you can think of a few others. Does one of those match your favorite fishing spot?
Wherever you fish, you need a particular pair of fishing sunglasses to ensure proper reflection and UV protection. What does that mean?
Dark enough to filter out the excess sunlight, but
Not so dark that you can't see!
At its most basic, let's aggregate those 6 types of fishing environments into two categories:
On-shore fishing
Off-shore fishing
On-Shore Sunglasses
Recommended Colors: Amber, Copper, Yellow
When fishing on shore, your big need is to reduce glare and improve contrast so you can see the fish below the surface. Amber, copper, or yellow fishing sunglasses are strong enough to filter out the excess sunlight and UV rays.
Off-Shore Sunglasses
Recommended Colors: Gray, Green
There's a lot more water in the middle of the ocean and fewer non-reflective surfaces. That means more glare, so you'll need a different type of fishing sunglasses. Those amber, copper, and yellow on-shore glasses just may not have enough power to filter out the additional glare. For off-shore fishing, look for darker lenses that are more mirror-like and reflective to beat back the sun's rays.
Pro Tip: Amber fishing glasses are best if you're looking for one do-it-all pair. And if you do a lot of morning or afternoon off-shore fishing, when the sun isn't at its peak, you can probably get away with a good pair of amber lenses.
Other Factors to Consider When Choosing the Best Polarized Fishing Sunglasses
On-shore or off-shore use is the most important consideration. After that, finding the best polarized fishing sunglasses comes down to personal preference:
Material
Durability
Size and weight
Price
Without further ado, let's review the best polarized fishing sunglasses.
We'll look at the top picks in 5 different categories.
Best Polarized Sunglasses for Men
Best Polarized Sunglasses for Women
Best Fly Fishing Sunglasses (On-Shore)
Best Deep Sea Fishing Sunglasses (Off-Shore)
Best Cheap Sunglasses
Then we'll look at a few top picks by brand (for those of us with extreme brand loyalty).
Best Costa Fishing Sunglasses
Best Oakley Fishing Sunglasses
Best Maui Jim Fishing Sunglasses
Best Polarized Fishing Sunglasses For Men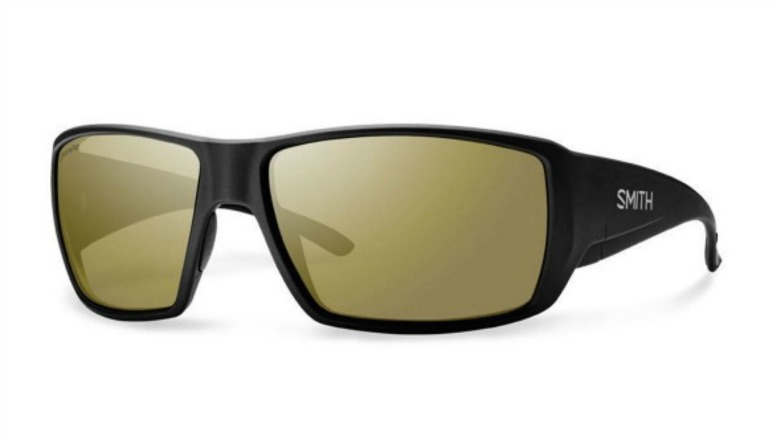 The top-rated polarized sunglasses for men, the SMITH Optics Guide's Choice come in either amber or gray, giving you options for either on-shore or off-shore fishing. The frames are made from a 53% bio-based material and the ChromaPop lenses really do make colors pop. They're the best polarized sunglasses for men and they come with a lifetime warranty.
SMITH Optics makes some of the best fishing sunglasses, and the Guide's Choice are the best of the best. Though amber lenses are shown above, they also come in gray, which means there's an option for every type of angler.
Made with SMITH's Evolve exterior material, these sunglasses are strong yet lightweight. The Evolve material is 53% bio-based and "derived from the renewable, non-genetically modified castor plant."
But my biggest curiosity when reviewing brands is learning about their trademarked marketing terms. For SMITH, it's ChromaPop. What is that?
Basically, ChromaPop is just very high-performing polarization that adds a ton of clarity and contrast. ChromaPop lenses make natural colors more distinctive, and it performs well in a wider range of sunlight conditions. That's crucial for fishing sunglasses.
Usually I like to mock companies for coming up with catchy names for the same ol' stuff as every other company but in SMITH's case ChromaPop actually is a high-performing lens and the name makes sense.
Bottom Line: Many people believe Costa Del Mar makes the best polarized fishing sunglasses, and it's hard for me to say they're wrong. These Costa Del Mar Corbina sunglasses come in 4 different lens colors and 2 different lens materials, meaning there's a type of lens for every type of fisherman. This is a proven brand with a strong track record of quality and performance.
Bottom Line: With a matte black exterior, reflective blue lenses, and a more casual design, these Oakley Holbrook sunglasses feature Oakley's Prizm lens technology that maximizes contrast. These sunglasses don't wrap around your head, so you'll see a little more brightness out of the corners of your eyes, but they're very light and a great alternative for anglers looking for a different style.
Best Polarized Fishing Sunglasses for Women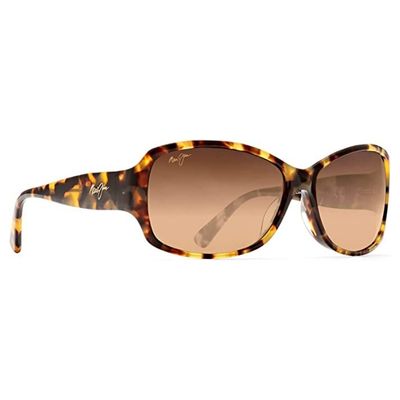 Featuring MauiPure lenses, these Maui Jim Nalani sunglasses offer supreme durability, weight, scratch resistance, and (of course) polarized performance.They don't look too shabby either.
Undeniably stylish yet incredibly functional, the Maui Jim Nalani women's sunglasses are the best polarized sunglasses for women. That's all women, even if you don't care to fish. But seeing as this article is about fishing sunglasses, I'm guessing that's what you're looking for!
The dark tinted MauiPure lenses offer supreme contrast, which is versatile enough for both on- and off-shore fishing. And if you've never owned a pair of MauiPure lenses, let me assure you they're some of the best polarized lenses you'll find, combining toughness and scratch resistance with a surprisingly light weight.
Here's how they compare to the SuperThin Maui Jim lenses, which you'll see featured on several pairs in the "Best Maui Jim Sunglasses" section below: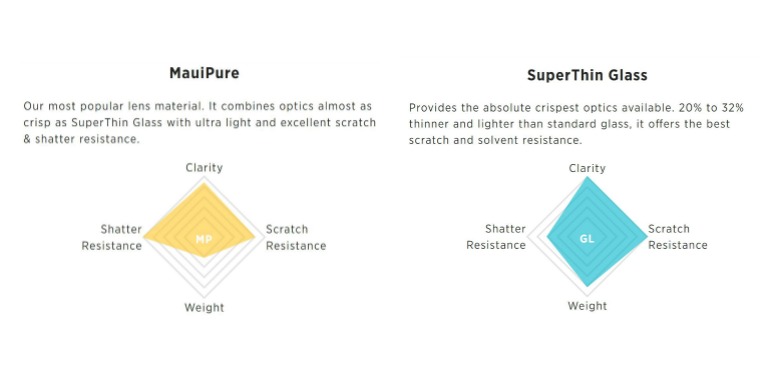 These sunglasses are "bossier" than the next two pairs, so if you want something more sporty then keep scrolling!
A sportier version of Maui Jim's polarized sunglasses for women, these unisex Maui Jim Big Wave sunglasses feature the same MauiPure lenses as the Nalani above but in a blue mirror lens that's great for highly reflective environments.
If Maui Jim isn't your jam, Costa Del Mar probably is. These Costa Del Mar Anaa sunglasses (that's a lot of As) have a thinner frame and weigh less than either of the Maui Jim sunglasses above, yet they still offer awesome polarized performance.
Best Sunglasses For Fly Fishing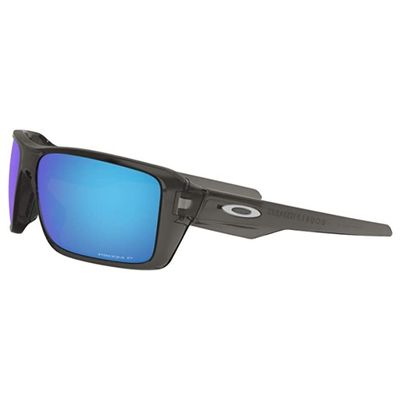 An awesome looking pair of sunglasses, the Oakley Double Edge sunglasses have a matte black exterior with wide-view Prizm lenses that make colors pop just as much as they stylistically pop.
Oakley might not be the first brand that comes to mind for fly fishing, but I've spent countless days on the water with them and they are easily our top pick for best fly fishing sunglasses.
I've said it before and I promise I won't say it again — I love the matte black look. Combine that with the contrast of Oakley's iridium lenses, and there's just no denying these aren't a great looking pair of sunglasses.
Unless you disagree, in which case I hate 'em too!
You May Also Like: The Outdoor Authority Guide To The Best Fly Fishing Waders
The shape of these Oakley Prizm lenses — which are designed to maximize contrast — gives you an expanded field of view, which is crucial in a pair of fly fishing sunglasses. You won't have any issues with white caps in fast moving streams, and they'll knock down the glare in flat, reflective ponds and lakes.
These Oakley Double Edge sunglasses are a little more premium than the Under Armour Rival sunglasses above but aren't quite in the Simms, Maui Jim, or Costa Del Mar tier, squarely landing them in the middle and a great compromise of cost and quality.
While Under Armour's polarized sunglasses aren't as good as the leading brands in terms of build quality, these Under Armour Rival sunglasses are a great option for those looking for the best fly fishing sunglasses in a lower price tier.
The best fly fishing sunglasses on this list in terms of quality, RCI Optics' Monster Hole 2.0 polarized sunglasses are better than both the Under Armour and Oakley offerings above but usually come with a heftier price tag.
Best Polarized Deep Sea Fishing Sunglasses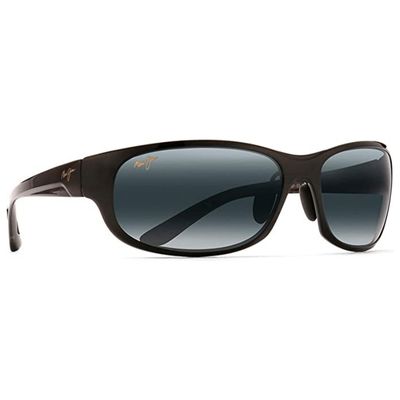 Made from neutral gray MauiPure lenses, the Maui Jim Twin Falls "offers the highest available light reduction for the richest colors and sharpest contrast" of any pair of Maui Jims. (Those are their words, not mine!)
You won't find a better combination of quality, durability, and light-blocking power on any of the other sunglasses listed. These truly are the best deep sea fishing sunglasses.
If you didn't see the graphic on MauiPure lenses above, let's take a look at it one more time.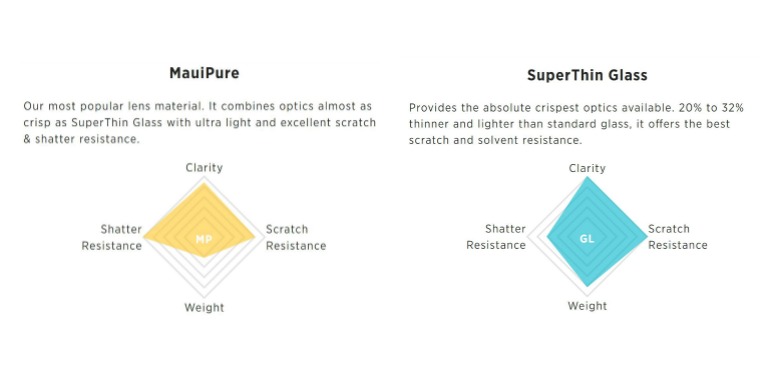 Everything you want without the weight. These are just an awesome pair of polarized fishing sunglasses.
Incredibly lightweight with the iconic Oakley Half Jacket design, these are Oakley's best bright light polarized sunglasses with a no-slip grip around the ear to keep them in place in high-sweat conditions.
Bottom Line: From the tough 580G lenses to the heavy duty nylon frames, these Costa Del Mar Cortez sunglasses are designed for the harsh conditions of the open ocean and are backed by Costa's lifetime warranty.
Best Cheap Polarized Fishing Sunglasses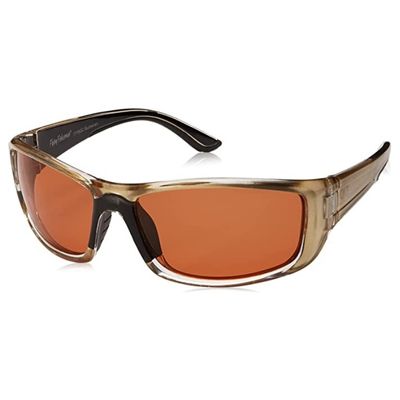 The best cheap polarized fishing sunglasses for the money, the Flying Fisherman Buchanan sunglasses provide UVA and UVB protection with a stylish design but don't offer much durability.
However, you can buy around 10 pairs of these for the price of the best polarized fishing sunglasses, like Simms or Costa Del Mar, so some cheap sunglasses might be perfect for you if you lose your things constantly (like I do).
Do the Flying Fisherman Buchanan sunglasses have the best polarized performance? No.
Do the Flying Fisherman Buchanan sunglasses have the best scratch resistance? No.
Do the Flying Fisherman Buchanan sunglasses barely hit your wallet? Yup.
With lenses made from 6 layers of protective material, these sunglasses provide decent polarization for a fraction of the price of the name brands mentioned elsewhere in this list. The price you pay for that is durability, or lack thereof — they scratch incredibly easily. A case is a total must or they'll be banged up from Day 1.
Just know their limitations:
They'll wither under heavy use.
They'll scratch if not protected.
They don't work in very bright conditions.
The first (and only) camo sunglasses on our list, these Jiangtun Sport polarized sunglasses don't carry any name brand cachet, but they do offer bargain polarization with that always-in-style camouflage design.
With MADE IN USA proudly displayed on their Amazon product page, these Filthy Angler Shawsheen sunglasses differentiate themselves by (a) having an awesome name and (b) being made in the good ol' U.S. of A. They don't fit as snugly as the two pairs above, which is nice for those with a wider face, and the polarization is great for the price point, but the frames leave something to be desired.
Best Costa Del Mar Fishing Sunglasses
Editor's Note: I excluded the pairs already listed above, so if there's a pair of Costa Del Mar sunglasses in the "Best Polarized Sunglasses for Men" section above (there is!) then I didn't want to duplicate it below. Please keep that in mind for the other brands as well.
: The widest Costa Del Mar sunglasses featured here, the 64mm Costa Del Mar Saltbreak deliver the same level of Costa performance and durability in a large fit design that'll fit just about everyone.
In Spanish the "ito" suffix means "little," and that's what these sunglasses are — at least, compared to the other two Costa models featured here. With a 59mm lens width and a proclaimed "medium fit," these Costa Del Mar Caballito sunglasses are designed for people either with smaller faces or who prefer a snugger fit.
Bottom Line: With 61.5mm lenses that with squarely in between the Saltbreak and Caballito, these Costa Del Mar Blackfin sunglasses are designed with a large fit in mind and are sturdier for more off-short activities.
Best Oakley Fishing Sunglasses
Armed with Oakley's calling cards — bottom-less frames around the lenses and the straight-framed no-slip grip around the ears — the Oakley Bottle Rocket sunglasses are a little less obnoxious (is that the right word?) than some Oakley models but still deliver expected Oakley performance.
Bottom Line: A less sporty and more casual looking pair of sunglasses, these Oakley Crankshaft sunglasses break from Oakley's typical design with a thicker lens that I think makes them great for anglers who want a quality pair without paying through the nose.
Coming in at a lower price point, these Oakley Fives Squared sunglasses feature a tapered design with frames that don't bow out as much around the temples. They also have lenses that don't filter out quite as much light. Overall, they're intended for people who prefer the sleeker look or who want the Oakley experience for less.
Best Maui Jim Fishing Sunglasses
These Maui Jim Stingray sunglasses are made with SuperThin glass lenses, which are 20% to 32% thinner than standard glass and have Maui Jim's best clarity and scratch resistance with an ultra light weight.
Also made with SuperThin glass like the Stingray above, the Maui Jim Spartan Reef sunglasses live up to their name: Extremely tough and great for open ocean use.
Despite their comical name, the Maui Jim Wassup sunglasses offer a performance that no one will laugh at. The lens shape is taller and boxier than the Stingray but still has a slight wrap design for casual, full-face coverage. Oh, and they too are made with the Maui Jim SuperThin glass.