I've slept on cots, air mattresses, and even the cold hard ground. I can definitely say that the ground was the worst. But in the debate of camping cot vs air mattress, who wins?
The choice comes down to the type of camping you'll be doing as well as your own personal preferences.
A camping cot offers durability, ease of setup, elevation off the ground, and storage space below. Air mattresses are lighter to carry, and better suited for shared sleeping, but they are more prone to damage.
Let's take an objective look at the pros and cons of camping cots vs. air mattresses and I'll share my personal choice at the end.
Here we go!
Camping Cot vs Air Mattress: The Basics
Experienced campers know that being comfortable when camping starts with how you sleep. If you have just started shopping for your summer camping adventure kit, camping jargon can be a little confusing. After all, camping cots, mattresses, pads, and even beds are available in all shapes and sizes.
Let's do a quick recap of the fundamental design difference between camping cots and air mattresses.
What Is A Camping Cot?
A camping cot is a foldable, lightweight bed that supports your body off the ground, like this one from Mountain Summit Gear. It consists of a sturdy outer frame with a fabric pad stretched across the top. Regular camping cots are 26 inches wide but are available in slightly wider or longer varieties if required.
Mountain Summit Gear Horizon Cot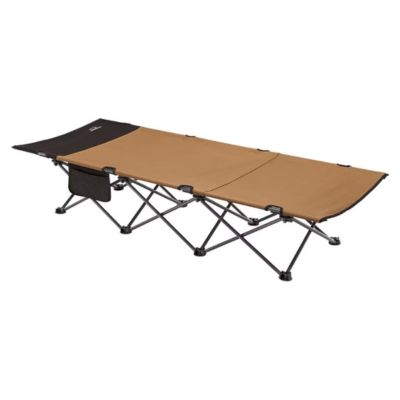 Features
Sturdy frame supports campers of all sizes
Easy to setup and take down
Convenient side pocket for quick access to your phone or headlamp
Fun Fact: Did you know that a camping cot is only called a camping cot in North America? It is referred to as a camping bed in the United Kingdom, and campers from New Zealand call it a camping stretcher!
What Is An Air Mattress?
For many, the term air mattress immediately conjures up images of the giant inflatable dark blue flocked airbeds used as comfy spare beds when your cousins visited from out of state. While you could use a large household variety type if you are car camping, it would not be the most practical choice to carry or inflate.
Exped MegaMat 10 Sleeping Pad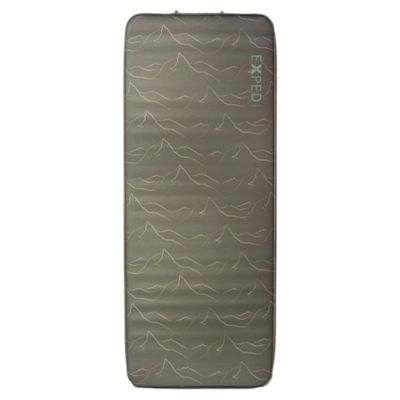 Features
R-value of 8.1 ensures warmth year round
Luxuriously comfortable
Self-inflating allows for quick and easy setup
The nonslip finish keeps it from sliding around at night
Instead, I recommend models like this one from Exped. It provides a voluminous, puffy effect and relies on trapped air to provide support while sleeping pads are much thinner, portable sleeping mats.
Camping Cot vs Air Mattress: A Comparison
There are more than 25 camping styles, varying from hardcore minimalist ultralight camping to increasingly popular high-comfort glamping.
Each camping destination, individual, and family are unique, and you may even want to include your 4-legged buddy on your adventure. Choosing the most suitable sleeping surface for your next camping trip is vital to keep everyone happy, comfortable, and enthusiastic.
Before we compare specific points regarding the experience of sleeping on a camping cot vs. an air mattress, let's do a quick side-by-side snapshot of these two camping creature comforts so you've got an overall picture.
With this overview in mind, let's gather more detail. That way, you can spend your evenings appreciating the clear night sky by choice rather than because you can't sleep!
Camping Cot vs Air Mattress: Size
It is not only the size of the sleeping surface that you need to consider. If you are using a tent, remember to factor in the floor space of your tent and its height so you don't bump your head against the roof each time you sit up.
Camping cot: Better suited to individual sleepers. Double-sized camping cots are available but tend to be bulky and more expensive than single sleepers.
Air Mattress: Ideal for shared sleeping. They are perfect for snuggling. However, they can appear bulky inside a tent, and it isn't easy to fold them up when they are not in use.
Camping Cot vs Air Mattress: Cost
Honestly, this one is a toss-up, with no real winner.
Of the air mattresses and camping cots that I personally researched and tested, the prices were all over the place. For example, the cheapest and most expensive products I reviewed were both air mattresses.
Ultimately, my research showed that a suitable camping cot is going to cost a bit more than a low-end air mattress but less than a high-end air mattress.
Camping Cot vs Air Mattress: Comfort
When choosing a sleeping surface, comfort is near the top of most people's lists. The jury is out about which type is more comfortable, and it ultimately boils down to individual preference. While my wife loves the cushiony air-bubble feeling of an air mattress, my cousin Ray, a biker with a heavy frame, needs the sturdy support of a camping cot.
Camping cot: Provides sturdy, elevated support. Some people don't like being on the ground, so a camping cot provides a more authentic bed-like experience and many side sleepers prefer cots.
Camping cots are also usually easier to stand up from, especially inside a confined space like a tent, which is a consideration if you aren't as nimble as you once were. A camping pad can be added if you need a softer surface, and getting your gear to your campsite isn't a challenge.
Air mattress: Being able to inflate an air mattress to your desired firmness means you can get it just right. The amount of body support provided can be customized if you have the right pump.
Camping Cot vs Air Mattress: Insulation
Camping cot: For cold-weather camping, a camping cot with a camping pad will keep you warmer. In hot weather, it will also keep you cooler.
Air mattress: Sleeping on top of a layer of ice-cold air can put you off camping for life! Although an air mattress can be very comfortable in mild weather, they are not recommended if you are trying to stay warm cold camping in a tent.
Camping Cot vs Air Mattress: Setup
Setting up your equipment is one of the most significant determining factors when choosing camping gear. If you are car camping or tenting where you have electricity or don't have to carry a pump for miles, an air mattress is ideal and can make conditions a lot more homely.
Camping cot: Quick and easy to unfold. It usually comes with a carry bag.
Air mattress: Needs to be unfolded and inflated. If you are using an electric or battery-operated pump, the noise may disturb your fellow campers – they will also be able to hear if you are making adjustments to your mattress during the night.
Camping Cot vs Air Mattress: Portability
Take note that portability and setup are two different aspects. Although an air mattress is lighter and highly portable, setup may make you breathless for all the wrong reasons!
Camping cot: It may be heavy and bulky if you need to carry it a long distance to reach your campsite on foot. The consensus is that the smaller they are, the more fragile they may be.
Air mattress: Light and portable, but you may need to carry a pump in addition to the air mattress.
Camping Cot vs Air Mattress: Elevation
Camping cot: A cot is the best option to stay off ground level, which is definitely a benefit in rainy conditions when the floor of your tent gets wet. It also gives you more space to store your gear in the tent since you can keep it out of the way below a camping cot.
Air mattress: Even though they come in various heights, you will still feel a close connection to the ground which I personally prefer when conditions are nice.
Camping Cot vs Air Mattress: Pet Friendliness
Let's face it, some of the best camping memories are made with our 4-legged best friends by our side. They are also a great way to stay warm at night, no matter which surface you choose to sleep on.
Camping cot: A smaller sleeping surface to share, but more durable if camping with a dog. Dogs don't mind snuggling close at night!
Air mattress: Dog's claws may accidentally puncture the plastic when hopping on or off, and a punctured mattress in the middle of the night is no fun. However, my dog is gentle and I've never had a problem with her sharing an air mattress with me when we go camping.
Camping Cot vs Air Mattress: Durability
There is one clear winner in this category!
Camping cot: They are highly durable and, if well cared for, can last for years. It will initially cost a little more, but a good-quality camping cot is the best option if you want something built to last.
Air mattress: An inexpensive camping option, but prone to split, puncture, or leak air over time. You also have to be super vigilant about clearing the ground you set up on to avoid sharp objects.
Camping Cot vs Air Mattress: Versatility
What you sleep on when you go camping is a combination of individual preferences and location requirements. Although we are comparing camping cots and air mattresses, there are many outdoor situations, like camp hiking, where you probably wouldn't take either and are more likely to opt for a basic sleeping pad.
Camping cot: Can be quickly folded and moved into a corner or used as seating space. Convenient sitting space is handy for tasks like putting on your socks and shoes comfortably when it's cold.
Air mattress: More fun for kids and offers a uniform squishy surface to pull outside on warm evenings and stare up at the stars with your partner.
Frequently Asked Questions
Is A Camping Cot Worth It?
A quality camping cot that is well looked after can last for many years, so I think it is worth owning one. Although it may initially cost more than other options, it offers the reassurance that each time you take it out of storage, you will get a comfortable night's above-ground rest.
Which Is More Comfortable Camping Cot or Air Mattress?
A camping cot feels more secure and comfortable if you move around a lot at night or have a heavier build. Side sleepers and occasional fair-weather campers usually prefer an air mattress's more homely cushiony surface.
Camping Cot vs Air Mattress: My Final Verdict
My final choice for a good night's rest on your next camping trip is an air mattress, but I've spent plenty of nights camping on both, so I don't fault anyone who prefers a camping cot instead!
For me, I just prefer being closer to the ground (it feels more like camping to me) and I find them more comfortable for my style of sleeping.