Casting your line for the perfect pair of waders can be as tricky as tracking down an elusive rainbow trout.
I get it, I've been there – stuck between Simms G4z and Orvis Pro Waders, two premium brands with a ton to offer.
Here's some good news though: after hours spent researching both options, this blog post will deliver a comprehensive showdown of these titans in terms of materials, fit, durability and bang for your buck!
Ready to wet a line? Let's dive right in.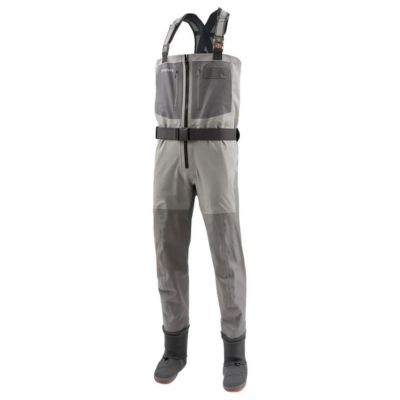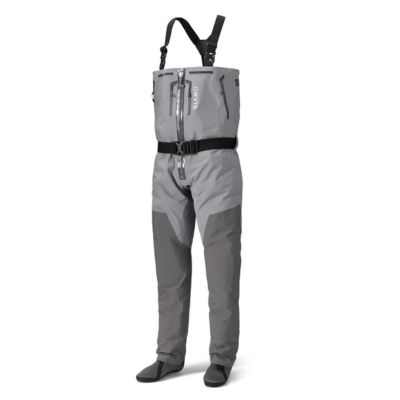 Comparing Simms G4z and Orvis Pro Waders
When it comes to choosing between the Simms G4z and Orvis Pro Waders, there are a few key factors to consider.
Materials
One of the biggest differences between the two waders is the materials they are made from. Simms uses a combination of 3 and 4-layer Gore-Tex, whereas Orvis uses their own proprietary blend of Cordura fabric.
Both Gore-Tex and Cordura are premium fabric blends known worldwide for maintaining breathability while simultaneously being waterproof.
I've worn both waders in some pretty harsh conditions and find them equally waterproof, warm, and durable. But I personally give a slight nod to the Cordura-built Orvis waders.
I find them just a bit more "wearable" for lack of a better word. My movements feel effortless and I almost forget I'm wearing them, and I almost forget I'm wearing waders.
Zipper System
Simms finally caught up with Orvis when they dropped their G4Z line, and in my opinion, it has changed the game.
Prior to that, the Orvis Pro Zipper waders were the clear top choice, but now that both brands have a zipper front option on the market it's back to being a neck-and-neck battle for the best fly fishing waders.
Zipper front waders are so much easier to get in and out of. Frankly, I'm spoiled and can never go back now that I've experienced the amazing ease of zipper-front waders.
This category is a draw — both the Orvis Pro and Simms G4z have amazing zipper front systems
Note: If want to save a few bucks and the zipper feature isn't important to you, both brands offer zipper-less options for a few dollars less. Check out the Simms G3 or the Orivs Pro (non-zipper).
Warranty
Both brands stand behind the quality of their work and have very generous warranty policies. They both offer 60-day no-questions-asked replacement or full refund on leaks and other manufacturer defects. Basically, you can get a new set of waders or get your money back for any reason you want.
Beyond 60 days is when the policies start to vary a bit.
Orvis: Will continue to repair any manufacturer defects for the lifetime of the waders, but any defects arising from normal wear and tear are no longer covered. They do offer repairs and the cost varies based on the need.
Simms: They offer to repair waders for leaks and defects at no cost for 1 full year. After a year, they charge a flat $60 fee for repairs, even if they are manufacturer defects and not just normal wear and tear.
I give a slight nod to Orvis here. Their lifetime warranty for manufacturer defects is a strong endorsement of their belief in the quality of their products.
I can also personally attest to their willingness to honor their word too. My Orvis hunting waders had a defect and they replaced them 3 years after I purchased them, which I don't think many other brands would have done.
Simms G4z Stockingfoot Waders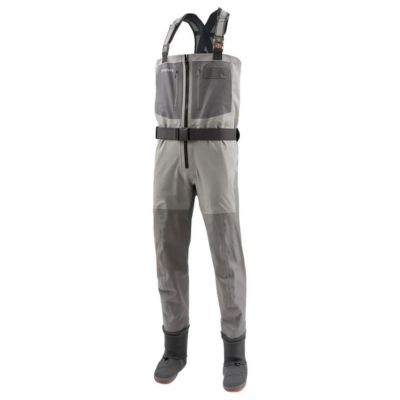 Features
Zipper front entry system
Durable Gore-Tex fabric withstands all weather conditions
Mesh strap is a nice bonus on hot days
My Favorite Features of the Simms G4z Waders
The Simms G4z waders are a popular choice among anglers, offering top-of-the-line features and durability for any fishing adventure.
Simms G4z waders are designed for durability and functionality, making them a top choice for fly fishing in even the harshest conditions. These waders feature a breathable and waterproof Gore-Tex fabric shell that provides excellent protection against the elements.
The reinforced knees and seams add extra durability, ensuring that these waders can withstand rough conditions. I love the micro-fleece handwarmer pockets….they are like a little cavern of warmth for your fingers on cold days.
Another feature I love is the mesh straps, which are great for warmer weather fishing. They are one of those features that you never new you needed until you experienced it for the first time.
Orvis Pro Stockingfoot Waders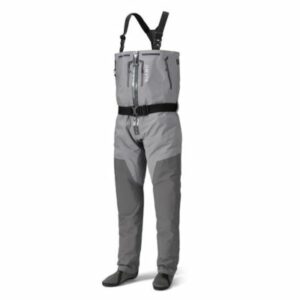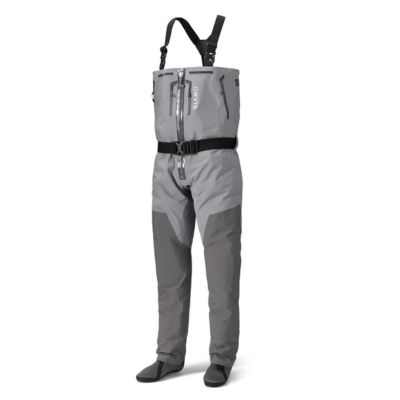 Features
Front Zipper entry system
Easy access interior phone pocket
All day comfort and range of motion
The Orvis Pro Waders are designed with durability and functionality in mind, featuring a Cordura fabric shell and reinforced knees and seams for added strength.
With their breathable design and advanced features like hand warmer pockets and a waterproof zip front, these waders provide comfort and convenience on your fishing adventures.
My Favorite Features of the Orvis Pro Waders
The Orvis Pro Waders are made with a durable Cordura fabric shell, which can withstand tough conditions on your fishing adventures. As I mentioned previously, I love how effortlessly I'm able to maneuver in these waders, and it's probably what I love most about them.
These days a phone pocket is a must-have feature and Orvis doesn't disappoint here. The easy access internal chest pocket keeps your phone close by and dry.
Finally, I also love how easy and the boot clasp system is with the Orvis Pros. I know this may seem like a small thing, but I HATE getting pebbles in my boots and this system seems to work better than other brands.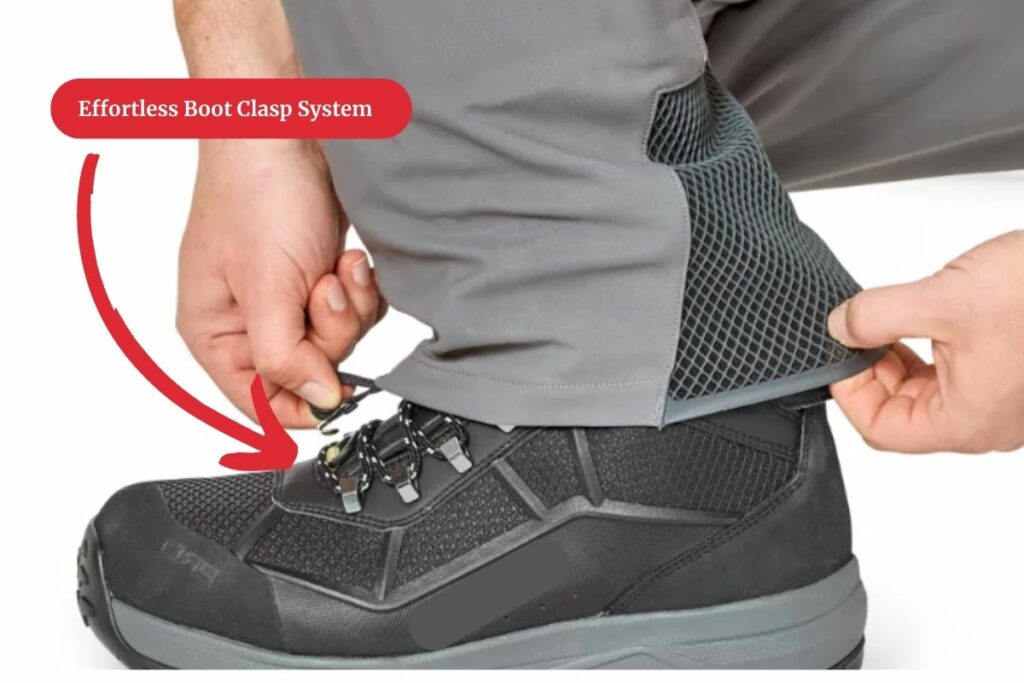 The quality and durability of these waders make them a reliable choice for outdoor enthusiasts who love fly fishing and spending time in nature.
So, the Orvis Pro Waders prove to be a strong contender given their durability, cost-effectiveness, and the reliable customer service provided by the company.
Key Considerations When Choosing Waders
When choosing waders for your fishing adventures, there are a few important factors to consider: comfort and fit, durability, and price.
Comfort and fit
When it comes to comfort and fit, both Simms G4z and Orvis Pro Waders offer excellent options. Simms waders are known for their anatomical neoprene booties and integrated gravel guards, providing a snug and secure fit.
They also have a gusseted crotch design that allows for easy movement while fishing. On the other hand, Orvis waders are designed with a slimmer profile in the legs, ensuring a more comfortable fit for those with narrower builds.
Both brands prioritize comfort and understand the importance of having waders that fit well during long hours on the water.
Durability
The sad truth is that even the best waders have a short lifespan if you're an avid fly fisher. I'm listing this category as a draw because both Orvis and Simms make quality products that are as good or better than any others on the market today.
Price
These are both the top-of-the-line options from two premium brands and I think you're already prepared for a big-ticket price.
That said, the MSRP for the Simms G4z at the time of publishing was $999 and the Orvis Pros were $749, so if cost is a concern then Orvis is the route for you.
That said, if cost is a concern I suggest considering either Simms Freestone or Orvis Clearwater waders. Both offer great performance at a lower price point.
Conclusion
In the end, choosing between Simms G4z and Orvis Pro Waders can be a tough decision. Both brands offer high-quality waders with different features and price points. It ultimately comes down to personal preferences and specific needs.
Whether you prioritize comfort, durability, or affordability, both brands have options to suit your fishing adventures. So do your research, try them on if possible, and make a choice that fits you best.
Happy fishing!