Quick Picks: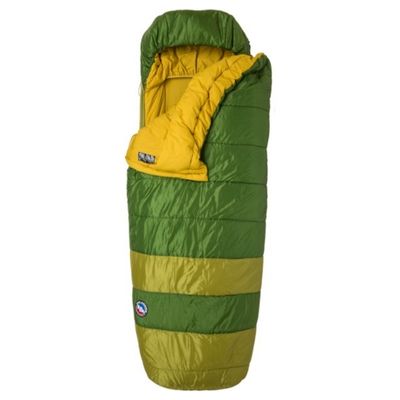 Echo Park 20 Sleeping Bag
BIG AGNES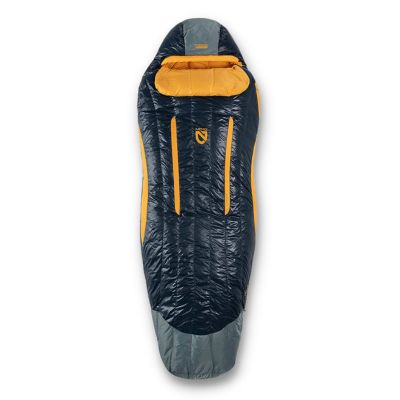 Disco 15 Sleeping Bag – Long
NEMO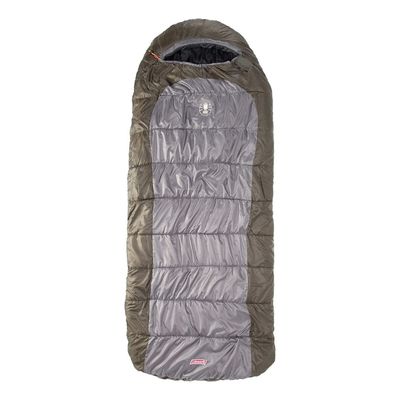 Big Basin Sleeping Bag
COLEMAN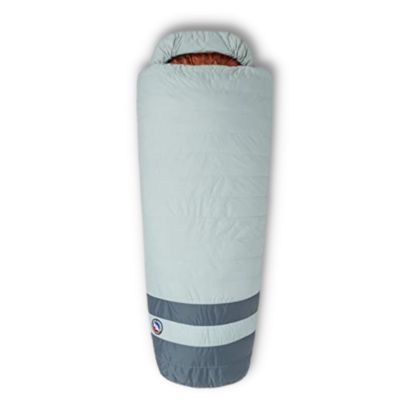 Diamond Park 15 Sleeping Bag
BIG AGNES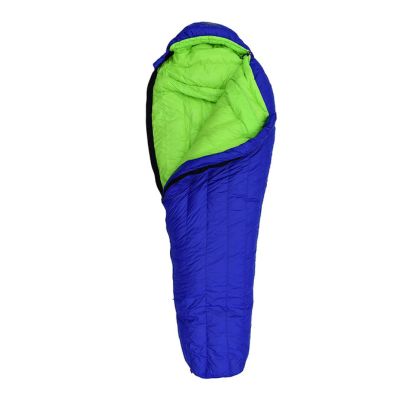 Eulos 15F Sleeping Bag
HYKE & BYKE
I'm 6 feet 2 inches tall and weigh over 265 pounds, so I'm a big guy by any definition of the word.
And I know how uncomfortable it is to squeeze into a sleeping bag made for someone half my size.
So I set out to find the sleeping bags that are perfectly suited for big and tall men.
These are my top 8 picks.
My Top Choices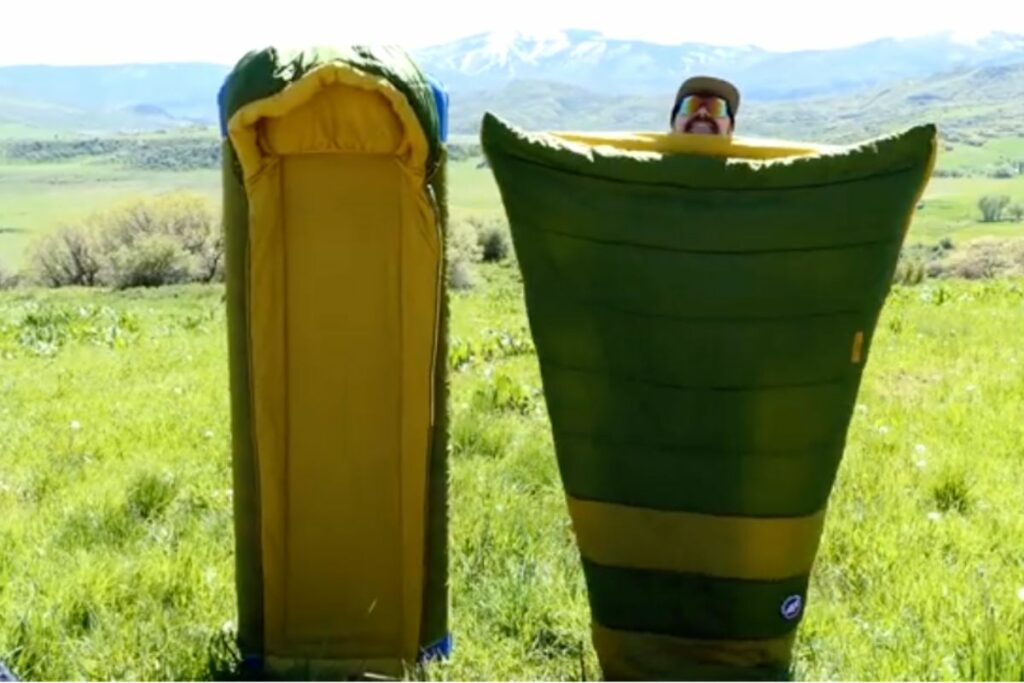 As a big guy, finding the perfect sleeping bag for my camping trips has always been a challenge. But the Big Agnes Echo Park 20F Sleeping Bag ticks all the boxes for me, making it an easy choice as my top pick.
This spacious and comfortable sleeping bag is specifically designed with taller and more robust individuals in mind, giving us extra room to move around during those chilly nights outdoors.
The FireLine Max Insulation ensures that I stay warm even when temperatures drop down to 20 degrees Fahrenheit – just what I need when camping in colder climates, without having to compromise on space or durability.
The unique construction of this sleeping bag truly mimics your bed at home with features like top corner hand pockets and a Free Range Hood design that allows you to lift your head while remaining snug inside.
Plus, the Pillow Barn keeps my pillow secured (see image above) throughout restless nights. It's these little details that make all the difference!
But what really sets The Big Agnes Echo Park 20F apart from other sleeping bags out there is its versatility: not only can you zip off some sections creating a comforter-like feel or attach it using Park Series Wedgie (sold separately) for mummy-bag snuggles; it also mates seamlessly with any other Park Series Bags!
If you are someone who struggles with confining spaces and wants both warmth and flexibility when venturing into nature's embrace – look no further than Big Agnes Echo Park Synthetic Sleeping Bag with FireLine Max Insulation as your ultimate companion!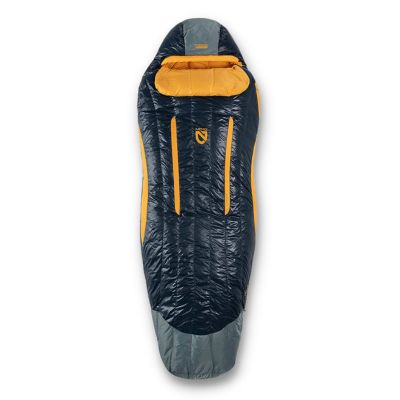 The NEMO Disco 15 Sleeping Bag – Mens Long is the perfect solution for tall guys. This uniquely designed sleeping bag offers a spoon shape that provides extra room at the elbows and knees, making it ideal for side sleepers. 
Waking up drenched in sweat or shivering in cold won't be an issue anymore! Constructed with 650 fill power hydrophobic responsible-sourced down. Plus, the innovative ThermoGills unzip when you're feeling too warm, allowing superior temperature control and added versatility.
Its waterproof breathable foot box protects your feet from condensation, ensuring they remain dry throughout the night. With its Blanket Fold feature providing extra material around your face (like a comforter), sealing out drafts becomes easy while further regulating the temperature around your head, neck, and shoulders.
All-in-all this is a great choice for tall men and will serve you just as well on multi-night backpacking trip into Yellowstone as it will a car camping overnighter at your local state park.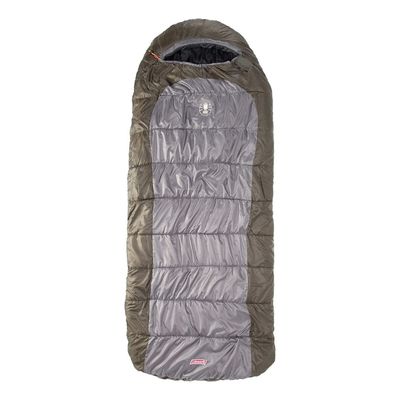 The Coleman Big Basin Cold-Weather Sleeping Bag is my favorite cheap sleeping bag for large dudes seeking a comfortable and warm camping experience. 
With its ability to accommodate adults up to 6 feet 6 inches tall, this spacious bag offers ample room while ensuring you stay cozy in temperatures as low as 15°F.
The adjustable hood and fleece-lined footbox allow customizable warmth and ventilation, making it perfect for those who want to adjust their sleeping environment according to weather conditions.
Not only does the Coleman Big Basin Sleeping Bag provide exceptional comfort, but it also showcases durability with its ripstop-reinforced polyester cover designed to resist tearing.
The bag's Coletherm hollow polyester insulation enhances heat retention, while the Thermolock draft tube helps prevent heat from escaping through the zipper, which helps to keep cold spots minimized. These features work together seamlessly in order for you to have an enjoyable outdoor excursion during colder seasons.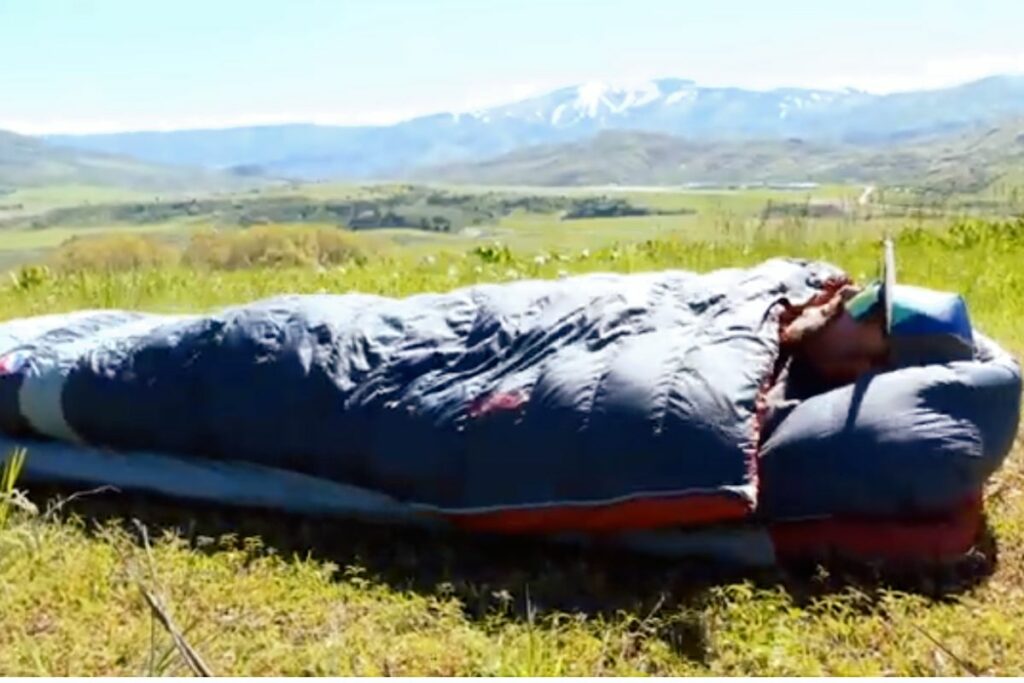 The Diamond Park is nearly identical to it's cousin the Echo Park, except it comes with a premium 600 DownTech fill, and it costs a good bit more.
To be honest, it probably is my favorite sleeping bag on the list. That said, I go camping way more than the average person and I also go backpacking in colder temperatures. So I value the lighter weight to warmth ratio that down provides and don't mind paying a premium.
If you're like me and find yourself in the wilderness regularly then you may want to consider choosing the Diamond Park.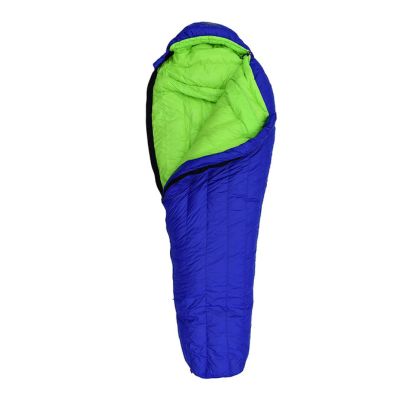 I can confidently say that the Hyke & Byke Eolus 15 F Hiking & Backpacking Sleeping Bag is an excellent choice for fellow tall and broad-shouldered backpackers. The Eolus sleeping bag has been specifically designed with us in mind, being one of the longest mummy bags on the market; it comfortably accommodates people up to 6ft 6in tall.
This ultralight, three-season winter sleeping bag doesn't sacrifice warmth or comfort despite its impressively low weight of just 2.80 lbs (for Long).
One feature that sets this sleeping bag apart from others is its hydrophobic water-repellent design. The Eolus boasts a DWR-coated, 400T 20 D ripstop nylon fabric liner that works wonders in keeping you dry even when camping during damp weather conditions.
Additionally, this backpacking essential comes equipped with extra-large YKK zippers featuring anti-snag sliders, as well as velcro and drawstring closures which contribute to the overall warmth and comfort provided by this well-crafted product.
The Kelty Cosmic 20 Degree 550 Down Fill Sleeping Bag – Long has come to my rescue with its premium thermal efficiency and large footbox that accommodates even the tallest among us.
What sets this sleeping bag apart is its trapezoidal baffle construction, which retains heat more effectively than other designs while being soft to touch.
The 550 fill Kelty treated DriDown insulation keeps me warm during those chilly nights out camping, without adding significant weight or bulk to my backpack.
Additionally, the dual zippers with anti-snag draft tube allow for easy temperature regulation – perfect for when I need some fresh air on warmer nights.
The thoughtful design doesn't end there! This sleeping bag also features a zippered internal stash pocket, making it convenient for storing essentials like my cell phone or headlamp at night. Plus, it's available in long size which fits up to 6'6″, so guys like me don't have to feel cramped while enjoying mummy-bag comfort.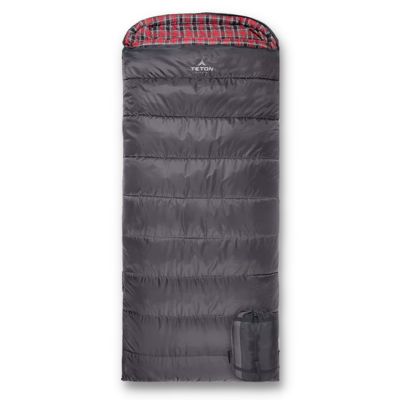 The Teton Sports Celsius XXL 0 Degree Sleeping Bag offers big guys ample room and comfort while camping in cold weather conditions.
With its generous dimensions of 90″ x 39″, this spacious sleeping bag won't make you feel cramped or restricted during your peaceful slumber. Bult to withstand temperatures as low as -18˚C/0˚F, it is perfect for those unexpected chilly nights.
One of the most notable features of the Teton Sports Celsius XXL Sleeping Bag is its double-layer and innovative fiber fill construction designed to keep warmth trapped inside efficiently.
The half-circle mummy-style hood not only provides extra insulation around your head but also ensures that your pillow remains clean throughout the trip.
When it comes to ventilation, fear not! The two-way zipper allows easy access from both top and bottom, enabling you to regulate airflow according to your needs.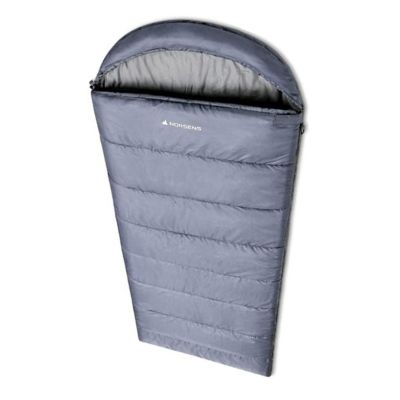 The Norsens Camping Sleeping Bag is an excellent choice for big and tall campers who need a spacious yet lightweight sleeping option during their outdoor adventures.
With its generous dimensions of 32.6"x90.5", this 3-season (Summer, Spring, Fall) sleeping bag provides ample room to stretch out comfortably after a day of exploring.
One notable feature is the ability to zip two bags together for an even larger sleep space – perfect for couples or friends seeking the coziness of shared warmth.
The skin-friendly polyester pongee liner filled with spinning cotton ensures ultimate comfort and warmth throughout the night, while the separate foot zipper allows ventilation when needed without sacrificing insulation.
Constructed from 210T anti-tear polyester material, this durable sleeping bag can withstand rough camping conditions.
My Selection & Testing Process
I considered various factors such as shape, dimensions, cost, fill type, comfort, and brand reputation.
Shape
The right shape contributes significantly to the overall comfort and warmth of your outdoor experience.
Let's explore the common shapes available for oversized sleeping bags that can accommodate our more prominent size.
Rectangular sleeping bags are among the most popular choices as they offer plenty of space – perfect for Heavyduty or Extralarge sleepers like us.
Plus-size individuals appreciate the roominess and freedom these Wide and Long options provide without feeling restricted. No more waking up in the middle of the night with limbs twisted around you!
Mummy shaped bags are typically more lightweight and better suited for backpacking. But, mummy sleeping bags are going to be a bit more restrictive.
That doesn't mean you should completely rule out mummy bags. In fact, my top pick the Echo Park, and its cousin the Diamond Park, are mummy like hybrids that have the best of both worlds.
Dimensions
Many standard-sized bags just won't cut it when you have broad shoulders or long legs. It's crucial to consider the length, width, and height of your sleeping bag before making a purchase decision.
If you're a tall guy over 6 feet 3 inches, look for an extra-long option. For fellas with broad wide shoulders then you'll want bags that are wide in the shoulders and waist.
In any case, always double-check dimension specifications and compare them with your own measurements to ensure that you'll have plenty of room to stretch out without feeling confined in your cozy cocoon on chilly nights spent camping under the stars.
Cost
The cost of roomy sleeping bags varies greatly depending on factors such as insulation type, size, brand reputation, and additional features. My advice is to find a balance between affordability and quality to ensure you get value for your money without compromising on comfort or durability.
Don't settle for a cheap bag or poorly made bag and always be sure the bag has a sufficient temperature rating for your forecasted camping weather.
On the other hand, splurging on top-rated or popular brands may guarantee better quality but might not necessarily offer all the features needed by big guys in a sleeping bag.
Pro Tip: Get a premium sleeping bag for half the cost by shopping used instead of new. Check out my post about my favorite places to buy used camping gear online.
I'm confident that any of the bags on this list will be well suited for you, but there are plenty of other great options. My advice is always to research extensively before making that purchase decision. Read customer reviews online from people with similar needs as yours who tested different options in varied conditions.
Fill Type
Synthetic and down are the two most common types of fill available in sleeping bags. Down is a natural insulator that provides an excellent warmth-to-weight ratio.
If you don't plan to use your sleeping bag for camping often, or If you're on a tight budget, synthetic filling might be your best bet as it typically costs less than down.
But when camping in extremely cold conditions where high-quality insulation is essential, then high quality down is the way to go.
Related: Down vs Synthetic Sleeping Bags: Which Is Right For You?
Comfort
For me, comfort is the most important factor, especially for oversized guys like us. I'm not here to toss and turn all night.
I value sleeping bags that have soft and inviting linings and roomy dimensions that accommodate a guy my size. I also want a sleeping bag that is going to keep me warm on chilly nights but is versatile enough
Because I put comfort first, you can rest easy (pun intended!) knowing that any of the choices on my list come with my full big guy endorsement of comfort.
Brand Reputation
I always make sure to consider brand reputation when selecting a sleeping bag. Some brands like Big Agnes, NEMO, and Kelty are well known for their consistently high quality products.
Then we have brands like Coleman, that undoubtedly experts in outdoor gear, but in my opinion, they can be hit or miss. Some of their stuff is awesome but some isn't that great.
And then we have what I call "Amazon brands" that you can only find there. That doesn't mean they are bad per se, it just means I give their products a more thorough inspection before recommending them.
Then we have brands like Coleman, that undoubtedly experts in outdoor gear, but in my opinion, they can be hit or miss. Some of their stuff is awesome but some isn't that great.
And then we have what I call "Amazon brands" that you can only find there. That doesn't mean they are bad per se, it just means I give their products a more thorough inspection before recommending them.