Best Sleeping Bags For Hammocks: Quick Picks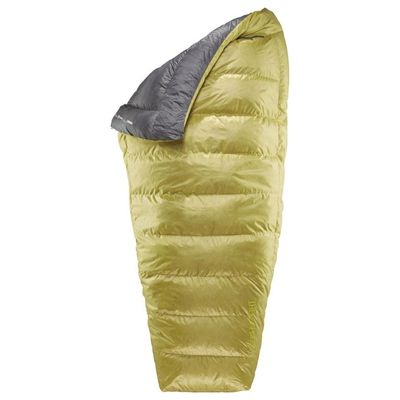 Corus 20F Down Quilt
THERM-A-REST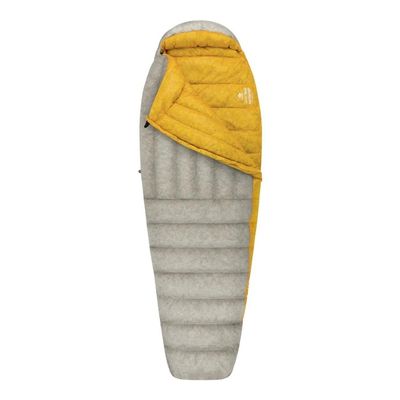 Spark Ultralight 18F Sleeping Bag
SEA TO SUMMIT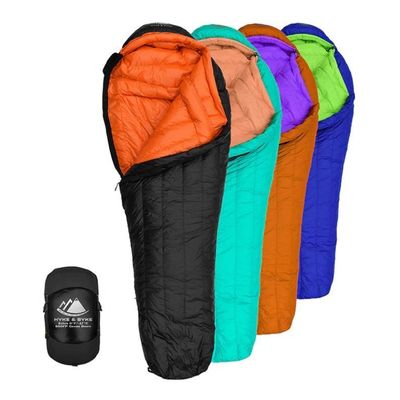 Eolus 0F Goose Down Sleeping Bag
HYKE & BYKE
Ember Ultralight 50F Down Quilt
SEA TO SUMMIT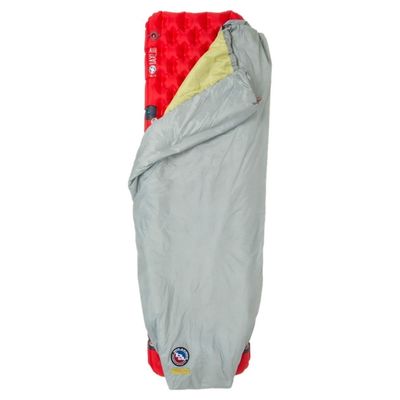 Kings Canyon UL Quilt: Synthetic
BIG AGNES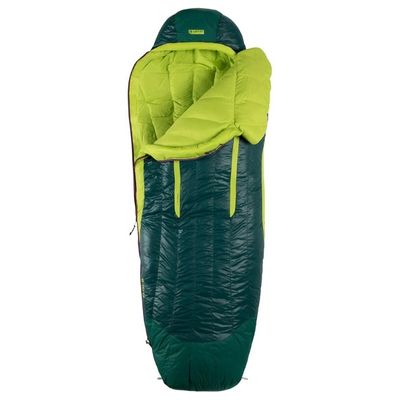 Disco 15 Sleeping Bag – Women's
NEMO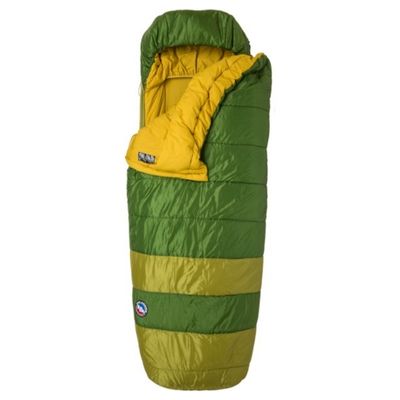 Echo Park 20F Sleeping Bag
BIG AGNES
I often bring along a hammock even when I'm tent camping.
I love being able to kick back and relax in a cocoon of comfort after a long day.
But up until one cool spring evening in the Great Smokey Mountains, I always moved to my tent when it was time to call it a night.
But, that night I had set up my hammock right next to a briskly flowing mountain stream. It was truly a little slice of heaven on earth and I decided it was the perfect location to experience my first full night of sleeping in a hammock.
I'm glad I did, it was an incredible experience!
But, I tossed and turned and quickly discovered my usual sleeping bag wasn't quite cut out for hammock camping.
I was hooked on the experience but knew I had to get a sleeping bag better suited for the unique requirements of hammocks. So, being the gear nerd that I am, I went on a deep dive of research and testing.
And now I'm excited to share my results with you.
These are my picks for the best sleeping bags for hammock camping.
Let's go!
Why You Should Trust My Reviews
Once I started hammock camping, I went full steam ahead and now I've spent more nights than I can count sleeping in a hammock. And I've also spent 100s of nights camping in tents, trucks, and various shelters.
That gives me tons of personal experience to know which features of a hammock sleeping bag are worth paying up for, and which aren't worth the money.
I also personally researched over 23 different sleeping bags before I settled on the 7 category leaders. In fact, I didn't just research and test sleeping bags, I also included quilts in my analysis because many campers, myself included, prefer quilts vs sleeping bags for hammock camping.
From that starting list, I considered the following factors:
Temperature Rating
Weight
Packability
Shape
Insulation
Durability
I share more about how I chose my top choices further down in this article, but for now, let's get to the reviews.
Best Sleeping Bags For Hammocks Reviews
From ultra-lightweight to warm weather options, there are various sleeping bags suitable for hammock camping that offer superior comfort and protection.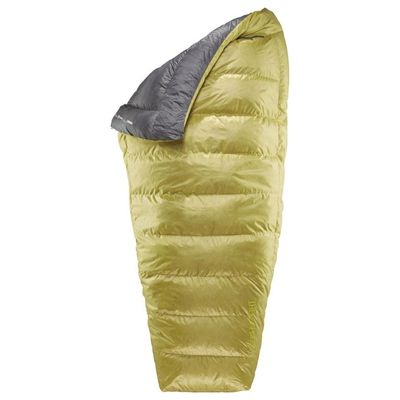 The Therm-a-Rest Corus Quilt 20F Down, is my top pick for the best overall sleeping bag for hammock camping.
It's an ultra lightweight bag with a generous cut and temperature rating of 20F degrees that ensures you'll get through those colder nights, but is still plenty breathable for warm spring and summer camping.
I know there are gear geeks out there who want a bag for every season, but like most people, I'm not made of money, so having a bag that keeps me warm on colder nights without melting during warmer months is what I personally look for.
When it comes to comfort, I toss and turn at night and I struggle with keeping my quilt or sleeping bag in place. In other words, I want it on top of me keeping me warm and not falling to the ground.
The Corus quilt has built-in anti-snag sliders that attach the bag to a sleeping pad. They held the quilt in place all night long and I never once woke up cold, which is honestly quite impressive!
Another feature that helps with my tossing and turning that I liked was the free range foot box, which has plenty of space even for my size 13 feet.
Finally, when it needs washing, just pop it into your machine on a gentle cycle and you're good to go again.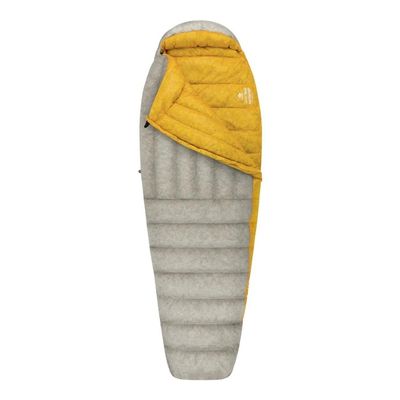 The Sea to Summit Spark Ultralight 18F Sleeping Bag is my choice for the best ultralight sleeping bag for hammocks and it's an ideal for hammock campers looking to save weight and take up minimal space. This down-filled sleeping bag weighs in at only 1 lb, 8 ounces, making it one of the lightest sleeping bags available.
This makes it an excellent choice for multi-day backcountry trips or even a single overnight trip with a lightweight pack.
Designed as a mummy bag, the Spark Ultralight offers maximum warmth with minimum bulk thanks to high quality 750+ fill power duck down insulation and its highly compressible shape.
Strategically placed baffles help keep cold pockets away while providing plenty of wiggle room so you don't feel constricted while moving around inside the bag.
The included stuff sack also allows you to further compress your bag if needed, saving even more inches in your backpack when packing for your journey outdoors!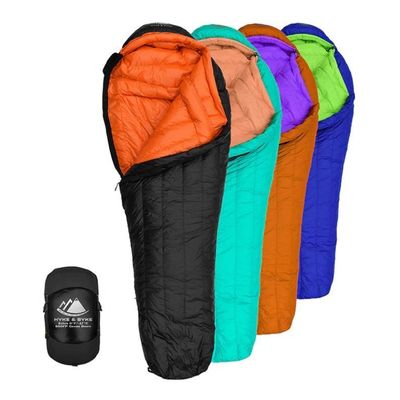 My top choice for the best cold weather sleeping bag for hammocks is the the Eolus 0F Goose Down Sleeping Bag from Hyke & Byke
This premium sleeping bag is stuffed with hydrophobic goose down and combine that with its custom mummy shape and its a seriously warm sleeping bag!
It is optimally shaped for hammock camping and is comfort rated to 15F and survival rated all the way down to 0f. I'll be honest, if you're purposely planning a sleeping in a hammock when its below 20 degrees Fahrenheit outside, you're way tougher than I am!
Hyke & Byke is a newer direct-to-consumer brand but I really liked how this sleeping bag felt and I've been a fan of the other Hyke & Byker products I've tested as well.
You can also choose your favorite color, which doesn't matter to some, but does to others, so depending on where you fall on that spectrum it could be a bonus benefit to consider.
This is a quality and warm sleeping bag for camping in a hammock and sells at a great price too.
My top pick for the best sleeping bag for hammock camping in warm weather is the Sea to Summit Ember Ultralight 50F Down Quilt.
It packs down small and is lightweight but extremely warm and comfortable due to its 800-fill power goose down and quilted construction.
Not only does this offer great protection from cold air, it also adds extra loft for maximum comfort at night. Its differential cut is designed to wrap around your body with ease, trapping warmth effectively while providing plenty of room for movement at the same time.
The Ripstop nylon shell also helps protect it from rips or tears if you take a wrong move in your hammock during the night! With such excellent features blended together, this sleeping bag ensures that you'll sleep soundly no matter what how hot your campsite gets!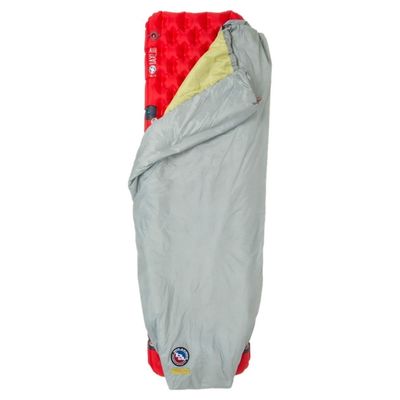 The Big Agnes Kings Canyon UL Quilt is my pick for the best value sleeping bag for hammocks and it is a great option for those looking for an affordable yet reliable sleeping bag for hammock camping.
It features synthetic insulation, offering the same warmth as down-filled bags without putting an extra strain on your wallet.
This lightweight quilt also packs down small and can easily be stored in a stuff sack or compression sack when not in use. The Big Agnes Kings Canyon also boasts an anti-snag slider that ensures easy zipping and unzipping of the bag.
This versatile sleeping bag is designed to fit most other sleeping bags, from traditional mummy shapes to double-wide designs, allowing you to get the perfect night's sleep while hammock camping.
As with most modern hammock cocoon design models, it's roomy enough to accommodate even bigger guys who need a few extra inches of wiggle room inside their sleeping bags.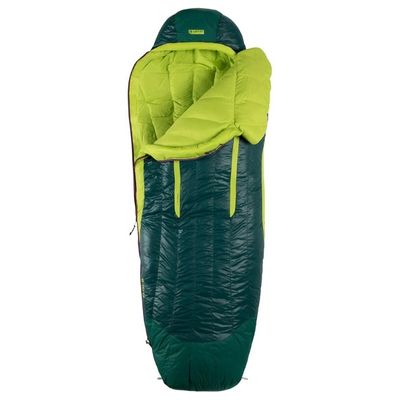 The best women's sleeping bag for hammocks is the NEMO Disco 15 Sleeping Bag, which is a great option for female hammock campers looking for an ultra lightweight sleeping bag with great warmth-to-weight ratio.
The mummy shape and super soft fabric offer great levels of comfort, while the hood cinches down easily to help lock in warmth.
This sleeping bag has enough space inside to allow you to move around without sacrificing warmth, giving you the freedom and flexibility to sleep soundly throughout the night.
With a temperature rating of 15 Fahrenheit, this is an ideal choice for even the coldest winter nights.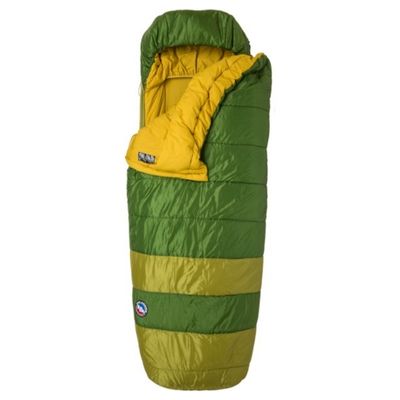 I'm 6'2 and a bit north of 250 lbs, so I'm always mindful of the size of things, and the Big Agnes Echo Park 20F is my pick for the best hammock sleeping bag for big guys.
This Echo Park is perfect for larger people who need a bit of extra room to sleep comfortably. It's made with a super soft and durable material and includes an anti-snag slider that prevents the zipper from getting caught in the fabric.
Plus, its two-piece construction allows you to adjust the fit of the bag so you can move around freely without having too much wiggle room or feeling restricted.
Additionally, this sleeping bag also features excellent warmth ratings down to 20 degrees Fahrenheit, making it ideal for colder weather conditions where temperatures drop below freezing.
Finally, it packs down small enough with its included stuff sack and compresses easily into tight spaces within any pack weight, another great feature for bigger guys looking for a comfortable night's sleep!
How I Chose The Best Hammock Sleeping Bags
I considered temperature rating, weight, packability, shape, insulation, and durability when choosing the best sleeping bags for hammock camping.
Temperature Rating
When choosing the best sleeping bag for hammock camping, temperature rating is an important factor to consider. With hammocks, there's more air circulating around you than when in a traditional tent setup and this can lead to colder temperatures.
This means it's important to have a sleeping bag that has been designed with lower temperature ratings in mind. Look for bags that are rated at 15˚F or lower if you plan on going winter camping.
For warmer weather adventures, look for bags rated between 25˚-45˚F so you get enough warmth without feeling too hot and stuffy during the night. However many hammock campers find comfort in different temperature ratings depending on personal preference.
Weight
Weight is an important factor when it comes to choosing a sleeping bag for hammock camping. Heavier bags with more insulation will provide more warmth, but also add unnecessary ounces to your pack weight at the same time.
Ultralight sleeping bags are great for those who want to save on pack weight while sacrificing some warmth in milder climates. It can be beneficial to check the temperature rating of a sleeping bag so you know what kind of weather range it can handle and how much weight you are willing to sacrifice for those colder temperatures.
Packability
Packability is important for hammock campers, as it can greatly affect how much space you have in your bag when packing up. Hammock sleeping bags are typically more lightweight and compressible than regular sleeping bags, making them easier to transport.
Additionally, many come with their own stuff sack, which allows them to take up even less space, while still providing the warmth and comfort needed on a cold night. Some high-end models offer near-zero pack volume and weight due to advanced construction techniques such as high thread counts or down fillings that trap warm air better.
Shape
The shape of a sleeping bag is an important factor to consider when buying a hammock sleeping bag. It affects the overall comfort and warmth of your sleep.
Traditional mummy-style bags are tapered around the head and feet, offering more efficient insulation from cold air and providing ample space for body heat to circulate around you. On the other hand, offer more wiggle room for those who prefer extra space inside. Regardless of which style you choose, make sure it fits your body size or shape so that you can stay comfortable all night long.
Insulation
When it comes to insulation, you want a sleeping bag that won't be too hot in warm air and will still keep you warm when temperatures drop. Down-filled sleeping bags offer the best warmth ratio while synthetic ones tend to be cheaper but not as warm.
If you plan on camping in colder weather, make sure to get a sleeping bag rated for those conditions. As with most other sleeping bags, hammock campers should look for one that can handle their body shape and weight so they stay comfortable all night long.
Durability
When it comes to durability, many hammock campers look towards synthetic sleeping bags that can hold up to repeated use. Synthetic sleeping bags tend to be more resistant than down filled models, and thanks to their construction and materials they won't need a huge amount of care & maintenance.
Sleeping bags made of polyester ripstop are usually some of the toughest out there, and can stand up against wear & tear much better than many other fabrics in your gear collection. It's also important to consider how easy it is for you to clean your sleeper bag when heading out into the wilderness; washing machines with gentle cycles will make caring for most sleeping bags very simple indeed!
FAQs
Can You Use A Sleeping Bag In A Hammock?
You can easily use a sleeping bag in a hammock, but some sleeping bags are better suited for hammocks than others. I recommend a mummy shape with a wide footbox.
Do you use a sleeping pad with a hammock?
I recommend using a sleeping pad with a hammock when you are camping. It serves as both a layer of insulating warmth and the extra cushioning leads to a more comfortable nights sleep.
Final Thoughts
Hammock camping is a great way to get out in nature and experience the outdoors. Finding the right sleeping bag for your needs can make all the difference in ensuring a comfortable night's sleep while you are away from home.
For maximum comfort, look for temperature ratings that will keep you warm on cold nights, and pick bags with enough room so that you don't feel constrained when sleeping. Every hammock camper has different needs and preferences, but with some research into what is available today, it is easy to find the perfect solution for a restful stay under the star