Why travel to some far-off destination when you can experience all the joys of Glamping from the comforts of your own backyard?
Plus, for nearly the same cost as a few nights at a Glamping resort, you can buy most of the gear you'll need to throw a Glamping party and then you'll be able to use it again whenever you want.
So, if you're ready to transform your backyard from drab to fab, my easy DIY Glamping Ideas list has everything you need to get started.
Quality Gear + Discounted Prices = Happy Campers
Do NOT Overpay For Camping and Outdoor Gear
We Find The Best Deals & Discounts Online And Share Them With YOU
Choose Your Glamping Tent
Bell tents make great choices for an upscale and authentic Glamping experience, but there are plenty of DIY options too. Let's take a closer look at both routes.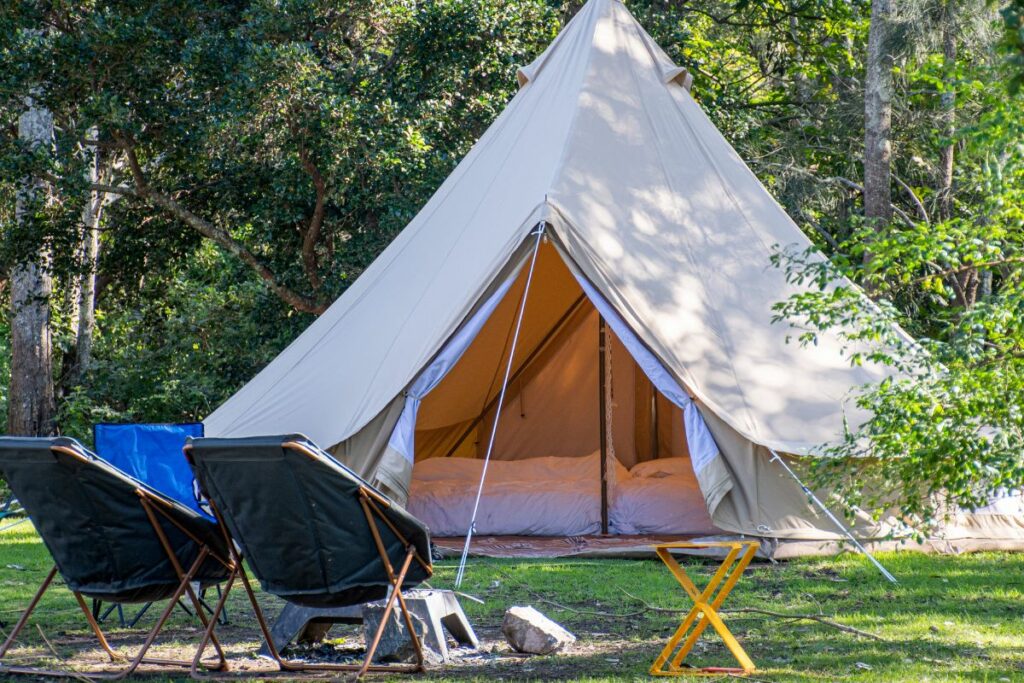 Glamorous Bell Tents
Transform your regular camping setup into a luxurious glamping retreat with an oh-so-gorgeous bell tent. These spacious and stylish tents provide ample room for comfortable sleeping arrangements, socializing areas, and even space for some elegant furnishings.
Bell tents typically range from 9 feet (3 meters) to a whopping 20 feet (6 meters) in diameter which is a rather wide range of sizes. To help narrow that down a bit I recommend the following:
Small (6 – 12 feet): Ideal for couples or small families who require minimal furnishings.
Medium (12 to 16 feet): Suitable for larger groups or those looking to incorporate more elaborate interior designs.
Large (16+ feet): A great option if you plan on hosting events or accommodating multiple families within one shared space.
When shopping for glamping tents, I recommend tents with durable canvas fabrics treated with water-resistant coatings such as polyurethane or silicone like these from Life In Tents.
DIY Glamping Tents
DIY Glamping tents come in all shapes and sizes and almost any everyday camping tent can be transformed into something special.
Or, you could build a DIY Tent from scratch using PVC pipes, sheets, tarps, or a wide range of other standard household items. The only real limit is your imagination!
The video below shows how one family took a regular Coleman Canopy Tent and used it as the centerpiece of their own backyard glamping oasis. I recommend watching all the way through because it's full of lots of great glamping ideas.
Make It Cozy & Comfortable
Creating a luxuriously comfortable bed for your DIY glamping experience and using right materials can make all the difference between feeling like a pauper vs feeling like a princess.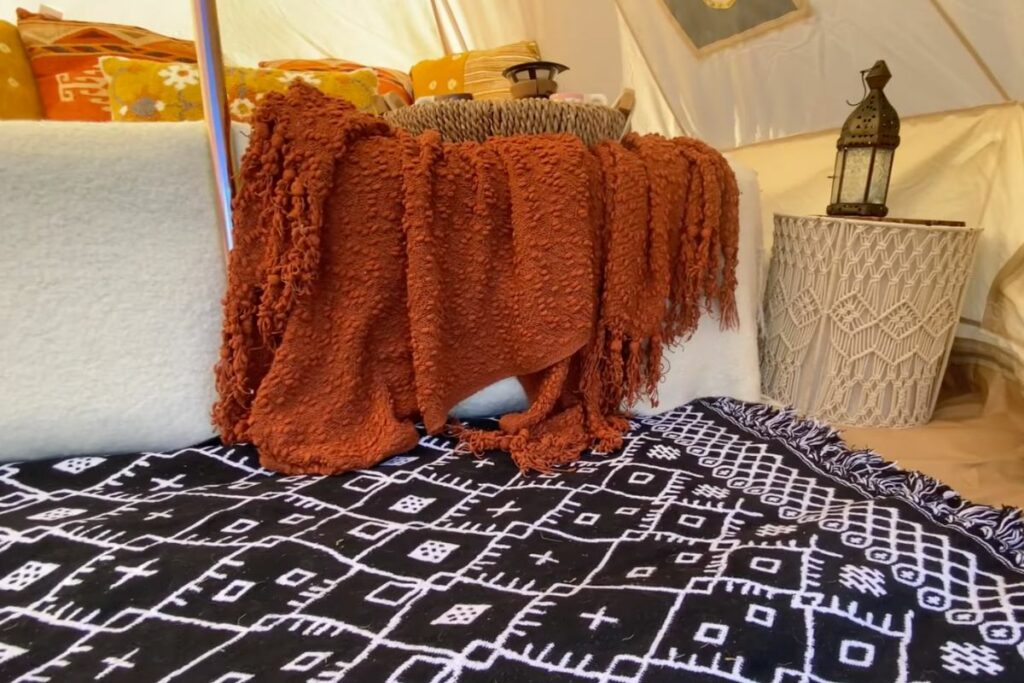 Choose Your Mattress
Start with a good mattress or decent air bed. My recommended air mattress is the Dream Series from SoundAsleep. It's elevated which helps to make it feel more like a normal bed, and most importantly it's super comfy.
But if you really want to be super extra, then a full bed with a frame and headboard is the way to go. Rustic wood frame options are popular choices and a good place to start.
Seating & Furniture Arrangements
When it comes to seating arrangements, consider incorporating a combination of floor cushions, bean bags, camping chairs, or even an inflatable sofa for added comfort.
Arrange these items in a way that encourages conversation and relaxation while also leaving ample space for movement within the tent.
Use A Variety Of Blankets & Pillows
Then add a variety of duvets, plush blankets, and pillows of all shapes and sizes. Honestly, the more the better. You really can't go overboard.
You could also experiment with different fabrics such as velvet, cotton, or even faux animal furs. Another fun idea is to add color tapestries to the walls or behind the bedding area.
Blankets are so versatile. Obviously, they are great for bedding, but ideas for using them include:
Picnic rug: Lay out a large blanket on the ground as an inviting space for dining al fresco and lounging under sunny skies.
Furniture coverings: Drape soft throws over camp chairs and benches to add both style and comfort while sitting around the campfire or relaxing with a good book.
Outdoor movie screen: Bundle up in cozy blankets while watching your favorite films on a portable projector screen, creating an unforgettable outdoor cinema experience.
Campsite divider: Hang lightweight blankets from trees or poles to create makeshift walls and partitions, adding privacy and visual interest to your glamping site.
Up The Ambiance With Lights & Lanterns
Create a warm ambiance in your glamping site by incorporating rechargeable lanterns and lights. Adding lighting will not only make your campsite more inviting but also ensure you have sufficient illumination during nighttime activities.
There are various types of rechargeable lanterns available on the market that can enhance the atmosphere at your glamping site. My favorites include:
String Lights: Create a magical atmosphere by draping string lights around trees, tents, or dining areas within your campsite. I prefer solar string lights over battery-powered lights, but both are good choices.
LED Camping Lanterns: These versatile lanterns provide bright, energy-efficient light and often come with multiple brightness settings. They're perfect for illuminating large areas or providing focused light when needed.
Solar Pathway Lights: Illuminate walkways or define specific areas within your campsite using solar pathway lights. These stake-style lights, provide soft ambient light without requiring any wiring or batteries.
White lights will always be a classic and timeless look but don't be afraid of using color-changing LED lights. They are a really fun way of adding a dramatic flair of color to your DIY glamping setup.
Decoration Ideas For Glamping
Thus far you've picked out a tent, made a cozy bed, and created a warm and inviting ambiance. You've already transformed your backyard into an unforgettable Glamping adventure…but now it's time to kick it up even more!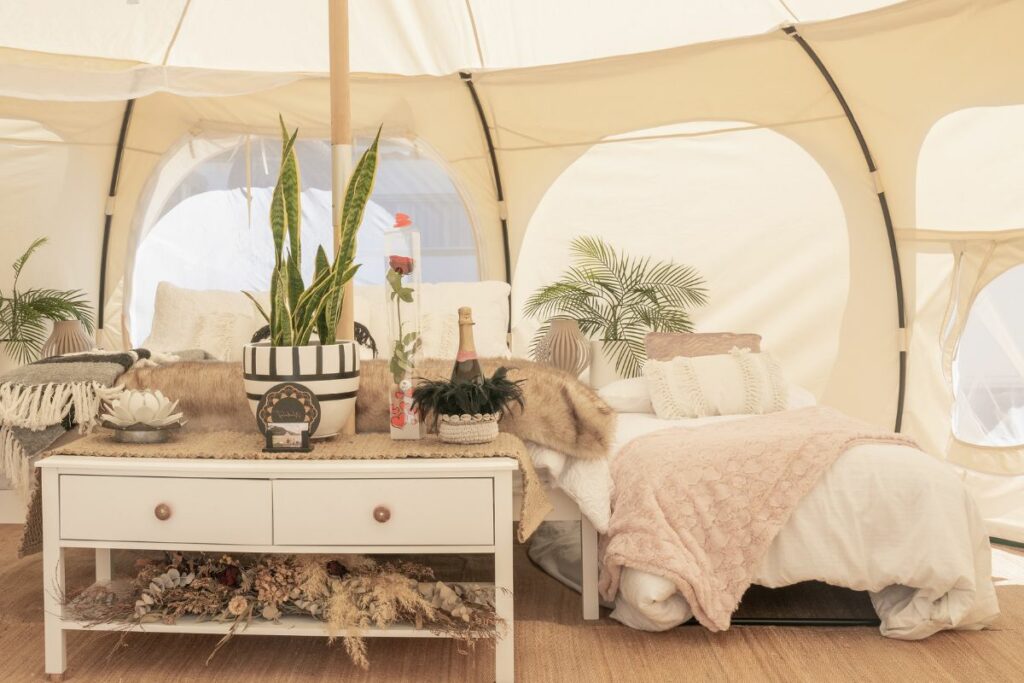 Flowers
Beyond simply placing flowers in jars or vases at the center of your table setup, there are numerous creative ways you can incorporate floral arrangements into your glamping decor:
Mason Jars: Attach twine or wire handles onto mason jars filled with water and blooms before suspending them from tree branches above seating areas.
Floating Florals: Create a whimsical display by floating flower heads atop shallow bowls filled with water – perfect for adding color and interest to tabletops.
Garden Stakes: Transform wooden stakes into makeshift planters by attaching small containers filled with soil and flowering plants – ideal for lining pathways leading up to tents or defining dining spaces.
Floral Garlands: String together fresh or faux flowers using twine or fishing line to create a beautiful garland that can be draped across tent entrances, hung from trees, or used as table runners.
Selecting the right flowers for your glamping site is essential, as some blooms may not withstand outdoor conditions well. If your Glamping setup is temporary then you can use most any normal houseplant like snake plants or fiddle leaf figs.
But if you plan on a permanent Glamping setup then opt for hardy varieties like sunflowers, marigolds, daisies, or lavender that can endure heat and wind without wilting quickly.
Additionally, consider using local wildflowers to add an authentic touch to your campsite while also supporting native flora in the area.
Art & Signs
Personalize your backyard glamping staycation by adding art, signs, or any other fun items that will help transform your tent from dreary to dreamy.
Some ideas to get you started:
Mini Neon Signs: There are lots of battery powered desktop neon signs that come in various sayings and icons.
Framed Pictures or Posters: Adding a framed 8×10 of your pets, family, or friends is another great way to personalize your space.
Stuffed Animals: For kid friendly DIY Glamping, stuffed animals are a must.
Disco Balls: Adding a disco ball instantly ups the glam factor 100x.
Salt Lamps: Rid the area of negative energy while adding a soft decorative glow to your space
Dine In Style
One of the great benefits of DIY backyard glamping is that it allows you to personalize your stay in ways that traditional camping doesn't. You can create a special lounge area or an outdoor kitchenette and customize the menu to your personal preferences.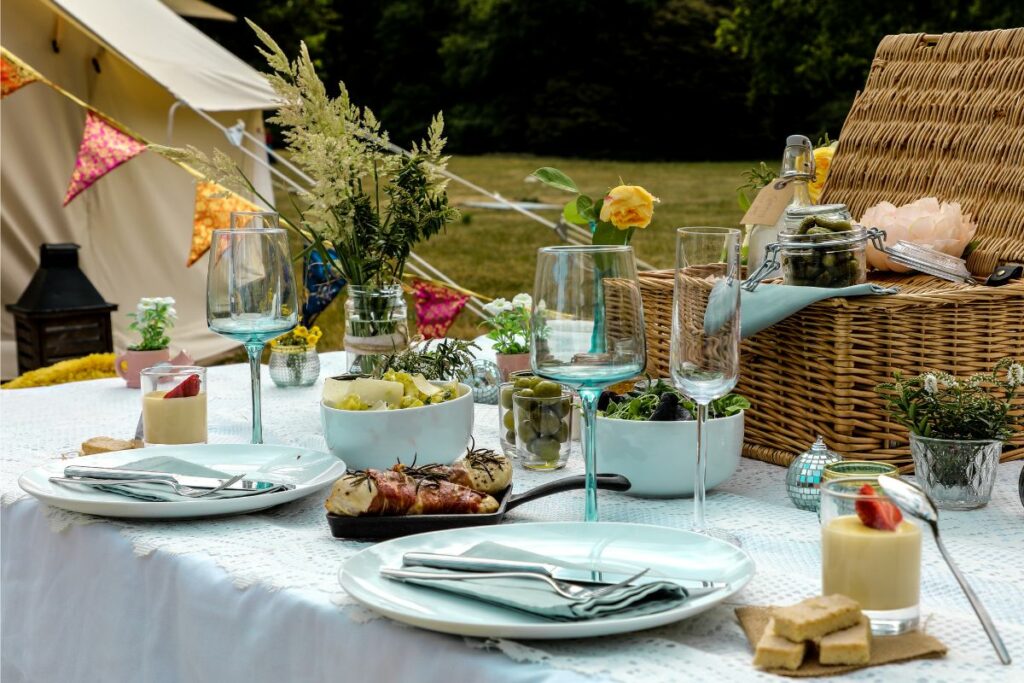 Setup A Glamping Kitchen
Creating a Glamping Kitchen gives you all the convenience you need when cooking outside. Essential items include a portable stove, quality cookware and utensils, food storage solutions such as coolers, bags and boxes, along with cutting boards and sharp knives.
For the ultimate in glamping luxury, I recommend investing in quality cooking gear such as portable stoves with multiple burner top surfaces. Portable charcoal grills are another choice for cookouts and cooking everything from burgers to kebabs.
For organizing supplies like spices or condiments while cooking outdoors, try using mason jars or other containers that can easily be stored in small backpacks when not in use. Use
Picnic baskets filled with delicious treats are another great idea that adds an element of class and elegance.
Create A DIY Glamping Bar
On of my favorite glamping ideas is to build a bar! And I also like to create a signature cocktail that matches my theme. Past favorites include blood orange margaritas for a Halloween glamping party and mint juleps for a Derby-themed glamping event.
I also recommend having an array of wines, beers & hard seltzers, as well as non-alcoholic options such as craft sodas or sparkling juices.
A unique idea that I love is to use something other than a cooler for your beverages. I've seen everything from old wheelbarrows to a canoe so feel free to go wild with your selection.
Glamping Food Ideas
The most enjoyable part of a staycation can often be the delicious food you have prepared! Depending on your budget and preferences, there are a variety of meal and snack ideas to choose from.
For those who love to cook outdoors, classic camping recipes like s'mores or foil-wrapped dinners are always popular.
For more sophisticated tastes try gourmet burgers made with grass-fed beef patties topped with melted cheese served on brioche buns with homemade pickles or grilled veggies kebabs marinated in lemon and herbs accompanied by herby couscous – simply divine!
Include snacks like chips & dip or fruit & cheese platters—you could even get creative and create bespoke themed charcuterie boards that match your theme.
And, if you thrive on morning caffeine then DO NOT forget about coffee. Check out our post on camping coffee for more details on making the perfect cup of joe while in the outdoors.
Plan For The Weather
I'm a big fan of cool weather camping in fall, winter, and spring. But there is nothing quite like a summer campout. Whether its hot, cold, rainy, or something in between you want to be prepared.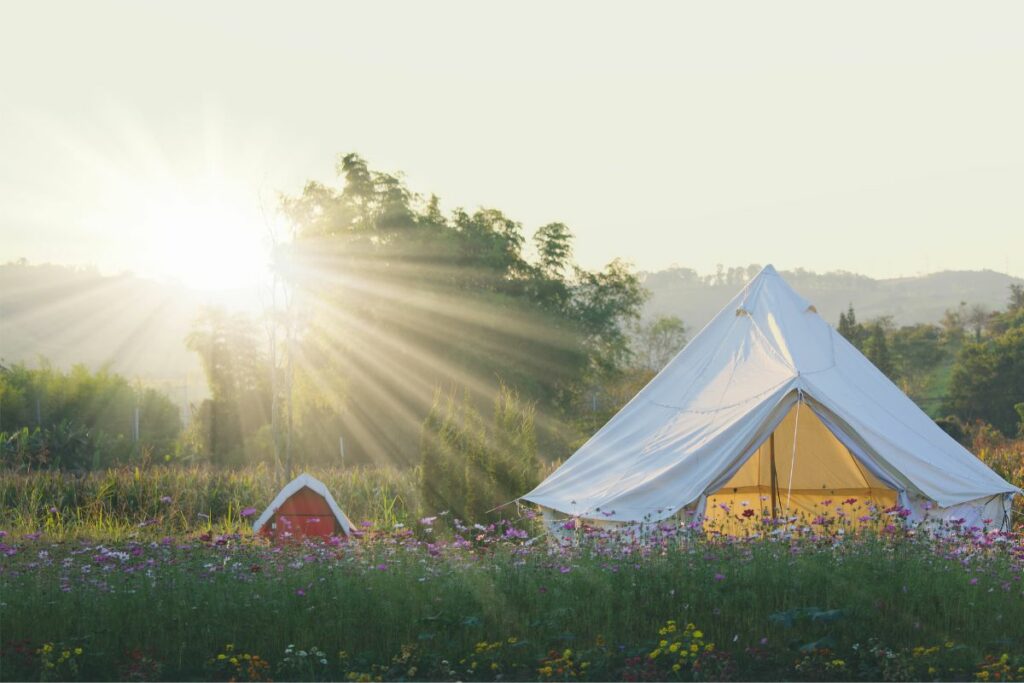 Stay Warm On Chilly Nights
A portable propane heater is an excellent choice for glampers looking to stay cozy during their camping trips. For optimal warmth and safety, opt for a propane heater designed specifically for outdoor use. When selecting a portable propane heater, consider factors such as size, weight, and BTU output (the amount of heat produced) to find the perfect option that suits your needs.
Size: Choose a compact and lightweight heater that can be easily transported without taking up too much space in your vehicle or tent.
Weight: Opt for lighter models if you plan on moving the heater around frequently within your campsite.
BTU Output: Select a model with adequate BTUs based on the size of your tent or area you want to keep warm; higher BTUs provide more warmth but may consume more fuel.
Another great choice if you'll be near a power source is to use an electric heated blanket for added warmth on cold nights.
Stay Cool & Comfortable In Warm Weather
When it comes to enjoying a DIY backyard glamping experience in hot weather, staying cool and comfortable is key. Fortunately, there are plenty of ways you can make sure your staycation isn't ruined by the heat.
My top recommendation is to fill your area with portable fans. I love the Geek Air for outdoor spaces and large tents and the Coleman OneSource for portable comfort you can take almost anywhere.
Planning The Perfect Backyard Glamping Experience
Planning the perfect backyard glamping staycation can be a great way to make lasting memories with family and friends you cherish. It's easy to get stressed out and feel overwhelmed though, so these final tips are to help get you to the finish line.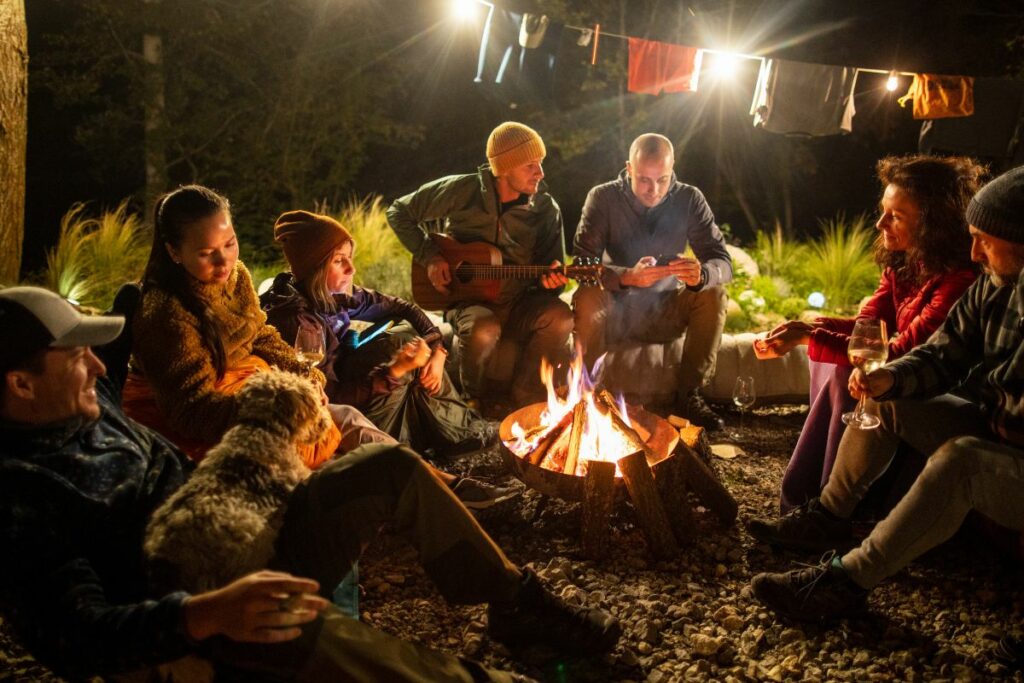 Create A Schedule Of Activities
Creating a schedule of activities for your backyard glamping experience is essential to getting the most out of your staycation and avoiding boredom.
You'll want to ensure that the schedule has enough variety so that everyone in attendance can be entertained, but finding balance between action-packed activities, quieter moments, and relaxation time is also important.
Don't go overboard and plan every last minute of your time, but have a general idea of what you plan to do and when you plan to do it. Account for time to relax, time to cook, time to eat, and time to have fun!
Games & Entertainment
Incorporating games and entertainment into your glamping staycation is a great way to foster family bonding, create lasting memories, and have plenty of laughs.
When it comes to specific activities, there are endless possibilities! Stargazing with friends or family is always a crowd favorite. Take the time to read stories or tell tales around a campfire at night (or a firepit during those chillier evenings).
If you have kids attending, consider outdoor games such as Badminton or Spikeball.
And if you prefer relaxation mode only; nothing quite beats lounging under blankets with some s'mores by candlelight.
Take Safety Precautions
Taking safety precautions while engaging in DIY backyard glamping should be top priority, as it can be tricky to stay safe in an outdoor environment. Make sure to camp away from any potential hazards like cliffs or water sources.
Take a look at the weather forecast ahead of time and make sure that your tent is stable enough to withstand wind and rain—a sturdier glamping tent is usually preferable for this reason.
Have flashlights and other lighting available so people can see well after dark, especially if there are kids involved.
Final Thoughts
I hope you've found my list of glamping ideas helpful and inspirational! My best advice is to just get started! It's okay if your first attempt doesn't quite match the pro's, I promise you'll have fun either way.
Happy Glamping!