I've spent most of my life camping and my wife is more of a spa and room service kind of girl. But we both try and do things the other one loves, so she does join me on the occasional camping trip!
I love that she gets out of her comfort zone to spend time with me doing the things I love most.
In return, I go to great lengths to research and plan our trips to ensure they are comfortable, adventurous, and most of all, romantic!
Ready for my favorite couples camping trip ideas?
Let's go!
Quality Gear + Discounted Prices = Happy Campers
Do NOT Overpay For Camping and Outdoor Gear
We Find The Best Deals & Discounts Online And Share Them With YOU
Best Types Of Camping For Couples
Couples looking to go on a camping date have different types of options, such as glamping, car camping, cabin camping, and beach camping.
Glamping
Glamping is a great way for couples to experience the outdoors in luxury and style. While it's definitely more luxurious than traditional camping, glamping still allows couples to be immersed in nature and see some incredible sights!
It's also a good starting point if your partner is apprehensive about the whole sleeping outdoors thing like my wife was. We started with DIY Glamping in our backyard before eventually trying out a few different glamping destinations.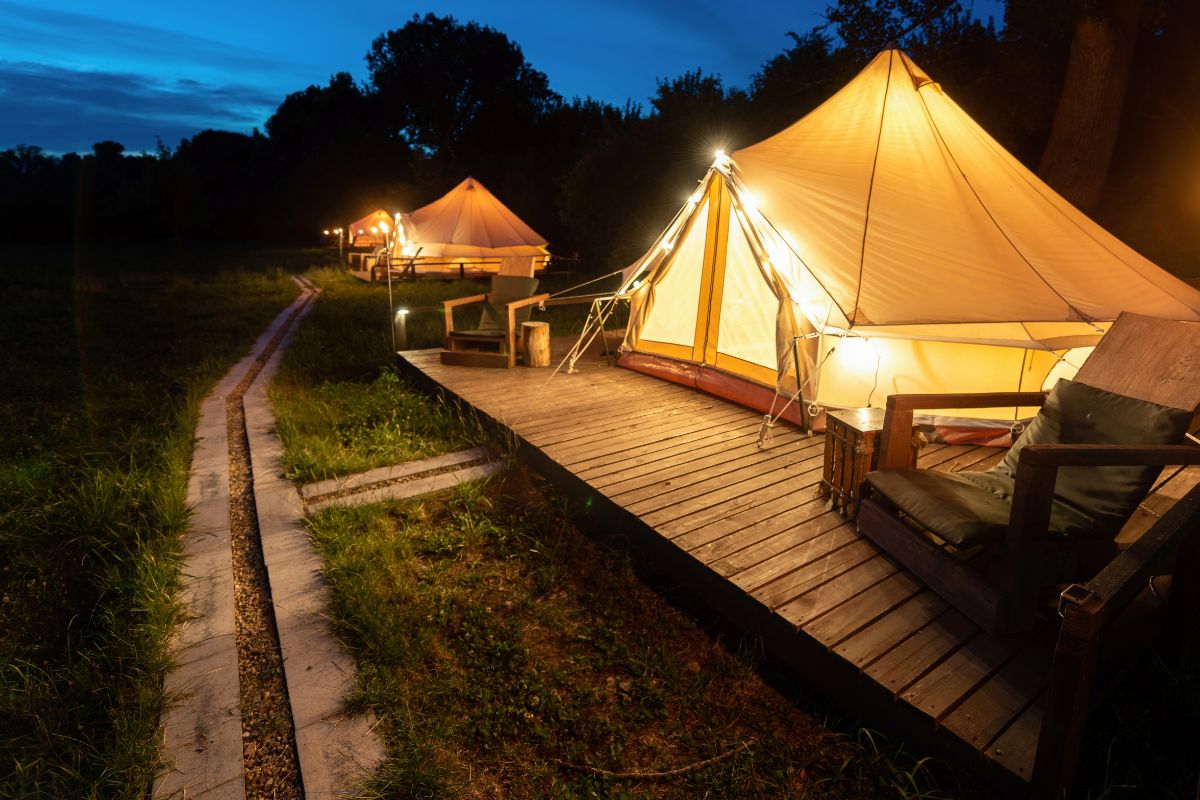 You can enjoy all the beauty of the outdoors with amenities like a plush bed, private showers, hot tubs, and cabins that come fully fitted out with furniture, with no setup required! Plus, there are often activities nearby such as horseback riding or guided hikes that provide an extra romantic touch.
With over 587 million camping days logged per year by North American campers, many of them being couples spending quality time together enjoying nature, it's no surprise Glamping is becoming increasingly popular among outdoor enthusiasts looking for something unique and special.
Car Camping
Car camping is an ideal option for couples looking to reconnect. It requires minimal setup, yet comes with all the thrills of traditional camping, just at a romantic campsite.
Spend a cozy night in your tent and be sure to bring some sleeping bags so you can snuggle up together. Find a secluded campsite and to create a romantic ambiance, you could use fairy lights strung around the campsite and break out your favorite tunes, this will make it feel like date night!
Cabin Camping
Cabin camping is a great option for couples looking for a romantic camping getaway! It's the perfect combination of cozy and outdoorsy, so you can experience the beauty of nature with all the comforts of home. Imagine retreating to your own private cabin after a day spent exploring scenic trails or fishing at the lake.
With few travel options, there has been an increase in couples seeking out camping experiences, thus making cabins all the more popular. Whether it's fully glammed up or rustic charm, cabins provide plenty of opportunities to spend quality time together while taking in breathtaking views and snuggling up by a firepit as you share stories into the night.
Beach Camping
Beach camping is an amazing way for couples to experience the great outdoors. From enjoying a romantic walk on the beachside and taking in that incredible sunset, to building sandcastles together and swimming in the sea, there are endless fun activities to do as you explore your natural surroundings.
Related: 25 Beach Camping Tips & Essential Items
Unique Camping Destinations For Couples
From California Wine Country to Disney World Campground, there are plenty of unique and romantic camping destinations for couples – explore the full list to find your perfect getaway!
Dana Point, California
Experience the 'California Riviera' on your trip by heading to Dana Point. With world-class resorts, splashing waves, and picturesque landscapes you will have plenty to explore here. With a beach stretching for 7 miles, Dana Point is one of the best places for couples in California.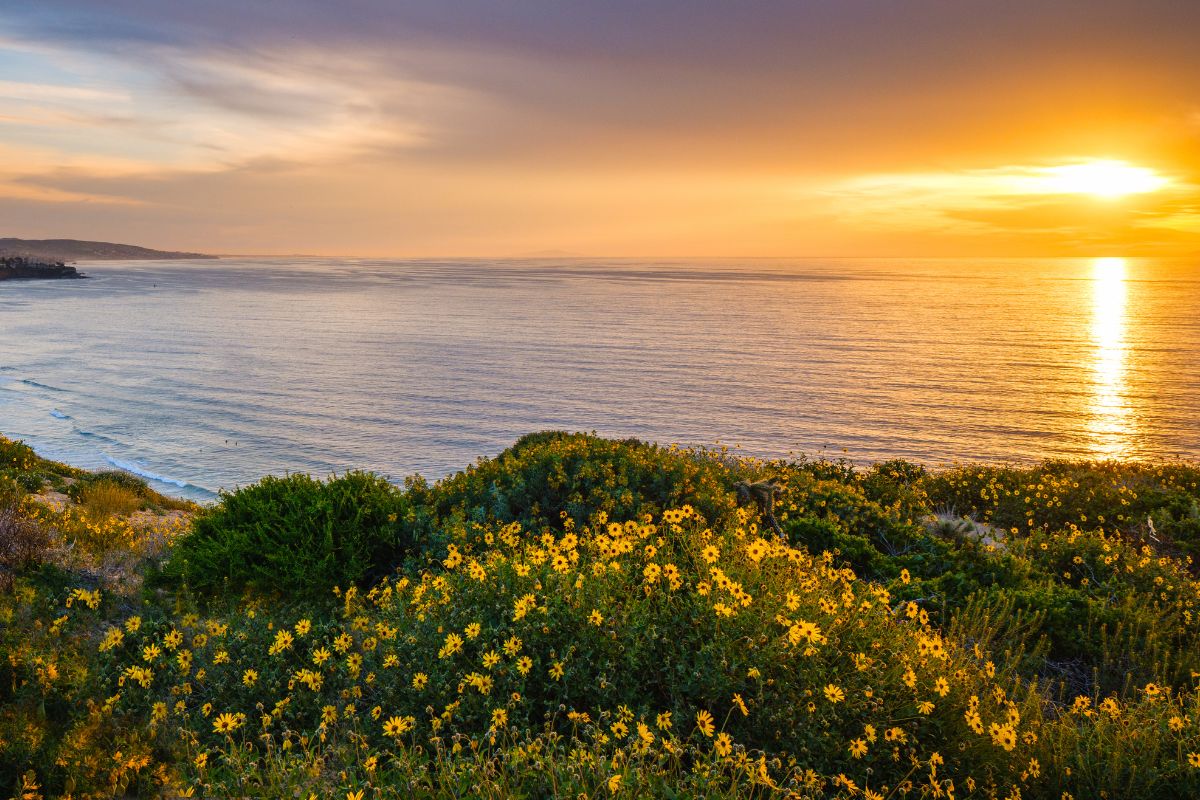 Couples who want to camp out can opt for car camping and glamping in a number of nearby campsites. And if you're looking for outdoor activities like hiking or kayaking this spot offers that too!
Old Faithfull Inn, Yellowstone National Park
Old Faithfull Inn in Yellowstone National Park is a romantic lodge ideal for couples who are looking for an awe-inspiring nature getaway. This historic hotel nestled in the heart of the park has all the modern amenities, while still maintaining its quaint charm. Plus, you can take advantage of nearby activities like hiking and fishing if you're feeling adventurous!
Editor's Note: Ok, I get it…sleeping in a lodge might be stretching the definition of camping. But this is no ordinary lodge and it's right in the middle of one of the best camping destinations in the entire world. Just consider it the ultimate form of Glamping!
The views from every room at Old Faithfull Inn are breathtaking! Towering geysers provide a beautiful backdrop to your stay. You'll certainly enjoy each night spent here as there's no light pollution, leaving nothing but starry skies above for you to gaze at during your date night or romantic evening together! Couples will also love this destination as it offers plenty of opportunities to explore nature and spot wildlife like bison, elk, or bears, making it the perfect place for a truly special experience.
After enjoying the fresh air during your exploration on hikes and trails around Old Faithful Inn, cozy up inside with great food cooked over a fire pit plus some warm drinks by nightfall. When it's time to turn in early after a full day out adventuring together, snuggle up close under two sleeping bags made just for couples, ensuring that you'll both be comfortable while staying warm throughout the chilly nights outdoors!
Cannon Beach, Oregon
Cannon Beach is a picturesque and romantic seaside town known for its beautiful sandy beach, lush scenery, and charming shops. Couples looking for an unforgettable camping experience can find cozy cabins or bring their tents to enjoy some of the best views in Oregon! Fishing activities are also popular among couples who want to spend some quality time while they're here.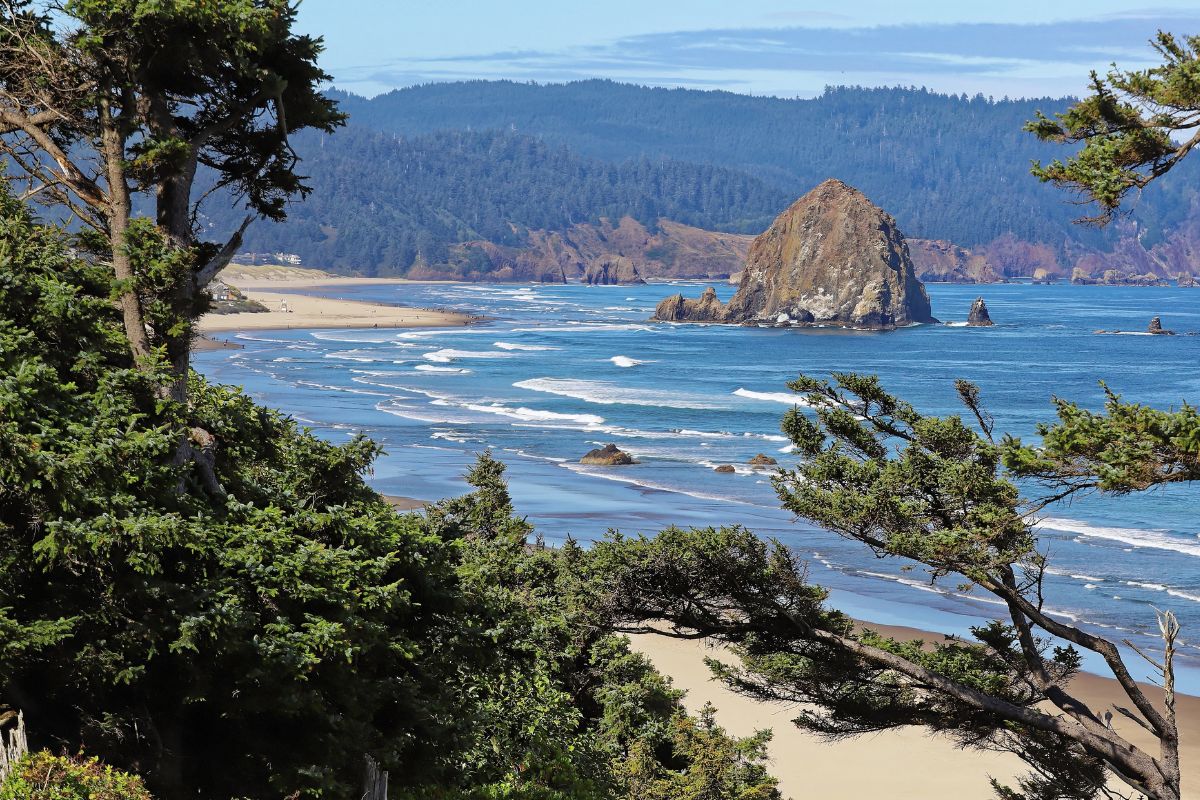 The sunsets here are breathtaking, making it the perfect spot for a romantic evening picnic with your special someone. From hot springs spas to amazing restaurants that offer delicious seafood- there's something for everyone at Cannon Beach!
Charleston, South Carolina
Charleston, South Carolina is a popular romantic couples camping destination. With picturesque beaches and stunning Lowcountry scenery, this romantic city has something for everyone. Take your pick from beach camping or pitching a tent beneath the low-country moss.
Heads up! It can get seriously hot and humid in Charleston, especially in the peak summer months. My advice is to use a tent fan or you'll risk your romantic rendevous being hot and steamy in all the wrong ways!
From a secluded beachfront vacation to an awe-inspiring boat ride around the harbor – explore all that the city has to offer on your couple's trip. Experience the bustling nightlife of downtown Charleston or take in the beauty of nature on one of its many trails and natural areas. Whether you're looking for days filled with adventure and exploration or nights spent gazing up at stars and sipping wine by a campfire – Charleston has it all!
California Wine Country
California Wine Country is an ideal camping spot for couples. With stunning vineyards and romantic sunsets, it's the perfect place to reconnect and experience wine country in a whole new way!
In the image below you can see the dual view of the campsite my wife and I shared on our wine country camping adventure. On the left side of the picture is our view of the vineyards and on the right, you can see the campsite nestled between old growth redwood trees. It was truly magical! (This was taken before we set up our tents)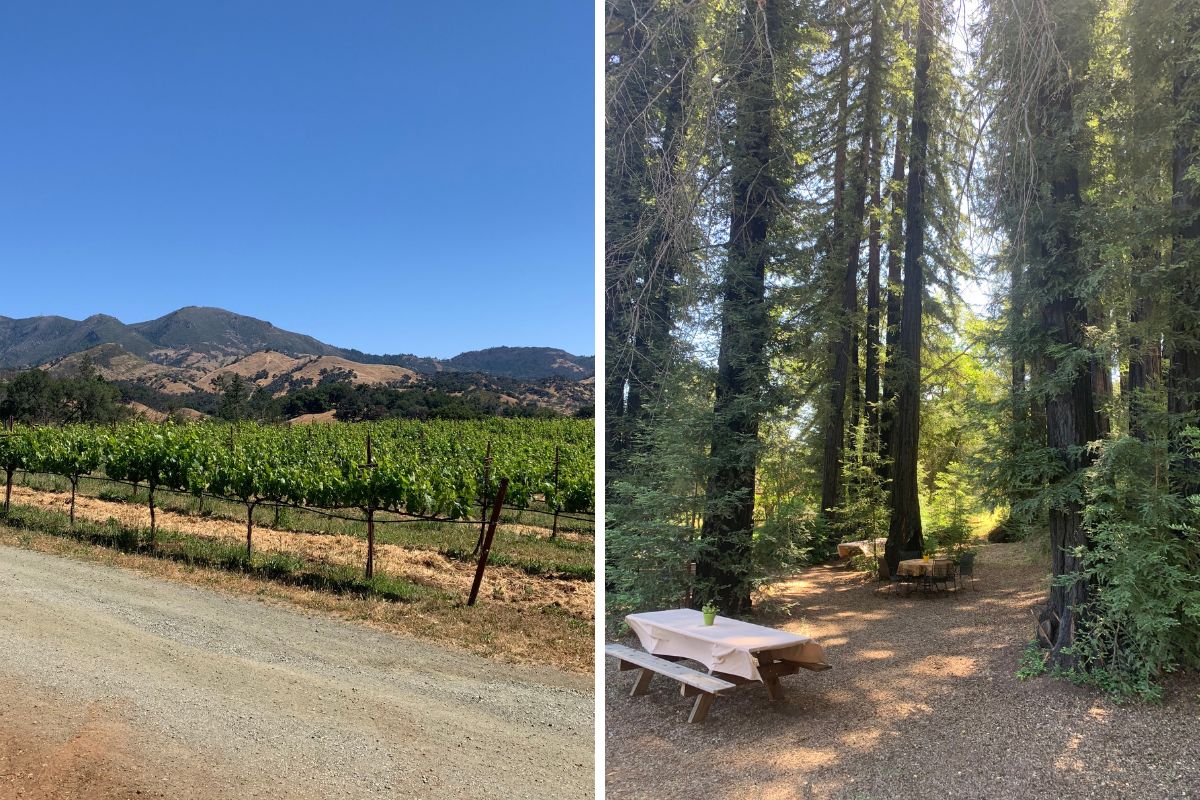 Plus, you can enjoy a bottle of wine together while exploring the region though also be sure to stay within your limits! From Napa Valley and Sonoma to Mendocino County, there are many great places here for couples campers looking for a unique adventure close to home.
Disney World Fort Wilderness Resort
Shocked to hear that you can go camping at Disney World?! Believe it or not, Disney has an amazing campground named Fort Wilderness that is a great option for couples who want to go camping and experience the magic of Disney. It offers tent, RV, and cabin sites providing an array of options for any camping enthusiast.
I grew up in Central Florida and we used to come here a bunch when I was a child. I haven't been yet with my wife, but its definitely on our list!
With packages including Disney Park admission and meals, this destination makes it easy to enjoy everything that Walt Disney World has to offer while experiencing the great outdoors. From evenings spent roasting marshmallows to days spent exploring the different parks, couples can make amazing memories filled with wonder and joy.
Romantic Camping Ideas For Couples
From hiking to kayaking and roasting marshmallows, there are many fun activities for couples on their camping adventure.
Hiking
Hiking is one of the most popular activities for camping, whether with your partner or not. It provides an opportunity for couples to explore nature and enjoy breathtaking views while getting closer. Taking a long hike is also a great way to get away from stress and enjoy some quality time together with your partner in a peaceful environment.
Kayaking, Paddle Boarding, or Canoeing
Kayaking, paddle boarding, or canoeing are great activities for couples camping trips! Not only is it a great way to spend quality time together, but you'll also get the chance to explore scenic rivers, lakes and ocean views.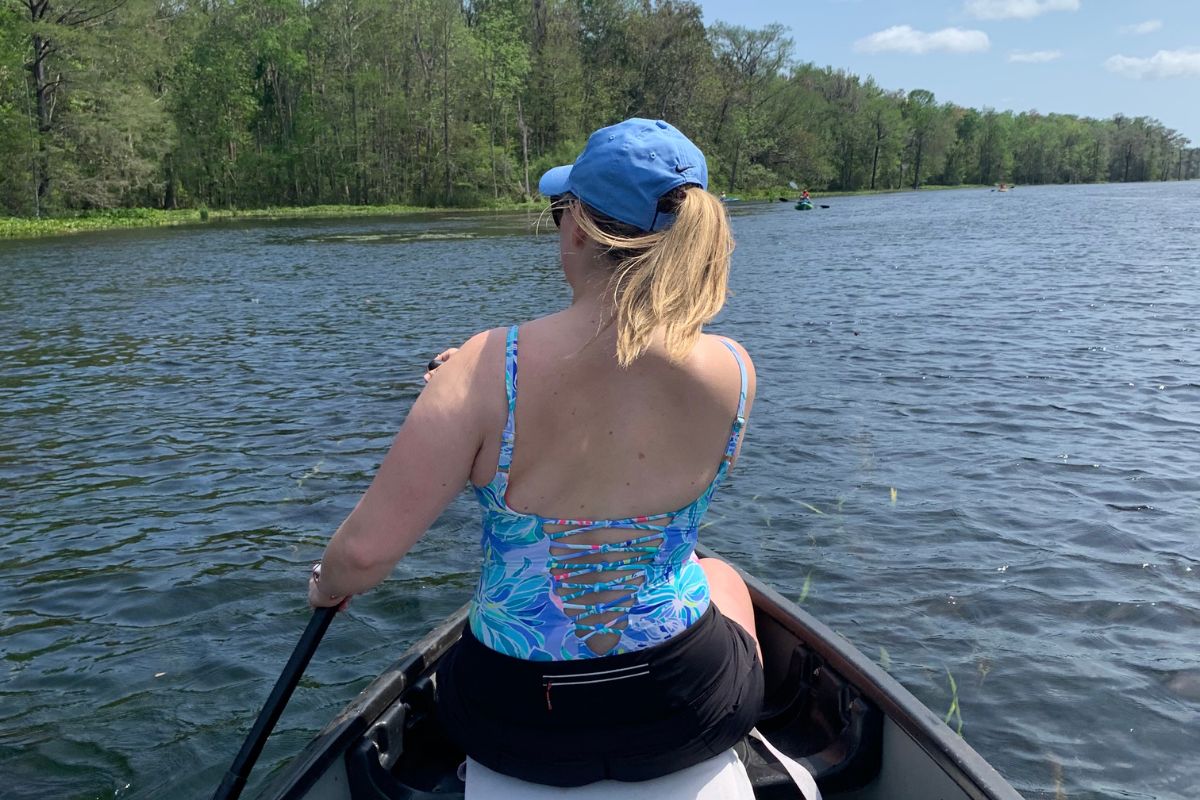 If you're both the ultra-adventurous type you could even go on a canoe camping trip. If you choose this route, dryness is key to happiness, trust me on this one. Splash around all you want while you're paddling, that's half the fun. But be sure to pack all your sleeping gear, clothes, and tents in water-tight dry bags.
Cook A Multi-Course Meal
Cooking a multi-course meal together is a great way to enjoy quality time with your significant other. With some creative meals and interesting ingredients, you can set the mood for an unforgettable romantic camping experience.
A multi-course meal is a fun activity that allows couples to explore new recipes while being creative and conversational with one another! From appetizers to desserts, cooking under the stars offers up plenty of opportunities for deliciousness that's sure to make your romantic camping getaway even more special!
Take Nature Photos
Taking photos of nature or wildlife can be an exciting and rewarding experience. With the right equipment, patience, and knowledge of your environment, you can capture unique experiences in stunning photographs. It is essential to have an understanding of light quality at different times of day to capture the best images as well as a knowledge of animal behavior.
Furthermore, remaining quiet helps reduce human interference with their natural habitat which will give you more chances for capturing rare moments or candid shots that wouldn't otherwise be possible. Knowing when to press the shutter button on the perfect shot takes practice but is a great way for couples to bond over photography together!
Plan A Sunset Picnic
Nothing sets a romantic camping atmosphere than planning a sunset picnic with your significant other. Before the sun dives into the horizon, set up a cozy blanket out in front of your campsite and add some pillows for extra comfort.
If you're feeling adventurous, try finding a spot overlooking a lake or a body of water so that you can witness the stunning reflection of the sky on its surface. Pack food items like sandwiches, fruits, or cheese boards for an intimate moment between just the two of you as well as warm drinks to keep you both cozy until dark.
Make A Campfire
Making a campfire can be one of the best activities for couples camping trips. Nothing says romance like snuggling around a warm fire at dusk and watching the stars come out in the night sky.
It creates an intimate atmosphere that's perfect for spending quality time with your romantic partner. Plus, it's one of the easiest activities to prepare for: all you need is kindling, firewood, and some matches or a lighter!
Go Stargazing
Stargazing is one of the most romantic activities couples can do together. With minimal light pollution, campers get to enjoy a breathtaking view of the night sky.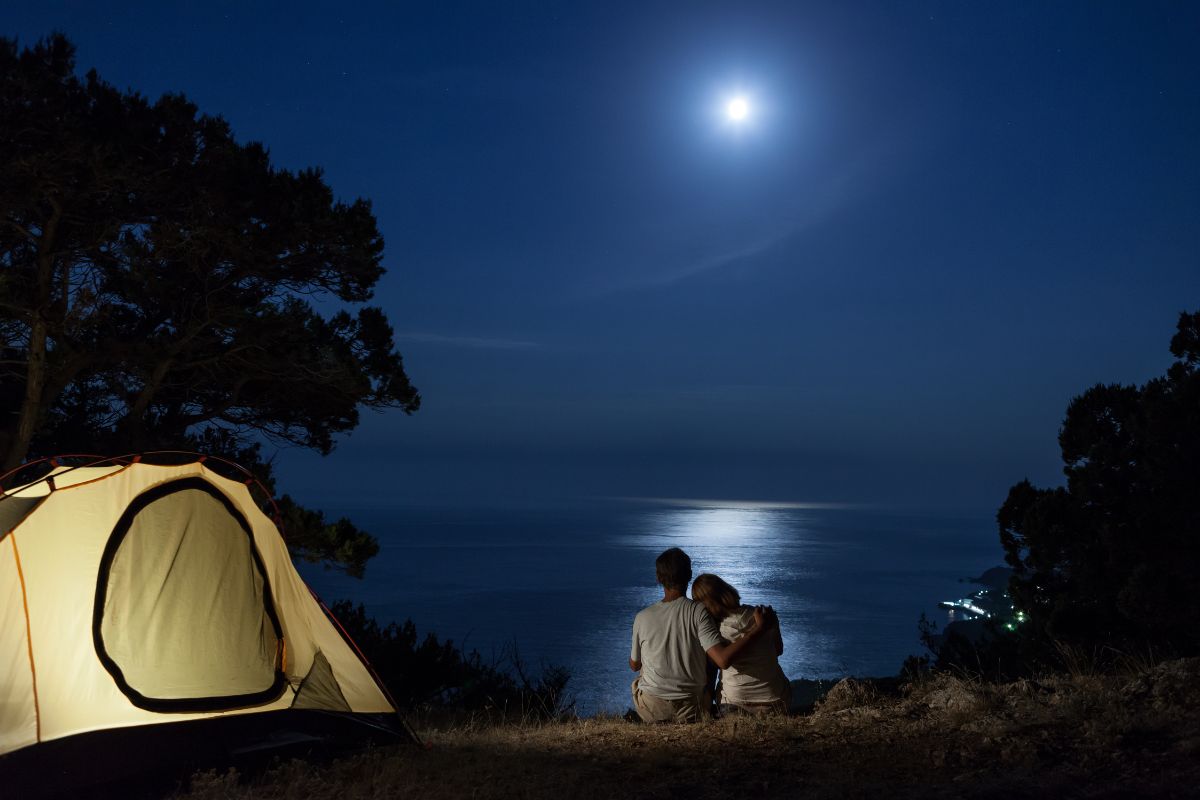 Couples can lie down with blankets, bring their own chairs and binoculars for an up-close view, or simply bask in each other's company as they observe the stars above.
Stargazing also gives campers an opportunity to reconnect with nature and each other. To make stargazing even more special, open a bottle of wine. I think a nice red pair perfectly with my next idea which is…
Make S'mores
Making s'mores is a quintessential part of the camping experience! It's a great way to end an evening bonding with your significant other. All you need are graham crackers, a Hershey Bar, and some marshmallows. Roast the marshmallows on sticks over the fire and sandwich them between graham crackers and chocolate; it's that simple!
Watch The Sunrise Together
Watching the sunrise together is a perfect way for couples to start their day! Being up with nature and appreciating the beauty of a new dawn is an incredibly romantic experience. Plus, it could help banish away any grogginess from the night before.
Enjoy A Hot Tub
One great (and romantic) way for couples to relax when camping is by enjoying a hot tub. A soothing soak in the hot tub can be the perfect end after a long day of activities. There are many types of hot tubs ranging from portable electric versions that can heat up quickly, or many campgrounds and cabins that have hot-tubs on site.
Also, consider bringing along some bubbles and candles for extra romance! Don't forget to check if your campsite provides access to electrical outlets so you don't end up without power when it comes time to use it.
Snuggle In A Sleeping Bag
Snuggling up in a sleeping bag with your special someone is one of the most romantic camping activities. Bring warm and comfortable sleeping bags for both of you. There is nothing that kills the mood faster than being too cold for hanky panky.
Consider bringing extra blankets or pillows, or my personal favorite; an electric heated camping blanket. For an even more romantic experience, opt for a double sleeping bag that fits two people comfortably so that you can cuddle up together while enjoying the night sky above. The outdoor adventure doesn't end after sunset; it just starts in different ways (wink, wink)!
Benefits Of Couples Camping
Couples camping offers quality time to interact and share experiences, thrilling adventures, and an appreciation of nature.
Quality Time Together
Going on an outdoor adventure gives couples a chance to spend quality time together. Away from the hassles of everyday life, couples can enjoy an intimate and peaceful experience that allows them to connect with each other on a deeper level.
56% of campers are Millennials who appreciate the simple pleasure of just being in nature with their significant other. Many of them participate in hiking or backpacking while camping, enabling them to explore and experience a different atmosphere than they would at home.
Adventure And Thrill
Couples camping trips offer a thrilling adventure and the feeling of being truly immersed in nature. From fishing to night hikes, there are plenty of activities that can bring you closer together while providing an adrenaline rush.
Whether it's exploring picturesque lakes or rugged terrain, camping together is a great way to make memories and increase your bond with your partner. Sharing this unique experience will ensure you come back with stories and memories that will last forever!!
Opportunity To Appreciate Nature
Camping with your partner can be an amazing way to slow down and appreciate the great outdoors. There's something special about being surrounded by nature and breathing in the fresh air. Studies have shown that spending time in nature lowers stress levels, boosts concentration, and even increases creative thinking, making it a perfect setting for reconnecting with your partner while unplugging from everyday life.
You not only get to experience natural beauty together but also learn more about each other as you explore scenic trails or paddle through a lake. With no boundaries or distractions of modern life, you can truly make this trip one of the most cherished experiences ever!
Tips For Couples Camping
It is important to communicate expectations and set aside personal time to ensure a successful romantic camping trip; teamwork is key!
Know Your Limits
When planning a romantic couples camping getaway, it's important to know your limits. Not everyone is in the same physical shape or has experience with outdoor adventure. Discussing expectations and activities before going on the trip can ensure both partners are comfortable and that the trip doesn't become an exhausting challenge.
Additionally, depending on where you are going camping, certain permits may be required. I strongly suggest researching any regulations beforehand to avoid any surprises while out in nature!
I wish I could say I didn't learn this the hard way, but It's an awful feeling to pack up your car and drive 2-3 hours to a potential campsite only to discover they don't allow cars, dogs, campfires, or anything else that might keep you from your planned romantic getaway.
Communicate Expectations
Communication is key when planning anything, and that holds true here. Making sure you and your partner understand each other's expectations for the trip will help avoid potential misunderstandings or arguments.
Discuss what types of activities are most important to you, any safety considerations such as first aid training, and how much time you want to spend exploring versus just relaxing. Setting clear expectations in advance will also help reduce stress, and helps make the camping trip special, and enhance your relaxation and enjoyment.
Set Aside Personal Time
Being in a relationship, especially while on vacation can be difficult to balance. It's important to set aside time for yourself during your camping trip and do something that makes you feel whole without needing the other person. This could mean taking a walk by yourself or even just letting your partner sleep in and having some quiet time to read or journal without interruption.
Finding the right balance between quality time together as a couple, but also separately is key to making sure both people have their needs met. Couples should remember that it's perfectly okay if one wants more alone time than the other, as long as compromises are made when needed such as spending half an hour meditating together or going out exploring independently before meeting up later at night around the campfire with some warm drinks!
Utilize Teamwork
Teamwork is key when camping as a couple. It helps make your trip enjoyable and less stressful.
Working together to set up the campsite, cook meals and explore the outdoors will bind you closer together. Knowing each other's strengths can help with tasks like setting up camp in areas where there may not be organized spaces or designated spots for tents or trailers.
Having extra hands to help also comes in handy when it comes to packing out trash, gathering firewood and cleaning up after yourself so that you both can enjoy more quality time out in nature together!
Couples Camping Final Thoughts
Couples camping is a great way to reconnect with your partner and spend quality time outdoors. With so many different locations and activities available, couples can customize their own romantic camping trips for an unforgettable experience.
From hiking, kayaking, and cooking multi-course meals to hot springs and stargazing, there are plenty of options for making special memories. With the right planning and preparation, couples can take their relationship to new heights on the perfect romantic getaway!